Do you remember when 2015 was dubbed the "Year of Mobile?" Mobile has evolved into the leading channel people use to search the Internet and connect with brands. Some people will make the case that singling out just one year isn't enough to acknowledge the influence of mobile. These folks would argue that this entire time period should be referred to as the "Age of Mobile."
No matter which side of that debate you land on, it's irrefutable that mobile users love apps. In fact, about 90 percent of the time consumers spend on mobile devices is consumed by app usage.
Consumers spend so much of their mobile screen time using apps. This makes you tempted to create an app of your own. While we think that's a great idea, developing an app is the easy part. First we'll take a look at the best tips for launching a new app and then how to market an app.
Tips for Launching a New App
Recent research shows that adult Americans spend nearly three hours using mobile devices every day. What do they do during the two hours and 51 minutes they spend on mobile devices? Their use of mobile apps consumes 90 percent of that time. That equates to 153.9 minutes or close to two hours for the typical adult American.
Does the time that adult Americans spend using mobile apps every day mean you need to hire an Android app development company to create an app for your business right now? Not necessarily. Does it mean that you should do everything possible to launch your app successfully so your app ends up on the screens of people who use apps every day? Absolutely.
How to Launch an App Successfully
Of course, you have to have an app developed before you can launch it. While that's the case, there are plenty of things you can do before and after your app launches to help it be as successful as possible and to get it in front of people using their mobile devices. Here are some of the things you can do pre- and post-launch to increase the chances that your app will be a success:
Establish Milestones
Before your app is launched, it's vital for you to establish a set of milestones you're going to track. These benchmarks will signal alerts to your team which will let them know when they need to get involved to motivate consumers to download or use your app. Your app's total download numbers, its average rating and your active install rate are a few of the benchmarks you'll want to keep tabs on.
Another metric you'll want to track is your app's turnover rate. A typical person only needs 35 seconds to decide whether or not they like an application prior to deleting it. If your turnover rate is 30-seconds or less, your app may have serious flaws that need to be addressed immediately.
Know the Rules of the Platform You're Using to Launch
App stores have their own unique sets of rules. It is essential for you to know the rules of the platform you're using to launch your app for your launch to be successful. If you plan to launch in both Apple and Android stores, it's often advisable to stagger your launches between them unless you have the bandwidth to handle the demands of both platforms seamlessly.
Use Stories to Generate Buzz Before and After Your Launch
You want to generate buzz before your app launches and keep it going once your app is "live." Using story-like content is an effective way to do both of those things. You should make your stories available in multiple formats, including text, videos and images. Your stories need to discuss what makes your app unique and communicate your value proposition clearly.
Solicit Testimonials and Detailed Reviews
Have you ever read a review of the latest iPhone that was prepared by an industry expert weeks before the phone was available to the public? You probably have because that type of review is an effective way to get people excited about a new product and it allows consumers to learn some product details that make them interested in buying the product.
You can use the same tactic for your app. Solicit reviews and testimonials from professional reviewers who are somehow relevant to your app. You don't have to rely on large reviewers exclusively because there are a lot of micro-bloggers and smaller review sites that cover just about every industry imaginable.
Establish a Presence on Social Media
Social media marketing should be a huge part of your pre- and post-launch promotion plans. You should establish a presence on the social media platforms that are the most popular among the people you expect to use your app. You can use your social media pages to share demos, videos and those reviews and testimonials you solicited from mobile app development experts and industry insiders.
It's important for you to remember to share a link back to your app in the app store you're using for your launch in your social media posts. If you have a blog that you're using to promote your app, you should do the same in each of your posts. You want to drive downloads, after all, so make it easy for people to navigate to the landing site for your app so they can download it.
Leverage the Reach of Social Media
To spread the word about your app, you should leverage the reach of social media by incorporating a widget into your app that lets users share your application with their social media contacts. If you're going to do this, it's essential that you only integrate with third-parties that are both secured and accredited when it comes to choosing your social sharing widget.
Enable Feedback
Feedback is one of the most powerful things that potential users consider when they're deciding if they can trust you and your app. With this in mind, you need to incorporate an Applet into your app that allows its users to provide feedback about your application. Feedback has the potential to make you seem more credible, drive downloads and provide insights into what is and is not working successfully in your app.
Use Paid Advertising
To gain additional visibility for your app, you should consider using paid advertisements to promote it. You can set up a targeted, paid Facebook ad campaign, with each of your ads acting as a portal that sends people directly to your app, for example.
If there are apps out there that are relevant to your own application, you may want to investigate the possibility of advertising through those apps or on their websites as well. If you can advertise through an established, trusted app that're relevant to yours, it can boost your credibility almost overnight.
9 Best Marketing Strategies for a Paid App
1. Adjust Your Budget
If you're going to launch an app, one of the keys to making it a success is to readjust your budget. Especially if you don't already have enough resources allocated to the development and promotion of your application. According to a study conducted by the Mobile Marketing Association, it's wise to dedicate 7 – 9 percent or even more of your overall marketing budget to mobile.
It's essential that you ensure you have enough resources to promote your app year-round. In particular, during times when consumers might have a heightened interest in your app. You don't want to run out of money just when you're getting ready to push your app. Be sure your app marketing coffers are filled with enough funds to keep your app front of mind at all times.
2. Include Marketing Components in Your App
Believe it or not, your app can be one of your best marketing tools. That is, your application can be an effective marketing tool if it has some built-in marketing components.
Did you know that approximately 80 percent of consumers actually want to receive geo-specific alerts on their smartphones? By including geo-fencing and push notification abilities in your app, you can use your application to alert people about new products, special events or promotions or times when a new version of your app or an add-on is available.
3. Know Your Target Market
While enabling your app with geo-location and push notification capabilities will help you connect with people after they download your paid app, it won't do much to get them to download your application. To do that, you'll have to do some heavy-duty marketing to distinguish your app from the countless others in crowded app stores.
Marketing an app starts long before your app is available in an app store. After you adjust your budget so that your app and the related marketing activities are fully supported with ample resources, you have to get to know your target market. While you might be tempted to try to market your app to the masses, you should resist doing so.
Your marketing will be much more effective if you promote your app to a select group of people instead of trying to reach everyone. Research your target market and create a profile of your ideal app user. Include as many details as possible in your profile, such as demographics, income, location and psychographics. This will help you fine-tune your promotional activities.
Creating an app can really help your brand grow faster. Google search app developers Los Angeles if you're looking for someone local.
4. Research the Competition
Once you've clearly defined to your target audience, it's time to investigate what your competitors are doing. Checking out your competitors' tactics will help you improve your own and create a distinction between your offering and theirs. Look to see what advantages your competitors may have. Then, find ways to make improvements on them to make your app stand out from the pack.
5. Create a Landing Page for Your App
There's no reason to wait for your app to launch to create a landing page for your application. Use your app landing page to keep people informed. Tell them your progress in a novel way that will keep them coming back for more. Make them look forward to the arrival of your app. At a minimum, your landing page should include the name of your application. Also include a description of your app and all of its desirable features. A promotional video and a distinct call to action is also advised.
6. Start a Blog
Starting a blog is another effective way to build interest in your app before it even hits digital shelves in app stores. Make sure your blog posts are of the highest quality. You can use writing and editing tools and services where you can hire professional writers to come up with outstanding blog articles. See if some influencers will link to your posts or even write a guest entry for some added credibility. This is particularly important if your brand is relatively unknown and you're launching your first paid app.
7. Use Social Media
Social media is a fantastic way to spread the word about your app to a large number of people for free. Although that's the case, you may want to incorporate some paid ads into your SEO Marketing services campaign. That's because platforms like Facebook Ads enable you to customize your advertisements and target highly specific groups of people.
8. Make Sure Your App Is Visible
Once your app is available to the public, it's vital for you to ensure that it's visible in app stores through optimization. More people will see your app the higher it ranks in app store search results. The main things you should focus on optimizing to make sure your app ranks well are the following:
Title
Description
App Icon
Screenshots
9. Monitor Your KPIs
To see how well your app is doing and to fine-tune your marketing, you'll need to monitor some key performance indicators once your app is available for purchase. Here are a few of the KPIs you should track:
Number of Downloads
Number of Daily and Monthly Users
Stickiness Rate
Retention Rate
Churn Ratio
Bonus: Tips for Expanding Your App to Global Markets
There is no doubt about it, mobile has evolved into the leading channel people use to search the Internet and connect with brands. It is poised for tremendous growth. In 2017, there were 197,000 million mobile app downloads By 2021, that number is expected to swell to an estimated 352,600 million mobile app downloads.
If you've created an app that's already a big hit in the United States, you should know that Americans only account for about 10 percent of the world's smartphone users. What does that mean? It means 90 percent of your potential consumer base resides outside of the United States…and you may be missing out on a significant opportunity to grow your business.
What can you do to capture the attention of at least a portion of the 90 percent of smartphone users who live outside of the U.S.? You can expand your app to global markets, of course!
For progressive app developers, scaling their apps for expansion internationally is the natural next step to drive growth. Through international expansion, developers can gain access to lucrative markets overseas, earn an advantage over their competitors and garner recognition as a global organization.
While all of that may sound great, it doesn't answer the underlying question, which is how can you go about expanding your app to global markets. Although you may suspect that such a broad-based question may have a complex answer, it doesn't. Expanding an app to international markets successfully includes a set of straightforward, time-tested steps. While following these steps won't guarantee you'll be successful, doing so will at least make it more likely that you will be.
Conduct Research
If you work in mobile app development, you probably guessed that research is one of the keys to success with international expansion. Not every app is ripe for international expansion based on a given app's appeal to a limited number of demographic groups alone. If you're unsure what that means, consider the likelihood of Tinder succeeding in Saudi Arabia to get a better understanding.
Making things even more difficult are the barriers to success that exist in some locations. India is experiencing rapid growth in homegrown mobile apps thanks to its ever-growing IT industry, for example. Brazil's Lei do Bem law gives local apps a distinct advantage over foreign competitors by providing a tax exemption to smartphone makers that have homegrown apps pre-embedded on their devices.
Research Regions
Researching the regions you're thinking about expanding into isn't enough. You must also investigate the platforms that are available for you to launch your app from. Understand each area's technical capabilities, and the cost and speed of mobile data in local markets.
If you think you can take the things just mentioned for granted, think again. If you created an app for iPhone users, you may be eager to expand into the world's emerging markets. However, your app will have difficulty finding traction because Android is the top smartphone operating system in places like Indonesia and other emerging markets.
You must also learn how people in the expended markets are going to pay for things online. Consumers in America and Europe may use credit or debit cards most frequently. However, residents in other countries like India may prefer to pay for apps with cash. You'll need to enable your app to support the payment methods that are preferred in each area you plan to expand into.
Localize Your App
70 percent of consumers in certain countries, which include Brazil, China, France, Germany, Japan, Russia, Spain and Turkey, claim they're more likely to buy something when information is provided in their native language. That figure alone should underscore the importance of localizing your app to suit every market you plan to enter.
It's important to note that the same language isn't always spoken throughout a given region or country. India is a prime example of a multilingual country that would require you to ensure your app supports all the different languages spoken there.
To localize your app meaningfully, it's not enough to translate everything into a given language and call it a day. You also have to localize your app's design, user interface, metadata, user experience and possibly even the name of your app. It would be a good idea to find a local app developer in your city to help assist with localization features.
Build Credibility and Trust with Local Partnerships
You may know your app will enhance the lives of people in every market you're going to compete in, however potential users won't until they try your app. Even if your app is popular at home, it doesn't mean people in other countries will use it. Being unfamiliar with your app in particular and your brand in general may make some potential users hesitant to download and use your app.
To overcome resistance to your entry in a new market, you should create partnerships. Join up with local brands that have already built awareness and established credibility with consumers in the area. Doing this will enable you to build trust and establish your own credibility faster than you could probably do on your own.
If you're skeptical of the benefits of partnering with local brands, you can look at some big brands that have had success with this tactic. LinkedIn teamed up with Tencent when the website entered the market in China, for example. When expanding into India, Airbnb partnered with the Times Group to instill trust in its app.
Test Your App
Before you roll out your app to an entire country, consider testing it in limited areas first. With some simple A/B testing, you can make sure your app is tailored sufficiently to appeal to a larger foreign audience. If further localization needs to be done, you can take care of it before you launch your app nationwide.
Contact Sunlight Media
Choosing mobile app development services that will continue to support your app after it's launched is one way you can ensure your application will remain relevant and desirable to consumers.
When you choose Sunlight Media as your app development partner, we'll remain by your side from start to finish.
Contact us when you're ready to discuss your app project with a dedicated long-term partner.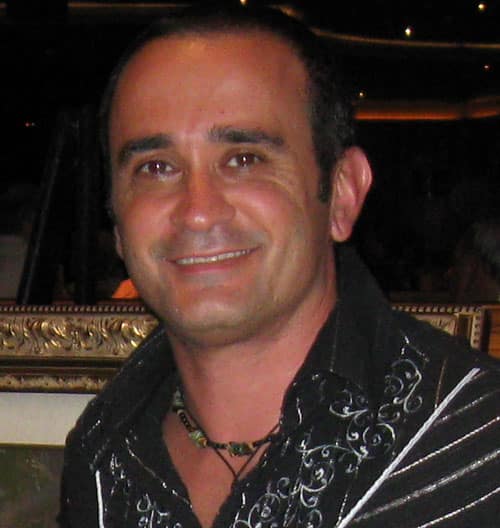 Author Bio
Angelo has been involved in the creative IT world for over 20 years. He built his first website back in 1998 using Dreamweaver, Flash and Photoshop. He expanded his knowledge and expertise by learning a wider range of programming skills, such as HTML/CSS, Flash ActionScript and XML.
Angelo completed formal training with the CIW (Certified Internet Webmasters) program in Sydney Australia, learning the core fundamentals of computer networking and how it relates to the infrastructure of the world wide web.
Apart from running Sunlight Media, Angelo enjoys writing informative content related to web & app development, digital marketing and other tech related topics.