Getting the word out about your business is vital to meeting new leads and growing. However, smaller companies and startups may have a limited promotional budget. Figuring out where to spend the few dollars you have and get the most traction out of your efforts is challenging. A marketing strategies manager reduces some of the stress, but you may not be ready for that step.
Small Business Trends says the average small business spends about 1.08% of its income on marketing. The number varies by industry, with business-to-consumer companies spending a bit more than business-to-business firms. The amount you spend depends on your revenue and how much you can allocate to promotional efforts. No matter what size your budget, you want to see a positive return on investment.
Fortunately, there are many creative marketing strategies you can incorporate to market on a low budget. New businesses may have more time than money, so they should focus on cheap or free opportunities that bring in new customers and bolster their bottom line.
1. Focus on One Sale at a Time
Figuring out how to reach new customers can be overwhelming for small business owners. Choosing transactional marketing helps you focus on one customer at a time. Your goal is to connect with a single person every day, and sell them on your product or service. Over time, your business will grow with a robust customer experience focus. Those loyal fans tell others about you, and word-of-mouth marketing takes off.
For startups, building your business is about relationships. You need some raving fans on your side to help get the word out. It's essential to have a handful of clients you know you can count on, no matter what. The only way to create this dynamic is through close contact and by cultivating those initial customers.
2. Host a Contest
An inexpensive way to get some buzz going is by offering a contest on social media. The prize should be something related to what you sell. Check for sweepstakes rules in your state and be aware of federal laws to avoid any legal issues. Make the contest go viral. The person must share and like the original post to get one entry, for example. A contest gets your brand in front of all their followers.
Pay attention to what your competitors do on social media. Are they running any contests? How can you do something unique, but similar? The more you can engage your core users, the more viral the campaign becomes.
3. Remember Physical Signage
Vinyl banners and flags are some of the least expensive ways to bring foot traffic into your store. Even if you don't have a physical store, putting a sign outside your office or even your home can grab attention and send people to your website. The signs hold up fairly well to the elements, but are inexpensive to produce, giving you a lot of mileage out of your investment.
You also want to create a stellar experience when people come into your store. Think about what signage would make someone's visit more positive. Point the way to central locations in your shop. Use small signs to point out on-sale items, new arrivals and where to check out.
4. Sponsor a Team
There is a reason small businesses sponsor Little League teams and local children's events. Not only do you reach the team members and create future customers, but every parent, grandparent, aunt and uncle of each child knows you're the team sponsor. You're also doing something positive to build a strong community.
School officials, referees, club board members and citizens supporting local youth sports all get a chance to see a T-shirt with your brand logo emblazoned on the back. Some organizations even put up vinyl banners around the ball field, showing who the sponsors are. Investing in local kids builds a lot of goodwill for your business.
5. Create an Elevator Pitch
Every day, you'll meet new people. Come up with a few brief, descriptive sentences to tell people you encounter about your business. What is at the very core of what you do? What makes you stand out from your competition? The technique goes back to finding one customer at a time, but if you don't prepare for the opportunity, you'll miss it. A one-minute elevator pitch is also useful if you run into an angel investor and want to sell them on investing in your company. Being prepared may gain you a meeting you otherwise wouldn't get.
Be ready to talk to the mom sitting next to you at your kid's soccer game about what you do. Share the benefits of your brand with the person sitting near you at the doctor's office. Look for any little opportunity to get the word out.
6. Start a Referral Program
Implementing a referral program doesn't cost you anything but time and planning. Around 82% of small business owners point to referrals as a major source of new clients. A referral program helps you leverage contacts you already have to access new ones. Offer some incentive, such as a discount for both parties.
Think of some of the best referral programs as an example. Satellite cable companies offer a discount to the current customer as well as the new one, for example. Figure out if you'd rather award points, which "buy" prizes, or if you want to give cash, discounts or other perks. Whatever you offer must be of value to the user.
7. Host a Workshop
Sharing your expertise costs you very little. Think about your knowledge and how it might help your target audience. Set up a workshop related to something in your field.
An example might be a restaurant specializing in fusion foods. You could host a cooking class to share some tricks of the trade. At the end of the cooking session, everyone sits down to enjoy your food. Of course, you don't want to give all your secrets away, or they have no reason to dine at your establishment. However, sharing an old family recipe that inspired you to open the restaurant tells a story and helps bring new people into your place.
8. Begin a Blog
In the Content Marketing Statistics survey for 2020, researchers talked to 1,200 marketers worldwide. Although not all were happy with the results, about 77% of respondents indicated their company had a content marketing strategy. You can start a blog with a single writer and grow from there. The ROI of a blog is a bit more difficult to discern than some other methods of advertising. You may not see direct sales from the effort, but you'll build authority and name recognition.
In addition to writing content for your website, you should reach out to industry blogs and offer to write an article. The secret to collaborating with fellow bloggers is paying attention to their other posts. What do their readers seem most interested in? Come up with an idea and pitch it to the editor. When you secure approval to proceed, be careful not to write a spammy piece. No one wants to read a blog post where the author's only goal is to promote their company.
The editor will typically give you a link in the bio and perhaps one in the article if it is relevant to the topic. If you don't already have an article expanding on the subject, you can always write one before submitting the idea to the other site. The more you can tie your website to the topic at hand, the better.
9. Place Facebook Ads
Social media advertising can be highly effective. You have the option to specify a niche audience. Set parameters to include all the aspects of your buyer persona and even narrow who sees your advertising by location, age or specific interests. Facebook's built-in tracking tools allow you to see who engages with your marketing and how many clicks you receive. You can also tweak underperforming ads in the middle of the campaign.
Think about what results you want from the ads. Do you want to drive traffic to your site? Perhaps your objective is gathering leads for additional communication. Facebook walks you through each of these goals and helps you set up the call to action on your ad to reflect the results you want. In order to easily manage your Social Ad campaigns, you can use PPC management software which will help you to achieve good results by saving your resources.
10. Go on the Radio
Look for radio shows and podcasts in your industry. Some of these shows seek out guests. You can go on the show, share your knowledge and drum up some business in the process. You may even want to start an internet radio show yourself. Once you gain experience, talk to your local stations about getting a morning slot with your show. You've probably heard this kind of programming on AM radio on Saturday morning. The hosts talk about what they know best and get to promote their brand in the process, such as a real estate office, financial planning company or gardening center.
The secret to gaining airtime is finding a niche area the masses are interested in. For instance, if you're a local real estate agent, you can have a show where you talk about everything people need to know when buying or selling a house. You can't possibly share every tidbit in one hour, so you close each show by telling listeners to call you if they have questions. It's a brilliant form of marketing that only costs you a little bit of time. The next time a listener needs to buy or sell a house in the area, you can be sure your name will come to mind.
11. Team With Other Business Owners
Cross-promote with other companies complementary to yours. Teaming up with other business owners gives you both the advantage of reaching each other's audiences. For example, if you run a bakery, you might reach out to a wedding planner.
Each of you should start by segmenting your mailing lists into people planning or likely to plan a wedding soon. You then work together to create a special, such offering clients of the wedding planner a discount on their cake. If they are your customer and need a wedding planner, they get a percentage off or an added perk that isn't available anywhere else.
A word of caution — don't partner with a rival or someone closely aligned with a competitor. You also need a business that relates to yours in some way, or the partnership makes no sense.
12. Attend Local Trade Shows and Fairs
Good old-fashioned legwork is still one of the best ways to drum up new business. Look at upcoming events in your town and area. Are there any big trade shows coming near you? Sure, you could travel to one, but the costs will add up quickly when you have to transport people via air or deliver materials for your booth space. It's much better to find a show coming to your area and reduce travel expenses.
Don't overlook small events in your local park. If any of your clients might be there, set up a small booth, and spend time talking to people in the local community. You may even meet some other business owners and gain ideas from them for promotions.
13. Wrap Your Car
Vinyl vehicle wraps are fairly inexpensive, last several years and serve as a moving billboard to promote your business. You'll get a lot of traction out of a car wrap.
Make sure the wrap features eye-catching colors and is easy to read in mere seconds. Don't include too many elements, since other drivers can't possibly read them all. Keep the design and message simple. For example, a pest control company might ask, "Do you have roaches?" and share a phone number or website address. You want a simple message people will remember once your vehicle is no longer in front of them.
14. Enlist Brand Ambassadors
Talk family and friends into becoming spokespeople for your brand. Print up T-shirts with your logo, give them brochures to hand out and ask them to tell everyone about your business. Once your company starts growing and you have a few loyal customers, approach them about becoming ambassadors for you.
You should offer a few exclusive perks. Rewards give people an incentive to share. Perhaps, for instance, you send them new releases before anyone else gets them. Give them promotional items advertising your brand, such as bags, hats and cups. Listen to their ideas for getting the word out.
It's important to be careful who you choose, however, it's also the responsibility of a company or organization in charge of consumer relations. That's why it's essential to hire brand ambassadors whose job is not just hyping their products but creating an emotional connection between themselves and consumers so they have loyal followers for life!
Get Creative
The ticket to inexpensive marketing is looking for every opportunity. Sometimes, you'll need to get creative and trade for publicity.
Will the local newspaper take an article in exchange for an ad? Think outside the box, and remember to gain one new sale at a time.
With effort, your business will grow, and you'll have a larger budget for your promotional needs.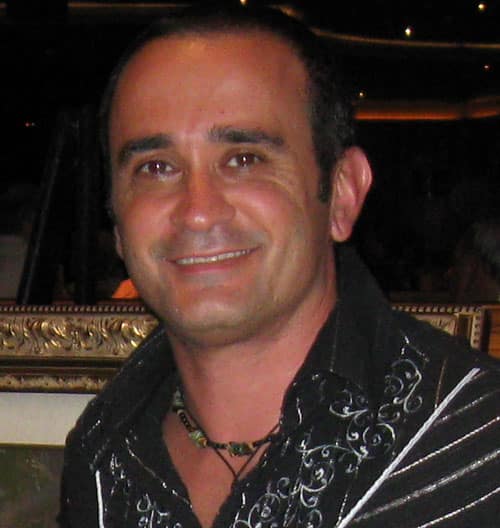 Author Bio
Angelo Frisina is a highly experienced author and digital marketing expert with over two decades of experience in the field. He specializes in web design, app development, SEO, and blockchain technologies.
Angelo's extensive knowledge of these areas has led to the creation of several numerous award winning websites and mobile applications, as well as the implementation of effective digital marketing strategies for a wide range of clients.
Angelo is also a respected consultant, sharing his insights and expertise through various podcasts and online digital marketing resources.
With a passion for staying up-to-date with the latest trends and developments in the digital world, Angelo is a valuable asset to any organization looking to stay ahead in the digital landscape.