What is Time Management?
"Time Management" is all about successfully organizing and managing your time between specific tasks. On a limited schedule, having good time management skills enables more efficient workflows.
Most of the time, entrepreneurs that manage their time effectively show more success due to their higher productivity.
Best Time Management Apps
Presently, our smartphones consume the majority of our free time. For organizing work or notes, mobile apps for time management continues to remain relevant and popular. For example, many apps cater to students managing their coursework. Also, these apps may serve employed adults to track their projects and meeting notes.
Although each time management app is different, most users may benefit from the general features. Typically, these applications include to-do lists, interactive calendars, and preventive application access.
Moving forward, here are twelve powerful time management apps that can assist a broad range of users with being more productive.
1. Productive – Habit Tracker
Developed by Apalon Apps, Productive – Habit Tracker is an application that enables users to create and track daily routines. First, Productive offers a free version for users. Primarily, the app's function supports users with completing to-do lists and daily goals. Secondly, the calendar feature provides a general overlook of user progress. However, the system does include additional features for improving user activities.
With Productive, users may examine "streaks" to review their progress. In other words, this particular feature indicates how long users have maintained their daily to-do lists. In addition, users may customize the app to better accommodate their needs. For instance, users can personalize their schedules by coloring and labeling their tasks. After, users may set smart reminders at certain times of the day. Unlike other systems, Productive does not discourage users when tasks are not met. Instead, Productive's flexible scheduling allows users to check off habits by the morning, afternoon, or evening.
With the premium version, users gain greater accessibility to Productive's features. Once subscribed, users may list an unlimited number of habits. In other words, these features assist users with managing more hectic daily routines. Also, Productive generates graphs and motivational statistics for users. In essence, these visuals help users better understand their progress.  In return, more users are encouraged to maintain good habits.
Upgrading the Productive Platform
When upgrading to premium, users will gain access to more useful tools. For instance, Productive offers a password lock that allows users to keep daily routines private. Based on a subscription model, users may select from three different options. In regards to paid subscriptions, users may choose 1 month, 3 months, 6 months, or 1-year plans. Depending on the plan, users may opt into services that cost $2.99. Alternatively, longer plans usually range at around $23.99. Lastly, Productive is ranked as one of the top fifty productivity applications in the App Store. Unfortunately, Productive – Habit Tracker is currently only available in the App Store.
2. Trello
To continue, Trello is a productivity app that assists users with keeping track of workloads. Currently owned by Atlassian, the mobile application consists of various features to improve productivity. To explain, there are interactive task boards, checklists, and cards to organize personal projects. Within each task, a board is created and configured to better accommodate workflows. Also, a variety of cards can be added and moved between boards with a simple drag-and-drop motion to reorganize tasks. From desktop or Google Drive, users can create checklists and insert attachments as needed.
For collaborative purposes, users may invite other Trello users to collaborate on projects. In detail, each invitation may include a note that assigns work within the board. Lastly, Trello supports a calendar view—a useful feature to view all of your work boards within one screen. This mobile and desktop application can serve a broad range of users and projects. For instance, it has applicability for both high school students tracking their coursework to Fortune 500 companies maintaining a business.
Upgrading the Trello Platform
By paying subscription fees, users can upgrade the platform with more useful features. In some cases, most individual users find Trello's free-to-use platform sufficient for time tracking. However, small organizations investing in the Business Class version of Trello gain more tools. More specifically, this option offers seamless app integration with external services. By comparison, some features closely resemble other time management systems like Evernote and Slack.
Another useful addition in the Business Class version of Trello is that users can create private and personal boards. To continue, this allowed for users to customize who has access to viewing certain projects. At a reasonable price, the upgraded Business version costs $9.99 per user each month.
For larger companies, the Enterprise version of Trello incorporates the reliable features of the Business Class while boosting your team's protection to secure files and encryption. In addition, Trello guarantees priority email and phone customer support. Moreover, this ensures that their customer support team responds in less than one business day. The Enterprise version requires a subscription fee of $20.83 per user per month, calculated annually. Fortunately, the Trello app is currently available for download on both the App Store and the Google Play Store.
3. Forest – Stay focused
Next on the list, the Forest app is a powerful mobile tool that encourages users to avoid wasting away valuable time consumed in other mobile apps—namely social media. Located in the App Store's paid productivity apps, Forest encourages users to stay productive by creating a digital garden. Whenever the user aims to complete a specific task, they can watch their digital tree grow in their garden for an allotted time. In detail, these specific tasks may range from ten minutes to two hours. If the user exits the Forest app for any reason, the tree will instantly die, adding a wilted tree to their garden.
To further encourage its users to stay focused and present, the app rewards successfully grown trees with currency. These "coins" can later be used to upgrade the user's garden. Based on the user's successfully grown or dead trees, the Forest app generates an analysis of the user's progress by current day, week, or month. Lastly, users can also customize tags to label their trees according to the task they completed while growing the tree.











Using the Forest Platform
The Forest app is highly versatile, the system accommodates users with a wide variety of needs. For students, the app assists those who are easily distracted by their smartphone's mobile applications and social media. Meanwhile, employed adults can discover this application to be a convenient tool for fully diverting their attention away from their devices and towards their workload. Additionally, the app can even be used for more informal purposes.
From another perspective, casual users looking to practice good habits such as maintaining self-care or avoiding their smart devices in social environments will appreciate the restrictions laid by the Forest app.  With a small price of $1.99, users can enjoy the benefits of living a more productive and present life. Fortunately, the Forest app is available on both the App Store and Google Play Store. Lastly, it is even downloadable as a Chrome extension.
4. Google Calendar
Without a doubt, Google Calendar is an essential application for all mobile users. First, this smart application is completely different from your default calendar functions on your smart device. Secondly, Google Calendar offers a friendlier and more convenient user interface for students and working adults to organize and manage events and tasks. In detail, users can label their calendars with an assortment of colors, indicate specific times and locations. Furthermore, users even invite other Google Calendar users to manage who is participating in the event. Also, events can be set as recurring, enabling users to customize a routine schedule.
In regards to the interface, Google Calendar is incredibly useful and user-friendly. For instance, it supports various viewing styles for users to better organize their daily workflows. For instance, there are vertical easy-to-read schedule formats and overviews of the whole month. Also, users can set notifications for events to alert them of an upcoming event on their Google Calendar. Additionally, Google Calendar is an app that will automatically detect and add any postmarked events or meetings received through Gmail.
Using the Google Calendar Platform
As expected,  Google Calendar's free mobile platform serves a broad spectrum of users. For instance, students can create an unlimited number of calendars to organize academic courses, sports practices, club meetings, and social gatherings. Additionally, collaborative teams utilize Google Calendar to create and view different events and meetings under a united work calendar. Therefore, their work schedules are accessible in a single location.
Users, who create their calendars via a Google account, benefit from auto-syncing calendars. In terms of accessibility, this feature allows users to make changes across multiple devices. So, if the user accidentally loses their device, then Google Calendar remains backed up into their account and available through other devices. Moreover, the Google Calendar can be integrated into collaborative, online work environments. Fortunately, the Google Calendar app is available for mobile download on the App Store and Google Play Store for free.
5. Pocket Schedule Planner
Developed by Appxy, the Pocket Schedule Planner is a free and easy-to-use alternative for a student's paper planner. First, Pocket Schedule Planner is optimized for high school and college students to track their homework, exams, and easy-to-forget tasks. By inputting their school courses, students automatically have a personalized student planner available at their fingertips. Additionally, students can color-code their classes within the app and instantly begin tracking their assignments and future exam dates.
Secondly, users can set due dates and reminders for each homework assignment or task. Thirdly, users can check off finished assignments with a swift tap. Also, students can rank their assignments based on their level of priority. In detail, this feature allows users to prioritize more time-demanding tasks. Additionally, the app includes different viewing interfaces. For instance, students have easy access to personalized timetable views and broader calendar views of the month. In addition, mobile users can add the application as a widget on their phones. As a result, customization provides end-users easier access to their task lists.
Beyond the Pocket Planner Platform
Agreeable for most, the app's impact on student time management works beyond the application's interface. For example, users may set the Pocket Schedule Planner as a widget. In other words, students gain access to features without unlocking their phones. From the widget, students may update or check off any completed student work. As a plus, students may make these changes at any moment. Unfortunately, the free Pocket Schedule Planner app is only available on the App Store.
6. Evernote
Next, Evernote is one of the most widely used mobile apps for efficient time management and work productivity. To effectively manage tasks, a broad range of users may utilize this free service across all of their mobile and desktop devices. With Evernote, users may run tasks such as jotting down notes to managing large-scale projects. For example, by setting time stamps and dates, projects can be managed efficiently according to a deadline. As a commitment, Evernote keeps its users highly productive with easy-to-set reminders.
Also, this smart application possesses the unique ability to scan physical documents. To list a few, these documents include business cards, letterheads, and whiteboards. To add, Evernote can instantly digitize your handwriting and save it into Evernote. Also, the application supports a variety of mediums such as sketches and voice recordings. Additionally, the application enables you to organize your tasks in various ways. For instance, users may work with checklists, smart notes, and to-do bullet lists. To Save more time, Evernote users may create notes based on default templates.
Upgrading the Evernote Platform
Evernote is, without a doubt, an empowering tool for individual users. Alternatively, it can also serve as a collaborative platform for business teams. Currently, Evernote Business will sync notes and documents across multiple users' devices. Moreover, Evernote systems include seamless integration into other digital workspaces. Moving on, users may access documents offline. In other words, users can practically work from any imaginable location. Also, it is available for $14.99 per user each month. Moreover, Evernote is available for download in the App Store and the Google Play Store.
7. RescueTime
RescueTime is available for download across various app stores. At the moment, the Google Play Store and the App Store run this application. RescueTime is a great automatic time-tracking software that significantly assists users with being more productive. With the premium version, the software offers users analytics and reports, distraction blocking tools, and real-time alerts. With RescueTime, users better understand where most of their time is devoted to. As a plus, the system does not require any data entry management. Instead, RescueTime offers reports on various metrics that are useful for creating a more productive work environment.
Using the RescueTime App
Additionally, RescueTime includes various technologies to optimize workflows. To explain, these systems include time reports, productivity reports, and time documenting time tracking. Also, there is offline time reporting. To explain, this feature allows users to measure data from calls, emails, and meetings. Next, users may identify which search and workflow terms consume more time with the keyword filter. Lastly, the system includes restrictive app access to other non-work-related sources, which improves productivity.
8. Todoist
It is one of the top-rated and most comprehensive time management apps that you will find. Since the app has been on the market for more than a decade, several features have been upgraded or incorporated over time by keeping the needs of modern users in mind.  Todoist delivers impressive features for both professional and personal use so that you can prioritize your time in all walks of life.
Users can delegate duties to others, create and track tasks, and get every important notification in a single place, allowing you to prioritize your regular chores and important tasks.
In fact, you can also set personal goals, make notes of your meeting agenda, create a weekly plan, make a reading list, or do everything to spend your day according to a schedule.
Upgrading the Todoist Platform
You can download this app and enjoy its excellent features for free. However, the options are fairly limited in the free version. To get the most out of Todoist, you can upgrade this app for $3 per month.
This app works perfectly well with all devices, from Android to iOS, Windows, macOS, and more. Hence, you can easily transition from your computer to your phone, while the app stays up to date.
9. Toggl Track
Users who are thinking of switching from multiple apps can install Toggle Track to get all the stored information from those apps. This is because Toggl Track uses integration technology to extract the data from the apps you are already using.
At its core, this app is time tracking software that also delivers other features, like a calendar. The app predominately tracks the time you spend on every task and runs reports to show how much time you have to or can spend on what task.
If you have to keep some important reports for future reference, you can easily create saved reports. After that, you can easily share these reports with your clients or team. You can also schedule reports that you want to email, though this is only available with the Premium version.
Upgrading the Toggl Track Platform
Its free version facilitates users with many good features. But if you want to track more than five members of the team at a time, you need to pay $18 per user to expand the team.
Fortunately, with the help of its integrations with Asana, Gmail, and other apps, Toggl Track can be added to your current tools. Most importantly, it also easily syncs across devices and works with Windows, macOS, Android, and iOS.
10. Time Tree
Time Tree has built a platform where you can find and manage different calendars with ease. Whether it's work, personal, or social, this app will pull out information and accumulate it in one place in an organized manner. Besides that, you can now also share your schedules and calendars with your siblings, coworkers, spouse, and more.
Time Tree also offers you a way to maintain your bucket list or to-do list in a digital way, which is excellent. You can also set easy-to-use reminders to attend parent-teacher meetings, corporate events, family dinners, and other events on time.
Upgrading the Time Tree Platform
Users can benefit from this app without paying a penny. This free app is compatible with devices with Android and iOS operating systems. It also works quite well on a desktop. Hence, no matter where you are, you can simply add important notes and events with a few clicks.
Since it's free, you can quickly get your family or friends on board to share important information.
11. Remember the Milk
Not only is its name interesting, but its features and operational method are also intuitive. Unlike other apps, remember the milk allows you to choose the method to receive reminders, such as via text, emails, or Twitter. This way, no reminder goes unnoticed and unexecuted. It's to-do list feature allows user to organize tasks whether you have to do them yourself or want Siri or Alexa to perform them for you.
Users can also operate this app from the Apple Watch and review, add, or do other things. Depending on the nature of your tasks, you can choose from a list of built-in themes. To make your job easily understandable when the time comes to perform it, you can even attach files with each task- so, everything truly is in a single place.
Upgrading the Remember the Milk Platform
The platform offers you a free version that is enough to get your life on track. However, you can opt for its upgraded version for just $40 per year if you want to use premium features.
This app works on every device, such as mobile phones and laptops. Not to mention, its registration process is also snappy and straightforward. All you need to do is install the app and follow the instructions.
12. Dropbox
Dropbox offers you a way to get rid of your procrastination and stay on top of tasks by reminding yourself about the importance of work. On top of that, this app allows you to transfer data from your computer to other devices, which is convenient. This feature also helps you share information with your family, friends, or colleagues in order to boost productivity.
Apart from this, you can sync records with your clients and teams. Plus, you can keep your data extremely private and secure by using multiple layers of protection.
This platform also gives you the freedom to use your favorite apps. For instance, you can use Zoom to remotely collaborate with your team with the help of Dropbox. Other apps you can sync include, Bring Slack, Office Docs, Google Docs, Asana, and others.
Upgrading Dropbox Platform
This platform is available on Desktop, Android, and iOS and is compatible with all types of devices. The Dropbox app comes with several packages, such as professional, standard, plus, and much more.
The plans start from $9.99 to $20 and offer several features and options to make time management straightforward and hassle-free.
Conclusion
In conclusion, individuals may increase their productivity through the use of time management apps. To sum up, these tools assist users to manage, organize, and document their tasks around a consistent schedule. Moreover, time management apps serve as useful and user-friendly business reporting and productivity tools.
While most require subscriptions, free versions include the essential features for optimizing current workflows. In return, these apps assist users with time reporting while encouraging users to meet objectives.
What is your favorite time management app? Have you used any of these apps to manage your time?
Please share your comments below.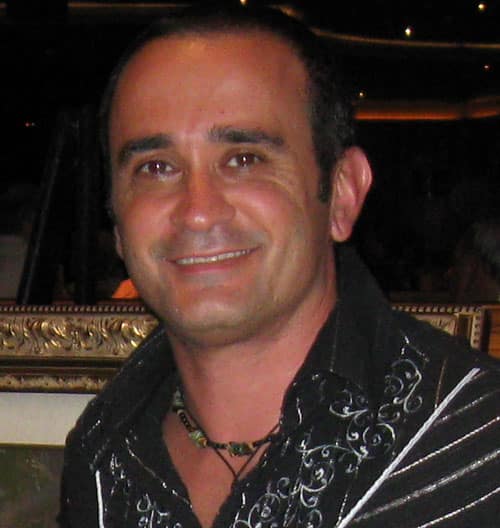 Author Bio
Angelo Frisina is a highly experienced author and digital marketing expert with over two decades of experience in the field. He specializes in web design, app development, SEO, and blockchain technologies.
Angelo's extensive knowledge of these areas has led to the creation of several numerous award winning websites and mobile applications, as well as the implementation of effective digital marketing strategies for a wide range of clients.
Angelo is also a respected consultant, sharing his insights and expertise through various podcasts and online digital marketing resources.
With a passion for staying up-to-date with the latest trends and developments in the digital world, Angelo is a valuable asset to any organization looking to stay ahead in the digital landscape.