Protecting your WordPress website is crucial, and a backup is like an insurance policy for your online presence. While it may not be the most exciting thing to consider when everything is running smoothly, having a backup plan can make all the difference if something goes wrong. With WordPress powering a significant portion of the internet, it's essential to be prepared for any potential issues.
The process of backing up your WordPress site may seem overwhelming, especially for high-traffic websites or e-commerce stores. However, it doesn't have to be complicated. This article will guide you through the simple process of creating a backup in just a few minutes and ensure that your website stays safe and secure in the long run.
WP Engine backups
Effortlessly back up your WordPress website in just a few minutes with WP Engine. All you need to do is install the plugin on your site, add some FTP data and let it sync.

WP Engine is the ultimate solution for all WordPress websites and is compatible with most current versions of WordPress and plugins. Enjoy automated, scheduled backups for your vital site information and never have to worry about your website experiencing downtime again.
Locate Backup and Restore
Access all your backup options from the "Backup Points" page in the User Portal. Follow these steps to reach it:
Log in to the User Portal
Choose the environment name
Click on Backup Points
The page displays the latest 40 checkpoint records.
Make a Backup Checkpoint
Access the Backup Points page in the User Portal
Click on "Backup Now"
 A new window will appear with the following fields:
Backup description: Provide a name, such as "Before updating plugins.
"Send notification to Enter email addresses separated by commas to receive a notification upon completion of the backup.
Click Create environment-typeBackup
Please note that the email notification may be sent to your Junk or Spam folder. Don't forget to check these folders in your inbox to ensure you receive the notification.
Restore a Backup
To revert your website to a previous version:
Open Backup Points in the User Portal
Select a backup from the list by clicking the corresponding radio button.
Note: Backups are in UTC server time.
Click "Restore"

A new window will appear with the following fields:
Restore to: Choose an environment name to restore the backup to
Restore with database: Check the box to restore database information or uncheck it to restore files only. Note that partial database selection of specific tables is not available.
Send notification to: Enter email addresses separated by commas to receive a notification upon completion of the restore.
Click "Restore Backup"
The automated restore process may take anywhere from a few minutes to several hours, depending on the size of your site and the number of files. Once the restore is completed, an email will be sent to the listed email addresses.
Note:
The email notification may be sent to your Junk or Spam folder, so don't forget to check these folders in your inbox.
If you restore the backup to another environment, the source environment that the backup belongs to will not be affected.
The restore process is destructive, meaning all content will be overwritten on the destination environment to match the content of the selected backup point. This means that files present on the destination and not in the backup chosen point will be deleted upon restoration.
The automated restore process can take anywhere from a few minutes to several hours. This largely depends on the size of your site and the number of files. An email will be sent to the email addresses listed when the restore has completed.
It's possible for the email notification to be filtered into Junk or Spam. Be sure to check these email folders.
If you choose to restore the backup to another environment, the source environment that the backup belongs to will not be impacted.
The restore process is destructive, meaning all content will be overwritten on the destination environment to match the content of the backup point selected. This means files present on the destination, if not present in that backup point, will be removed from the destination upon restore.
What are WordPress backups?
A WordPress backup refers to a complete copy of your website that can be retrieved in case anything goes wrong. Various methods exist to perform a WordPress backup, including using your web host, a specialized WordPress backup plugin, or even manually.
It is important to note that not all backups are equal in terms of their quality and efficacy. Having regular backups of your WordPress site is crucial to ensure you do not lose valuable data. This is especially critical for websites that contain sensitive information, such as customer data or order details, and legal websites. Server crashes, malware attacks, or even human error can result in months of hard work and significant data loss. Backups serve as a safeguard against these types of scenarios.
What is the current version of WordPress?
As of February 13, 2023, the current version of WordPress is 6.0. Released on May 24, 2022, WordPress 6.0 is a significant upgrade that brought several features to the platform.
This latest version features advancements in complete site editing, including new blocks, improved block editor functionality, the ability to switch styles, and enhanced text and writing controls.
WordPress 6.2 Beta 1
According to wordpress.org, on February 7, 2023, WordPress 6.2 Beta 1 became available for downloading and testing. It is important to note that this version of WordPress is still in the development phase and should not be used on critical websites or requiring a high level of reliability. Instead, it is recommended to run Beta 1 on a test server and website for testing purposes.
Alternative methods to Backup WordPress
Not hosted with WP Engine? Here are some alternative tips to help backup your WordPress website using a variety of plugins, tools and hosting accounts.
To ensure the safety of your database and files, it is important to backup your WordPress website before performing any updates. For a comprehensive guide on backup and update procedures, kindly refer to the Updating WordPress Codex Page.
Here are the steps to backup your website using WPvivid Backup:
Navigate to the "WPvivid Backup" tab. From this tab, you will see three options: "backup and restore," "export and import," and "settings."
Select the "backup and restore" button, which will open in a new tab window. This page displays all of your backup and restore options in one place.
The WordPressVivid Backup Page
The WPvivid Backup page offers a variety of backup and restore options for your databases and WordPress files. You can choose from a combination of restoration options and decide where to store your backup files on local storage or in a remote location like FTP, SFTP, Google Drive, Dropbox, and more.
Select your preferred options to initiate the backup process and hit the "Backup Now" button. Please note that the backup process may take several minutes to complete
The WordPressVivid Backup Updates Page
The WPvivid Backup Updates page presents users with reminders, messages, and update options. You will first see a notification that a WordPress update is available, followed by a message displaying a link to update to WordPress version
To backup up, your website before updating, click on the "how to backup your WordPress website link. This will automatically initiate the backup process. Please allow a few minutes for the WordPress update to complete. Additionally, there are options to update any outdated plugins or theme extensions.
Checking on the Backups Update Status
To proceed with the process of backing up your WordPress website, it is essential to conduct a test check. Start by selecting the backup, update, and other relevant options that suit your website's needs. Next, access the WordPress Dashboard and look for updates. You can do this by following these steps:
Locate the dashboard icon on your WordPress site.

Go to the home page and access the subcategories.

Select the "Updates" option from the drop-down menu.
Once you have taken these steps, the website will provide notifications and alerts to keep you informed about the status of your WordPress website updates. Finally, navigate to the updates page to complete the process.
How to Navigate the WordPress Updates Page
The WordPress Updates page provides a clear and concise overview of your website's update status. A bold heading will indicate whether you have the latest WordPress version installed. Additionally, if necessary, you may be prompted to reinstall the newest version from this page.
The updated status of your plugins and themes will also be displayed on this page. To ensure that your website remains up-to-date, the "Check Again" feature is available for you to perform future test checks at any time.
Methods for Creating a Backup
Fortunately, there are various methods of backing up your WordPress website. In technical terms, automated processes via plugins and manual techniques, such as via FTP clients and cPanel, enable WordPress users to have many options to back up their website content. For a tutorial on how to manually backup your WordPress website update and your WordPress files and database, watch the video below.
Use a Plugin
As recommended, plugins are a convenient method of regularly backing up your WordPress site, often automatically. There are many free WordPress plugins available individually to do a full backup of your website, including your database. Backups can typically be downloaded as a .zip archive file. Conversely, these plugins usually offer a feature enabling you to restore a backup from a.zip file. Listed below are five highly used WordPress plugins designed to backup your site.
Different Plugin Options
1. UpdraftPlus : UpdraftPlus is one of the highest-ranking backup WordPress plugins in the world. Likewise, many technological institutions, such as NASA and Microsoft, rely on this popular plugin. Both free and premium versions of the plugin are available for installation onto your WordPress site.
2. BackWPUp : Like most WordPress backup plugins, BackWPUp allows users to set automatic backup schedules for their site easily. The pro version of BackWPUp also provides full user support and useful additional features to maintain website security to the fullest.
3. BackUpWordPress: "BackUpWordPress" is reliable and a free plugin. It also comes with automatic scheduling of site backups. Notably, its disadvantage for the free version of BackUpWordPress is non-cloud supportive. So, investing in the premium plugin is worth the cost and offers better features.
4. Duplicator:  This free plugin allows users more functionality in their backups. It quickly clones, migrates, and redistributes its WordPress site with ease. However, users must upgrade to the pro version to unlock the popular automatic scheduling feature for this plugin.
5. All-in-One WP Migration: Lastly, All-in-One WP Migration is a better simple-to-use plugin. Due to its feature, it better enables users with the backup of WordPress websites. With a simple drag and drop actions, users are free to backup without restriction. Also, the plugin complies with all hosts. Lastly, the premium version offers cloud transfer services.
Manually Export your Site's Database
Essential backup practices are to backup website databases regularly. Thankfully, many WordPress plugins speed up the backup process. However, users must develop an understanding of website databases to directly manage a backup.
The Step-by-Step Instruction for Manual Exports
Read the instructions listed to manually export your WordPress website database onto your computer.
Log into your cPanel admin account (shared by your web host provider).
Click the "Databases" dropdown menu and select the "phpMyAdmin" option.
In the new browser, locate and select your WordPress site's database on the left-hand side of the window.
Select the "Export" tab. In the following dialog box, set the Export method to "Quick" and the Format option to "SQL." Hit "Go" and a file will begin downloading.
Relocate the file to your "Database" folder. To identify the data to be moved, it should have the suffix .sql attached to the end.
Export the site files via cPanel or FTP client.
Using an FTP Client
FTP (File Transfer Protocol) is a handy software for web developers. Because of its connectivity with website live servers, it uses online to reach a computer's local server. Therefore, having FTP credentials on servers better enables user downloads. Users simply download site directories and then transfer the download directly from the server to other locations. All things considered, this is an ideal backup method except when using cPanel or plugin. As a downside, transfer times linger and cause user impatience. Now, here is a variety of  popular FTP clients to choose from:
Mainly, this FTP client is a powerful tool for Windows users. It has an easy-to-use interface design with a wide range of features. Moreover, its compatibility with various protocols makes WinSCP essential for all WordPress users.
On the other hand, Cyberduck optimization design works for both Windows and Mac. Plus, its seamless integration with the local environment in Mac computers makes it an obvious choice for Mac users. Additionally, Cyberduck also supports a wide range of host servers.
Next on the list is FileZilla. The program is compatible with multiple host computers and is very popular for Linux users. Perspectively, it is common that web developers gravitate towards this option for user-friendly plugins and functionality in features.
Transferring via FTP
Manual data transfer sites via FTP include essential rules. First, FTP users are to download the entire site's file directory for proper installation. In simmer terms, this consists of the WordPress Core Installation. The actual files for the WordPress CMS include WordPress Plugins folder, WordPress Themes folder, and media assets. Second, website backup and retrieval are its WordPress database. To clarify, the MySQL database stores WordPress site content, such as posts, comments, user accounts, and other data. If  everything is in order, downloading  website content from web servers is a relatively simple process.
Transfer FTP Steps
If FTP client is not connected, log in with FTP credentials. In detail, the web hosting provider provides FTP credentials. Designate a folder on your computer that contains site files and databases.

Open your FTP client. Typically, local servers are on user screens. Correctly, the screen displays local servers on the left-side panel and the server on the right-side panel.

On the right panel, locate the "public_html." The folder holds user site files. Next, transfer data into the designated folder on your local computer. Afterward, drag the selected folder onto the left panel. 
Download Backup from cPanel
Downloads are possible from cPanel.  This feature assists users in the process of downloading full website backups. In fact, it applies to all websites. For example, sites built via the WordPress platform are cPanel friendly. Correspondingly, WHM and InterWorx offer cPanel for web hosting control panels.
Deleting WordPress Sites
To restore a backup version of your WordPress site also includes a removal of the WordPress site. First, you must remove the current version from the web-server. To accomplish this, you must wipe two components of your live website: the file directory and database. Before continuing with the deletion process, there are two rules of thumb to follow.
Preparing to Delete WordPress
First, make a backup of your existing WordPress site. For data safety, step number one saves unfamiliar users from damaging or losing data. Second, note the names of the current database and its user(s) (all of which is information that will be useful later). For an in-depth tutorial on deleting your files and database, watch the video below.
Deleting Your Website Files
Finally, users are ready to clean WordPress off their computers. First, users begin removing all associated files from the website. This includes any web-based content related to your sites, such as your blog posts, themes, and plugins. Users quickly complete file removal through cPanel and web hosting platform account use.
After logging into your web hosting account, open the File Manager.

Locate your website within your file directory.  

Select all existing files—hold the SHIFT key and select the first and last file to highlight all.

Select the "Delete" button—you may have to right-click "Delete."
Deleting Your Database
Lastly, the final step to entirely removing site content is to cancel the database. Mostly, users will find that website data remains while the live site vanishes. To check website data, refresh the site after wiping the files.
Within cPanel, select "MySQL Databases" under the Databases dropdown menu.

Identify your database (if there are multiple databases on the web-server, you can search for your database with the name you noted earlier).

Delete the database.
Deleting Website Data
Before proceeding to the backup site, it is essential to delete additional website data. For thoroughness, other users of your website must be removed. First, simply scroll down to the Current Users subsection on the same page. Second, identify the user(s) that had access to the WordPress database. In essence, users should reference the usernames noted earlier. Lastly, select the "X" icon to remove this user.
Restoring from a Backup
Generally speaking, all of the backup methods have complementary features for restoring from a backup (typically a .zip file). In the case of FTP, simply  start by transferring the backup directory (unzipped) over to the server. Under these circumstances, many backup plugins listed also offer features to restore your site within the same plugin. Similarly, WordPress users can regain their WordPress sites and databases to previously backed-up versions via FTP and cPanel. For an in-depth tutorial on restoring WordPress files and database from a backup, watch this video below.
Restoring Website Files from a Backup Version via FTP
Reasonably, restoring files from FTP backup versions are also an option. Surprisingly, uploading the site's backed-up files from the local server is very simple if you have used an FTP client to back up your WordPress site. By comparison, it is the same process of traditional backups, but in reverse. First, select the files you wish to transfer from your local server. Second, move files to a remote server. Lastly, drag files from the remote server into the proper directory folder.
Restoring Website Files from a Backup Version via cPanel
Alternatively, cPanel backups are a great substitute to restore websites. Without a doubt, restoring your WordPress site files is a relatively simple process. First, users will remain within the same window they deleted their data in. As a reminder, ensure that old WordPress files have been removed from proper removal processes before continuing with the restoration process. Take a look at the steps to restore data from a cPanel backup.
Within the same File Manager in cPanel, select the "Upload" button from the menu options.

In the window, upload your site backup (in .zip file).

When the .zip file appears in your directory, "Extract" the internal data. It is recommended to remove the .zip file from your web server after the extraction process is completed.
Restoring Database from a Backup Version via cPanel
To continue, reverting WordPress databases back to a prior version is relatively straightforward. As a precaution, users require confirmation of having existing downloaded data from the files before restoring to previous databases. The existing files are data identifiable in locations on computers. These simple steps will ensure users how to restore the data on cPanel.
Log into your cPanel account.

Select "Backup" under the "Files" dropdown menu.

Scroll down until you locate the subheading "Restore a MySQL Database Backup."

Select "Choose file" and locate the appropriate database files, which should be easily found on your computer.

Select "Upload" to finish the process.  
Conclusion
In conclusion, backing up your WordPress website is an essential task that should not be taken lightly. A backup ensures that all your website data, including posts, pages, themes, and plugins, can be restored in case of any disaster, such as a server crash or hacker attack. You can use various methods to back up your website, including plugins, manual backups, or a combination.
Regardless of your chosen method, it is crucial to update your backups regularly and store them securely. Doing so can minimize the risk of losing valuable data and prevent downtime that can negatively impact your online presence and reputation.
In conclusion, back up your WordPress website today and ensure the safety and security of your website data. It's always better to be safe than sorry, so don't wait until it's too late to take action.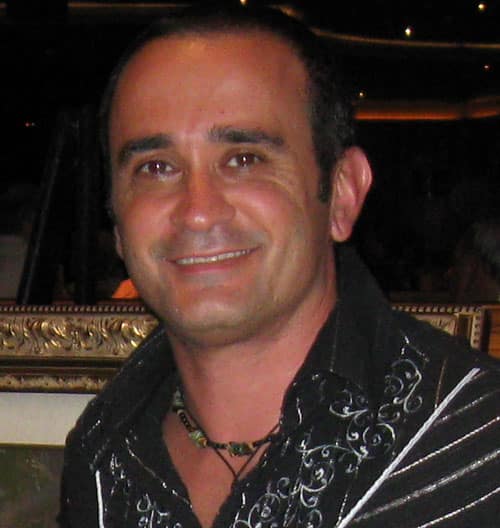 Author Bio
Angelo Frisina is a highly experienced author and digital marketing expert with over two decades of experience in the field. He specializes in web design, app development, SEO, and blockchain technologies.
Angelo's extensive knowledge of these areas has led to the creation of several numerous award winning websites and mobile applications, as well as the implementation of effective digital marketing strategies for a wide range of clients.
Angelo is also a respected consultant, sharing his insights and expertise through various podcasts and online digital marketing resources.
With a passion for staying up-to-date with the latest trends and developments in the digital world, Angelo is a valuable asset to any organization looking to stay ahead in the digital landscape.