With over one million users worldwide, Shopify offers a wealth of marketing apps that can help businesses grow and succeed. Whether you're looking to boost conversions, improve content and SEO, retain customers, optimize sales, or run effective online advertisements, there is an app on Shopify
Shopify offers a wealth of marketing apps that can help businesses grow and succeed. Whether you're looking to boost conversions, improve content and SEO, retain customers, optimize sales, or run effective online advertisements, there is an app on Shopify that can help.
The vast array of free tools and apps makes it easy for users to grow their businesses. They can customize how the product feeds look like, create targeted ads, begin an email marketing campaign, and much more.
Our team has put together a comprehensive guide of the best Shopify marketing apps for 2023ows that it can accommodate any type of business — whether it's a small online store or giant online retail. And one of the reasons why the platform has become a hub for most ecommerce businesses is the Shopify marketing apps.
Branding and Marketing on Shopify
After creating an online store, the next logical step would be to build your brand and set up a great marketing campaign.
When establishing your own brand, you must decide how you want to be perceived from the get-go. Ask yourself: do you want to create a luxurious or casual brand? What is the brand's personality? Is it friendly, trustworthy, or progressive?
An important but often forgotten method of branding is creating a slogan. Just think of Apple's "Think different" and see how this short phrase can convey the message about the company. From the slogan, the audience knows that Apple's goal is to innovate and create ground-breaking products in its industry.
It became a quick commercial success and even received an Emmy Award for Best Commercial in the late 90s. Apple's marketing campaign proved that an effective slogan can make a huge difference to your business growth.
Now, in terms of online marketing, a good Shopify web designer can help your business grow. For instance, you can optimize your SEO by adding related keywords to the page titles, meta descriptions, and ALT tags.
Shopify also allows you to schedule future discounts, live chat with customers using Shopify Ping, automatically send an email to customers who have an abandoned cart, and create an automated sale collection.
Of course, there is so much more you can do with the help of the best Shopify marketing apps. Most of the successful Shopify stores greatly benefit from the Shopify marketing apps marketplace. Take a look at our favorite apps below that are categorized based on their functions and features. 
Apps for Online Ads
The best Shopify marketing apps on this list can help you draw traffic to your store through targeted advertising. Although most of these services are offered for free, you may be required to pay a small fee for additional features.
Have you ever come across Google's recommendations when searching for a product online? These recommendations sit at the top of the Search Engine Result Pages (SERP) and immediately draws your attention.
Thanks to the Google Shopping app, now you can do the same thing to your products. Your ads will be displayed to Google's large customer base through the Google networks like Youtube, Gmail, and Blogger.
What's more, thanks to its smart algorithm, you can be sure that your money will not go to waste. Google Shopping will automatically choose the best place and time to display the ads in order to get the best conversion rate.
To enjoy all of these benefits, all you have to do is connect your Shopify store to your Google Merchant Center, and then set your daily budget. Don't worry — you only pay when someone clicks on your ads.
2. Ads by Varinode
Varinode's Ads is an intelligent and budget-friendly solution for boosting traffic to your Shopify store. The ad exchange app allows you to share advertising space with other stores in the same niche, leading to increased exposure and the potential for more sales.
This app operates on an exchange basis, meaning you don't have to spend any money on advertising. Whenever a customer clicks on an ad displayed in your store, you earn exchange credits that you can use to fund your campaigns in other stores. This creates a mutually beneficial relationship for all parties involved, increasing visibility for everyone.
This app is perfect for those who are just starting and want to maximize their advertising efforts without breaking the bank. The targeted nature of the ads ensures that you reach customers ready to make purchases, leading to a higher return on investment. So if you're looking for a cost-effective way to grow your eCommerce business, give Ads by Varinode a try today!
3. Free Traffic and Ads by Sixads
Sixads is a traffic exchange app similar to Varinode but with some key differences. With Sixads, you can handpick the ads that will be shown on your site, ensuring they will keep potential customers safe.
For those looking for an ad-free experience, a premium subscription is available starting at $9.99 to $33.99 per month, based on the number of impressions you require.
Additionally, Sixads offers a unique feature of placing targeted Facebook ads for a minimal fee. Choose the products you want to promote, set your budget and time frame, and let the AI take care of the rest. This app is an excellent option for those just starting and looking for a cost-effective solution to increase traffic to their store.
Customer Retention and Sales Optimization
Displaying ads is not enough to drive sales and generate repeat customers. To achieve such goals, you need the right tools that can attract customers with targeted campaigns, enticing them with coupons and other freebies, and finally encourage them to make more purchases.
Here are the best Shopify marketing apps that will help you build a loyal customer base that can boost sales.
Privy enjoys a lot of attention from Shopify users due to its ability to initiate an interaction that may convert visitors to customers.
For starters, you can attract prospective customers using email pop-ups, banners, and spin-to-win wheels. Use one of the available templates or create one yourself with the drag-and-drop editor.
Once you get visitors to sign up, Privy can help you run automated and targeted email campaigns. Inform visitors of new products, remind them of their abandoned cart, send a follow-up email after purchase, and much more.
Run an A/B testing to see which one of your campaigns work best. After that, keep track of your performance metrics using real-time dashboard indicators or email alerts. If you need any help, reach out to its customer support via live chat or emails.
5. Sales Pop Master – Countdown
Stimulate your customers to make purchases using well-timed pop-up messages that show recent sales, most purchased products, and a countdown timer. If you are a new store owner with no purchase records yet, you can also display items that have been added to the cart.
The whole point of this is to motivate your customers to make purchases. When a potential buyer sees sales records of items they are interested in, it could boost their trust and help them come to a quick decision.
After that, see how your store is performing with the analytics tool. It will display the most-viewed product and the total products added to carts within the last 30 days, 7 days, yesterday, and today.
You can get access to all these features for $2.99/month. Sales Pop Master also works with Privy to increase your store conversion rate.
6. Facebook Messenger Marketing
Facebook Messenger is a great platform to retain customers. With an average of 70-80% of open rates, you can rest assured that your messages will be delivered and get noticed.
There are several automation options available. Depending on your settings, the app can send abandoned cart messages, receipts, and follow-up messages for up to 60 days after the purchase.
It's important to note that you need to have a Facebook Business Page to use the app, since the page will be the sender of your messages.
Facebook Messenger Marketing app is priced at $9 to $49/month. There's a 30-day trial if you want to test out all the different features and see if it suits your needs.
Apart from promos and coupons, another way of attracting customers is through free shipping.
The app helps you to create a notification bar that tells the readers about free shipping offers. And when customers add items to their cart, this bar will tell them about how much more they need to spend in order to qualify for free shipping.
It's also possible to set different requirements for different users based on their location. For instance, US customers need to spend $100 dollars to get free shipping, while Europeans have to spend $120.
The app can be used for free, but there's a premium plan ($9.99/month) available if you want to enjoy auto currency conversion, performance tracking, geo-targeting, and auto-scheduling.
Best Shopify Marketing Apps for Content and SEO
Great marketing and branding efforts will go to waste if you don't have a well-designed store with content tailored to the needs of customers and search engines alike. As such, take advantage of these apps below and transform your store into a customer magnet!
PageFly is a powerful page builder. With more than 50 premade templates, you can use this app to build your homepage, FAQ, product page, blog post, and so on. Just pick a template that suits your niche, and then customize it with the drag-and-drop editor.
Make use of the built-in SEO tool to optimize your pages and ensure that you are visible to your customers. This feature is especially useful when writing product descriptions, home, and about pages.
PageFly can be enjoyed for free. However, there's a three-page limit and you only have access to 15 templates. To have more benefits like product page add-on, autosave, and other advanced page elements, you need to purchase the Pro ($9.95/month) or Premium ($29.95/month) plan.
Shogun is a top-notch page builder app for your Shopify store. It offers a wide range of features to help you create custom pages that perfectly align with your brand and convert more visitors into customers. One of its standout features is the extensive element library, which includes various elements such as a countdown timer, videos, social media icons, parallax, and video backgrounds. With these elements, you can add dynamic and interactive features to your pages that will help increase conversions.
Not only does Shogun offer a comprehensive page-building platform, but it also provides robust analytics tools that help you measure your page performance. You can track key metrics like click-through rate, add-to-cart rate, and form submission rate to determine which pages are performing well and which areas need improvement.
The only downside of Shogun is that there needs to be a free plan available. However, you can try it out for free for ten days to see if it's the right fit for your store. The starting price of $39/month is higher than other page builder apps, but the robust feature set and analytics tools make it a worthwhile investment for any eCommerce store looking to take its website to the next level.
The SEO Image Optimizer is a powerful Shopify app that can help you take your on-page SEO to the next level. It offers automated features that will help you optimize your store to meet the latest search engine requirements. This includes optimizing your images and meta tags, fixing broken links, and optimizing your site for Google Snippets, among others.
One of the key benefits of using this app is that it helps you save time and effort in monitoring and optimizing your store for search engines. With the app's powerful features, you can be sure that your store is always in compliance with the latest SEO best practices.
However, it's worth noting that the full suite of auto-SEO features is only available on the Pro plan. The free program only allows you to optimize images, which is still a helpful feature for many store owners.
The Pro plan is worth considering if you're looking for a comprehensive SEO optimization solution, starting at $24.99/month.
11. Extra Bonus: Easy Google Shopping Feed
A simple & convenient app that allows you to set up a Google Merchant Center & create Google Shopping Feeds. A few clicks & tweaks and your data feed is up & running instantly.
Improve Product Feeds for Google Shopping with a scoring system. The scores represent a scale outlining the best practices in Google Shopping, Google PPC & SEO.
The Top Shopify Apps for Boosting Conversions
The Top Shopify Apps for Boosting Conversions Conversions refer to any actions that precede and culminate in a sale. Improving sales could include:
Signing up for your email list.

Clicking on a promotional offer.

Placing an item in the shopping cart.

Pressing the checkout button.
By improving your conversion rate, you can persuade more visitors to take action on your site. The following are the best Shopify apps to enhance your website's conversion rates.
1. OptinMonster
At the top of our list stands OptinMonster, an excellent Shopify app that expands your email list, increasing your sales and recapturing potential customers. This app is so versatile that it has taken the place of several other apps, which is why we have ranked it first.
With its eCommerce capabilities, OptinMonster makes it effortless for you to create attractive marketing strategies for lead generation, product recommendations, abandoned cart recovery, discount wheels, and other motivation methods.
Features:
A simple drag-and-drop interface for building marketing campaigns. 

Many design elements include videos, countdown timers, images, and more.

 An array of campaign styles include pop-ups, full-screen, floating bars, slide-ins, discount wheels, inlines, and content lockers.

Over 50 pre-designed templates and playbooks to choose from.

Accurate targeting and activation criteria.

Compatibility with various platforms, including Shopify, WooCommerce, Big Commerce, and others.

Ongoing customer support and extensive guidance documentation.
Optimal Usage:
Suggesting product offerings.

Enhancing customer retention on the website and Boosting conversion rates.
Pricing
Get started with OptinMonster today and jumpstart your eCommerce business growth! Pricing begins at just $9 per month for a maximum of 2,500 campaign impressions.
OptinMonster is available on the Shopify App Store, WooCommerce, BigCommerce, and all other major eCommerce platforms.
2. TrustPulse
Boost customer trust and drive conversions with TrustPulse, one of the top eCommerce apps for establishing credibility with your website visitors. TrustPulse allows you to display real-time notifications of actions taken by other users on your site, increasing the likelihood of visitors trusting recommendations from fellow shoppers over advertisers.
With TrustPulse, you can harness the power of actual customer activity to enhance trust and improve your site conversions by up to 15%.
Key Benefits:
Real-time activity tracking for purchases, registrations, signups, and more.
Attention-grabbing "On fire" notifications to demonstrate the popularity of products or actions/
Intelligent targeting rules and flexible timing controls • Customizable design options.
Easy setup with no coding required
Ideal Use Cases:
Encouraging customers to make purchases.
Directing traffic to product pages.
Enhancing social proof and credibility signals.
Pricing
Get access to affordable pricing plans, starting at just $5 per month for up to 2,500 sessions.
TrustPulse is available on the Shopify App Store, WooCommerce, BigCommerce, and all other major eCommerce platforms.
3. PushEngage
Drive sales and engage your visitors with PushEngage, a powerful Shopify app for sending custom push notifications. With PushEngage, you can recover abandoned carts, re-engage users while they're on your site, and increase conversions.
One of the best things about push notifications is that visitors are more likely to sign up without providing personal information like email addresses or phone numbers. PushEngage is easy to install with just one click.
Key Benefits:
Customizable opt-in display rules

Versatile push notification design options

Automated abandoned cart notifications

Advanced audience segmentation capabilities

Simple setup with no coding required
Ideal Use Cases:
Generating traffic to your site

Re-engaging visitors while they're on your site

Recovering abandoned shopping carts
Get started with PushEngage and take advantage of the free plan for up to 200 subscribers and 30 campaigns. Pricing plans begin at $9 per month for up to 100K subscribers.
PushEngage is available on the Shopify App Store, WooCommerce, BigCommerce, and all other major eCommerce platforms.
4. Octane AI: Quiz Growth Tools
Transform how you interact with customers with Octane AI, a Shopify quiz app that makes it easy to build a product quiz in minutes. With Octane AI, you'll have the opportunity to send personalized product recommendations and collect valuable customer data.
Your quizzes will ask customers questions one by one to determine what they're looking for and then generate a list of customized product recommendations complete with "add to cart" links to boost average order value.
The quiz data is seamlessly integrated with your email and SMS marketing apps, enabling you to follow up with genuinely personalized marketing.
Key Benefits:
Engaging conversational quiz popups
Personalized product recommendations
Ability to add items to the cart directly from the quiz popup
Ideal Use Cases:
Providing product suggestions
Enhancing average order value
Gathering customer data
Pricing
Opt-in for Octane AI and enjoy its features starting at just $50 per month. Octane AI is available on the Shopify App Store.
Conclusion
In conclusion, Shopify offers a wide range of marketing apps that can help businesses boost conversions, improve content and SEO, retain customers, optimize sales, and run effective online advertisements. Some of the best Shopify apps for boosting conversions include OptinMonster, TrustPulse, and PushEngage. These apps can help businesses increase trust, re-engage visitors and recover abandoned carts.
For content and SEO, apps such as Yoast SEO and Plug-in SEO can help businesses optimize their website and improve search engine rankings. Regarding customer retention, apps like ReCharge, SMSBump, and Loyalty Lion can help companies to keep customers engaged and coming back for more.
To optimize sales, apps like Octane AI, Swell, and Recart can help businesses provide personalized product recommendations, enhance average order value and streamline the checkout process.
Finally, for online advertisements, apps like AdRoll, Perfect Audience, and Conversio can help businesses reach their target audience, track conversions and optimize their ads for better results.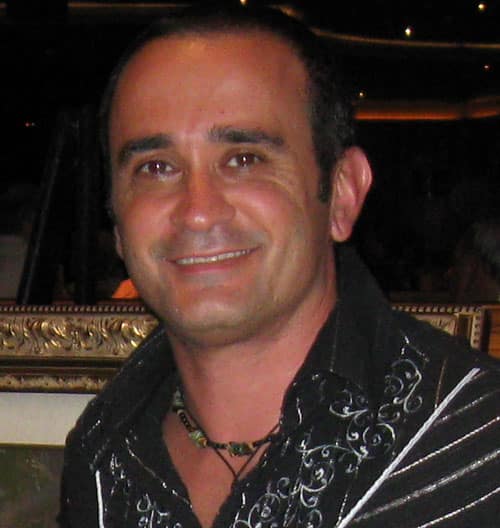 Author Bio
Angelo Frisina is a highly experienced author and digital marketing expert with over two decades of experience in the field. He specializes in web design, app development, SEO, and blockchain technologies.
Angelo's extensive knowledge of these areas has led to the creation of several numerous award winning websites and mobile applications, as well as the implementation of effective digital marketing strategies for a wide range of clients.
Angelo is also a respected consultant, sharing his insights and expertise through various podcasts and online digital marketing resources.
With a passion for staying up-to-date with the latest trends and developments in the digital world, Angelo is a valuable asset to any organization looking to stay ahead in the digital landscape.