With over one million users worldwide, Shopify shows that it can accommodate any type of business — whether it's a small online store or giant online retail. And one of the reasons why the platform has become a hub for most ecommerce businesses is the Shopify marketing apps.
The vast array of free tools and apps makes it easy for users to grow their businesses. They can customize how the product feeds look like, create targeted ads, begin an email marketing campaign, and much more. Here are some interesting Shopify statistics worth reading.
However, the abundance of options can be quite overwhelming, especially for newcomers. That's why, in this article, we'll show you the 10 best Shopify marketing apps that can help you successfully market your products.
Branding and Marketing on Shopify
After creating an online store, the next logical step would be to build your brand and set up a great marketing campaign.
When establishing your own brand, you must decide how you want to be perceived from the get-go. Ask yourself: do you want to create a luxurious or casual brand? What is the brand's personality? Is it friendly, trustworthy, or progressive?
An important but often forgotten method of branding is creating a slogan. Just think of Apple's "Think different" and see how this short phrase can convey the message about the company. From the slogan, the audience knows that Apple's goal is to innovate and create ground-breaking products in its industry.
It became a quick commercial success and even received an Emmy Award for Best Commercial in the late 90s. Apple's marketing campaign proved that an effective slogan can make a huge difference to your business growth.
Now, in terms of online marketing, a good Shopify web designer can help your business grow. For instance, you can optimize your SEO by adding related keywords to the page titles, meta descriptions, and ALT tags.
Shopify also allows you to schedule future discounts, live chat with customers using Shopify Ping, automatically send an email to customers who have an abandoned cart, and create an automated sale collection.
Of course, there is so much more you can do with the help of the best Shopify marketing apps. Most of the successful Shopify stores greatly benefit from the Shopify marketing apps marketplace. Take a look at our favorite apps below that are categorized based on their functions and features. 
Apps for Online Ads
The best Shopify marketing apps on this list can help you draw traffic to your store through targeted advertising. Although most of these services are offered for free, you may be required to pay a small fee for additional features.
Have you ever come across Google's recommendations when searching for a product online? These recommendations sit at the top of the Search Engine Result Pages (SERP) and immediately draws your attention.
Thanks to the Google Shopping app, now you can do the same thing to your products. Your ads will be displayed to Google's large customer base through the Google networks like Youtube, Gmail, and Blogger.
What's more, thanks to its smart algorithm, you can be sure that your money will not go to waste. Google Shopping will automatically choose the best place and time to display the ads in order to get the best conversion rate.
To enjoy all of these benefits, all you have to do is connect your Shopify store to your Google Merchant Center, and then set your daily budget. Don't worry — you only pay when someone clicks on your ads.
2. Ads by Varinode
Ads by Varinode is an ad exchange app that allows you to share traffic with stores that are in the same line of business.
Your ads are placed on similarly themed online stores. In return, other shops can also display their ads in your store.
This is a cost-effective method of increasing traffic to your store. You don't have to pay a penny because the system runs as an exchange. When a customer clicks on an ad displayed in your store, you earn an exchange credit with which you can use to fund your campaigns in other stores.
Unlike email and social media marketing, this app provides access to better traffic since customers who will be seeing your ads are ready to make purchases. If you're just starting out and are not ready to spend much on advertising, this app is worth a try.
3. Free Traffic and Ads by Sixads
This app operates in the same way as Varinode, with traffic exchange as its main strategy. However, there are some differences between the two.
First things first, you can choose the ads that will be displayed on your site. This way, those ads will not steal your customers away.
Even so, it's possible to opt-out from displaying ads by subscribing to one of its premium plans. The price ranges from $9.99 to $33.99/month, depending on the number of impressions you want to get.
Sixads also allows you to place targeted Facebook ads for a small price. All you have to do is select the products you want to advertise, set your budget and duration, then sit back and let the AI do the rest of the work.
Customer Retention and Sales Optimization
Displaying ads is not enough to drive sales and generate repeat customers. To achieve such goals, you need the right tools that can attract customers with targeted campaigns, enticing them with coupons and other freebies, and finally encourage them to make more purchases.
Here are the best Shopify marketing apps that will help you build a loyal customer base that can boost sales.
Privy enjoys a lot of attention from Shopify users due to its ability to initiate an interaction that may convert visitors to customers.
For starters, you can attract prospective customers using email pop-ups, banners, and spin-to-win wheels. Use one of the available templates or create one yourself with the drag-and-drop editor.
Once you get visitors to sign up, Privy can help you run automated and targeted email campaigns. Inform visitors of new products, remind them of their abandoned cart, send a follow-up email after purchase, and much more.
Run an A/B testing to see which one of your campaigns work best. After that, keep track of your performance metrics using real-time dashboard indicators or email alerts. If you need any help, reach out to its customer support via live chat or emails.
5. Sales Pop Master – Countdown
Stimulate your customers to make purchases using well-timed pop-up messages that show recent sales, most purchased products, and a countdown timer. If you are a new store owner with no purchase records yet, you can also display items that have been added to the cart.
The whole point of this is to motivate your customers to make purchases. When a potential buyer sees sales records of items they are interested in, it could boost their trust and help them come to a quick decision.
After that, see how your store is performing with the analytics tool. It will display the most-viewed product and the total products added to carts within the last 30 days, 7 days, yesterday, and today.
You can get access to all these features for $2.99/month. Sales Pop Master also works with Privy to increase your store conversion rate.
6. Facebook Messenger Marketing
Facebook Messenger is a great platform to retain customers. With an average of 70-80% of open rates, you can rest assured that your messages will be delivered and get noticed.
There are several automation options available. Depending on your settings, the app can send abandoned cart messages, receipts, and follow-up messages for up to 60 days after the purchase.
It's important to note that you need to have a Facebook Business Page to use the app, since the page will be the sender of your messages.
Facebook Messenger Marketing app is priced at $9 to $49/month. There's a 30-day trial if you want to test out all the different features and see if it suits your needs.
Apart from promos and coupons, another way of attracting customers is through free shipping.
The app helps you to create a notification bar that tells the readers about free shipping offers. And when customers add items to their cart, this bar will tell them about how much more they need to spend in order to qualify for free shipping.
It's also possible to set different requirements for different users based on their location. For instance, US customers need to spend $100 dollars to get free shipping, while Europeans have to spend $120.
The app can be used for free, but there's a premium plan ($9.99/month) available if you want to enjoy auto currency conversion, performance tracking, geo-targeting, and auto-scheduling.
Best Shopify Marketing Apps for Content and SEO
Great marketing and branding efforts will go to waste if you don't have a well-designed store with content tailored to the needs of customers and search engines alike. As such, take advantage of these apps below and transform your store into a customer magnet!
PageFly is a powerful page builder. With more than 50 premade templates, you can use this app to build your homepage, FAQ, product page, blog post, and so on. Just pick a template that suits your niche, and then customize it with the drag-and-drop editor.
Make use of the built-in SEO tool to optimize your pages and ensure that you are visible to your customers. This feature is especially useful when writing product descriptions, home, and about pages.
PageFly can be enjoyed for free. However, there's a three-page limit and you only have access to 15 templates. To have more benefits like product page add-on, autosave, and other advanced page elements, you need to purchase the Pro ($9.95/month) or Premium ($29.95/month) plan.
Shogun is another great page builder for your Shopify store. Just like PageFly, this app can help you build any pages you want.
One of the most outstanding features of Shogun is its element library. You can add a countdown timer, video, social media icons, parallax, and video background. Whatever you need to boost conversion rate, Shogun gives it to you.
Promising as more than just a page builder, Shogun also provides analytics to measure page performance like click-through rate, add-to-cart rate, and form submission rate.
Unfortunately, there's no free plan for this app. The price starts at $39/month, but you can try it for free for 10 days.
A nifty app that helps you build on-page SEO for your store. After setting up the app, it will automatically monitor and optimize your store to meet the standard requirements. For instance, the app will optimize your images and meta tags, fix broken links, and optimize the site for Google Snippets.
Unfortunately, these auto-SEO features are only available on the Pro plan, which costs $24.99/month. The free plan only gives you the option to optimize images.
11. Extra Bonus: Easy Google Shopping Feed
A simple & convenient app that allows you to set up a Google Merchant Center & create Google Shopping Feeds. A few clicks & tweaks and your data feed is up & running instantly. Improve Product Feeds for Google Shopping with a scoring system. The scores represent a scale outlining the best practices in Google Shopping, Google PPC & SEO.
Conclusion
Shopify is a powerful ecommerce platform on its own, but you can do so much more by installing its marketing apps. Thanks to these tools, it's possible to create online advertisements, send email campaigns, create well-designed pages, and optimize your store's SEO.
Let's take a look once more at the best Shopify marketing apps and their features:
Google Shopping — sync your Shopify store with Google Merchant Center and promote your products across Google networks.
Ads by Varinode — exchange traffic with other stores, and start for free.
Free Traffic and Ads by Sixads — place ads on other stores, and you can choose to opt-out of displaying ads.
Privy — an all-rounder app to start email marketing campaigns.
Sales Pop Master — encourage visitors to make a purchase by displaying pop-up messages.
Facebook Messenger Marketing — connect with Facebook users and send them messages that are tailored based on their previous activities.
Free Shipping Bar — display a notification bar for free shipping promos.
PageFly — a page builder with built-in SEO tools.
Shogun Landing Page Builder — a page builder that allows you to insert various types of elements, from countdown timer to video background.
SEO Image Optimizer — automatically optimizes your store's on-page SEO.
Which one is your favorite? Share your thoughts in the comment section below!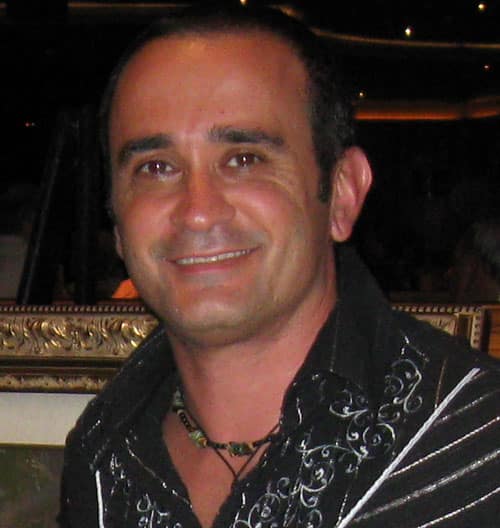 Author Bio
Angelo Frisina is a highly experienced author and digital marketing expert with over two decades of experience in the field. He specializes in web design, app development, SEO, and blockchain technologies.
Angelo's extensive knowledge of these areas has led to the creation of several numerous award winning websites and mobile applications, as well as the implementation of effective digital marketing strategies for a wide range of clients.
Angelo is also a respected consultant, sharing his insights and expertise through various podcasts and online digital marketing resources.
With a passion for staying up-to-date with the latest trends and developments in the digital world, Angelo is a valuable asset to any organization looking to stay ahead in the digital landscape.