What can people expect from graphic design in 2020? Each year, different trends come on the scene. Some are noteworthy and things that designers incorporate into their designs going forward. Some are grimace-worthy, and designers make sure they never use them in designs again. One way to figure out which trends to expect for the coming year is to look back at the previous year. While we can predict pretty closely what will still be popular, there are always a few surprises along the way.
The last time the government counted up graphic designers, there were around 266,300 in the United States. Most work in studios, but about 18 percent were self-employed. Graphic design covers a number of different tasks, including web design, digital illustration, ads and logo design, to name a few. No matter what aspect of graphic design you're involved in, you can learn from the trends and stay current with your designs.
Here are the fourteen trends we expect to see or continue to see in graphic design in 2020.
1. Stronger Images
Cameras are more powerful than ever before, with the latest iPhone featuring a 12-pixel camera that blurs the background and creates a photo that looks like a more expensive DSL camera took the shot. Images have gotten sharper, more professional and more personalized over the years. Expect that trend to continue into graphic design for 2019 and beyond.
The graphic design industry is growing by about 3.6 percent in the last five years — a slow but steady growth. The field is highly competitive, so adding a skill such as strong photography gives you an edge over other designers. Study the best photos out there and who's winning awards, and figure out how you can up your photography game.
2. Open Compositions
Remember when simply everything had a frame around it? It wasn't that long ago that designers framed photos, blocks of text, buttons and anything else they could put a frame around. Even in 2018, designers were creating boxed areas for designs, albeit without the frames.
Expect graphic design in 2020 to usher in an era of frameless compositions that flow seamlessly together for a more streamlined look. Picture a sleek ad in a high fashion magazine, and you'll have an image of what an open composition looks like where text and images seem to flow together as though they're part of a whole.
Learn how to create dynamic compositions, which are used frequently in open composition designs. The video above discusses elements such as sizing, fading and placement on screen.
3. Environmental Graphics
We've been watching environmental graphics and experiential designs for a while now. They're growing in popularity, especially as augmented reality kicks in and becomes more commonplace. Imagine designing an entry for a local store. The customer walks through the door and is transported into a different world thanks to the use of an experiential design that pulls them into an overall experience that involves sight, sound and other senses.
4. 3D
One thing that has made a comeback in recent years is 3D. Movies are released in 3D quite often again, and it's creeping into designs everywhere. Expect to see 3D show up in typography and images throughout 2019. Advanced graphic abilities of mobile devices make 3D more viable and easy to view than ever before. Designers are almost certain to embrace the trend.
One of the reasons for the fascination with 3D is likely the increasing availability and affordability of 3D printers. 3D printing is now used for printing shoes, healthcare items, custom products and even houses. The technology is all around us, so it isn't surprising to see elements of it show up in graphic design.
5. Optimized Images
Since most design work today is done for online purposes, optimized images are of the utmost importance. The average attention span isn't very long. Some experts say it's decreasing, but others say it is not. Regardless of whether attention spans are decreasing or staying the same, consumers indicate that they'll wait about three seconds for your site to load on a mobile device. After that time span, 40 percent will bounce away to something else.
Optimizing your images so that they load quickly is just one way to speed up your site, but it's a significant one. It also reduces the burden on your servers and frees up space for additional content. The only time you should use high-resolution images is if you're sending out files for a print piece, billboard or similar item.
6. Fading Fonts
Some experts think fading fonts will be the rage in 2020. Fading is a technique that allows you to slightly fade out the edge of your font, overlapping elements. It makes sense that this design would trend when you consider the open composition trends. For someone to layer items effectively over one another, the top layer needs to fade out a bit to allow the bottom one to peek through. Expect to see headlines and logo designs using fading fonts in the coming year.
The video above shows the steps needed to create a fading font in Photoshop. You can also use Illustrator.
7. Mixed Media
New apps enable amateurs and designers to take on mixed media, such as a hand-sketched background with the photograph of an individual in the foreground. Procreate is just one tool to help designers quickly achieve this look. Because it's now easier to use mixed media, expect to see it more and more in advertising, headers and logos.
Mixed media allows designers to create a custom look unlike any design a competitor might have.
8. New and Improved Graphic Design Tools
Every year, new tools become available to graphic designers to help them complete tasks easier or better. 2019 will offer new tools or improved ones for designers. These tools include software, computer aids and physical tools to help designers hand-letter fonts or create a unique image for a job.
A few to keep your eye on include:
Adobe Illustrator: Every year or two, Adobe comes up with new features for their design tools. One thing you should probably do is go ahead in a monthly cloud membership. You'll have access to the latest features and releases instead of using an older version of the software.
reMarkable: This paper tablet works as both an ereader and a drawing pad. One of the biggest advantages to this tablet versus others is that you can do anything you can do on your computer. Sketch out a design and share it with a client or let your team work on the design and make tweaks to it.
InVideo: This tool helps to create attractive posters, short videos, trim and edit videos. Best part is this tool is very user friendly and easy to use.
Nearly every platform adds updates each year, so check your favorite tools for upgrades and make sure you have the best internet possible in your area so you can utilize these tools. For example, if you're a designer in Las Vegas, be sure to check out the best internet in your local area.
9. Deep Learning & AI
If you're designing for a site with deep learning architecture, then AI is a must, and you'll have to figure out how to implement machine-based algorithms into a user-friendly site. Expect UX and AI to collide in 2020.
Designs will use AI in several ways in 2019. For example, you may look at a machine-generated report that offers details on customers and allows you to give them a personalized website experience or interaction via an app.
Another issue you can expect to come to the forefront in 2020 is the ongoing debate about whether designs need to write code or not. Most experts agree that designers should at least know some code, but machines are making this less and less necessary, as more and more elements of design are automated.
Expect to see designers who have little to no coding knowledge rise in popularity. However, as the landscape of design changes, the ability of those with an eye for detail and creativity will shine.
10. Responsive Logos
In 2017 and 2018, designers used responsive logos more and more. A truly responsive logo not only adapts to size changes but also considers the context of the logo on the page and how it responds. This isn't an easy task, as it requires additional design elements.
Examples include Heineken, which has several different versions of their logo, based on where it is used and Kodak that goes from a large yellow box with the full name of the company and the word "film" to a small box with the letter K.
Many designers choose to use scalable vector formats (SVGs), which adapts to screen size and can even be animated. This creates a seamless experience for the user as it is so intuitive. To come up with designs that adapt with use, you have to fully understand the mediums through which you reach your audience, as well as who that audience is.
11. Gradients
A gradient gives a dose of color and then fades out to something more subtle. This is an excellent design technique to catch a person's attention. Gradients went out of popularity for a while, but then started coming back in 2018 and should remain trendy well into 2020.
One of the reasons for gradients is the ability to stand out and grab attention. Tens of thousands of businesses are clamoring for the attention of the average consumer. Anything you can do to make your design stand out helps capture a small slice of that attention.
12. Duotones
One design school pointed to duotones as a trend in the spring of 2018, and we've been seeing the use of duotones in designs around the web. It seems to be a discreet way to add a splash of color to an otherwise drab colored background.
A duotone is simply two half tones over top of a photo. The colors typically reflect the overall color palette of the brand. A splash of color adds some drama to your design and also creates a natural space for a call to action (CTA) button or beautiful typography. Expect to see this technique more and more in the coming year. It's a beautiful, simple way to add layers of interest.
13. Pictograms
Pictograms are showing up in logos and headlines around the Internet and in print designs. Think of these as advanced stick figures for the modern era. A pictogram resembles the object it's representing. The popularity of emojis for texting back and forth with family and friends has likely led us to the rising popularity of simple icon-like pictures in designs.
The advantage of using pictograms more is that it is often an international language that even a non-native speaker comprehends because the image tells the story. A number of pictogram fonts are available, and you can also sketch your own designs.
14. Collage Illustration
You've probably already noticed this trend in magazines, where the artist combines sketching with images and creates a collage that reveals different elements and layers. Everything in the collage has a purpose, but the eye is drawn to the most important elements first.
Whether or not this trend will take off in 2020 remains to be seen, but we've noticed it more and more in print ads and expect to see it more online, as well. Art students have been working on this technique from 2016 until today. Expect to see the design make its way into the industry, especially in highly creative industries such as fashion.
Expect the Unexpected
If the past has taught us anything, it's that something new and unexpected will rise to the forefront in the future. A trend you never saw coming will take the internet by storm, and freelance graphic designers all over the place will give it a try. Find the things that truly speak to your soul as a designer and perfect them. Before you know it, your work will be what's trending, and you'll be setting the standards for other designers around the world.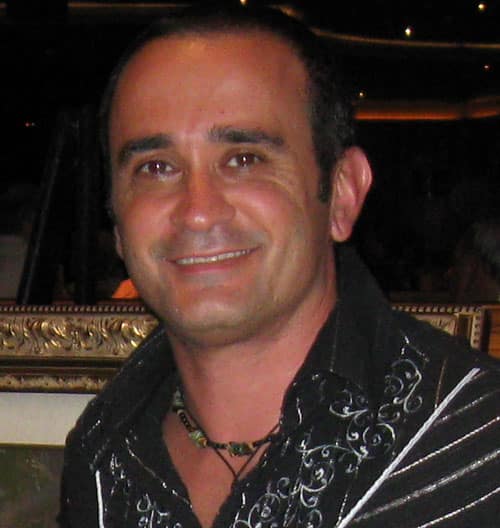 Author Bio
Angelo Frisina is a highly experienced author and digital marketing expert with over two decades of experience in the field. He specializes in web design, app development, SEO, and blockchain technologies.
Angelo's extensive knowledge of these areas has led to the creation of several numerous award winning websites and mobile applications, as well as the implementation of effective digital marketing strategies for a wide range of clients.
Angelo is also a respected consultant, sharing his insights and expertise through various podcasts and online digital marketing resources.
With a passion for staying up-to-date with the latest trends and developments in the digital world, Angelo is a valuable asset to any organization looking to stay ahead in the digital landscape.