It's no secret that we live in a digital age. More and more processes are becoming automated across the board, and marketing is definitely not escaping the trend. If you do a quick Google search for AI marketing platforms, tons of options and recommendations will pop up. And Google will do a little AI search tracking for its own marketing purposes, as well!
For digital marketers who want to stay on top of trends in AI development , it's vital to embrace machine learning (ML) and AI.
How does AI marketing work, and what are the benefits? Read on.
AI Marketing For A Digital Age
Artificial intelligence, or AI, has been around in some shape or form for a long time. In basic terms, an AI program or tool is a creation that changes in response to input: it learns, and it uses its new knowledge to make itself better and more accurate. It may become a surprise to many, but AI is a growing trend in the education sector. Using it allows to significantly improve the learning experience for students, similar to the way DoMyEssay does. And at the same time, it saves teachers and administrators a lot of time by taking care of numerous routine tasks.
The efforts to apply ML to digital marketing, however, is still in the growth stage.
In fact, currently, only 13% of digital marketers consider themselves "very confident" when it comes to utilizing AI marketing techniques.
However, its usefulness can't be downplayed. Statistics also indicate that the companies that are performing best are "more than twice as likely" use AI marketing than others who don't perform as well in the market.  So, best use of AI marketing tools can give a significant edge to the success of a digitally mature company and its marketing strategies.
AI is finding a niche in running a company, from start to finish. Whether it's putting a business plan together and looking at market research, or designing creative logos and creating branding materials. It can also help identify weak spots and areas of opportunity; enhance customer service; and gather leads.
AI marketing is a holistic approach to business growth. With careful and knowledgeable execution, AI can boost a company, whether your business is brand new or has been in operation for some time.
Business Benefits Of AI Marketing Tools
Businesses benefit from AI in several areas, in particular, marketing. A few aspects include:
Marketing personalization and audience targeting
Product personalization
Trend identification
Lead generation and collation
Customer service on the company website, such as via chatbots
Email blast generating
Statistics collection
Social proof
Since AI marketing is still relatively in the early stages, marketers still have a lot of work to do in order to fully utilize its capability. And customers know that AI has a long way to go. We've all had the experience of dealing with a chatbot that just talks in circles without ever quite understanding our problem, right?
But even with that common experience, 73% of consumers across the globe state that they are open to AI in business-customer interactions, as long as it makes life a little easier for everyone concerned.
And it definitely does make things easier for digital marketers! AI tools give marketers shortcuts to creating content, and other branding visuals. These tools also help to pinpoint exactly who the target audience is and how to reach them.
With all that on the table, it's easy to see why AI marketing tools exist, and why new platforms are being created all the time. Really, the main issue for digital marketers is to figure out what platform works the best for their business, and then apply them as needed.
Which is where this article comes in.
So now let's take a look at the top 17 AI marketing tools, and why they're the optimal choices for a digital marketer.
1. Exceed.Ai: Lead Generation And Qualification
Every marketer has a lead generation problem. Either you don't have enough of them and you have to figure out how to get more. Or, you have a ton of them and you have to organize and address them all without getting overwhelmed.
That's where virtual sales assistants like Exceed.ai come in handy.
Exceed.ai automates all possible parts of lead qualification:
The AI personalizes chats and email communication in order to pinpoint what each lead needs, before an actual human has to be involved in the mix.
This streamlines the whole process of qualifying and pursuing leads. The platform is designed to minimize the possibility of any lead slipping through the cracks. This means any possible opportunity for a potential customer is followed up.
Exceed.ai also provides a human experience for your potential customers, modeled on real human speech and interaction.
2. MarketMuse: Search Engine Optimization And Content Analysis
Not everyone is an SEO expert. There are so many different aspects to successful digital marketing that it's difficult to know the ins and outs of every single one, especially when there are a lot of variables, as there are with search engine optimization and long-tail keywords.
But SEO is an important part of, well, optimization — it's right there in the name. And optimization is a vital part of successful digital marketing.
If SEO and content analysis is just not your thing, tools like MarketMuse can help you out with that.
The AI in this tool conducts competitive content analysis and finds potential keywords that have not been used in your content. It's a great tool for finding — and filling — any gaping holes that you might have in your otherwise tightly-woven SEO content.
It also analyzes your content for consistency, relevancy and optimized. (Because every article writer or blogger has their moments of being distracted from the main point.)
Perhaps best of all, MarketMuse has both a free and a paid version, so you can get your feet wet with this tool and see if it works well for you before you invest in it.
3. Atomic Reach: Written Content Creation
Even with a rash of SEO keywords to use, there's no guarantee that any given group of content will hit all the main points. There is an off-chance that it will be "marketable," and immediately show its worth to the potential audience.
That's where AI for content creation and optimization comes in handy. Atomic Reach is one of the top options.
This AI-driven tool looks at the current content as it is being written to find gaps in SEO and linguistic ability. It gauges the content based on a variety of standards to keep the overall quality as high as possible. It also helps writers to maintain a consistent tone across individual pieces of marketing write up.
As it analyzes the linguistic scores of your content, it looks for the most important key phrases and actually re-words them or re-writes them in order to boost conversions. It also looks at your past content to keep track of conversion statistics so you get real-time suggestions. This helps you to keep a conversion trend going, or induce one to begin with.
This AI platform is ideal for a variety of marketing activities including:
Blog posts and articles,
Marketing emails, and
Product descriptions.
And the tool works well when integrated with other AI marketing options, including AI features from WordPress, Google Analytics, and Hubspot, among many others.
4. Lumen5: Slideshow And Video Creation
So maybe SEO is actually your strength when it comes to marketing, and your textual content creation game is on point — but what about the visual aspects of marketing? Is it a slog for you to have to put together video after video, slideshow after slideshow?
That could be bad news for you because visuals are king when it comes to marketing. We are visual creatures. We learn faster and remember in more detail when we take in information in visual form rather than written or oral form.
Luckily, platforms like Lumen5 are there to help you out with visual content creation.
Lumen5 bills itself as the "fastest video maker for social media marketing." It combs through written content, such as blog posts, for the most relevant and interesting bites of content. It then combines them with visuals, whether photos or videos, to create a marketing video that features both. It uses AI technology to put together the first version of a video, which covers most of the groundwork. After that, content creators can edit, add logo, music, save, and post.
Accepted there's no real substitute for carefully crafted videos with careful attention to every frame. At the same time, it's nearly impossible to keep up with the demand for video production by doing everything "by hand." So, what Lumen5 offers is definitely the next best thing to keep you on top of the wave, without collapsing under demands.
There is both a free and a paid version for this tool.
5. Phrasee: Personalized Subject Line To Boost Email Marketing Click-Throughs
Email marketing remains a highly effective way to reach potential customers and follow up on existing customers. And with the plethora of automated email generators out there, it's a no brainer that there is an opportunity for automation and AI.
In fact, that could be part of the problem. We're so used to getting automated emails that we tend to overlook them or just ignore them entirely. So any good AI-driven email marketing tool worth its salt first has to overcome the email marketing saturation point that consumers have reached.
The big challenge is creating a subject line that actually boosts click rate, rather than turning customers off from the very beginning.
Phrasee is a great tool for this. This AI marketing platform helps marketers craft subject lines that get over that first great hurdle and on to the next. The tool uses an algorithm that tracks and defines your brand voice, analyzes data and click-through statistics. It then creates a subject line that is both on-brand and tailor to appeal to your customers.
6. NetBase: Social Media Marketing By Way Of AI
Social media marketing is a booming proposition, and any business that wants to boost its growth cannot afford to ignore the multitude of social media platforms that are all clamoring for attention.
That means content generation, post scheduling, customer conversation, and follow-up, all on a potentially very large scale.
So how does a savvy digital marketer handle all of that without letting any customer fall through the conversational cracks?
Machine learning drives NetBase, a social listening tool. It tracks and analyzes social media reactions, including customer conversations, @s and hashtags, likes, reposts and retweets, and so on. This gives digital marketers a more thorough overview of the social feeling and attitude toward a brand or business. This also includes specific announcements, products, and innovations.
This enables marketers to put their focus on where it needs to be, whether that is rewarding happy, loyal customers or putting out potential fires.
The NetBase platform also offers detailed consumer insights based on demographics, which help digital marketers to craft follow-ups and future marketing campaigns.
7. Albert.ai: Marketing Campaign Creation Based On Past Experience
This is a popular marketing platform, to the point where even non-marketers have likely heard of the tool. It streamlines and automates on a whole-cloth basis, while also offering "personalization at scale". You can design campaigns that are relevant and detailed regardless of the size of your audience.
The tool combines marketing across a variety of different channels; automates the handling of interactions; operates 24/7; and features content optimization for the best return on your marketing dollar.
Albert's creators promise "more persistence, precision, intelligence, and efficiency" than other companies, based on the ML technology.
The AI creates campaigns and initiatives based on past statistics of what was and wasn't successful, combining the data into a "greatest hits" campaign. And because it's a continually learning platform, it can consistently steer marketing to maximize engagement, investment, and return.
8. SEMRush
SEMRush has a position-tracking feature that lets you view and track your ranking for targeted keywords. SEMRush is a comprehensive suite that allows you to perform SEO automatically. You will also be able to run a content marketing campaign, PPC analytics, social media marketing, and more.
This AI marketing tool is one of the strongest amongst the competition. You can even track the ranking of your website against Google's top 100 paid or organic results. The content marketing toolkit lets you perform a topic search to identify the latest trends and create your content marketing plan.
9. Seventh Sense
This AI marketing tool is most suitable for running an email marketing campaign. Seventh Sense makes sure that your emails get through to the right target audience and customers. The personalization service allows you to engage with your customers better by knowing that the customers will open your email at an optimal time.
Seventh Sense is an intelligent platform that increases your email deliverability and improves your sender score. One of the best parts is that you can use this AI marketing tool with Marketo and Hubspot only.
10. Smartwriter.ai
Smartwriter is an AI marketing tool that can assist you with email outreach automation. You can use Smartwriter to generate a personalized email. You can even include a personalized subject line to entice your customers.
This AI marketing tool provides you with backlink generation. You can also use it for Shopify product description and title creation. You can integrate it with third-party platforms and tools to boost your cold email campaign outreach.
11. Optimove
If you are looking for an AI marketing tool that is also a customer data platform, Optimove is the best solution. You can collect information from different platforms and provide a collective view of your entire database on a single dashboard.
Businesses can share and analyze data to create a well-researched digital marketing strategy. An Optibot feature with AI scours, tools, and analysis can help generate actionable insight from collected data. Optimove can make a suggestion about which marketing campaign to end and identify customers over-exposed to your company's communication.
12. Grammarly
This may seem like a surprising addition, but you can leverage Grammarly as the best free AI marketing tool for your business. Grammarly is an artificial intelligent-based content marketing platform that will allow you to check your written content to ensure that looks professional and polished.
The spelling and the grammar-checking feature will help you produce highly accurate content for marketing in real-time. You can even install a free Google Chrome extension. However, if you want to bump up the clarity, style, and tone, you can use paid options such as Grammarly Business and Grammarly Premium.
13. Acrolinx
Acrolinx AI marketing tool or software improves your content's quality so you can fulfill all brand parameters. World giants such as Amazon and Google are using Acrolinx to ensure that their content is perfectly aligned with brand identity and messaging.
You can check grammatical errors and set the tone and style of your content. You can also add a brand or company-specific terms. Acrolinx AI algorithm will go through your entire content and make suggestions for improvement.
14. InstaText
This is a content marketing software that acts as a perfect AI marketing tool. You can perform the basic spell and grammar check functions. However, InstaText goes a step further and helps rewrite the sentences to refine the style and tone of your content.
InstaText has the capacity to maintain an authentic brand voice in your communication. You can use InstaText to identify multiple keywords while using the program. This will save you time when editing the copy for keywords.
15. DeepL
Are you a business with international operations and clientele? In that case, you can use DeepL as an AI marketing tool that can produce accurate translations of marketing copy and content. DeepL is a one-of-a-kind tool that can translate your files and document into a wide range of popular languages as per your preference.
The best part is that DeepL will not only translate the text documents word for word but also add specific words and nuances. This feature is something that you will find major solutions by Microsoft and Google struggling with as well. The end result is a crisply translated document that is easy to read and accurate.
16. Jarvis.ai
Jarvis.ai was previously known as Conversion.ai. This powerful AI marketing tool creates high-quality and accurate copies, landing pages, articles, emails, and social media posts. Jarvis uses a GPT3-model that can write text by listening to human sounds. OpenAI developed GPT3-model for this specific function.
The built-in AIDA templates offer benefits such as the before-after-bridge framework and PAS. You just have to add your product and brand name, and Jarvis.ai will create the copy for you. If you are an online shop looking for an AI marketing tool to write product descriptions, Jarvis is all you will ever need.
17. Chatfuel
If you wish to integrate an AI marketing tool that can also act as a 24/7 customer service and support platform, then Chatfuel is the answer. It's one of the most used solutions available out there. You can also enjoy the assistance in automating frequently asked questions and selecting qualifying leads prior to deploying your Salesforce in the market.
Chatfuel also offers integration with other third-party tools such as Google Sheets, Calendly, Shopify, etc. You can also get an API so you can execute a customized AI-based system.
Conclusion
These top seventeen AI marketing platforms are just the tip of the iceberg. Some studies suggest that there are thousands of AI-influenced technologies for marketing.
Not all AI  platforms or companies are equal. It's important for each digital marketer to research and try out each platform before fully implementing it into a marketing campaign.
And since AI marketing is still on the upswing, it's clear that there will continue to be new, exciting initiatives around every corner.
What works today may not work tomorrow, but there will always be a new tool to fill the marketing gap. The most important part of using AI in marketing is not the tool itself, but how the marketer uses it.
So while machine learning is obviously an important part of crafting effective digital marketing campaigns, human learning is still more vital to your success.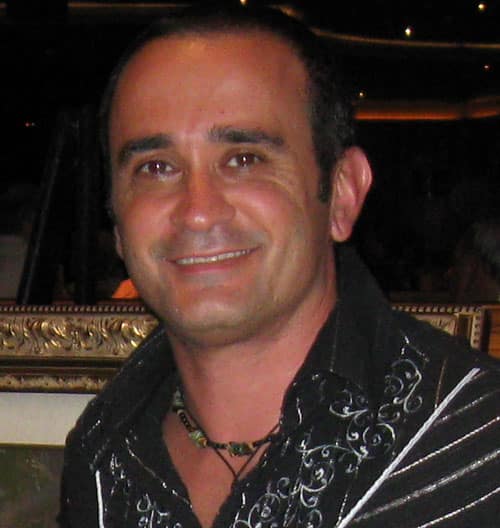 Author Bio
Angelo Frisina is a highly experienced author and digital marketing expert with over two decades of experience in the field. He specializes in web design, app development, SEO, and blockchain technologies.
Angelo's extensive knowledge of these areas has led to the creation of several numerous award winning websites and mobile applications, as well as the implementation of effective digital marketing strategies for a wide range of clients.
Angelo is also a respected consultant, sharing his insights and expertise through various podcasts and online digital marketing resources.
With a passion for staying up-to-date with the latest trends and developments in the digital world, Angelo is a valuable asset to any organization looking to stay ahead in the digital landscape.