In today's fast-paced world, personal safety is more important than ever before. Enter Noonlight, a comprehensive app that provides advanced technology and a human touch to ensure your safety in various situations.
Are you ready to explore how this innovative app can become your personal safety guardian? Let's dive in!
Key Takeaways
Noonlight is a comprehensive personal safety app providing 24/7 protection with features such as panic button, GPS tracking and integration with smart devices.
Multiple pricing plans are available to fit user needs and budgets.
User experiences & testimonials demonstrate the trustworthiness of Noonlight's advanced technology & reliable response team.
Understanding Noonlight: A Comprehensive Guide
Noonlight is a personal safety app designed to provide a sense of security to users in distress. It offers the following features:
Panic button
GPS location tracking
Integration with smart devices
Inclusion of medical information for first responders
Integration with the Apple Health app for streamlined entry of medical information
These features aim to connect users with local police dispatchers in emergency situations and aid in providing appropriate care during emergencies.
Initially developed with a focus on females in precarious circumstances, the app has since broadened its user base, offering added personal safety to all, including Android users. The Safety Network feature allows users to incorporate their contacts into the app, enabling friends and family to monitor their status in case they fail to respond to check-ins or exhibit worrying behavior.
Origin and Evolution
Noonlight, initially known as SafeTrek, was founded in 2013 by four University of Missouri students. The app's main feature was a tap trigger alarm, which has evolved into the panic button feature in the current version of Noonlight. The founding team, led by Zach Winkler, designed the app to minimize its impact on battery life while providing essential safety features.
Since its launch, Noonlight has evolved into an all-encompassing personal safety platform with a multitude of features and services for constant user safety. One of the key features is the PIN code system, which helps minimize false alarms. This continuous improvement and evolution of Noonlight have made it a go-to choice for personal safety.
Primary Audience
While Noonlight was primarily designed for females in uncomfortable situations, it has broadened its appeal to cater to a wider audience. The app can offer an extra layer of safety to individuals who live alone, travel often, and/or work late hours. Designed with efficiency in mind, the app delivers critical safety features without significantly draining battery life.
Subscribers of the Instant Access plan gain extra benefits like compatibility with Uber and Lyft, an iOS widget, and an Apple Watch app. These features make Noonlight a versatile and valuable personal safety app for a diverse range of users.
How Noonlight Works: Key Features and Functions
Noonlight equips users with a variety of safety features like a panic button, GPS location tracking, and compatibility with smart devices. Since its initial release, the app has evolved and improved to offer a comprehensive personal safety solution. In threatening situations, tapping and holding the panic button on your phone can significantly enhance your safety. It is easily accessible and available on all digital devices..
In addition, Noonlight employs GPS location tracking to monitor your whereabouts and notify emergency services if you are in peril.
Another significant aspect of Noonlight is its compatibility with various smart devices, such as smart fire alarms, augmenting its capabilities and providing extra safety measures. This wide array of features and functions makes Noonlight a reliable personal safety solution for users in different scenarios.
Panic Button and PIN Code
The panic button feature in Noonlight allows users to signal an emergency. When the panic button is pressed, dispatchers will confirm the alarm via text. If there is no response to the text, it is assumed that assistance is needed, and emergency responders will be dispatched. This feature ensures that help is available at the touch of a button, allowing users to feel secure in various situations.
The inclusion of a PIN code feature helps reduce the occurrence of a false alarm. This thoughtful addition to the app ensures that emergency services are only dispatched when genuinely needed, allowing users to feel confident in their use of the Noonlight app.
GPS Location Tracking
GPS location tracking is an essential component of the Noonlight app, as it assists dispatchers and emergency responders in rapidly and precisely locating users. Noonlight utilizes the location tracking technology of your phone to pinpoint the exact location of emergency responders.
GPS location tracking plays a crucial role, enabling dispatchers and emergency responders to quickly and accurately locate users, ensuring prompt and precise response during emergencies.
Integration with Smart Devices
Noonlight offers integration with numerous smart devices, enhancing its capabilities and providing greater safety. The app can be integrated with a variety of smart devices, including:
Smart fire alarms
Smart security cameras
Smart door locks
Smart thermostats
These integrations augment its functionalities and offer supplementary safety measures. Compatibility with smart devices such as smart fire alarms ensures that users have an additional layer of protection in their homes or workplaces.
Integration with various smart devices enables Noonlight to offer a holistic safety solution, proving invaluable for users seeking advanced personal safety measures.
Pricing and Plans: Finding the Right Fit for You
Noonlight offers three pricing plans to cater to different user needs: a free plan with basic features, an Instant Access plan for $5/month, and a Total Protection plan for $10/month. The availability of different pricing plans ensures that users can find the right fit for their personal safety needs and budget.
When choosing a plan, it's important to weigh up the features and benefits of each. Here are the options to consider:
Free plan: Provides basic safety features.
Instant Access plan: Offers additional perks for iPhone users.
Total Protection plan: Provides comprehensive safety features.
Grasping the nuances of each plan will equip users with the knowledge to select the most suitable option for their personal safety.
Free Plan
Noonlight's free plan caters to users seeking a straightforward, cost-free solution to their personal safety needs by providing basic safety features. The free plan includes the panic button, GPS location tracking, and integration with compatible smart devices. This plan is an excellent option for those who want to access essential safety features without incurring any additional costs.
Although the free plan includes a variety of safety features, users seeking more advanced options might explore the paid plans for enhanced benefits and functionalities.
Instant Access Plan
Available for $5/month.
The Instant Access plan provides users with additional features like syncing with Uber and Lyft, an iOS widget, and an Apple Watch app.
This plan is an excellent option for those who desire a more comprehensive safety solution and are willing to invest in their personal safety.
The Instant Access plan not only includes all the features of the free plan but also offers additional instant access perks that enhance the user experience and provide greater peace of mind.
For iPhone users seeking a more advanced safety solution, this plan is worth considering as it offers just the release they need.
Total Protection Plan
The Total Protection plan, priced at $10/month, offers the most comprehensive safety solution for users who require the highest level of personal safety and protection. This plan includes:
All the features of the Instant Access plan
Alexa skills
Google Home services
Crash Response
The Total Protection plan provides users with a full suite of safety features, including:
24/7 emergency response
GPS tracking
Panic button
Safety alerts
Virtual companion
Safety network
These features ensure that users have access to the best possible personal safety solution. For those who prioritize their safety and are willing to invest in advanced protection, the Total Protection plan is the ideal choice.
Privacy and Data Security: What You Need to Know
Noonlight places great emphasis on privacy and data security, responsibly handling user data collection, usage, and protection. The app collects personal data, including:
Name
Contact details
Location
Emergency contacts
to provide its services. Furthermore, they may collect data regarding device usage and implement industry-standard security measures such as encryption, authentication, and access control to protect user data.
Noonlight's privacy policy is thorough and fair, detailing the methods for data collection, usage, and protection, and offering users the capability to access and manage their data. Users can trust that their information is being handled responsibly and securely.
Data Collection
Noonlight collects various types of data to facilitate its services, including:
Location
IP address
Name
Contact details
The purpose of data collection is to offer personalized services and optimize the user experience.
Understanding the data collected by Noonlight and its purpose can help users feel more confident in using the app and trusting it with their personal information. For further details regarding Noonlight's data collection and usage, users can refer to their privacy policy.
Data Usage
Noonlight utilizes the data it collects to:
Offer personal safety services
Optimize its products and services
Respond to urgent situations
Authenticate user information
Evaluate trends to enhance safety features
To ensure the protection of user data, Noonlight employs encryption and secure servers.
In addition to these security measures, Noonlight has a strict policy in place to guarantee that all data shared with third parties is done securely and in line with their privacy policy. Users can feel confident that their data is being used responsibly and securely by Noonlight.
Privacy Policy
Noonlight's privacy policy outlines how user data is collected, utilized, and safeguarded. The policy ensures that users have a clear understanding of Noonlight's approach to data privacy and security.
For further information on Noonlight's privacy policy and how it protects user data, users can consult their official website. By understanding and reviewing the privacy policy, users can feel confident in Noonlight's commitment to protecting their personal information.
User Experiences and Testimonials
Users have shared positive feedback about Noonlight, praising its advanced technology and human intervention in emergency situations. The app's advanced technology, such as the panic button and GPS location tracking, combined with a human touch through its 24/7 access to trained dispatchers, has made Noonlight a popular choice for personal safety.
Such positive experiences and testimonials underscore the effectiveness of Noonlight as a personal safety app. Users can trust that Noonlight offers a comprehensive safety solution backed by advanced technology and a reliable response team.
Alternatives to Noonlight: Exploring Other Personal Safety Apps
Although Noonlight is distinguishable for its comprehensive features and trustworthy response team, other personal safety apps such as:
SafeTrek
bSafe
Circle of 6
React Mobile
Life360
are also available. These alternatives also offer various safety features, but Noonlight's advanced technology and human touch make it a preferred choice for many users.
In conclusion, while there are similar apps available, Noonlight's unique combination of advanced technology and human touch sets it apart from other personal safety apps. Users seeking a comprehensive and reliable safety solution should consider Noonlight for their personal safety needs.
Summary
Noonlight is a comprehensive personal safety app that offers advanced technology and a human touch to ensure user safety in various situations. With features like a panic button, GPS location tracking, integration with smart devices, and various pricing plans, Noonlight is a versatile and valuable safety solution. Users can trust Noonlight's commitment to privacy and data security, making it an ideal choice for those seeking a reliable personal safety app. Explore Noonlight and see how it can become your personal safety guardian.
Frequently Asked Questions
Does Noonlight call the cops?
Noonlight dispatchers contact the user via text or call to confirm an emergency. If no response is given, police are sent to the user's location. The user has control over their privacy and can cancel the alarm using a 4-digit PIN.
Is Noonlight effective?
Noonlight is an effective security app that provides a discreet and reliable way to indicate when you feel unsafe. It is one of the most well-known solutions available, designed for use on your phone.
Does Noonlight track your location?
Noonlight collects highly precise location data from your device and shares this with emergency responders, and can also track your live location and send police to your location if they think you're in danger. Noonlight's technology is designed to keep you safe in any situation. It can detect when you're in danger and alert the authorities, so you can get help quickly. It also provides peace of mind, knowing that help is just a few taps away.
Has Noonlight saved anyone?
Yes, Noonlight has saved someone; specifically a boy in Denver who was rescued last December after using the app's GPS-based panic button system to alert officers.
Is the Noonlight app legit?
Noonlight is a legitimate company, established in 2013 by four University of Missouri students. It includes real humans instead of robots and the mobile app employs certified and professional dispatchers who quickly notify officials of your exact location when you raise the alarm. This makes it an effective emergency system.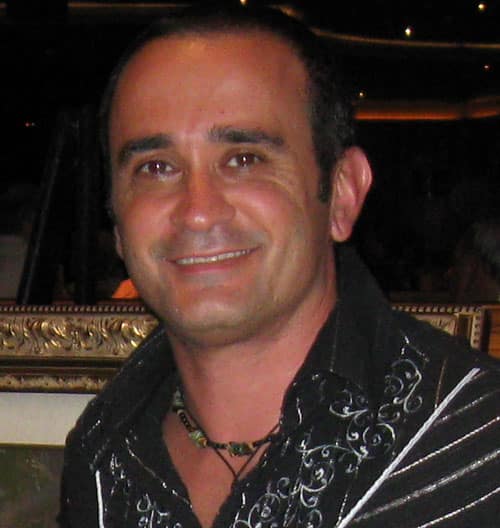 Author Bio
Angelo Frisina is a highly experienced author and digital marketing expert with over two decades of experience in the field. He specializes in web design, app development, SEO, and blockchain technologies.
Angelo's extensive knowledge of these areas has led to the creation of several numerous award winning websites and mobile applications, as well as the implementation of effective digital marketing strategies for a wide range of clients.
Angelo is also a respected consultant, sharing his insights and expertise through various podcasts and online digital marketing resources.
With a passion for staying up-to-date with the latest trends and developments in the digital world, Angelo is a valuable asset to any organization looking to stay ahead in the digital landscape.