In this day and age, everyone is on the internet searching for products and services, as well as other helpful information. The internet has created unlimited opportunities for businesses to thrive. Building brands and advertising have become a necessity for businesses to leverage the internet in sourcing for new clients. This has now been replicated in a law firm. To a law firm, having a great website is paramount in the growth of your practice.  It's still surprising to see that most law firms don't put much effort into the creation of stunning and appealing websites.
This is why most law firms are actually losing clients. It is actually one of the reasons many attorneys and law firms end up going bankrupt. Experts at Gladiator Law Marketing https://gladiatorlawmarketing.com/marketing-for-bankruptcy-lawyers/ suggest that, for your law firm to thrive, you require an in-depth understanding of internet marketing. Did you know that a great percentage of legal consumers will first research for attorneys online?
Now you do. This means that creating a responsive website is paramount to your practice. Before we get to it, let's take a look at the importance of having a responsive website. It helps in:
Reaching prospective clients
Impressing clients
Promoting awareness
Establishing credibility
Creating a stunning website for your website is in itself not enough when it comes to fishing for new clients. It's important that you also include useful information that reflects your prowess in your area of specialization and values. In addition to this, you also need to factor in that the market is competitive and that you need to stand out from the rest. Let's now take a look at the basics of creating a website for your law firm.
 The Key Elements of a Law Firm Website
You've by now come across different types of websites and you have your own design in mind. Some websites are very professional, others are simple but still, they get the job done. While on the other hand, there are those that are just plain awful. To help you in this area, let's take a look at the key elements of a functional law firm website.
1. Navigation
You need to take into account the fact that your website users have a lot on their plate and don't have the time fidget around. You, therefore, want to make it easier for them to find all the important things they may be looking for on your website. The longer they take to find information on your website, the easier it will be for them to opt for other alternatives. Your website should be easily accessible and handy. Options such as your services, contact information, and drop down bars shouldn't be a problem to open.
2. Mobile Friendly
As we had earlier mentioned, the internet has become an information hub where almost everyone is busy searching for products and services. The surprising fact is that they are doing this via their mobile devices. Actually, back in 2015, Google announced that they would be making a fundamental change in their SERP algorithms to be on mobile devices. This means that all websites need to be mobile friendly and law firm websites are no exception
3.Clarity and Transparency
This is where we talk about all aspects relating to honesty and accountability. There is so much going on in the internet nowadays, including scams and unscrupulous dealers. As a practicing attorney, it's very important to develop a transparent relationship with your potential clients. This is a segment where you provide your social media platform testimonials, reputation, reviews, and brand history. You also need to show your potential clients that you are passionate about what you do. Additionally, you may also include your track record for your potential clients to know that you have the experience.
4. Informative Content That Is Free Of Jargons
You really don't want the website users to be lost in content that is full of heavy terminologies. It's true that the law language if full of them. Nevertheless, make it easier for your clients. The language on your website and blog should be simple and easy to decode.
5. Endorsements and Testimonials
It's imperative that your law firm website contains testimonials. This is the only way most clients will want to invest in your law firm. In addition to this, there needs to be a portion left out for happy clients to leave their comments. Happy customers will undoubtedly bring in more rewards to your practice.
6. Area of Practice
An official law firm should include your area of expertise. The law is broad and so are there different types of attorneys. You want to specify what it is that you deal with. The other notable thing is the search engine. Google will only push the relevant traffic to your site. You are also advised to include your best case study. This also serves to convince your clients of your expertise and experience. This is with the aim of marketing your success as well as in building trust with your potential clients.
7. Visuals
The visual aspect helps to spice things and capturing the attention of the website users. The best visuals to include in your law firm website may include;
Pictures – Professionally created high-resolution image will reflect your taste in class and give while at the same time reflecting a good image of your law firm.
Slideshows/videos – When it comes to a law firm website, quality video production is an added plus. In addition, statistics show that most online consumers are influenced by videos. It also affects the amount of time website users spend on a particular site.


8. Effective Call-To-Action

This is the very first step to convert traffic into clients. Also known as CTAs, they are very effective when used throughout the pages. Nevertheless, don't let it be a distracting element to your users. Let's take a look at the factors to consider when using CTAs;

Color – The CTA buttons should have a contrasting element o0f color when they pop. This is what will draw the attention of the website user.
Placement – being tactical about how you place the CTA buttons is important. This is because you don't want to put your clients off by placing the CTAs early on the webpage. You want to allow them to first have an understanding of what your website is all about. This is the reason as to why you need to place informative contents before the other elements.
Size – making sure that the CTA buttons are big enough is an important factor considering that some users are visually impaired. However, don't let this ruin the aesthetics of the page.

This having been said, the above elements are by themselves, not as effective when it comes to attracting the best prospects. You need to include other technical elements for your website to reach the right target audience as well as in converting traffic into potential leads. This is where SEO strategies and tools will come in handy.

Here are some steps in ensuring that your website will attract the right prospects;

Consult a Professional Website Designer

Before you get on with it, you first and foremost need to find the perfect website building solutions. There are so many website builders in the market today and this can be a bit tricky for a beginner. There are of course popular website building sites such as WordPress, Wix, BoldGrid, and Shopify to mention but a few who may help when building your law firm website. However, most of these may not provide you with ideal customized solutions.  You, therefore, need to consider hiring a professional website designer.

Before hiring them, consider the following;

They need to have a robust portfolio
They need to have experience in your line of practice
Consider the cost of the project
Consider the expected time of completion
Customer service

The best thing about hiring a professional website designer for your law firm is that they have the skills required in SEO practices. In addition to this, these professionals may also help you find the best web hosting company for your law firm website. But for this to happen, you need to factor in the monthly fees required in maintaining your website.

Include the Right Keywords

Keywords are important in driving the right traffic to your law firm website. Search engines such as Google use these keywords and phrases in directing the right traffic towards your site. Keywords should be strategically placed within the content and the structure of your website.

The Home Page Should Tell Your Story

Your law firm website home page should convey the right message to the users. It's a marketing strategy to be forthcoming about what you are offering as well as how you'll benefit them as an attorney. It's on the homepage that you want to include visuals and the right content. Invest in a polished modern design and captivating features that are inclusive of contemporary elements of today.

The Page Loading Speed

We are living in the fast internet era and if your page doesn't load within milliseconds, visitors will automatically leave. This may cost you traffic as well as your rankings in search engines. It, therefore, makes it a necessity to research the right keywords best suited for your practice. Supposing that you've already created your law firm website, the only way you'll ascertain if your website is operating at optimal speeds is to utilize Google's Page Speed Insights. This is a tool that advises you on how to improve your site's load time. Alternatively, you may also use Gmetrix or Pingdom. Various factors may also slow your website's load speed, they include;

Utilizing a poor web host
Utilizing many widgets and plugins
Unconfigured headers
Online Ads
Choosing a poor content delivery network

Employ PPCs in Your Website

Now that you're almost through with the basics, it's important to employ the right marketing strategies. This will help to draw in the right clientele to your law firm website. Also known as cost per click (CPC), pay per click (PPC) is one of the most commonly used advertising modules that help to drive traffic to your website. When done right, PPCs will help to improve your brand, as a law firm, and at the same time, help in the growth of your practice.

Regularly Update Your Content

It's very important for your law firm blog to be consistently updated with fresh content. If you don't have a blog, the content in your site will also need to be updated on a regular basis. While on the same note, visuals will also need to be updated as well as incorporating relevant case studies and free reports. You want the users to always be in the know zone in regards to your areas of jurisdiction.

Branding Tips

As a law firm, great branding goes beyond appearances. It's your brand that attracts traffic to your site in as much as it also helps you to stand out from the competition. This makes it important to include your law firm brand on your website. By now, you may have come across other law firm websites and admired their websites. Well, the brand must have played a vital role in that. Let's take a look at important branding tips to use when building your law firm website.

Use both your law firm name and logo
Utilize the brand colors
Include your achievements, specialty, and stress on what makes your law firm different
Be unique
Be consistent
Keep things simple

As a law firm, your skill sets will not be enough to bring in a steady flow of clients. It may sometimes work to your advantage; however, you still want to keep up with the trends. With a very solid online presence, your law firm business and profits will improve tremendously. This will require strong marketing strategies such as those related to investing in the best SEO strategies, putting emphasis on branding, and investing in PPC advertisements.
Use both Your Law Firm Name and Logo
Branding a law firm requires creating brand recognition in the industry. Statistics reveal that there are over 446,887 Law Firm businesses in the U.S., with a growth of  0.7% between the years (2017 and 2022). Therefore, ensuring your law firm gets sufficient exposure requires sticking to brand identity.
You need to incorporate this technique in your content as well as marketing tactics. Ensure your firm name and logo pop up everywhere you post it.
Utilize the Brand Colors
Every brand has its specific colors that become a part of its brand identity. For example, KFC uses white and red in its logos. Similarly, Mcdonald's uses a mix of yellow, red, and white with its iconic slogan. Similarly, law firms should focus on utilizing their brand colors on the site as well.
You can add an educational section on the website, expand content and add relevant infographics under the same section.
Include Your Achievements, Specialty, and Stress on What Makes Your Law Firm Different
Law firms are a competitive industry which is why your achievements help make your business stand out. You need to focus on your specialties and specific attributes that make your law firm stand out.
For example, if your firm focuses more on child or women's rights, ensure you use it as a marketing point as well. Similarly, if your law firm goes through expansions, you should mention that as well.
Be Unique
Your law firm will likely work well if you have unique attributes that make it easier for people to come to you. For example, your law firm professionals could provide suggestions, advice, or add information for people to follow. This can include help with documentation and legal formalities too.
Thus, anything that makes your services different should exist as a major branding point for your law firm on-site and offsite both.
Be Consistent
Consistency is a major key in running a successful branding tactic for your law firm. Understand that building a law firm image requires sticking to your strategies. Your branding plans may not work right away, but that is still not something to worry about right away. You should wait for at least 3 months before deducing any final results.
Keep Things Simple
Most law firms try to sound professional by posting and sharing technical information. While some clients may have an interest in learning law technicalities; most do not. Understand that they need your services because they do not know how things work. Therefore, always keep your brand-related activities streamlined and make reaching out to you easy.
Provide Honest Advice
Most clients reaching out to you are already in distress. They need someone they can trust with their life decisions and legal issues at hand. Therefore, sharing valuable and relatable information with their works is the best. You should focus on providing them with genuine advice and suggestions, regardless of whether they take your services or not.
Clients will consider you as a reliable source, and will probably reach out to your brand once they start trusting you.
Top Law Firms to Know About
Interestingly, there are several law firms you can choose from. However, the following are some of the best sites to contact next time you need legal services.
T.L. Brown Law Firm
T.L. Brown Firm P.C. is one of the highest-rated services in the law industry because of its professional services. Clients can easily reach out to their professionals through their online site here. They have been operating in the industry for several years now and have high client retainment rates.
T.L. Brown Firm P.C. has everything from a bankruptcy attorney to entertainment and criminal law suggestions for clients in the US. They have managed to win the hearts of thousands of clients, by addressing their legal problems, finding practical and effective solutions to them since 2014.
Today it stands as a leading service provider with over 3,000+ retained clients. We suggest you reach out to them the next time you need someone you can rely on.
Kirkland & Ellis LPS
The Kirkland & Ellis LPS focuses on interesting niches of the law industry. These include essentials like corporate, taxation, litigation, and many more. They have over 2,000 lawyers on board and had billions of dollars as revenue in recent years. Their professional dealing and work ethic is the main reason for their success in the industry.
Kirkland & Ellis firm is also handling legal issues for leading brands like Delta Airlines, Nike, Verizon, and many more. This makes it best for large-scale companies that want to keep things legally secure regarding their business, or personal life. They started their journey from Chicago as early as 1909 and are still taking the industry by storm.
Latham & Watkins LLP
This law firm has its proud headquarters in L.A. and operates in over 14 countries globally. They have the second-highest annual returns and offer a wide range of legal services. Most of these include activism, media, real estate, entertainment, and many others.
Latham & Watkins LLP can also help with more complex cases like white-collar defense and protecting business integrity. Latham and Watkins focus on client satisfaction and deliver what they promise.
DLA Piper
DLA Piper is another popular law firm option for users around the world. The firm started operating as early as 2005 and has managed to build a professional reputation for itself. The firm has its headquarters in Chicago and London.
DLA Piper is best known for its work in complex industries such as education, insurance, government contracting, and technology.
They have also fought cases against bigger businesses such as Facebook, where Mark Zuckerberg claimed 84% of the brand.
Dentons
Dentons includes flurry merges between several law firms, contributing to their area of working in the last few decades. One of the latest major mergers for the brand was with Cohen & Grigsby and Bingham Greenebaum Doll in 2020. Dentons now has one of the widest supports for legal issues in the US.
Dentons has around 10,000 lawyers who operate in around 70 countries globally. Professionals in the industry also count it as one of the top 5 law firms for clients that have complicated cases.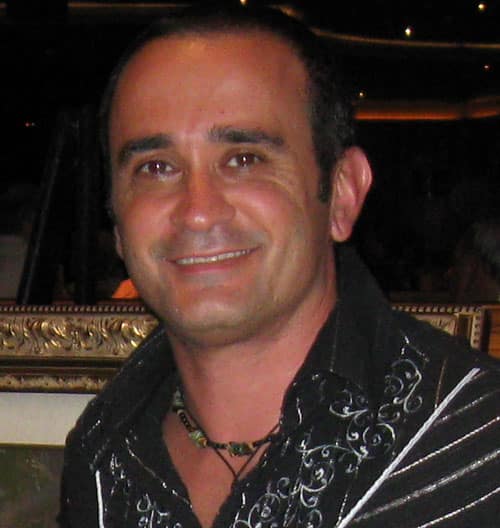 Author Bio
Angelo Frisina is a highly experienced author and digital marketing expert with over two decades of experience in the field. He specializes in web design, app development, SEO, and blockchain technologies.
Angelo's extensive knowledge of these areas has led to the creation of several numerous award winning websites and mobile applications, as well as the implementation of effective digital marketing strategies for a wide range of clients.
Angelo is also a respected consultant, sharing his insights and expertise through various podcasts and online digital marketing resources.
With a passion for staying up-to-date with the latest trends and developments in the digital world, Angelo is a valuable asset to any organization looking to stay ahead in the digital landscape.