All newly started companies set the same goal before them to grow and expand. How surprising is it that only 33% of these companies manage to celebrate their 10th anniversary. More than 60% of the new-born companies hardly reach two years of operation.
Why is it so difficult for them to grow fast and achieve the goals they have set? Most of the time, the answer is they lack proper business growth strategy.
To better understand the problems of your business and to run it effectively, you should have a clear business strategy. 

Then, you should know how to develop a business.
Here are 17 essential tips that will guide you in developing an effective business growth strategy for your small business.
1.  Research competitors
When you start a business, it means you should develop a strategy of how to provide your product or service to the masses. The first step you are supposed to make is researching of your competitors. As a result, without a complete understanding of your competitors' strategies, you will neither get more customers nor will you maintain the existing ones. The most successful companies continuously research competitors. This tactic helps maintain its leading position in the industry and follow the current customer trends.
Hence, you will gain lots of benefits and will develop the best marketing strategy. Here are some of these benefits:
Learning new ways to provide customer service
Discovering new opportunities to expand your business
Remaining up-to-date on current trends
Getting what your competitive advantages are
2. Know your customers
Starting a business means solving a problem for a certain audience. In other words, that audience is the group of your customers. In order to improve your sales performance, you should be aware of their needs and know what to offer. Who are you going to sell to if you fail to do so? Mainly, clarify who you want to provide services and adjust your products and services according to their interests. Currently, all business sectors are based on personalization. Customers appreciate receiving personalized approach and their feedback won't make you wait long.
There are certain tips you  should follow to encourage your customers to stay with you:
Develop handy strategies to nurture existing customers
Regularly keep in touch with them via email and other ways
Let them know about promotions, discounts and other events
Find new opportunities to build your customer base
3. Focus on Your Sales Funnel
One of the best small business growth strategies is creating a sales funnel as soon as possible. You should ensure to have a revenue generation model before opening your doors for business. This is where a sales funnel comes into play, as it will help automate the flow of your business's revenue.
Your business's sales funnel is a complete process of finding potential targets and converting them into paying customers. Having a sales funnel makes it easy for you to scale your business.
4. Penetrate the Market
After developing a sales funnel, the next obvious step would be to enter the market you wish to penetrate. This can be one of the useful small business growth strategies to get new customers while retaining existing ones.
Finding new customers can take time, as you will have to identify their needs and create an ideal customer persona. However, you can still penetrate the market to leverage an existing customer base to increase your sales or maintain an optimal revenue stream.
5. Use a CRM
CRM or customer relationship management system allows you to automate the process to handle small business growth. A CRM will help you manage the database of your existing customers' purchase history and transactions. You can use this information to target customers more specifically based on their purchase records.
This can be a great tool and one of the best small business growth strategies when retargeting your existing clientele through various marketing campaigns.
6. Ask for Referrals
Your satisfied and loyal customers are an extension of your brand awareness scheme. As one of the small business growth strategies, you can ask your loyal and satisfied customers to refer your business, products, or services in their social circle.
Ask your social media followers to refer your brand to someone looking for similar products. You can turn your customers into your unofficial brand ambassadors for word-of-mouth promotion.
One way to make this a success is to offer rewards for referrals. For instance, you can offer discounts and coupons for successful referrals. It is a win-win as you will not only gain new customers but also gain further appreciation from existing customers to keep coming back for more.
7. Create a customer loyalty plan
Another useful method of a business growth strategy for small businesses is creating a customer loyalty plan. It will considerably increase your sales and will cost 3 times cheaper than acquiring new customers. Selling to new customers is more expensive than selling to existing ones. Therefore, with the use of a customer loyalty plan you will manage to maintain existing customers. In addition, you won't have to spend many resources on finding new ones.
Consequently, customer retention is another best marketing strategy. It maintains existing customers to provide business growth. On the other hand, the customer loyalty plan not only retains customers but also allows you to acquire new customers as well. Use an attractive loyalty plan to make it accessible for existing customers. This will help you learn how to develop a business in the short run.
8. Extend Your Market Reach with SMS marketing
Another smart way to develop a business strategy is to use SMS marketing. Text marketing has been in use for decades. It brings high-quality and cost-effective outcomes. Having an open rate of 98%, SMS marketing is a way ahead of any other communication method in terms of reading rate. This method is one of the simplest ones, but it doesn't prevent it from being effective in usage. With the help of text marketing, you will be able to penetrate the market. Also, you will expand your business into existing and new markets. Today you will find a handful of companies that provide effective SMS marketing services with affordable prices and immediate results.
SMS marketing will allow you to have immediate contact with your customers. Plus, it helps to announce your clients about promotions, discounts or other events within seconds. Text messaging also permits us to engage customers with enticing messages. By having a  smartly chosen Call-to-Action (CTA) message and a burning offer, you will do more than plenty of other marketing tools together. Bulk texting is the fuel of your business growth and one of the proven marketing types that have never failed in being successful. It's a great communication tool, which is easy-to-use. It also helps improve customer service.
9. Launch MMS Marketing Campaigns
In the world which is overloaded with thousands of brands and companies, products and services are not an easy task to be heard above widespread noise. Therefore, you should look for effective marketing methods. It will help to be to the point and receive customer feedback as soon as possible. Taking into account all these mentioned points, it becomes obvious that MMS Marketing is an awesome method to make your message heard and considered. It's not surprising that messages with visual effects have higher open rates and engage more customers than common SMS texts. Everybody loves to see the visualization of the written text. It immediately raises shopping intentions in your mind. Hence, MMS Marketing is a smart choice for your business growth.
You can do a lot more with MMS Marketing campaigns in contrast to SMS Marketing.  Sending video and audio files attached to your message including text messages up to 1500 characters. It's an undeniable fact that MMS Marketing is an effective tool to catch the audience's attention instantly. There can be no doubt that your business will reach a better ROI with MMS Marketing Campaigns. It will enable any business owner to stay ahead of industry trends and keep the target audience engaged longer.
10. Innovative Benefits of Your Products/Services
Profit and revenue generation is the main purpose for any small or big business to enter the market. However, it is up to you what kind of a brand image you create to entice the customers into buying from you.
While your product may not be something new in the market, you can always market it by finding innovative use for the product. This will attract the customers towards you for using an already existing product in a completely different way.
This will even help you capture the customers that were previously buying from your competitors. It is all about creating a requirement in your niche. If you can do that, you can sell the product.
Even if your product is innovative but has one use, the person buying it will not see much value in it. However, if your product offers multiple uses, there are more chances that you will be able to see it in bulk.
Microsoft Surface 2012: A Perfect Example
Microsoft Surface is one of the best examples of modern time. Basically, if you look at Microsoft Surface Pro 2012, it looks exactly like a laptop. A customer would ask why I should buy a laptop when I already have one or can get a cheaper or better laptop elsewhere.
Well, Microsoft played cleverly and made the screen detachable from the keyboard. So, now it is a laptop but can also convert into a tablet. Therefore, the customers were getting a 2-in-1 solution for portability and productivity.
11. Create Partnership
If you are a startup, then another of the small business growth strategies is to find strategic partnerships. If you can work in partnership with some of the big names in your industry, you will have more chances of success. This will even increase your outreach to a wider audience.
This means even if you are struggling to find a customer base of your own, you might be able to leverage the customer base of your partners, to begin with.
12. Reduce Your Expenses
Earning profits and generating revenue are not the only small business growth strategies. You can actually enable your growth by reducing operational expenses. Increasing your income and reducing your expenditures will increase your business's take-home profit.
You will have the more liquid cash flow to reinvest into your existing business. Therefore, if you wish to ensure that your business always has an adequate supply of cash, it is best to cut down on your expenses as much as you can.
13. Start Exporting
Thanks to the internet and social media, you can now promote your business and sell your products all over the world. So, if you believe the product you offer has an international market, you can start promoting it at a very optimal cost.
You can start selling your products on the Shopify marketplace. However, suppose you are going to be making big transactions. In that case, it will require you to become a proper exporter and go through proper channels from the authority to get licensing and paperwork.
14. Create a website
In this eCommerce-driven world lacking the online presence of businesses can be risky. Regardless of the scope and type of your business, you should consider the vital importance of having a website. With the day to day increase of mobile and Internet users, the web presence of your business becomes a major factor for success. There is an interesting tendency in the eCommerce industry right now. Many renowned brands like H&M, GAP, Tesla, Victoria's Secret close their brick and mortar stores to enhance their web presence. Thus, if you don't have a website yet it's high time to create one. Catch up with current trends and engage more customers. The reasons are plenty for creating a website, below are a few of them:
The majority of people are online:
Currently, 2.2 million people use the Internet and consequently, they are inclined doing shopping online. Here you will need well-developed campaigns to direct the target audience to your website. As a result, you will get traffic and boost your sales.
It raises the visibility of your business:
Now you cannot expect awareness from customers who can't find your company online. The first thing that will pass through their minds after searching and not finding your brand online will be "Does this company exist at all"?
It brings you brand awareness:
Without a website, your existence will be known to fewer circles of customers. Firstly, you want to enlarge your business and go ahead on the staircase of success. Secondly,  you should start by building an online presence. It will increase your brand awareness and it will positively affect your sales rates.
Consequently, creating a website should be the number one priority in your to-do list after starting a business. Otherwise, your business won't be competitive losing many potential customers as a result.
15. Make your blog shine
After speaking about the importance of having a website it's crucial to highlight the significance of the blog section. Content marketing is the moving power of a business today. Many companies save resources and don't create a blog section, thus stopping their business growth. A blog is a place where you can write anything about your products and services.
Your customers will definitely search for relevant information about your online operation methods, pricing policy, shipping details and more. Therefore, you should be ascertained that your blog shines bright among plenty of platforms providing all sorts of information. To make your blog different from your crowd you should use certain tactics. Here are several tips to make your blog stand apart from the crowd:
Use an appealing format
Publishing plain text without bullet points, dots or highlighted sections isn't engaging. Readers easily get tired of plain text posts and switch off from the first paragraph. So, make sure the formatting of your blog articles is visually appealing.
Brainstorm over the headline
The first and utmost important part of any content is the title. Only a well-thought and interesting headline will make readers move on with reading. Thus, spend more time on delivering good headlines that evoke a desire to read more and learn more.
Don't ignore your target audience
It goes without saying that all you provide in your blog section is for your target audience. Your efforts and resources will be spent in vain if you don't consider the interests of your target audience. Therefore, choose topics that present value to your target audience. Be sure that topics are proper to the audience's needs. Also, make the tone of the voice of your blog relevant to the intellectual level of your target audience. Neither sound extra formal nor use slang or harsh words. Articles that are written in a friendly tone are always read with great enthusiasm.
Use multimedia
The scope of usage of MMS marketing is wide. Those include sending job alerts about available vacancies, videos and images of contests and even schedules of trade shows and conferences. However, publishing interesting content isn't enough, you should make it visually appealing as well. Even the most interesting article will make the reader tired if it isn't visually powerful. Thus, make sure your article is rich with relevant images. Try adding audio and video presentations if it is necessary.
Keeping all these above-mentioned points in place you will provide informative and evergreen content that will engage your target audience. Investing resources into good content marketing means you invest in your future business growth.
16. Leverage Social Media
Social media has transformed into a mainstream marketing platform for almost every big brand in the world. From Facebook pages to Instagram, Snapchat and TikTok, big brands now use social media to promote their products and services.
You can use this medium to promote your business at a minimum and sometimes no-cost basis. For instance, you can run a paid ads campaign on all major social media networks. However, you can even go live to promote your products and engage with your customers free through services like Facebook Like, Instagram Live, etc.
17. Measure the results and refine your approach
Keeping track of your customers is a common thing in the business industry. Try to find out weak and strong points of your strategy-plan. Fix the disadvantages through analyzing the results and research what will make those advantages. Never stop measuring your marketing efforts and checking whether they are successful or not. The "motor" of your business growth is experimentation. You will never know what works better if you don't try. So, measure the results and find out what is successful and what doesn't work well. Refine your approach and focus on the activities that have provided the best results.
You will be able to skyrocket your business by having a proper business growth strategy.  It will help you take your business to the next level. A well-refined competitor research will allow you to find new tools and tactics to scale your business. With a clear understanding of your customers' needs and wants, you will tailor your products and services to their tastes.
The use of an attractive customer loyalty plan will help you nurture existing customers and even attract new ones.
Bulk texting will enable you to reach more customer circles within 3 minutes. On the other hand, it will allow getting the fastest feedback in contrast to other marketing methods.
Make the most effective business growth strategy and grow your business today!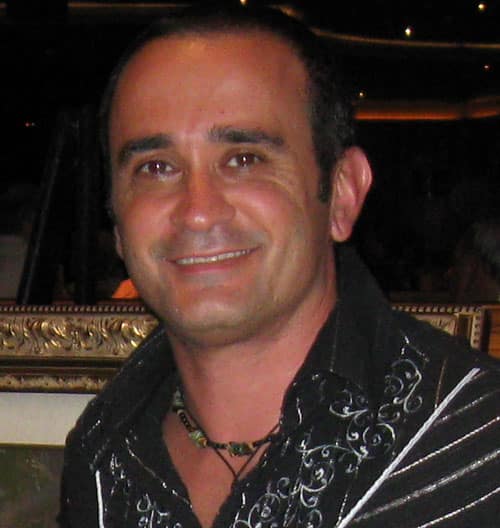 Author Bio
Angelo Frisina is a highly experienced author and digital marketing expert with over two decades of experience in the field. He specializes in web design, app development, SEO, and blockchain technologies.
Angelo's extensive knowledge of these areas has led to the creation of several numerous award winning websites and mobile applications, as well as the implementation of effective digital marketing strategies for a wide range of clients.
Angelo is also a respected consultant, sharing his insights and expertise through various podcasts and online digital marketing resources.
With a passion for staying up-to-date with the latest trends and developments in the digital world, Angelo is a valuable asset to any organization looking to stay ahead in the digital landscape.