Sunlight Media creates superior custom websites for all of its clients. This is common knowledge in the industry, and can be easily confirmed by viewing examples of the company's work. However, what truly sets Sunlight Media apart is their focus on superior customer service. They understand that a project isn't finished if the client feels merely satisfied with the work. A successful project needs to leave the client feeling thrilled.
One way Sunlight Media works to thrill its clients is by providing unlimited revisions. This extreme flexibility is granted not only to homepages, but also to every interior page of a custom website project. After an initial consultation, the company will develop three original homepage layouts. These three layouts are completely developed from scratch, to fit the specific needs of each individual client. Recycled templates are never used by Sunlight Media. Once the client chooses a favorite homepage design, the revision process begins. This revision process will not end until the client wants it to end. There are no limitations set, or pressure applied to end a project prematurely. Sunlight Media knows that only a client can decide when a design is ready for development.
Sunlight Media knows the website business, but more importantly, they are also experts in the people business. The company's unlimited revision policy is a prime example of their expertise and customer satisfaction policy. This is a policy that requires uncommon levels of patience, understanding, and dedication. It requires a business to work harder than usual, which explains why most of Sunlight Media's competitors limit a client's number of revisions. Sunlight Media was built with customer service in mind, guaranteeing every client the freedom to be completely thrilled with their brand new website.
Visit the company's web design portfolio.
Our custom design process
The first step of our design process will involve preparation and planning, gathering together any notes and assets you have for the project.
For larger scale projects we like to engage in what we call or architecture & discovery phase. During this phase, our UI/UX specialist will create a series of project specification notes & wireframe diagrams, which outline user flow, interaction between various pages and user types.
A website or app wireframe, also known as a page schematic or screen blueprint, is a visual guide that represents the skeletal framework of a website or mobile app. Wireframes are created for the purpose of arranging elements to best accomplish a particular function or purpose. Once we have the user data we need, we begin to process and analyze it, and attempt to uncover patterns and similarities.
The output is wireframes, user flows and scenario documents, which we review internally as a team and then present our findings to you the client. This important phase gives our team a much clearer direction in terms of features, functionality and presents it in a format that is familiar to UI designers & web developers.
Custom Logo Designs
In the case of a logo design, we'll provide you with a logo specification sheet to ask some basic questions and collect information on your ideas for the direction, and we will gather any similar info for any other type of design project.
Should you have any specific text content to include, company or stock images, or examples of designs you'd like us to model, this is the point in the project where we would collect those assets. The more info you can provide us at this stage, the more understanding we'll have in terms of your desired design theme. If you don't have a very clear idea of what you're after, though, we're happy to make suggestions, based on our professional experience, to point you in the right direction.
Once we have collected some basic information and guidelines for the project, we will present to you the first batch of homepage design mocks. We will provide at least three different homepage mocks for you to choose from. Take your time to review these first mocks, and then let us know which one you like the best.
Custom UI/UX Design Mocks
Upon selecting the mock you like best, let us know any revisions you'd like us to make. Maybe you like the overall layout but want to change some of the colors or fonts, or maybe you want to change the overall layout altogether — this stage is the time to let us know how we can improve upon the design. We will then go back to work on the design, implementing your revision notes.
After we return an updated version of the mock with your revisions, you may have additional changes you'd like done — and that's ok! We will continue to integrate your changes until it's exactly what you're looking for. We allow for an unlimited amount of revisions until you are 100% satisfied with the design.
Once the design has been completed & approved, we will either a) send over the final master files if it's a logo or business card design or b) go to work on the interior mocks and/or start on development if it's a website project.
100% customer satisfaction guaranteed…!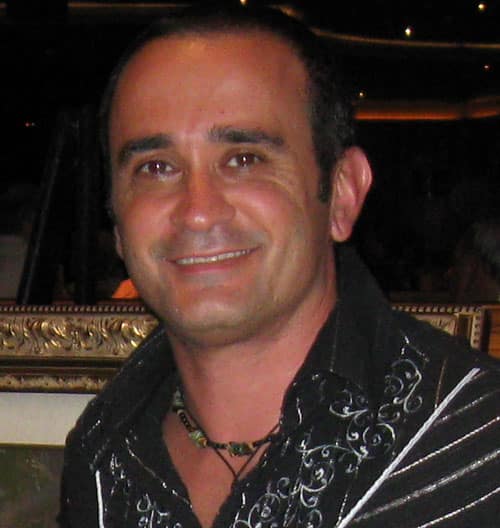 Author Bio
Angelo has been involved in the creative IT world for over 20 years. He built his first website back in 1998 using Dreamweaver, Flash and Photoshop. He expanded his knowledge and expertise by learning a wider range of programming skills, such as HTML/CSS, Flash ActionScript and XML.
Angelo completed formal training with the CIW (Certified Internet Webmasters) program in Sydney Australia, learning the core fundamentals of computer networking and how it relates to the infrastructure of the world wide web.
Apart from running Sunlight Media, Angelo enjoys writing informative content related to web & app development, digital marketing and other tech related topics.