Running a marketing agency requires multitasking and staying on top of a variety of clients in different types of industries. Organization is key to a successful business that sticks around for decades, but figuring out how to get that way isn't always an easy task.
About half of all businesses fail in the first five years, and about 14 percent of startups crash and burn due to poor marketing. Armed with that knowledge, you should be able to land several small business clients, but keeping them as their companies grow and expand is more of a challenge. Once brands can afford a bigger agency and a slick in-house marketing team, they may reconsider if they really need your agency's services.
Utilizing the 10 tools below creates a strong impression of a marketing agency on top of its game. If you can prove your value to clients, they're much more likely to stay with your company for all their needs both now and in the future. They may even recommend you to other business owners they know, expanding your reach via word-of-mouth promotion.
1. Finances
It's probably no surprise that the biggest reason for business failures is cash flow issues. Around 92 percent of companies that fail do so because they run out of cash. Getting your agency's finances in order should be one of your top priorities as a service business. Not only should you have a handle on all money going out and coming in, but you should also keep in mind that some clients may pay their invoices late or not at all. That creates a real money crunch for you, especially in the early days of operation. Here are some products that can help:
Using the tools above is a good first step to gaining control of your finances. However, keep in mind that as you grow and expand your customer base, you should let go of clients who are chronically late with payments and replace them with a more dependable source of income.
2. Design
Marketing agencies often have cutting-edge designers on their staff and already know many of the available tools, such as Adobe Suite. That doesn't mean there aren't additional ways to make your work easier or take your designs up a notch. Here are some products to help everyone on your staff with design work:
Canva: Canva is so simple to use that even someone with very little graphic arts training can figure out how to put together a post for Instagram or create a header for a Facebook business page. Other uses for Canva include creating book covers, flyers and logos. The basic account is free. Some graphics cost $1 each.
Vectr: This is an online visual editing tool that is advanced enough even for marketing agencies. Create unique vector designs via its online tool, and scale graphics to different sizes for different purposes. The software is free to use.
Easelly: This online tool helps you take plain data and turn it into an impressive infographic. Customize each visual to meet the needs of specific clients. Get a free account with up to 10 templates or gain access to a Pro Account for only $5 per month.
There are dozens of different viable design tools, but these will get you started and help give your work a professional edge.
3. Cybersecurity
About 43 percent of all cyberattacks are aimed at small businesses. Making sure your clients' private data is secure is a vital part of gaining the trust of your customers. Some of the most common causes of data breaches include human error and outdated systems. There are some tools to help ensure your business is safe:
PCS: This company offers IT support so you can ensure your systems are secure and not vulnerable to attacks. It also provides emergency help if you find yourself in the middle of a serious data breach and need a quick solution. Costs vary based on business size and needs.
Nessus: This is a vulnerability tester to help you see what areas of your website or database need better security. This software helps you prevent a security breach before it occurs by ensuring all systems are as protected as possible. The basic software is free to download.
There are a wide variety of security-based tools to keep your information safe and give clients the peace of mind in knowing you're serious about keeping their personal data out of the hands of criminals.
4. Development
Creating samples of marketing campaigns and sharing them with clients isn't always an easy task. You can spend endless hours emailing back and forth with your customers. Instead, use development tools like these and get instant feedback:
5. Scheduling
Creating a schedule of times when you can meet with clients or collaborate with co-workers keeps you on task with your other work. Here are some scheduling tools to help you set up client appointments:
ScheduleOnce: This highly adaptive tool allows you to customize appointments and set a schedule. You can also set up timelines for team members. The basic service runs $7.50 per month when paid yearly.
Schedulicity: This is a built-in scheduling app that also offers marketing options for your own business. Send out reminders to clients about important project deadlines or as meeting reminders. The basic account is free, and you can add appointments for $20 per month and up.
Staying on top of your schedule helps you remain organized. These tools work for nearly any type of company, but particularly for service businesses such as marketing agencies.
6. Content Management
If you want to show clients you really know what you're talking about, you need to give them tidbits of insider information to help them run their business. A blog on your own site and a social media presence is an absolute must. Here are some tools to help with content management:
WordPress: WordPress is an open source software that serves as a content management system (CMS). Because it's one of the most popular platforms, there is a ton of support available in forums and through its website. WordPress is free to use, but some add-ons and themes charge a small fee.
Jekyll: This CMS tool is super simple to use. Take any text and change it into a static website or blog. It doesn't use databases. You can even migrate a current blog over to Jekyll.
Content management should be simple and easy for anyone on your team to pick up.
7. Time Management
Making the most of your time allows you to grow your agency by leaps and bounds. There are hundreds of time-management tools, but here are a few favorites:
Toggl: Toggl is an online tool with an available app that allows you to track how much time you're spending on various projects. It's also a useful way to help with billable hours. It's free, but if you want to add features, such as advanced reports, you'll pay $9 per user per month.
Replicon: Track employee time to see where moments are wasted and could be better spent. The system also helps with billing for time-based projects, tracking the cost of time spent and managing attendance for your staff. Prices vary, depending upon which services you need.
TimeCamp: The app tracks time spent on different projects and generates reports for clients. An account for one user is free. Go pro and gain features for $5.25 per user per month.
Gaining control of your time is one of the most powerful things you can do toward growing your agency.
8. Communication
Staying in touch with clients shows you're in control and also keeps your agency at the forefront of their minds. Here are some communication tools you should invest in:
Sendy: The online platform puts you in control of sending basic emails and newsletters to your clients. You can also create autoresponders so people know you'll get back to them within a certain amount of time. The cost is far less than services such as MailChimp and varies based on how many subscribers you have.
Microsoft Teams: Chat in real time with team members, clients and potential leads. The system offers a free chat hub, and you can upgrade from there starting at $12.50 per month.
Communication is an area you can easily automate and free up time for other endeavors. If you need to conduct team webinars you should check out this very informative post by webinarcare.com on the best webinar software.
9. Social Media
As a marketing agency, you likely use social media often. Promoting your clients is a daily part of your schedule, and you should also highlight your own business. Fortunately, there are tools that help you automate social media marketing and make the most of your time:
Buffer: Schedule content for major social media channels such as Instagram, Facebook and Twitter. The system will inform you when your queue gets empty and also generates reports on the effectiveness of different posts. A basic account allows you to try things out for free, but once you add additional ones, you'll need to upgrade.
Sprout Social: Schedule posts to social media, see when teammates reply and measure analytics all from a single dashboard. The standard profile lets you add five social accounts and runs $99 per user per month.
There are many other tools out there, such as Hootsuite and BuzzSumo. Check out their free trials and choose the one that works best for your agency.
10. Project Management
As an agency, you serve dozens of different clients and must juggle various projects. A project management system is a vital part of staying on top of deadlines. Some of the better ones out there include:
Productive: Productive helps you streamline your project management workflow by setting up and delivering each billable and non-billable service. Collaborate with teammates on tasks in real time, customize each project, and invite clients aboard to save time on getting feedback. With Productive you can centralize project communications and get quicker project delivery through project templates. Pricing starts from $12.5 per user per month.
Trello: Trello lets you and your team work collaboratively with boards, moving tasks around, checking them off and reassigning them to new members. Their free account has unlimited boards and cards. If you want to add features such as power-ups and file attachments, it costs $9.99 per month per user.
Asana: This is another project management tool that also provides file storage solutions. You can create tasks within a larger body of work and assign them to team members. You can also set milestones and send out updates. The basic plan is free. If you need more features, move up to Premium for $9.99 per user per month.
Staying on top of projects is a vital part of marketing. These are just a couple of the better and less expensive marketing tools at your disposal. As your agency grows, you can upgrade to more advanced options or bigger accounts.
11. Customer Relationship Management (CRM)
CRM software is a key player in marketing for businesses and running businesses efficiently. However, the CRM software you choose matters. Researches indicate that a good CRM system can help boost sales by 29% on average.  Following are some of our recommendations for it.
Zoho CRM:
Zoho CRM has a long-range of products designed to help with CRM-related tasks for users globally. It is free for up to 10 users with gamification tools, and powerful marketing tools. It is a single platform option for most maximum users.
Hub Spot
Hub Spot comes with a workable free and paid version. Users can test their services on the free version and check the paid one after it. It also comes with amazing e-mail integration tools that allow it to stay ahead of the competition.
Freshsales CRM
Freshsales CRM is best known for its lightweight and easy-to-handle options and an effective AI assistant. It also comes with sensible pricing tiers.
12. Online Advertising
Online advertising requires tons of practice which can be difficult to get from a single platform. Therefore, we will suggest three different tools for each of the task. Following are the best online advertising options for users.
PaperG: Collaborate with professionals on large quantities of high-quality online advertising tasks.
AdRoll: Entice audiences with personalized ads
AdReady: Decrease creative production costs while testing multiple ad designs
13. Search Engine Optimization (SEO)
SEO tools play an essential role in web result ranking and improving the overall quality of traffic. These SEO tools can help run better campaigns and attain better overall results. Following are the best SEO tools you should know about.
Ahrefs:
Ahrefs is only second to Google as it is the second biggest website with the most crawlers on the internet. The tool highlights weaker areas of your site and how you can improve them for SEO purposes.
Google Search Console
Users need to submit their site map for their analysis and the platform gives results. It also helps users understand how Google ranks the sites.
14. Video Marketing
Video marketing is an essential part of marketing tools in the industry at the moment. The video marketing tools squeeze in more content interactively in a shorter span. Following are the tools for you to consider.
Biteable
Biteable is the perfect tool for both beginners and experienced users. It has a free trial available and works best for small enterprises. They also offer transition templates, making video marketing easier.
Video Marketing Blaster
It is best for pro users with tons of options for creating videos. It comes with a paid plan only. While the software doesn't have any transition templates, it is best for professional marketers.
Vldgoos
Vldgoos is the most versatile tool for users around the world. Most marketers love it because of its extensive tools and options. It also comes with a call to action tools that make it easier for you to create video marketing content.
15. Event Marketing
Event marketing is all about spreading the word and creating networks through the industry. Following are some tools that can help do this.
Attendease
Attendease allows smaller companies the ease of multiple options with extensive and easy-to-use tools. It comes with various applications for tasks like attendees, event-specific website development, and others.
Certain
Certain are a tool best for mid-size to large business setups, because of its additional features. It offers options for custom reporting, registration, accommodation management, and much more.
16. Lead Generation
Lead generation helps improve business performance and overall profits for the company. Following are the best tools for lead generation you should consider:
Quarloo
Quarloo is a tool that comes with several integration options, making it an all-in-one solution. It also has plentiful Nudging options. This makes it ideal for surveys, lead forms, on-site polls, and more.
Picreel
Picreel allows users to target the user behavior and improve customer experience on-site. It focuses on exit intent and allows better lead generation. Picreel works best for lead generation, lead forms and surveys.
ProProfs Survey Maker
This is a lead generation and CRO tool combined that works best for integral actions like Surveys, polls, quizzes, scored surveys, etc. It also has integration options, making it an effective tool.
17. Digital Asset Management
Digital asset management allows business to direct their assets. This includes uploading, storing, organizing, managing, and sharing online. Following are the best tools for digital asset management you should know about.
Adobe Experience Manager Assets
Adobe DAM is great for managing your assets online on a single platform. It also comes with a speed of a cloud-native solution. The tool can scale itself to meet the traffic, making it highly responsive.
Brandfolder
Brandfolder is an all-in-one solution for digital asset management software which operates for major clients like Under Armour, Slack, Snap, etc. it has the most versatile options for users, making it a good choice.
18. Data Reporting and Analytics
Data reporting and analytics make it easier for businesses to make strategic changes in real-time. Following are the tools you should know about:
Wattagraph
Wattagraph is highly useful for tracking social media and marketing analytics. It helps gather appealing visuals and enter your marketing KPIs for better analyzation
Power BI
Power BI is a visualization tool that absorbs data from multiple sources and compiles it into visually appealing form. It can process good amounts of data too, making it a useful asset.
19. Email Marketing
Email marketing revolves around creating leads through e-mail to clients and customers. Following are the best tools for it.
Sender
The tools allow creating newsletters without any HTML requirements. All users need to do is choose the template they like and create the best email marketing scenarios for themselves.
Sendinblue
Sendinblue provides over70+ email design templates that allow businesses to create automated emails for marketing in real-time.
20. PPC Campaigns
PPC campaigns require paying attention to details and keyword research. Following are the best tools for it.
Semrush
Semrush is one of the most powerful tools for PPC campaigns and research tools. This makes it easier to assess competition marketing strategies and compare them with your current.
SpyFu
Spyfu allows users to take a look at the user advertising strategies and recommends steps for it accordingly. You can see the competition keywords, and rank your websites higher in the results.
Google Keyword Planner
Google keyword planner allows extensive tools and analysis for users to make changes to strategies in the future.  These may include strategies like topic relevancy, content optimization, search intent, etc.
New Marketing Tools
Every year, new marketing tools arrive on the market that offer easier ways of doing things. Be aware of your needs as a small business and what might make better use of your time and resources. Seek products that free you up to work on creative elements of your business or networking aspects that help you grow and thrive. You may also want to check out this cool on how to guide on start a digital marketing agency.
Industry Experts
We decided to interview several marketing industry experts on this topic. Here are the results of those interviews;
Yaniv Masjedi, CMO at Nextiva, writes;
What are your favorite marketing tools and why?

My top marketing tool pick varies per channel, but I highly recommend that every marketing team push for a customer experience management platform that unifies sales, marketing, and customer service teams into a single portal. This will provide more comprehensive insight into prospects and more detailed account management for on-boarded clients. CXMs can help tabulate CAC, churn, and every other datapoint needed to inform your marketing budget as well.

Which time management and communication tools do you use & why?

We don't rely on time management tools at my company. We don't wish to monopolize our people's time with meaningless time reporting, and we also don't want them to feel chained to a clock. To that end, we are results oriented.

We do communicate extensively over Outlook and Slack. Outlook is great for long-form thoughts, while Slack is a fantastic place to leave one-off ideas for later consideration, as well as hop on a quick voice call.
Kent Lewis at Anvil Media, explains;
What are your favorite marketing tools and why?

Hootsuite. I use Hootsuite to schedule posts, shorten URLs and track clicks and monitor keywords. We also use the platform to track conversations and engage influencers. Augment Hootsuite with Mention.net (to track my business and personal branding across social platforms) and Commun.it (to identify engagement opportunities on Twitter). For the past 11+ years, I've used Hootsuite Pro to manage all of my person and professional social media profiles. Net result: BuzzSumo named me a 2019 Top 100 Digital Marketing Influencer.

Do you use tools to manage marketing budgets?

Yes. AdStage and optmyzr for paid search, Google Data Studio for reporting and Excel for planning.

Which marketing design tools do you recommend and why?

Canva for social media, Adobe Suite (Photoshop) for everything else, including video editing. They are easy to use, affordable and scale with the business.

Which time management and communication tools do you use & why?

We use email, Slack and Basecamp (team and client collaboration), Roadmap (time tracking), UberConference (webconferencing and conference calls), Skype/Zoom (video calls) and telephone.
What are your favorite marketing tools and why?

Ahrefs – This SEO tool allows us to see why competitors might be showing up higher on Google, and also to spy on their top keywords and pages so we can mimic or beat their results.

Do you use tools to manage marketing budgets?

We use Google Data Studio Dashboards to keep an eye on paid spend, especially Google Search Ads, Google Display Ads and YouTube ads.

Which marketing design tools do you recommend and why?

Canva – this free graphic design tool is a snap to use and is great for making web ads quickly.

Which time management and communication tools do you use & why?

We project manage all client and internal work in Trello. This allows us to message each other but also see the status of the work other people are doing.
What are your favorite marketing tools and why?

My favorite marketing tools are the Missinglettr service and Buffer. Missinglettr writes my social media content for me. It draws from my RSS feed so it knows when I publish.

Then, using Buffer, I put the 10 best quotes it draws from my posts and I schedule the promotional content and the link to my post using Buffer.

Do you use tools to manage marketing budgets? 

I use PayPal. PayPal adequately breaks down the Summary of my financial activities so I can see what I spend where.

Which marketing design tools do you recommend and why?

I recommend the Fotor graphic design company for social media marketing. Fotor has templates for Twitter, LinkedIn, Instagram, Facebook, Pinterest, and ebook covers to name a few examples of why I recommend Fotor for your marketing needs.

Which time management and communication tools do you use & why?

My business manager and I use Trello. We are able to see each other's Trello boards. This saves us time on verbal communication since we can see each other's activities in writing on our shared Trello boards.
Sydney Liu, co-founder and CEO of Commaful, writes;
Favorite marketing tools

Bettr: The best Instagram tool I've tried thus far. It has a number of data-driven tools that improve scheduling time, tagging, and more and actually posts directly to the Instagram feed. The best part for me is that it has a desktop web version as well so I can schedule images directly from my computer, which is where I do all of my image editing.

Marketing Design Tools

Canva: As somebody who isn't great at design, Canva is a huge part of my work flow. Canva's templates are incredibly helpful in getting quality designs for anything that doesn't need to be extremely custom. Just click what I like, change some text and images, and voila!

Dribbble: Dribbble is great to find designers.. It's easy to search whatever design I need and if we don't' have anybody on staff to do it, I can reach out to people with portfolios I like to get the project done.

Time management + Communication

Slack makes it easy to discuss ideas in real-time and flesh out any discussions or concepts that may not be clear. It's also great to use Slack for updating metrics to the entire team.

Trello: Trello is a project management tool with cards that can be added and dragged around to show where tasks are in the workflow. I like to use it for live and upcoming projects so it's easy to see what marketing campaigns are launched, what the results are, and what's coming up.

Google Sheets: Google sheets is basically a lighter version of Excel that can be accessed online by anybody. Through Google Sheets, we put all of our marketing ideas and score them using the "ICE" method for prioritization (I = Impact, C = Confidence, E = ease). This helps us determine what are the easiest and high impact things to spend our time on.
Casey Hill, growth manager over at Bonjoro, writes;
What are your favorite marketing tools and why?

Three phenomenal marketing tools my team loves are:

Ontraport – emails/business automation tool
Bonjoro – Personalized video messaging
Hotjar – Heatmapping and page analytics

Ontraport we love because it allows us to have our landing page tool, our email automations (plus SMS and physical postcards) and our CRM all under one hood. Runs like a charm and easy to set up.

Bonjoro allows you to send personalized videos via email and does wonders for increasing open and click through rate vs. standard email.

Hotjar allows you to see exactly where users are clicking, ask them questions at the perfect time (say someone has been on the order page for 30 seconds but hasn't bought yet) and see recordings of their viewing sessions.

Which marketing design tools do you recommend and why?

I like Canva for its simplicity but members of my team also use Adobe Illustrator, Photoshop and Spark for marketing assets. For Canva, I like that I can spin up a design from a premade template quickly and seamlessly and the sizing parameters and other aspects are already ready to go.

Which time management and communication tools do you use & why?

I like Asana for time management/project flow and Slack for internal team communications. For Asana, we like the slick UI and its ability to clearly document and record progress on a project. For Slack, it's the world leading chat collaboration tool for a reason.
Dana Roth, Product Marketing Manager at FortVision writes;
What are your favorite marketing tools and why?

I could not live without Elementor. It's a page builder that works with WordPress sites. It makes designing and personalizing my posts really simple. It is a drag-and-drop, front-end editor with tons of components and widgets.

Do you use tools to manage marketing budgets?

We use Monday.com to track our ad campaigns. It helps us stay organized. In one dashboard, we can quickly see where most of our money is going.

Which marketing design tools do you recommend and why?

I recommend using Canva. You can use it to create literally anything, and it comes with really nice templates. It's also easy to use, so if you're a beginner, there is not a large learning curve.

Which time management and communication tools do you use & why?

We don't use time-management tools. We use Google Chat to communicate with each other. It's easy because it's connected to our email addresses. It also has an app, so you are always only a message away from your most important connections.
James Rogers, Powerblanket Digital Marketing Manager says;
What are your favorite marketing tools and why?

My favorite marketing tools, outside of the standard Google Suite of Analytics, Ads, and son on, would be Ahrefs, SemRush, Ryte, and Wordstream.

Do you use tools to manage marketing budgets?

Google Sheets. We have all tools listed into categories, collective and individual cost, and contract terms.

Which marketing design tools do you recommend and why?

We primarily use the Adobe Creative Suite, but for quick jobs we will use Canva. I like the Adobe tools because they can do so much, as long as you know how to use them to their full potential. If you have experts in these tools, the quality of the projects is well worth the cost.

Which time management and communication tools do you use & why?

We use Google Hangouts and Wrike. Wrike is a project management software that allows chats by projects and tasks, so communication can be specific to certain team members, or everyone on the project. We use Google Hangouts for weekly conference calls and individual chats.
Josh Ladick, president at GSA Focus writes;
What are your favorite marketing tools and why?

I like Social Pilot to keep my social networks loaded with articles related to my industry, as well as posting my content as well to point followers to my site. Google Analytics is great and pretty intuitive, I can easily follow my traffic from day to day, or week by week, to see how new tactics are working. I use Mailchimp to keep track of subscribers, and the "Automatic" function is great for creating drip campaigns to nurture a lead over the course of several weeks.

Do you use tools to manage marketing budgets?

Not really. I keep my accounting pretty simple, and try to have some flexibility if I want to try something new and increase the budget to see if there is a good ROI.

Which marketing design tools do you recommend and why?

Microsoft word is really the only one. I do not design for a living. Just being able to lay down words over an image (using a text box), I can do everything I need.

Which time management and communication tools do you use & why?

Filemaker is the only tool I use for this. You have to know how to build a database in filemaker, but it is infinitely customizable once you learn. Gmail and Skype messenger are the only communication tools I use, other than Loom for making videos for training, or other uses.
Conclusion
We hope you found some useful resources & tools in this article.
Feel free to post your favorite marketing tools in the comments section below.
Happy Marketing!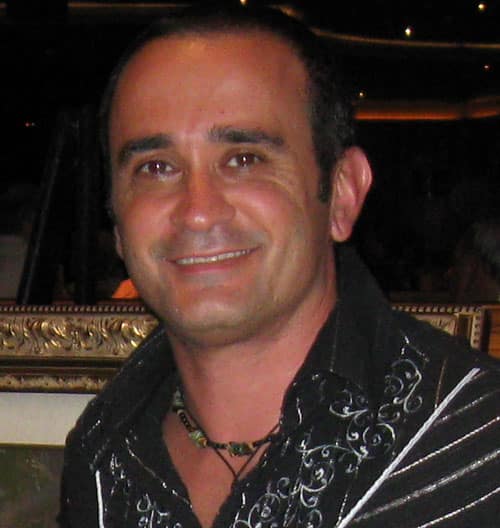 Author Bio
Angelo Frisina is a highly experienced author and digital marketing expert with over two decades of experience in the field. He specializes in web design, app development, SEO, and blockchain technologies.
Angelo's extensive knowledge of these areas has led to the creation of several numerous award winning websites and mobile applications, as well as the implementation of effective digital marketing strategies for a wide range of clients.
Angelo is also a respected consultant, sharing his insights and expertise through various podcasts and online digital marketing resources.
With a passion for staying up-to-date with the latest trends and developments in the digital world, Angelo is a valuable asset to any organization looking to stay ahead in the digital landscape.