Starting a business presents many challenges along the way. Many companies fail in the first 10 years — about 77 percent of them. For business owners, figuring out the perfect mixture of tactics to make a business thrive long-term is one of the biggest challenges they face. Gaining new customers is just one part of that equation.
Grow your company by keeping current clients and enticing new clients at the same time. Keeping current clients means ramping up your customer service, so the experience of those who are already fans is so good they don't even consider going elsewhere. Don't attempt adding to your clientele until you've nailed customer service with your base.
Once the customer experience (CX) for your company is top notch, attract new clients with the 16 popular tactics listed below.
Only through a mix of good CX and proactive marketing can you find the balance of customers who stay with you for years and new customers who help your business grow and thrive. Ideally, your current customers tell others about your brand and bring new customers to you through word-of-mouth advertising.
Creative Ways to Attract Customers
Attracting new customers to your business takes a lot of work because most customers aren't comfortable with trying something new. However, that doesn't necessarily mean that you cannot do it as a new business or an older one for that matter. It is understandable that bringing new customers to your business is mostly about building a strong business reputation but getting a little creative with your approaches can help you reap better results in the long run.
You need to have a different approach for different results which is why you need to think out of the box. For instance, you can follow some of the tips mentioned below to increase your clients.
Customers love free stuff and often prefer brands that offer discounts, prizes, and deals. While this will cost your bank balance a little, it will certainly help you attract more customers. Giving free stuff will bring more prospects and increase your chances of getting more customers.
Holding competitions is also a creative and effective way of boosting your clients. You can put up offers, challenges, and competitions and people will rush to your business if the challenge and prize are good enough
You will always have competition despite your business and niche which is why you need to show potential customers why you are the best option in the industry. The best way is to show your expertise, knowledge, and experience through genuine advice and information. Blog pages and handles are a great way to interact with the audience, provide information, and gain new clients. Potential customers will likely connect with you better once you show them that you know what you are doing.
Organizing social events is an excellent way to boost your business and grab more customers for your business. So, ensure holding social gatherings, dinners, parties, and various marketing events to gain more customers.
How Can I Attract New Clients For Free?
It is okay if you are a new business and do not want to make huge investments to grab new customers. It is a significant reason why most business owners want to look for ways to attract customers without a hefty investment.
There are several ways to attract new customers but the most common is setting up a neat and tidy place. People will more likely visit you if you present your business well. This goes for your website design too and not just your on-site business. Ensure that your websites stay as user-friendly and attractive as possible.
Customer care is an essential element of any business and focusing on facilitating your customers will help you attract them better. You need to focus on making your customers feel appreciated and important and responding to them professionally is a great way to do this.
E-mails are a free and effective tool to attract more people to your business. You need to keep a record of your customers and send them custom e-mails for offers, discounts, and sales when you host them.
1. Ask for Referrals
The best cheerleaders for your business are your current customers. They already love your product or service and are loyal to your brand. Invite current customers to share your brand with those they know. Better yet, reward them when they bring in a new customer for you. Rewards can be in the form of a credit for future products for themselves or a small gift sent once a referral makes a purchase. Crunch the numbers when determining a rewards structure.
The model you use will depend on the type of item you're selling. If you sell high-ticket items, then the reward may be greater than if you sell something at a lower price point. Find a premium that is attractive to customers but still allows you to retain a profit. Offer your referral program to all your customers for the broadest reach possible. Referrals are different than the ambassador program outlined below.
2. Segment Your Audience
A buyer persona represents the typical person who buys from your company. Most businesses have more than one buyer persona. Their target audience might include people from different walks of life, different locations and even from different generations. One of the most powerful ways of marketing is segmenting campaigns according to the different buyer personas you reach.
There are many different ways to segment your audience. For example, you can tap into social media platforms an age segment utilizes most or offer in-store promotions to engage baby boomers. Think about what each segment wants most and center campaigns around those needs.
Mastercard is known for its "priceless" commercials, but they also tap into specific segments of their audience with online video campaigns and advertising. During the 2016 World Series when the Chicago Cubs finally broke a 108-year losing streak and made it into the World Series, Mastercard tapped into the excitement of fans with ads such as the one pictured above
3. Give Away Samples
New customers have no reason for trusting you, so one way of building trust is giving away free trials and samples. The customer tries your product and then becomes a raving fan. Marketing with freebies draws in some people who just want something for nothing, but if you make the freebie related to the product or service you sell, you narrow the field of people requesting the freebie to those interested in your industry.
4. Offer Coupons
One way of enticing new customers to try out your business over another in your area is by offering coupons for new customers. Featuring a discount coupon may make the difference between a new customer going with your competitor or choosing you.
By the year 2025, experts predict the mobile coupon industry will grow by 56.5 percent. When offering coupons, think about the different ways of reaching your target audience. You could send out coupons in your free weekly paper, pass out door hangers and post coupons online on your website. You might even push out coupons to your mailing list offering a discount to current customers and featuring a coupon they can pass on to new customers.
Arizona Family Dental offers a coupon for new customers on their landing page. Their new patient special offers a highly competitive price for a consultation. Providing a discounted rate draws people in and gives the dental office time to show them why they are preferable to other dentists in the area.
5. Run a Contest
A contest draws attention to your brand and what you have to offer. However, not all contests are created equal. An effective contest is highly relevant to your brand, so it draws in your target audience. Think about some of the more effective contests you've seen from larger brands — such as Frito-Lay's "Do Us a Flavor" contest where they allowed people to suggest new potato chip flavors.
The best contests go viral, with people sharing it with others and posting about it online. The prize needs to be exciting but still related to your industry. Also, thoroughly study laws regarding sweepstakes as you don't want to get fined or sued for violating rules.
6. Provide Convenience
Ask how you can make the life of your customers easier. Is there a way they'd prefer to order over what you already offer? Technology changes rapidly from year to year — think about where technology will take your industry in the next few years and anticipate those changes before they occur. Create an app that allows customers to track their order or order via SMS, for example.
Domino's launched their "anyware" campaign which lets people order on the fly using today's technology. Customers can order from any device type (mobile phone, laptop, Alexa, etc.) and also through Twitter, text messaging, smart TVs and even their cars. By tapping into platforms people are already on, such as Facebook messenger, Domino's makes it easy for new customers to try their product.
7. Host an Event
Draw local customers into your store by hosting events to mark special occasions. If you sell candy, host a Valentine's Day tasting special for couples. If your company offers business courses, host a networking event for local small business owners. Find a way to tap into your target audience's interests and offer an event that encourages them to visit.
While the event shouldn't be too self-promotional in nature, it's okay to pass out literature and invite them to ask any questions they might have about your brand. Focus on making the event a good time for everyone, and they're more likely to return for products and services. You should also invite local media as you may get a bit of free press.
8. Find an Identity
Figure out who you are as a brand and then think about unique ways to showcase your brand's personality. The core of who you are as a company lies far deeper than the product and services you provide. Instead, highlight something significant that makes you different from every other brand out there. Then, get obnoxious in showcasing it — to the point that everyone in the world understands the core of your brand.
Kentucky Fried Chicken (KFC) did something quietly that took a while for people to notice — they reduced the number of people they follow on Twitter to 11, and those people are members of the Spice Girls and random people named Herb. This signifies their secret recipe with 11 herbs and spices. The move was genius, and once people caught on, it didn't take long for them to realize the significance of the move and how it related to the core of the brand's secret recipe.
9. Find Brand Ambassadors
Your top customers are excellent choices for the ambassadors of your brand. If someone uses your product over and over, they already love what you offer. Let them in on a perk and ask them to share the product with others for a reward of some type. This goes beyond a basic referral program that's open to anyone. Your ambassadors should be a small, select group of individuals. They get special perks, such as branded clothing and a first look at any new products.
The concept of utilizing rabid fans to get the word out originated in the music world with street teams. However, this idea works for nearly any type of business. Your street team must be highly trained and passionate about what you offer, and you must keep them engaged throughout the year with regular communication, gifts and encouragement.
10. Work With Influencers
Working with influencers increases your odds of selling to any consumer, but if you're trying to reach millennials, utilizing well-known social media characters influences 70 percent of them in their purchasing. Figure out the best influencers for your brand to gain the most impact from influencer marketing.
Start by identifying who your target audience is. Find influencers with followers in the target audience. While big-name influencers might be attractive, you can also find success with smaller names and micro-influencers. In fact, since you may be their only brand sponsorship or one of few, you'll likely get more attention from them and their audience. Work with more than one influencer to reach the most people possible. Ideally, you'll gain new customers from each influencer with whom you work.
11. Set up a Booth
Your local community is a good source of new customers, even if you run a global enterprise. You have an opportunity to reach out to people locally and make that personal connection you can't make online. Set up a booth at local home shows, craft fairs and community festivals. Is there a giveaway that ties into your brand? Giveaways put your business name in front of the attendees and keeps it in their minds after they return home.
While your booth doesn't have to be fancy, it should grab attention. Think about your signage and placing it so that people see it both up close and at a distance. Staff the booth with outgoing employees who enjoy talking to people about what your company offers. Get promotional material in the hands of those who stop by your booth and collect their contact information for follow up. Offer a drawing, for example, in exchange for a name and telephone number.
12. Establish Yourself as an Expert
When someone has a question about something in your industry, your name should be the one they think of for finding answers. There are many ways to set yourself apart from the competition and establish yourself as an expert in your field. For example, you might offer workshops for local customers teaching them something related to your industry. If you sell cooking products, host a monthly cooking class. Hairdressers might provide free at-home styling tips. What information do your customers crave?
Online, establish yourself as an expert by providing excellent content related to your brand. Create unique and detailed blog posts, offer tips on social media and answer questions on sites such as Quora. If there is a question related to what you do, the answer should have your name attached in some way.
13. Form a Plan
Your first step in gaining new customers is goal setting. Once you know how many new customers you'd like to gain in a set period, it's much easier to figure out which methods will get you to the goal.
Think outside the box when figuring out how to reach new customers. Continue with methods that worked in the past, but also introduce new ideas and reach new audiences through tactics such as influencers and social media marketing.
Finding new customers brings the opportunity for new sales, but don't overlook current customers, who often spend more and repeat purchases. For a truly successful revenue model, you need a mix of old and new customers.
14. Word of Mouth
Word of Mouth is an effective marketing strategy that revolves around spreading your business with the help of your clients. You can think of it as a return on investment for your marketing cost as your marketing strategies not only brings more customers but also advertises your business to others. Customers usually talk about your business, product, or service with their friends, families and peers .
The peers will most likely take the customer's word for it and try your product/service. This means that you will earn more customers  if they like what you have to offer. Statistics reveal that 92% of people trust the recommendation and feedback from someone they know over traditional marketing methods. Therefore, you will surely attract new clients to your business if you ensure that your products/services are good enough that your customers suggest them to others.
15. List Your Business on Directories
Running a business and attracting new clients is all about building trust and a strong relationship with the customers. Adding your business directories directly makes them seem authentic and trustable to most people. It will also let your business have a higher ranking amongst the localities, ultimately helping you reel in new clients.
In addition, listing your business on the directories also makes you rank higher. This increases your chances of making your business appear in search results when potential customers look for a product or service like yours. However, it is still crucial that business owners choose the right directories to list their business. It will help you boost your web traffic and increase your chances of getting new clients to your business.
16. Strengthen Your Social Media Presence
Social Media serves as the most versatile platform where millions of people connect through different software. Social media is so important that brands market their products/ services through social media handles. It is a great tool to interact with your audience and attract more potential customers.
Simple acts such as webinars, social media posts, and optimal social media management (SMM) can help reap great benefits. In addition to this, social media allows users to interact with their buyers and market their products with little to no expense. So, it would be best to start working on your social media presence on a priority.
Conclusion
Needless to say, attracting new customers to your business can help you expand your business and earn more profits on the way. However, it is still important to keep in mind that you need to maintain your business reputation and facilitate your customers to strengthen your client-consumer relationship.
Doing so will also lead to better results, so try incorporating them into your business as soon as you can.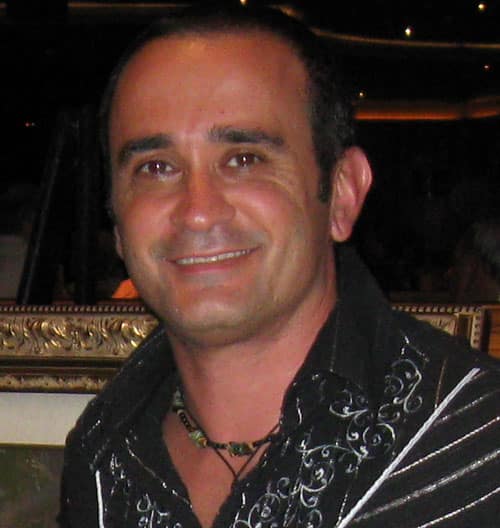 Author Bio
Angelo Frisina is a highly experienced author and digital marketing expert with over two decades of experience in the field. He specializes in web design, app development, SEO, and blockchain technologies.
Angelo's extensive knowledge of these areas has led to the creation of several numerous award winning websites and mobile applications, as well as the implementation of effective digital marketing strategies for a wide range of clients.
Angelo is also a respected consultant, sharing his insights and expertise through various podcasts and online digital marketing resources.
With a passion for staying up-to-date with the latest trends and developments in the digital world, Angelo is a valuable asset to any organization looking to stay ahead in the digital landscape.