You don't have to run a professional web design company to see that web design is changing. You just have to jump online for a few minutes and click on various websites to see that some new trends are already becoming apparent in website design.
While some trends like, perhaps, maximalism, maybe more fleeting than others, some trends seem like they're here to stay.
One such trend is the use of responsive web design. With Google shifting to mobile-first search, you need to adopt a responsive web design as quickly as possible if you haven't already.
Responsive web design is what enables your website's pages to look great no matter what kind of device a viewer is using to look at them. This kind of design basically involves using HTML and CSS to resize or move content so that your web pages look wonderful regardless of the size of the screen someone is using to view the content.
Like responsive web design, responsive imagery seems to have plenty of staying power. A responsive image like a logo scales to fit in any size browser. While you can set your code so that your website's images can get bigger than their original size, it's generally advisable to make it so that your images can scale down, but never get larger than their original size.
Responsive web design and imagery aren't the only two web design trends that appear to have staying power. Here are some additional web design trends that may be around for quite a while:
1. Parallax Animation
One web design trend is Parallax Animations. In particular, this web design trend is similar to an optical illusion effect that distorts images to appear differently than expected. Depending on the parallax animation, a viewer may view the graphic and perceive objects to be further away or moving faster than anticipated. For instance, a website may appear to have more depth by manipulating background layers to develop immersion and transforming effects. Moreover, the web-based animations may feature more subtle pixelated micro-animations to make ordinary images stand out.
Although adding parallax animations to a website has its benefits, it is important to consider the possible drawbacks. For example, these animations require larger file formats that are not always easily compressible. As a result, more elaborate parallax animation web designs typically slow down the website if not managed properly. However, the use of parallax animations ensures that a website remains trending and better engages online visitors to websites.
2. Neumorphism
Another emerging web design trend is Neumorphism. Commonly, websites consist of different icons and logos that are flat and use simple color schemes. However, Neumorphism applies overlays of flat colors and drop shadow effects to make specific elements better stand out. In essence, this approach shares the effects of digital embossing of specific elements.
Also, web designers may include debossing techniques to better define icon or logo shapes. While online visitors navigate through the website, they may interact with realistically styled CTA buttons, search fields, chat boxes, and brand icons.
3. Comfort Colors
Choosing a color scheme for a website is an important aspect of web design. In some scenarios, businesses try to implement various color schemes to better attract customers. However, this typically results in more distractions and conflicts as uses navigate web pages. Currently, integrating comfort colors into business websites is becoming more popular. Reasonably, users better engage with content that is easy to read and is visually appealing to the end-user. In detail, websites that integrate softer tones, pastels, warm, and more natural color schemes tend to retain online user attention longer. For instance, most websites allow users the option to enable night modes for online visitors. As a result, the website becomes more adaptive to users' preferences which leads to longer user retention. In this aspect of web design, businesses welcome more users to websites without needing to send urgent brand promotions to meet business objectives.
4. Scrolling Transformations
Effective web designs allow online users to better interact with site content. One way to increase online interactions is scrolling transformations. Ideally, web designers want website visitors to learn and engage with content as they scroll through various web pages. In other words, scrolling transformations remove the need for online users to search for the next section on the website. Instead, website information continuously appears to users as they scroll.
Visually speaking, a scrolling transformation may include different elements to attract, retain, and engage online users. For instance, this web design trend may differ from each design and may include more complex color schemes, animations, and page transitions. Also, businesses may incorporate scrolling transformations to appear as a break or new page to the end-user. As a result, users may engage with website content multiple times as they continue to scroll.
5. Drop Shadows and Depth
Amateur web designers and professional web design companies have been using shadows in their web designs for years. With web browsers continuing to evolve, we're now seeing some really creative variations that wouldn't have worked in years past.
Grids and parallax layouts are allowing designers to use shadows to create depth and give the impression that there's a whole world that sits just beyond a user's screen. This is something that's in direct contrast to the flat web designs we've seen in recent years.
Playing with shadows can create a versatile look that does more than increasing the attractiveness of your web pages. It can also improve your site's user experience because shadows can emphasize certain things you don't want your visitors to miss.
6. Vibrant Colors
2021 is the year where you'll start to see an excess of vibrant colors on both new and existing websites. A web designer's color palette used to be limited to colors that were deemed to be "web-safe." Thanks to improvements in monitors and devices, designers now have the full spectrum of colors at their disposal.
New companies can use vibrant and possibly clashing colors on their websites to attract the attention of consumers online. Established organizations can do the same thing to distinguish themselves from their more traditional, play-it-safe competitors.
7. Particle Backgrounds
Rumor has it that a picture says a thousand words, so how many more would a moving picture convey? You can find out by capitalizing on the current trend of using particle backgrounds on websites. Particle backgrounds are made with Javascript that enables movement as part of the background. And the great thing is, it doesn't take very long to load!
Particle backgrounds are effective at grabbing a viewer's attention quickly, which makes them effective at making a positive impression in mere seconds. As an added benefit, motion graphics like particle backgrounds are becoming increasingly popular on social media platforms where they can serve as wonderful portals that lead directly to your website.
8. Custom Illustrations
Illustrations are a wonderful way to make your brand seem more light-hearted and inviting. Using custom illustrations in web design is a trend that's adding a ton of frivolity to many brands' websites. No matter what kind of identity your brand has, you can have a custom illustration made to match your company's personality.
9. Bold Typography
Have you heard the expression "go big or go home?" Well, there's no reason for you to go home because using big, bold typography is definitely a trend you'll see throughout 2021 and beyond. Typography continues to be a powerful tool that can do two things at once. It can evoke emotions and relay information simultaneously, which makes typography an important design element.
With screen resolutions improving so much in recent years, you'll see a greater number of big, custom fonts on websites across industries. Many browsers can even support handmade fonts as long as they're enabled by CSS, with Yahoo being a notable exception in this regard. Using large letters and contrasting serif headings can make attention-grabbing parallels. It also improves your site's user experience and retains your visitors' attention longer.
10. Broken Grid Layouts
In 2021, web developers welcomed the introduction of broken grid layouts in web design. The use of broken grid layouts is a trend that will remain strong in 2021. Broken grid layouts produce web pages that are asymmetrical and intriguing. While broken grid layouts may not be practical for established brands that have a lot of content on their websites, newer brands may use this kind of layout to make their sites stand out.
11. Dynamic Gradients
With flat design being so pervasive in recent years, dynamic gradients have not been around much. Now, they're back and gaining in popularity quickly. One way that you can use a dynamic gradient is to put a filter over a photo that would lack interest without it. You can also use a basic gradient background for web pages where you're not using imagery.
12. Oversize Letters
One area where you can quickly see web design trends in 2020 is in typography. Expect to see huge, oversize lettering that grabs the user's attention and makes the entire experience whimsical and fun. Single words will take up the entire page. Use this method sparingly, however, and make sure it responds to smaller screens such as smartphones. Otherwise, you'll risk losing some of your site visitors.
Granyon uses this style to invite people to an event they're having to celebrate summer even though summer will be over by the time the event occurs. They use the word summer in huge letters split into two lines to grab user attention. Using the oversize letters for an online invitation is a smart way to tap into a current trend without changing the basic look of the site. Consider using big letters for a landing page, for example.
13. Broken Grids
In 2019, we saw the start of asymmetrical designs where everything doesn't have to line up on a grid. Expect this trend to continue into 2020 not only for web design but across different mediums. The broken grid will become more popular where boxes overlap one another and create layers of elements that are aesthetically pleasing to the viewer. The approach gives websites a more artistic, high-end look. No longer is a grid a necessity, and it may even make your site seem a bit dated.
14. Better Mobile Designs
In the last few years, designers have realized how many people access their sites via smartphones. A recent report indicates that by the year 2025, about 3.7 billion internet users will be mobile-only. If you aren't already designing for smaller screens, this year is definitely the time to jump onto this trend before the market saturation increases further.
If your site isn't already based on mobile-first design, now is the time to look at how you serve content to your readers and where they're actually accessing your site from, such as a phone or desktop computer.
15. Simplicity
Some sites simply scream for simplicity. Take your target demographic into consideration. If most of your users are baby boomers, you may want to keep things traditional and simple so that they can easily find the elements they need. On the other hand, if your audience is Gen Z, you need trendier design elements and don't have to worry about them figuring out how to use your site — this generation is extremely tech-savvy. They've likely already thought of the importance of a design trend for 2020 before you've even heard of it.
16. 3D Elements
Three-dimensional additions to designs have been around for a while, but expect to see even more of them in the coming year. People want a firsthand experience without having to leave the comfort of their living room sofa. Add videos, 360-degree looks at products and letters that pop with three-dimensional designs.
Keystone Shooting Center offers a three-dimensional video showing the interior of their retail location. You can browse their store, walk through the various displays, use a dollhouse view to see the entire building and even get up close to the display cases to see what's inside. It's the next best thing to actually visiting the store.
17. Custom Sketches
You've likely noticed the trend toward illustrations on various websites. They add a certain whimsical element. Expect to see them become more and more customized so that they perfectly match the tone and purpose of sites. To tap into this web design trend for 2020, figure out what makes your brand unique from your competitors and come up with a story to match it. Work with an illustrator to create drawings that perfectly match the purpose and personality of your site.
18. Split Content
Does your business have dual purposes? Split content design is on track to become another web design trend for 2020, already showing up on artist websites and some e-commerce sites. With split content, you'll simply split the page down the middle and show the two sides of a company's personality, such as having one side light and one side dark.
You can layer transparent colors over a single background to achieve this look or make the split harsher and the two sides completely different. There should be some element that ties the two sides together, such as a centered log.
19. Animation
Animation is a trend that never really goes out of style, but with faster and faster internet speeds, expect to see more and more animation appear in web design trends in 2020. The speeds of 5G connectivity will make streaming easier and quicker than ever before. Providers expect about a 20-fold increase in speeds with the introduction of 5G over LTE.
Hello Monday introduces their services by showing the types of animations they can create. They show a man and a woman going through various tasks, such as jumping into a swimming pool dancing or morphing into different shapes and outfits.
20. Hidden Navigation
Some of the web design trends in 2020 spiral off other trends from 2019. Minimalism has been growing in popularity, for instance, and hidden navigation tags onto that trend by placing fewer elements on a page initially. Once heralded as going out, the hamburger menu has made a reappearance as a way to show where the navigation is without taking up precious space until the user needs a nav bar. Some sites also just use the word "menu" to signal how the user can navigate the site when needed.
21. Bold Colors
The use of bold colors is a not-so-new player in web design trends for 2020. Bold colors have been in use for the last several years, and they continue on into the coming year with vivid blues, deep pinks and bright purples. They're used as accent colors, but they appear as complete backgrounds or transparent overlays on images. The colors are jarring at first, but they definitely grab the user's attention. The key to using bold colors is paring them with neutrals such as white or black.
22. Morphing
Another design trend that seems to be growing in popularity is morphing images. As the user mouses over elements on a page, they shift, morph and turn into something else, which makes the entire site more interactive and keeps users engaged long after they land on the page. Morphing may help reduce your bounce rates and keep site visitors on your landing page longer, at which point they'll look at more of what you have to offer.
Fila Explore offers a variety of products meant for hiking and the great outdoors, such as shoes, jackets and backpacks. When you first land on their homepage, you get four choices of the types of terrains you might explore — woods, mountain, canyon and elements. As you mouse over each word placed vertically in the four corners of the page, you see images of those settings. The images shift, meld together and then change to whatever you move over. This style is entertaining and keeps the user looking for a few minutes so that they want to scroll on down and check out the products.
23. Parallax Scrolling
If you've ever played a video game such as Super Mario Bros., you've experienced parallax scrolling. This design technique has become more popular throughout 2019 and is set to be one of the major web design trends in 2020 as well. Parallax scrolling will allow you to place emphasis on a specific element of your page as it slowly disappears as the user scrolls, keeping it in their line of vision longer than other elements.
24. SVGs
Scalable vector graphics (SVGs) aren't anything new. They've been around for many years as a design option because they scale up and down easily for print. However, expect to see these graphics used more and more often in web design in the coming years due to the variety of devices people now use to access the internet. Designers are tired of having to create two separate websites to handle mobile and desktop traffic. With SVGs, the images size up or down easily without the need for a second design.
25. Voice User Interface
Voice user interface (VUI) allows users to interact with a website with voice commands via Siri, Alexa or Cortana. This type of design is also beneficial for individuals who are vision-impaired and may need to issue commands verbally rather than via text. It's about time web design trends of 2020 caught up to basic accessibility standards, and VUI allows for that while also offering convenience to the person doing another task with their hands but wanting to travel to a different page on your site at the same time.
26. Landing Pages
Facebook has pointed to how artificial intelligence (AI) will change social media as we know it in the coming years. For now, one trend popping up thanks to AI is more personalized website experiences.
When it comes to web design trends in 2020, losing the traditional homepage is one of the biggest changes out there. To create a truly personalized experience for site visitors, designers must create landing pages that match the interests of that person. It is impossible to predict all the advances of AI, but one can certainly look at previous changes and see that we're headed into a more personalized, intuitive world that meets our needs almost before we know we have them.
27. Brutalism
Brutalism is a bit hard to define, but you'll know the look when you see it. Sharp edges, lack of symmetry, boldly contrasting colors and clashing designs all make up this new trend. A range of colors safe for the internet and blocks of color with no white space set this style apart. The look is unique from anything else out there and really grabs consumer attention.
The Juice Box removes any hint of white space and uses harsh blocks of color. Even the letters on the page are high contrast and blocky. The site screams simpler times, which is maybe what one thinks of when wanting juice.
28. Microinteractions
If you've ever visited a website and submitted a form, you may have seen a bar showing the form loading from zero to 100%. This process is a microinteraction and shows the user that their action has a result. With more simplified designs becoming popular, these small actions still keep the site engaging for people. Think in terms of a very narrow response to a small trigger, and you'll understand the concept a bit better. You can have multiple microinteractions on the same page.
29. Augmented Reality
Almost everywhere you look these days, augmented reality (AR) is at the forefront. Go to any movie theater, and you can plug into mobile apps that let you play a game on your phone while engaging with the big screen. Open a magazine, and the page turns into an experience with the help of your smart device. Expect one of the big web design trends of 2020 to be AR, especially for e-commerce sites.
Some sites already use this technology, by allowing you to upload a photo and see how a pair of eyeglasses looks on your face before you order. You can try on clothes, plug a new rug into an image of your actual living room or try on a new piece of jewelry. As the technology becomes more commonplace and advanced, expect to see it on more and more websites.
We interviewed several industry experts on this topic.
Here are their responses;
Paige Arnof-Fenn, Founder & CEO of Mavens & Moguls writes;
Voice user interface which is not strictly related to design but it allows users to interact with websites through voice commands so it adds usability and functionality to your site making it accessible to all users including those with limitations and disabilities. It is not just about complying with the ADA, responsible web design and corporate social responsibility goals but it is also good for the bottom line by reaching a broader audience. Inclusion is the right thing to do and it is good for business. Smart speakers are only getting more popular going forward so voice is here to stay.

Better use of bold colors and white space to stand out from the competition. The trend toward simplicity and minimalist design means less is more in the new year. Web sites should focus on simplicity & convenience as the world becomes crazier and technology gets smaller, faster and more complicated, people are finding new ways to simplify their lives more than ever. Simplicity is the ultimate sophistication after all..

In a mobile first world, you have less time to grab people, attention spans are shorter than ever so video will be used even more, show don't tell for maximum impact, rich content drives engagement, traction and growth. The world is moving to mobile first or mobile only, fewer people accessing web on big screens so everyone is tailoring their site, message and content accordingly.
Tim Mehta, Senior CRO Expert at Portent, Inc, writes;
1. Accessibility.
With awareness growing for accessibility on our sites combined with the consequences of building a site that excludes a large volume of internet users (most importantly, a group of human beings), designers will be paying closer attention to making sure they're designs meet accessibility standards.

2. Bye bye drop-downs.
Many articles and usability studies are coming out exposing the poor UX of drop-down fields (especially on mobile) and highlighting more usable alternatives.

3. Higher frequency of forms in hero region.
With so many AB tests proving the potential increase in form fill rates by moving the form to the landing view of the page, expect to see more of this across the web.
Anastasia Dyachenko, CEO at Cadabra Studio, design & development company, writes;
1. Microinteractions (UI animations)

The small motions on the site that make it look "alive" and help users to feel their own actions on the site. The button growing slightly bigger, when you point on it, the upload success bar, the price tag jumping on a product as you scroll down the webpage, the animated logo or small animated elements on the hero page – all these things are the examples of microinteractions. The design element has already been in trend in 2019, but it's still evolving and even more companies will start using it next year. I think UI animations make digital products more humane, they help users feel like they're interacting not with a bunch of ones and zeroes, but with something that lives, understands and responds when you do something to it. That's why people tend to have warmer feelings about the sites that have such microinteractions and spend more time there.

2. Voice technology (VUI)

Voice command systems have already proven to be very effective, convenient and easy to use. Starting from Siri and ending with smart speakers many of us are having at home now. So, web designers are starting to implement voice technologies and AI to the websites as well. The VUI helps to make designs more simple and straightforward.

3. Minimalism

Minimalistic design has been a trend for several years now and it's not going to vanish in 2020. However, I expect the trend to have a change in the color palette. Next year web designers will be using deep, bold colors. The colors do a great job in grabbing users' attention and help brands to stand out.
What is the Future of Website Design?
Without a doubt, the future of web design will evolve with more & more engaging and interacting content digitally. To add, these new trends may update websites to better connect with online users while enhancing website quality aesthetically. Moreover, website design may include optimizing web elements and features to better engage and interact with end-users.
AI, Chatbots, and Automation
AI, Chatbots, and Automation show popularity for many modern websites. Artificial intelligence (AI) uses machine learning systems to predict user behaviors. In terms of web design, the artificial intelligence features may integrate with website chatbots and automation systems to better interact with end-users. For instance, users who interact with a website by watching videos or purchasing specific products might receive suggestions on what to purchase or watch next based on the prior interactions.
Modifying chatbots on online websites may also improve web design. Typically, chatbots serve as a great tool for redirecting users to relevant web pages based on user inquires. However, configuring chatbots to better reflect brands may include personalizing the systems feedback responses and visual appearance. Other improvements may include making chatbots optimal for voice searches. By modifying chatbots to improve web design, businesses increase engagement levels with online users while enhancing user experiences when navigating through websites.
Automation is another web design trend continues that continues to gain popularity online. Currently, websites are making it easier for new users to link their social media accounts and email addresses to websites with a single click. In return, users spend less time on registration pages and more time on reviewing and interacting with website content. Also, automation proves useful for users that want to set up alerts for when new products and services become available. Therefore, businesses optimize websites to feature automation systems that attract and communicate better with end-users.
Voice Command Interfaces
Moreover, websites that optimize automation systems, like voice assistant systems, may better analyze longer keyword phrases to better assist end-users. Presently, voice assistant technologies are becoming relevant as more users interact with Siri, Google Assistant, Amazon Alexa, and Echo systems. Unlike other web design trends, making a website compatible with these voice assistant technologies makes obtaining more information easier for users. This web design trend may also encourage more businesses to optimize website content, FAQ pages, and on-site features to better identify longer keywords phrases for raising SEO.
Augmented Reality
One emerging web design trend is Augmented Reality (AR). Businesses may update current online platforms by adding features like Augmented Reality to better engage online users. When users interact with AR features on websites, they interact with facial and object recognition technologies that showcase content differently. The future of web design may most likely be more Virtual and Augmented reality friendly due to its ability to showcase online content more productively.
Today, smartphone apps that are already using augmented reality are considered more mainstream than apps that do not. For instance, apps like Pokemon Go, Star Chart, and Mondly AR implement augmented reality to gain more users. Web designers may apply similar technologies to websites that offer interactive user features based on user locations. Moreover, these AR features may simulate real-world elements to better display brands' products and services.
What Makes a Good Website in 2021?
Define a purpose and Stick To It
Too often, businesses develop a website without defining a clear purpose for the site. In other words, a website needs to include specific elements, features, and web designs that help businesses reach particular objectives. Depending on the objectives, a business may better define website purpose when optimizing content and features to best reach specific target audiences. For this reason, businesses should optimize web designs that meet target audiences' search criteria. When users interact with various search engines about particular inquiries, the website's design, content, and features should align with users' needs.
Target Your Audience
Having a functional and trendy website that lacks value to online users is a major drawback for a business. As a solution, online companies may implement great web design with target audience-specific content. Businesses may increase website user value by regularly blogging, posting, and promoting relevant brand-related content that consumers appreciate. To add, a website may feature testimonials, high-quality graphics and media, and portfolios to build more trust between client and business.
As a recommendation, an online enterprise may improve web design to reach target audiences in various ways. One way is to research competitor sites to better understand how other companies are engaging their online clients. In this scenario, a business may update current keywords and website features to perform better than its competitors. With the use of analytics, businesses may also identify which users show more interest in particular website features and web pages to better target relevant users. Lastly, online platforms with surveys, newsletters, and reviews have more potential of gaining more user information to better improve the overall experience.
Intuitive Navigation
Navigation is a key attribute for any successful website. Before optimizing navigational features, businesses organize and structure their website in a particular sequence to better engage their target audiences. Web designs may differ for each site, however, the layout should be easy-to-navigate and guide online users to specific web page sections or landing pages. Also, online companies optimize website navigational features such as search bars, sliders, and menus to increase traffic flow to various regions of an online platform.
Primarily, businesses optimize navigational features to enhance user experiences when users interact with the site. Logically, as more online visitors find what they are searching for quicker and easier, business productivity may also increase. For instance, businesses may not want users to scroll through long web pages filled with an abundance of content. Instead, online platforms may include hamburgers, drop-down, sticky, and sidebars to better redirect users. Additionally, web designers tend to configure headers and footers to display navigational features to make exploring website content more straightforward.
High-Quality Images
Visible on most websites, using high-quality images helps build trust and attract online users. Occasionally, users visit a website and identify a thumbnail that does not render properly, shows buffering, or lacks relevance to the associated products or services. In this case, features such as this draw users away from the site because it fails to communicate brand values to end-users.
With the use of high-quality images, the addition serves as a confirmation to end-users that their time and attention are appreciated. More specifically, these images may serve as a great opportunity to make deeper connections with target audiences in a more modern way. Above all, images and other website content are easy to share with other users which makes this web design feature essential.
Well Written Content
With a website, there are numerous ways to capture user attention through effective written content. Ideally, web designers customize fonts, headers, labels, and captions to both engage users and allow make processing information easier. In terms of copy, well-written content consists of using verbiage that best reflects target audiences' preferences. In other words, businesses may benefit significantly when writing content in a conversational and informative manner.
Moreover, content for articles, blogs, and posts may include relevant links that enhance overall user engagement. For instance, an article with a link directing to a specific web page may better inform users about a brand's products or services. This link will drive more traffic to specific landing pages which may result in higher conversions for a business. Moreover, online companies may take advantage of updating older posts and website content to regularly connect with their subscribers.
Conclusion
In conclusion, improving web designs for online platforms may better assist businesses with achieving their marketing objectives. As web design trends change periodically, site owners may become more relevant if updating their interfaces.
If you're a web developer you should read this article on how to create a great web developer portfolio.
When companies evolve their sites to become more relevant, they may attract different target audiences while retaining existing audiences. Moreover, an online business may ensure its website success by following important web design principles. Regardless of enterprise-scale, a website ensures success when adapting its platforms to best meet user needs.
Another useful resource on this topic is the Top 5 web design agencies in the world.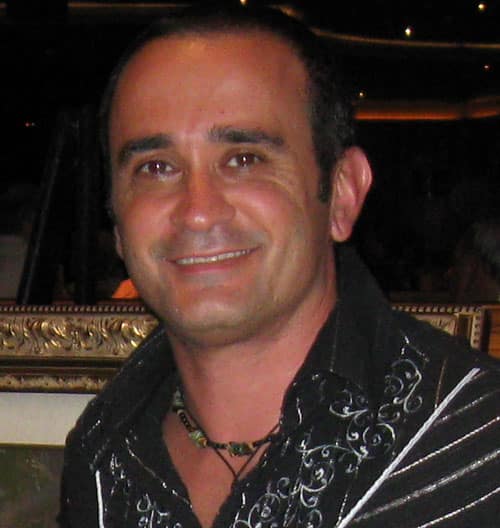 Author Bio
Angelo Frisina is a highly experienced author and digital marketing expert with over two decades of experience in the field. He specializes in web design, app development, SEO, and blockchain technologies.
Angelo's extensive knowledge of these areas has led to the creation of several numerous award winning websites and mobile applications, as well as the implementation of effective digital marketing strategies for a wide range of clients.
Angelo is also a respected consultant, sharing his insights and expertise through various podcasts and online digital marketing resources.
With a passion for staying up-to-date with the latest trends and developments in the digital world, Angelo is a valuable asset to any organization looking to stay ahead in the digital landscape.