There is something about web design with limited elements that is soothing to the human eye. When a webpage is simple, there's no need to search through the clutter and figure out where to go or which action to take. Minimalist web designs have become more popular as people have turned to smaller screen sizes because they respond well to mobile devices without making the elements too tiny to read.
About 96 percent of Americans own some type of cell phone and 81 percent own a smartphone. Creating a simple design for mobile users should be reason enough to minimalize your design, but there are other advantages as well. A minimalist design helps you stand out from the competition, attracts mobile users and puts less of a strain on your web hosting plan.
3 Reasons to Choose Minimalistic Web Design
If you are wondering why you should opt for minimalistic web design, the following three reasons will help you understand.
It's Fast
In today's world, less is more. In website design, the lesser content your website has, the better its load time will be.  If your website has fewer items and elements, it will automatically load faster compared to your competitors.
It may come as a surprise to you, but over one-third of website visitors abandon the site if the load time is more than 2 seconds. Therefore, eliminating excessive components and adopting a minimalistic web design is a must-have for any website.
Easy to Maintain
Website maintenance can be a challenging activity if you have to deal with a heavy design. However, minimalistic web design with lots of white negative space and bold typography can give your website an appealing look.
The best part is that while the website presents the most relevant and optimized content, it makes the design simple to maintain and even makes any changes.
Simplicity is a Visual Treat
No one wants to see bulky web pages bombarding the visitors with big, bold fonts and massive banner promotions and images. The true beauty lies in minimalism; all you need is to keep it eye-catching and simplistic.
Here are the top 14 reasons why minimalist web designs are so appealing, plus a look at four websites with uncomplicated but powerful designs. Studying what other companies have done with their simpler designs allows you to imagine how you might change up your site and make it more appealing.
1. Show Off Your UVP
Your unique value proposition (UVP) is what you offer your customers that no one else out there offers in quite the same way. Your UVP can be anything from the best customer service in the industry to a unique product that solves a problem for site visitors. Perhaps your UVP is that you care about the environment and give back to organizations that work toward reducing energy usage. The key is finding something unique about your company that you're already passionate about.
When you limit the elements in your design, you have the space to show off what makes you different from the other brands out there. Instead of trying to add dozens of features, you focus on one or two for your page. This highlights how you're unique much better than sharing every little piece of information about your company. It also keeps the user from getting distracted by other information and keeps them thinking about how you can solve their pain points.
2. Focus on the User Interface (UI)
By reducing the number of features on your site, you can hone in on the UI and ensure the user experience is the absolute best it can be. You'll also have more funding and time to invest in the design from a usability standpoint. The user interface should be clean, simple and intuitive. Don't worry about adding a bunch of fancy options that might not work on every computer or device. Instead, focus on creating a page that is easy to navigate and use.
If your website also offers a mobile app that ties into what you sell or offer, then keeping the UI of the app as simple as possible makes it easy for customers to learn how to use it in minutes. Think about what users expect out of a typical website interface. For example, if they're used to seeing a hamburger menu in the upper left corner, put yours in the upper left corner. Don't get so far outside the box that users can't even find the box.
Uber Sign Language is an official Uber site that allows those with hearing impairments to easily access car services. The main Uber website has a very simple design, as does the interface of their app. The sign language site is the same way. The site teaches you how to sign different cues and helps drivers understand hearing-impaired passengers. Cues include signals for turn left, for example. The focus is very limited on the sign for whatever the driver needs and doesn't try to focus on anything unrelated to that topic.
3. Add Plenty of White Space
A well-done simplistic design offers plenty of white space. Not only does this give the eyes a break, but it also puts the focus on the most important things on the page. When you only have a single image and a headline or one block of text, there is no guessing where the buyer needs to go and actions become intuitive. Of course, you must also remember general eye-tracking rules, such as English speakers reading from left to right and then zig-zagging to the middle left and across, and so on. The reading pattern forms the letter "Z."
If the area above your fold has more text and images than white space, you must reduce the number of items for a more spartan look. Think about the one goal you have for your page and remove anything not related.
You can go too crazy with the white space, but we'll discuss that a bit later. For now, just remove the elements that don't meet your purposes.
4. Focus on the CTA
Your call to action (CTA) is arguably the most important element of your landing page. The CTA button drives conversions and shows site visitors what action you'd like them to take. It provides information on what they'll get if they move through your site.
With a minimalist design, the entire focus should be on the CTA. The button may be larger than sites with more crowding because you have more room to highlight your call to users.
There are many ways to push the reader's focus to your CTA, including using a color that pops against the background and using language that is simple but to the point. Try to keep even the words of your CTA minimalist.
If you can say the same thing in fewer words, then do so. Think about simplifying in every way imaginable, and not just in the number of items on your page. Simplify wording, colors and even shapes.
SuperShuttle puts the entire focus on booking a shuttle by keeping the design simple. They have a motion graphic logo in the upper left, a simple navigation bar, and then they throw the focus to their CTA by having the user enter some basic information and inviting them to "Select a Ride."
The CTA button is a different color than most of the rest of the page, it pops against the white background, and it's the largest feature on the page. At the same time, the design of the button is a simple dark green oval with white lettering.
5. Hide Navigation
It may go against the nature of other designs you've done to consider hiding the navigation bar on your website. But it frees up a lot of space and simplifies the overall design. Hamburger menus are sometimes given a hard time and some designers hate them, but as mobile internet use has soared, they've become more commonplace. Users know exactly what those three stacked lines mean and where to find the menu if they need it. You can now use a hamburger menu on your website to hide the nav bar without sacrificing user-friendliness.
Think about the space freed up when you no longer have to use up a big portion of your headline for your navigation hierarchy. You can now add a bold headline that draws the eye or simply leave the space blank so the user's focus goes to your UVP or your CTA. The overall design looks more like an ad for a slick magazine than a website and shows that you're up on the latest design trends.
6. Speed Up Your Site
In a survey of 750 consumers and 395 marketers, researchers found that 70 percent of consumers say page speed makes a difference in their willingness to buy from a brand. With limited features on your site, the pages will load more quickly and you'll increase conversions.
A simple design doesn't hang up with scripts or heavy images that bog things down. Even if the user accesses your site via a slower internet connection, they'll have a better experience.
Fisher-Price does an excellent job of keeping the features on their home page minimal. This allows the page to load super-fast. Even the images are optimized so they load at warp speed. Users don't have to wait for fancy elements to load because Fisher-Price doesn't add them to the site.
7. Avoid Sharp Transitions and Jarring Fonts
When you have a full blank page to fill and so much white space, it's tempting to go with a decorative font and huge chunks of color. However, you still need to adhere to the principles of good design. Your transitions between elements should be smooth and not jar the viewer. Bold colors work, but limit your use of them to a few accents here and there. A font that is difficult to read is jarring and may spoil the experience for your site visitors.
Instead, think of your pages as a single canvas. All the elements must flow together in a visually pleasing way and make sense with one another. You have limited items with which to grab attention, so make the most of what you have without aggravating the viewer.
8. Sprinkle in Small Details
Just because your site is minimalist doesn't mean you don't need those small details that define your personality. Don't be afraid to add decorative touches! Just do so sparingly. Think about what might draw attention to your CTA button, for example, or how you can display your logo without detracting from the rest of the elements. Don't add so much white space that your page looks unfinished.
There is a difficult balance to achieve in minimalist design. Clutter isn't wanted, but at the same time, neither is a barren design. Figuring out how to keep the focus on a single point without being boring is difficult. It takes time and attention to detail. Studying other successful minimalist designs may give you a few ideas.
Airtable has the perfect mix of interesting fine points and simplistic design. The focus is put on the CTA button, which features a form field for an email address and a button that says, "Get Started." However, they also add some interesting illustrations showing people in motion in vivid colors that pop against the white space of the background. The design is simple but attractive.
9. Delete Unused Plugins and Scripts
If your site is already designed and you are trying to lighten it up, your first step should be to delete any plugins or scripts you no longer need. This alone will speed up your site and help you avoid errors. As your site grows, it's easy to leave things in place that you used in the past but may never use again. Sometimes it's hard to let go of what you once thought was a brilliant design concept.
Delete anything you aren't currently using from your website, even if you just save it to the cloud in a backup folder. You'll likely never use it again, but you know it's there should you need it. Getting images and other items off your site also helps you avoid the temptation of adding them back in when they aren't really necessary.
10. Avoid Unnecessary Elements
Nobody likes a website with lots of advertisements, animations, and pop-ups, as these elements cause a distraction for the target audience. Therefore, you must use a minimalistic web design by removing such or similar elements, including stocky images and lengthy content.
11. Call-to-Action is Important
In order to create a minimalistic web design, you must make obvious CTAs in a place where visitors can see them. Ideally, a visitor should be able to spot your Call-to-Action within three seconds of landing on your site.
If you are going to hide the CTA in a certain section, do not expect the visitors to go back and forth to explore where to complete the purchase. The visitor will get frustrated and immediately jump to another competitor's website.
Therefore, you have to keep your CTAs visibly clear, and the position must be consistent on each page. Do not make your visitors work to find the CTA button. You have to ensure that your customers can easily identify your brand and complete the desired actions to enter your sales funnel.
12. Focus on Your Fonts, Typography, and Colors
So, you have now removed unnecessary scripts or eliminated unwanted elements; it is not time to take care of your content's presentation. Therefore, you want to ensure that the font and typography you use are clear to read and easy on the eyes.
For instance, you can use "handwriting" or "comic sans" font on an already minimalistic web design. The most important thing to remember is to stick to the same font throughout your website.
You can use bright colors. This will not only make your website look more appealing but also help divide your site's interface functions. A minimalistic web design is not about a lack of colors but about using a well-planned color palette and theme intelligently.
You can choose colors that work in harmony. The bad color scheme can overwhelm or confuse the visitors forcing them to abandon your website. The best recommendation is to use one or two colors throughout your website.
13. Images Speak Louder than Words Too
If you believe that it will take a lot of words to explain what you are trying to say, it is best to use an image instead. As they say, "image can speak a thousand words."
For example, you want to explain how to make a payment online. Now, in this case, instead of writing text guidelines with bullet points, you can create a graphic guide instead. This will be easier for the visitor to understand. Even people who have never used online payment services before or are not tech-savvy will be able to follow this visual guide to perform desirable CTAs.
Adding such features to your minimalistic web design can help you gain a competitive edge over other players in your niche.
Another good idea is to use abstract and dreamy illustrations. The best part is that no company uses these illustrations exactly as it is. So, your business can use such illustrations for unique association with your brand only. These illustrations will even stand out amongst thousands of stock images you see online.
However, you have to ensure that your target visitors can interpret what you are trying to say. You can even hire professional graphic designers to create visual illustrations for you.
14. Intuitive Grids are Key to Minimalistic Web Design
You can simplify your website's design by using intuitive grids. Intuitive grids keep your website's elements and information organized and help create logical groupings.
Deploying intuitive grids will help establish an accurate spatial relationship even in web design that initially looked like a maximalist design.
Conclusion
A minimalistic web design is a new trend that every business must follow. Whether you are a fashion designer selling apparel or a construction company, a website with minimalistic and well-presented content has more chances to convert visitors into potential customers than non-minimalistic designs.
Less clutter on your website makes it faster to upload and easier for the visitors to skim through the content. Let's be honest; reading your website should not feel like doing research on it. The customer must be able to visit the website, skim through as less content as possible to understand what you offer, and click on the CTA button to complete the transaction.
If you are looking for a flawless, fast, and visually appealing website, minimalistic web design is the perfect solution. Remember, flawless web design is not about when you do not have any more space left to add any more elements, content, or add-ons.
Minimalistic web design will help you achieve your conversion goals while presenting your content, products, and service in the most simplistic yet visually appealing manner. So, follow the above-mentioned tips in this article and achieve a minimalistic web design effortlessly.
We interviewed several industry experts on this subject.
Here are their responses;
Vanessa (MacAulay) Bruce, co-founder at Dough writes;
Why are minimalist web designs so appealing?
Focus! A minimalist design allows us to focus on one element at a time, free from distraction. In world where we are constantly over stimulated (endless scrolls, chat bots, red notification bubbles) it's refreshing to not debate where to direct our attention. A great minimalist design makes the decision for us.

How do you plan & structure minimalist designs?
What is the #1 piece of information you want someone to take away from your design? That answer is your North Star as you design. From there design variations of information flow, test it!, and cut out anything that distracts from the page's purpose.

List your top 3 minimalist designs and what you like about them most.
The amount of negative space paired with short + sweet mission statements and a condensed navigation which doesn't distract.

www.daily-harvest.com
www.summersalt.com
www.grammarly.com
In a world where everything is cluttered and overwhelming, and we have more information than ever flowing into our screens, minimally designed websites stand out from the crowd.

The appeal is simple: it's easier for a website visitor to find and process information when there's less of it.

When there are fewer elements vying for the visitor's attention, it's easier for them to take in everything, decide where to click, what to read, and how to take action.

The challenge for professionals, however, is most clients don't see minimalist web design as a benefit. Clients predominately want to fill their website with all of the things they think a visitor needs. Extra text. More graphics. Additional buttons.

The problem with this approach is clients are not their ideal website visitors. What a client thinks a website needs and what a visitor wants, are often very different.

In reality, website visitors don't even look at most of the information that's on a cluttered website.. When your website is too cluttered, you leave the visitor feeling overwhelmed. The visitor carries this feeling with them as they encounter other elements of your brand.

Here's how to plan a minimalist website design.

First, get clarity on the goal of the website. What's the purpose? Sales? Lead? Positioning in the industry?

Second, get clear on everything the client wants on the website. To make it easiest, do this during your onboarding process.

Third, refer back to the purpose of the website, and strike everything off that does not move the website closer to that goal.

You're aim here is to get the website elements down to the bare minimum. You may be surprised to learn you can usually remove anywhere from 50%-80% of what a client wants included, while creating a more impactful website.

During your design process, stick to a simple philosophy: Less is more. Allow ample white space around elements. Provide lots of room for elements to stand out. Remove unnecessary words, and reduce the number of images you use to only those that are essential for conveying the relevant information.

Favourite Minimalist Designs:

1. Japan Weather Association: www.jwa.or.jp

You don't have to read Japanese to see how this is a beautifully designed website. What I love: It only provides what is absolutely necessary for the visitor, while using modern images and videos strategically to convey emotion.

2. In Weed We Trust" iwwt.shop

This Swiss Cannabis culture e-commerce shop uses minimalist design principles to sell their products. What I love: This site uses modern CSS animations, plenty of white space, and strong brand assets.

3. Clarity Arts: www.clarityarts.com

Specialising in bespoke furniture, Clarity Arts is an example of a high-end website for a luxury market. What I love: This site uses bold imagery, and little text to convey their expertise and stand out as a luxury brand in an industry dominated by IKEA.
Create a Careful Plan
Because you're so limited in what you can add with a minimalist design, you must plan out the elements on your site carefully. Get feedback, conduct split testing, and keep only those items that site visitors actually click on and which meet your goals as a brand. Even though planning ahead is an important part of creating a simpler design, you should also keep the plan flexible enough to account for changing audience demographics and shifts in technology that impact design.
There is a reason why minimalist designs remain popular year after year: it allows the designer to focus on the main goal of the page and create a visually pleasing design that attracts users. Get started today by cutting down the clutter on your site and figuring out what your main purpose is. Everything else is just a matter of arranging elements and adding simplicity to any design.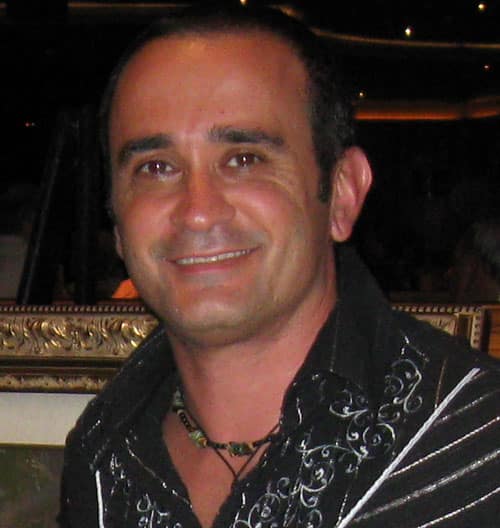 Author Bio
Angelo Frisina is a highly experienced author and digital marketing expert with over two decades of experience in the field. He specializes in web design, app development, SEO, and blockchain technologies.
Angelo's extensive knowledge of these areas has led to the creation of several numerous award winning websites and mobile applications, as well as the implementation of effective digital marketing strategies for a wide range of clients.
Angelo is also a respected consultant, sharing his insights and expertise through various podcasts and online digital marketing resources.
With a passion for staying up-to-date with the latest trends and developments in the digital world, Angelo is a valuable asset to any organization looking to stay ahead in the digital landscape.