Podcasting is an excellent opportunity to engage potential customers and effectively advertise your business. By sharing informative and enjoyable content, you can establish credibility and earn the trust of your audience. Moreover, podcasts are a powerful marketing tool, enabling you to expand your reach and generate fresh leads.
With changes to the marketing landscape over the last few years, it has become more important than ever to harness the power of both audio and video to create a content marketing system that turns listeners into customers.
Podcasting is the simplest tool to simplify marketing without hurting potential ROI. In a report commissioned by the BBC, organizations with branded podcasts saw:
89% higher awareness
57% higher brand consideration
24% higher brand favorability
14% higher purchase intent
12% higher memory encoding than other forms of content
16% higher engagement
If you've considered a podcast but don't have a clear roadmap to launch a show that could support your business' growth, we encourage you to contact us and discuss this with our podcasting experts.
Is podcasting right for me?
If you can conduct in-depth research on a particular topic, then podcasting might be right for you. However, if you only have a fleeting interest in your chosen niche or topic, the likelihood of achieving podcasting success is low.
Merely relying on Google to generate ideas and write an engaging script is not a long-term sustainable approach for podcasting.
Before diving into podcasting, it's crucial to consider your angle and the story you can present that sets you apart from existing content.
You may have identified a gap in your competitor's podcast which you believe you can fill. There is no existing podcast on the particular topic you want to discuss. Or, you may wish to establish an avenue for dialogue between yourself and your audience.
Whatever your reasons, having a distinctive narrative to share or a unique offering that sets you apart are compelling reasons to begin a podcast.
Signs you should start a podcast
If you enjoy the podcast format and have favorite shows you regularly listen to, it may indicate that podcasting is the right fit for you. This could be a sign that you should consider starting your podcast.
If your friends suggest you start a podcast and you're open to the idea, it could be a positive indicator for podcasting. Similarly, if you think, "Yes, perhaps I should start a podcast," that is another encouraging sign.
However, if your friends are encouraging you to create a podcast and you have an adverse reaction to the idea, likely, podcasting is not the right fit for you. Listen to your instincts and only pursue podcasting if it aligns with your interests and passions.
Does podcasting take a lot of time?
If your content is business branded, devoting 4-5 hours per month to weekly episodes is sufficient to ensure your show receives the necessary focus. Typically, hosts delegate the production, editing, and marketing tasks to an internal team member or a production freelancer to streamline the process and reduce their time commitment. However, if you decide to take on all aspects of the production yourself, be ready to devote at least 8 to 10 hours per month to your podcast.
Why is a podcast important for marketing?
Podcasting offers companies an opportunity to connect with a captive audience. With people leading hectic, on-the-move lifestyles, the ability to access podcasts anytime and anywhere allows businesses to share their tales. This reinforces expertise in the field and builds brand ambassadors in the process.
Podcast marketing examples
One strategy to market your podcast is to utilize written content by transcribing your episodes. There are numerous advantages to doing so, and despite appearing to be much work at first glance, the process is quite simple. All that is required is providing the reader with background information, outlining the sequence of events, and recording the speaker's words, and it's that easy.
Promoting your show on other podcasts that share your interests is a beneficial strategy to increase your audience. Cross-promotion involves collaborating with other podcast hosts to encourage each other's shows. There are two methods to accomplish this – ad swaps and content collaborations.
With ad swap cross-promotion, you advertise their show on your podcast and vice versa. Due to the format, advertisements should be brief, ideally lasting between 30 to 60 seconds.
Content collaboration varies from ad swapping as it involves more effort, but the outcome is typically more significant. This entails being interviewed by another podcaster on their show, and you interview them on yours. This allows listeners to learn more about you – if they enjoy the conversation, they may subscribe to your podcast.
How do you create a podcast marketing plan?
When it comes to promoting your podcast, it can be overwhelming, with so many strategies to choose from. The key is to identify which tactics work best for your show. To help you find your perfect marketing mix, there are two factors to keep in mind:
Focus on your audience.
Experiment and measure.
Your podcast may not appeal to everyone, and that's okay. Instead of trying to market to all podcast listeners, focus on those who get the most value from your show. Over time, learn as much as possible about that audience and design promotions that resonate with them.
Create an audience persona document that outlines the aggregate data you know about your listeners. This document will be a reference when crafting marketing copy and ensuring your messaging aligns with your target audience.
To measure the effectiveness of your marketing efforts, experiment with new tactics and measure their results. For instance, if you're answering questions on Quora to drive traffic to your podcast's website, add tracking codes to the links to determine how many people land on your site.
This data will provide actionable insights into which channels drive new subscribers and which tactics aren't as effective.
Once you have a foundation, it's time to dive into tried and true strategies to promote your podcast.
Podcast marketing plan [TEMPLATE]
To create an effective marketing plan for your podcast, there are five crucial factors to consider. These include;
Podcast Information.
Target Audience.
Account-Based Marketing Strategy.
Content Marketing Strategy.
Thought Leadership Strategy.
It's important to review these elements strategically and ensure they are clear to your team.
To ensure that your team is aligned, it's crucial to document your podcast marketing plan. Effective podcast marketing requires collaboration and shared goals like your thought leadership strategy. Therefore, your team members must be aware of the project.
The process of writing down your podcast marketing plan may help you gain a better understanding of it. By documenting your strategy, you can identify potential gaps or areas for improvement and ensure that everyone on your team is on the same page.
Ultimately, this can increase the success of your podcast and strengthen your team's collaboration.
Sweet Fish Media has put together a great podcast marketing template. Download it here.
Is podcasting a valuable marketing tool?
Podcasts have become a valuable marketing tool enabling brands to connect with a targeted and niche audience. Studies indicate that podcasts offer an effective method for hyper-targeting audiences and yield a high return on investment. Additionally, podcasts provide value to listeners by offering informative and educational content.
Forbes has reported that iTunes is a top-ranked website, meaning that being featured on a podcast and having a detailed description can positively impact a brand's SEO rating. This makes podcasts a valuable tool for improving page rankings. As the number of podcast listeners continues to grow, it's estimated that 115 million people will listen to podcasts weekly.
According to Forbes, 39% of small and medium-sized business owners are podcast users, making podcasts an essential medium for B2B companies. 65% of B2B companies listen to podcasts weekly, with 70-72% of business owners with 100-500 employees also tuning in.
Additionally, studies have found that 54% of podcast consumers consider purchasing advertised products, and 55% of bi-weekly listeners have bought a product after hearing a sponsored ad on a podcast, as reported by exploding topics.
These statistics indicate the potential of reaching engaged listeners with higher brand favorability and purchase intent. By leveraging podcasts, businesses can tap into this unique and influential audience and reap the benefits of a more engaged customer base.
Why is podcasting a good tool for communication?
Podcasting is a powerful tool for communication for several reasons. Firstly, podcasts allow for a much more intimate and personal connection with your audience than other forms of communication. When speaking directly to your listeners, it can feel like you're having a one-on-one conversation with them, which can help build trust and rapport.
Another benefit of podcasting is that it provides a high degree of flexibility for your audience. Unlike traditional forms of media like television or radio, listeners can listen to podcasts whenever and wherever they want. This means they can fit it into their busy schedules, whether during their commute, working out, or even while doing household chores.
Podcasting is also a great way to share complex or detailed information. When speaking, you can provide context and nuance that might be missed in a written article or email. Additionally, breaking down complex topics into digestible chunks can help your listeners better understand and retain the information you're sharing.
Are podcasts good for learning?
Podcasts offer an effective means of delivering new content that is well-suited for passive learning. By providing students with the ability to listen to podcasts on their own, valuable classroom time can be freed up for more interactive and participatory learning activities. This can include group discussions, collaborative projects, and engaging in activities that promote critical thinking and problem-solving.
The convenience and flexibility of podcasts make them an ideal tool for educators to use in teaching new content. By allowing students to listen to podcasts outside of class time, they can learn at their own pace and convenience. This approach can also ensure that students can fully absorb and comprehend the material before moving on to more active learning exercises.
Moreover, podcasts can be an excellent supplement to more traditional forms of instruction. Educators can spark interest and stimulate discussion in the classroom by providing students with an engaging and informative podcast on a particular topic. This can create a more collaborative and interactive learning environment where students are encouraged to think critically and ask questions.
Podcasts offer a valuable and effective way to deliver new content to students. By leveraging the benefits of passive learning, educators can create a more effective and engaging learning experience that is well-suited to the needs and preferences of modern students.
Do podcasters make money?
The primary source of revenue for podcasters is through sponsorships, which involve promoting a sponsor's product or service during the show. You have likely heard your favorite podcasts mention their advertisers a few times in each episode. The amount earned through sponsorship depends on the podcast's number of downloads for each episode.
Sponsorships are a common and effective way for podcasters to monetize their content. By partnering with a sponsor, a podcaster can earn money while providing their listeners with valuable information and resources. Sponsorship deals can range from short-term agreements for a single episode to long-term partnerships for multiple seasons.
Podcasters typically promote their sponsors by mentioning them in the intro, during the show, and/or in the outro. This allows sponsors to reach a highly engaged and targeted audience, which can lead to increased brand awareness and sales.
The amount earned through sponsorships varies depending on the size and engagement of the podcast's audience. The more downloads a podcast episode receives, the more a sponsor is typically willing to pay to reach that audience. Some sponsors may also require specific demographic information about the podcast's audience, such as age, gender, and location.
How many listeners do you need to make money on a podcast?
To be more precise, sponsorship agencies often require at least 3000 to 5000 listeners per episode before considering working with you. However, if you're managing your sponsorships, achieving 200 to 300 listeners can be sufficient to generate a respectable income, especially if your audience has a specific and unique interest.
Businesses can benefit from creating branded podcasts with specialized and targeted content, leading to the development of sponsorship plans and revenue generation from smaller yet dedicated audiences.
How long does it take for a podcast to make money?
With the appropriate approach, your podcast can generate income within six to 12 months. Even though companies have recently incorporated podcasting into their marketing arsenal, you can expedite the process of monetizing your podcast by implementing focused marketing tactics.
Does a podcast count as a business?
As a podcaster, it's crucial to remember that your podcast is a content brand with the potential to generate revenue, both currently and in the future. Essentially, you're running a legitimate business, and it's essential to establish it as such. The initial step towards treating your podcast as an official company is to have it incorporated.
Do you need an LLC to have a podcast?
Becoming a Limited Liability Company is not a prerequisite for starting a podcast. Depending on your preferred management of earnings and taxes, you have various options for legal entities to register as a sole proprietorship, partnership, or S corporation.
How much does it cost to start a podcast?
If you opt for more affordable equipment, the initial expenses for starting a podcast will amount to roughly $350 to $400. This encompasses the costs of your computer, microphone, headphones, audio interface, and recording software. However, keep in mind that you can upgrade your gear to higher quality options in the future, should you find it necessary.
But wait, there's more! You should also take into account the recurring expenses that come with podcasting, such as:
Hosting: Unless you plan to host your episodes on your website (which requires additional space and bandwidth), you'll need to budget for podcast hosting fees. This typically ranges from $10 to $15 per month.
Transcription: If you aim to provide transcripts of your episodes, you'll have to pay for a transcription service to handle this for you. The cost is typically around $1 per minute of audio, so transcribing a one-hour episode would cost roughly $60.
Cover Art: A professional-looking cover image is crucial for attracting listeners. You can hire a designer to create one for you or use a service like Canva.com to design your own for approximately $10.
Is starting a podcast worth it?
Starting a podcast can still be worthwhile due to its revenue-generating potential, similar to video content. One option for generating revenue is by running ads. Several podcasting platforms, such as Libsyn and Blubrry, offer ad incorporation options. Meeting a minimum monthly download may be required to qualify for this option.
How much should I pay a podcast host?
On Feb 10, 2023, the mean hourly wage for a Podcast Host in the United States stood at $35.08. Although ZipRecruiter reports hourly earnings ranging from $8.17 to as high as $75.00, most Podcast Hosts in the country earn wages within the range of $16.83 (25%) to $62.50 (75%).
How much does it cost to rent a podcast studio?
The cost to rent a podcast studio can vary widely depending on various factors such as location, the equipment and services offered, the duration of the rental, and the level of technical support provided.
Sometimes, podcast studios may be accessible at public libraries, community centers, or co-working spaces. However, in other cases, renting a studio can range from $50 to $500 or more per hour, depending on the abovementioned factors.
Some studios may offer package deals or discounts for more extended rental periods or recurring bookings. It's also worth noting that some studios may require a deposit or a cancellation fee if the booking is canceled or rescheduled.
To get an accurate idea of the cost of renting a podcast studio in your area, you can search online for podcast studios or recording studios in your local area and check their rates and availability. You can also contact them directly to ask for a quote or to discuss any specific requirements you may have for your podcast recording.
How to start a podcast for free.
Starting a podcast for free is possible, but there are a few essential things you will need to get started:
A computer: You will need a computer to record and edit your podcast episodes. You can use either a PC or a Mac.
Microphone: To record your voice, you'll need a microphone. While you can use the built-in microphone on your computer or smartphone, it's recommended to use a dedicated microphone for better sound quality. Many affordable options are available, such as the Blue Snowball or the Samson Q2U.
Recording and editing software: There are many free recording and editing software options, such as Audacity, GarageBand (for Mac users), and Ocenaudio. These tools will allow you to record and edit your podcast episodes.
Hosting platform: You will need a hosting platform to store and distribute your podcast episodes. Some popular free options include Anchor and Buzzsprout. These platforms also offer tools to create and submit your podcast to various directories, such as Apple, Spotify, and Google.
Cover art: You must create a cover art image for your podcast. This can be done for free using graphic designers or tools like Canva.
With these tools and steps in mind, you can start your podcast for free and begin sharing your message with the world.
How do I get my podcast noticed?
There are several strategies you can use to get your podcast noticed:
Optimize your podcast for SEO: Optimize your podcast for search engines by including relevant keywords in your title, description, and tags. This will help your podcast show up in search results when people search for topics related to your podcast.
Leverage social media: Use social media to promote your podcast and engage with your audience. Share your episodes on your social media accounts and interact with your followers. You can also join social media groups related to your niche to reach a wider audience.
Collaborate with other podcasters: Collaborating with other podcasters in your niche can help you reach new listeners. You can guest on other podcasts or invite other podcasters to your show.
Utilize email marketing: Build an email list of interested people in your podcast and send them updates about new episodes and promotions.
Attend podcasting events: Attend podcasting events and meetups to network with other podcasters and industry experts. This can help you build connections and learn new strategies for growing your podcast.
Remember that growing a successful podcast takes time and effort, but using these strategies consistently increases your chances of getting noticed and growing your audience.
How to get your podcast picked up by a network.
If you're interested in getting your podcast picked up by a network, here are some tips to increase your chances:
Build a loyal following: Networks are more likely to be interested in podcasts that have an established and engaged audience. Focus on creating high-quality content and promoting your podcast to grow your listenership.
Research potential networks: Look for networks that produce your niche or topic podcasts. You can also search for networks that have shows similar to yours. This will increase the likelihood that they will be interested in your podcast.
Create a pitch: Once you have identified potential networks, create a pitch that highlights the unique aspects of your podcast and explains why it would be a good fit for their network. Be sure to emphasize the value you can bring to the network.
Be professional: When reaching out to networks, be professional and respectful. Be sure to follow any submission guidelines they provide and provide all necessary information clearly and concisely.
Be patient: It can take time for networks to review and respond to your pitch. Be patient, and don't get discouraged if you don't hear back immediately. Keep focusing on creating great content and building your audience.
Consider working with an agent: If you're having trouble getting your podcast picked up, consider working with an agent specializing in podcasting. They can help you identify potential networks and create a solid pitch to increase your chances of success.
Getting your podcast picked up by a network is a competitive process. Still, you can increase your chances of success by creating great content and building a loyal following.
How to promote a podcast on social media
Although you might feel hesitant about promoting your podcast (since nobody wants to come across as too self-promotional), that is precisely the point.
Use your social media platforms to announce new episodes, recap previous ones, and create buzz for future ones. Share direct links to your website where your audience can listen to your episodes, images that feature quotes from your show, and audio snippets that spark their interest.
Before posting links to your new episodes, build anticipation by teasing your audience a day or two in advance. For example, you could share a thought-provoking quote from an upcoming guest or post a brief recording segment, which will excite your listeners about your new content.
When promoting your podcast on social media, utilize hashtags to the fullest extent. Hashtags are valuable tools that people use to sift through social media content. It's crucial to position yourself in front of those actively seeking out content similar to yours (remember to include hashtags in your profile bio as well).
Most importantly, share your posts multiple times. Don't presume that people will grow tired of seeing your content. After all, most users don't see everything that comes across their feed. On Facebook and Instagram, the user's feed is regulated by an algorithm that considers various factors. Consequently, you'll want to share your content multiple times to ensure that it catches your audience's attention.
How to promote a podcast on Spotify
Here are some ways to promote your podcast on Spotify:
Optimize your podcast on Spotify: Ensure your podcast has an optimized and complete profile on Spotify. This includes compelling cover art, detailed show notes, and appropriate categorization. Additionally, submit your podcast to Spotify's directory for it to be discoverable to listeners.
Encourage listeners to follow and share: Encourage your listeners to follow your podcast on Spotify and share it with their friends and family. You can include calls to action at the end of each episode, your podcast's social media channels, and your website.
Collaborate with other podcasters: Collaborate with other podcasters on Spotify by cross-promotion, guesting on each other's shows, or creating joint episodes. This will help you reach a wider audience and attract new listeners.
Utilize Spotify's playlists: Look for relevant playlists on Spotify that feature podcasts in your niche or topic area. You can also create a playlist featuring your podcast and other similar shows. This will help you gain exposure and attract new listeners.
Run Spotify ads: Spotify offers a self-serve advertising platform that allows you to create and run audio ads on its platform. This can be a great way to get your podcast in front of a larger audience.
Engage with your audience: Engage with your audience on Spotify by responding to their comments and reviews. This will show your listeners that you value their feedback and can also help attract new listeners.
Remember, promoting your podcast on Spotify requires time and effort, but using these strategies consistently increases your chances of reaching a wider audience and growing your listenership.
How to promote a podcast on YouTube
Here are some ways to promote your podcast on YouTube:
Create a YouTube channel for your podcast: Start by creating a YouTube channel that is dedicated to your podcast. You can post videos of your podcast episodes or create supplementary content like behind-the-scenes footage, bloopers, or highlights from your episodes.
Optimize your videos: Optimize your videos with compelling thumbnails, titles, and descriptions. Use keywords relevant to your podcast's niche and topic area to make it easier for people to discover your content.
Promote on social media: Use your social media platforms to promote your YouTube channel and podcast episodes. Share links to your videos and clips from your episodes to reach a wider audience.
Collaborate with other YouTubers or podcasters: Collaborate with other YouTubers or podcasters in your niche or topic area. You can guest on each other's shows or channels to reach a new audience and attract new listeners.
Run YouTube ads: You can use YouTube's advertising platform to run video ads that promote your podcast to a broader audience. This is a paid strategy, but it can effectively increase your visibility.
Engage with your audience: Engage with your audience by responding to comments, asking for feedback, and creating content that your audience enjoys. This will help you build a community around your podcast and attract more listeners.
Remember, promoting your podcast on YouTube requires time and effort, but using these strategies consistently increases your chances of reaching a wider audience and growing your listenership.
Disadvantages of podcasts in business
Here are some potential disadvantages of podcasts in a business context:
Time and resource-intensive: Producing high-quality podcasts can be time-consuming and resource-intensive, particularly for businesses with limited budgets or personnel.

Limited audience reach: While podcasts are growing in popularity, they still have a smaller reach than other marketing channels, such as social media or email marketing. This means podcasts are not the most effective way to reach a wider audience or generate new leads.

Lack of visual content: Podcasts are an audio-only medium, meaning they lack visual content that may be important for certain businesses. For example, companies that rely on visual cues or product demonstrations may find it challenging to promote their products or services through podcasts alone.

Difficulty in measuring success: Measuring the success of a podcast can be challenging, particularly for businesses that are new to the medium. It can be difficult to determine the effectiveness of a podcast in generating leads or driving sales, which can make it challenging to justify the time and resources invested in producing them.

Limited interactivity: Podcasts are a one-way communication channel, meaning they do not allow for direct interaction or feedback from listeners. This can be a disadvantage for businesses that rely on customer feedback or engagement to improve their products or services.
While podcasts can be a valuable marketing tool for certain businesses, it is essential to consider the potential disadvantages before investing time and resources into producing them.
What are the challenges of having a podcast?
Here are some challenges of having a podcast:
Consistency: One of the biggest challenges of having a podcast is maintaining a consistent schedule for releasing new episodes. This requires significant planning and commitment to ensure that new episodes are released regularly.
Technical expertise: To produce high-quality podcasts, you need to have some technical expertise in recording, editing, and creating audio content. This can be challenging for individuals or businesses that are new to podcasting.
Audience growth: Building a loyal and engaged audience is critical to the success of a podcast, but it is not easy to attract new listeners and keep them engaged over time. This requires consistent marketing and promotion and high-quality content that appeals to your target audience.
Monetization: While it's possible to make money from podcasting, it can be challenging to monetize a podcast, particularly for new or smaller podcasts. This requires finding sponsors, creating merchandise, or developing other revenue streams, which can be time-consuming and challenging.
Competition: The podcasting landscape is becoming increasingly crowded, with new podcasts launching daily. It can be challenging to stand out from the competition and attract new listeners.
Burnout: Producing a podcast can be a significant time and resource investment, leading to burnout. This requires finding ways to stay motivated and engaged and ensuring that podcasting remains a sustainable activity for the long term.
While podcasting has many benefits, these challenges highlight the importance of careful planning, dedication, and perseverance in creating a successful podcast.
Conclusion
In conclusion, there's no denying that podcasting has the potential to boost sales and marketing efforts for businesses of all sizes. By providing a platform for businesses to connect with their audience, offer value, and build brand awareness, podcasts can create a robust and engaged community of loyal customers.
With a bit of planning, dedication, and the right marketing strategies, businesses can leverage the power of podcasting to increase their reach, build their brand, and ultimately boost their sales and marketing efforts.
So why not try podcasting and see how it can benefit your business today?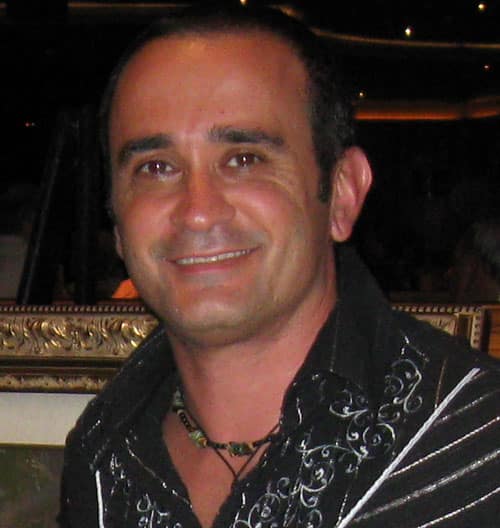 Author Bio
Angelo Frisina is a highly experienced author and digital marketing expert with over two decades of experience in the field. He specializes in web design, app development, SEO, and blockchain technologies.
Angelo's extensive knowledge of these areas has led to the creation of several numerous award winning websites and mobile applications, as well as the implementation of effective digital marketing strategies for a wide range of clients.
Angelo is also a respected consultant, sharing his insights and expertise through various podcasts and online digital marketing resources.
With a passion for staying up-to-date with the latest trends and developments in the digital world, Angelo is a valuable asset to any organization looking to stay ahead in the digital landscape.