In many instances, businesses count on their website to generate leads. Although there are numerous ways to increase site visits, converting visitors into leads may require additional work. You may think having well-written content that's loaded with keywords is enough to convert your visitors, but it isn't. To convert your visitors successfully, your website needs to have certain design elements.
If you're tempted to start examining your web design to see what elements it may be missing, stop. You need to do something else first. You need to figure out what a lead is as it pertains to your business. Potential leads may identity as users who fill out forms, subscribe to newsletters, download whitepaper, or engages in online chats? Or do you define a lead in an entirely different way?
Once you know your definition of a lead, picking the appropriate design elements & lead generation tools your website needs to generate leads will be much easier. It will also be easier for you to set lead generation goals that are both achievable and realistic.
What is a Lead Generating Website?
Lead-generating websites offer businesses the opportunity to attract quality leads from a targeted audience. In detail, qualified leads are online users that businesses assist or earn revenue from. When online users visit a website, marketers design, develop, and optimize the lead-generating websites to boost more conversions. Depending on the business, lead-generating websites grow conversions through effective use of call to action and various lead generation forms. Optimizing lead-generation forms allows businesses to obtain user-specific information and then promote their products and services to leads using various marketing strategies.
How Do You Optimize Lead Generation?
Generating more leads to an already established campaign consists of optimizing lead generation forms on high-traffic areas and expanding those forms across numerous social media, email, and blog publishing platforms. As your lead generation strategy continues to convert more online visitors into actual leads, optimizing the process is next. During the optimization process, businesses evaluate performance reports and online user data to better enhance specific lead generation processes.
Lead Generator Tests
To better optimize lead-generating campaigns, businesses conduct lead generator tests. For example, a business may opt into using various lead generating test software to evaluate existing business lead generating sources. As a result, the software provides businesses with suggestions for improving current processes. Another example is using software that provides comparison models of existing business lead generating sources to improve less productive lead generating sources. To continue, these systems may also offer businesses lead generating internal reports. In detail, these reports analyze online user visits, call-to-actions, and click-through rates to showcase more optimal lead-generating campaigns.
Above all, lead generation success relies on search engine optimization. In other words, the content on a mobile or web page, data structures, tags, and keywords improve overall lead generation and conversions. By optimizing SEO, a business offers services for interested users and therefore qualifies their leads. Moreover, businesses that target particular audiences also configure their advertisements, surveys, and lead generation forms to improve conversion rates.
How Do You Build a Lead Generation Website?
Building a lead generation website requires businesses to design and develop websites with the appropriate features. Commonly, a website generates leads by making features such as contact numbers, lead generation forms, and call-to-actions clearly visible when navigating the site. Additionally, business owners may add media, testimonials, and promotions to a website to encourage more user conversions. Although these features are essential for lead generation, building a lead generation website also consists of improving site design and trust-building features.
Designing a Lead Generation Website
From a design perspective, a company should format and personalize website layouts to rank higher on search engines and assist online visitors with navigating through web pages. Typically, a website features header sections, banners, brand company information, and other content before ending with a footer. For SEO purposes, search engines raise SEO rankings for websites that follow this layout which attracts more visitors to online websites. If more online users visit the website, then companies can focus more on optimizing the lead generation forms for higher conversions.
Also, businesses design websites to bring awareness around lead generation forms. For instance, modifying content on call-to-actions and the lead generation forms may attract more users to learn more or move forward in the conversion process. Additionally, business owners may design landing pages on websites with fewer distractions to achieve more user engagement. Lastly, companies may design websites that shorten the time users need when filling out a lead generation form. For instance, designing a lead generation form that only requires an email address makes the conversion process more simple for users.
Web Design Elements for Lead Generation
Now that you know what a lead is in the context of your business and you've set your lead generation goals, it's time for you to incorporate the appropriate elements into your web design so you can capture the kinds of leads you're looking for. Here are some of the elements you may want to incorporate into your web design:
Contact Number
Even if you conduct all of your business over the Internet, you should put a contact number on your website. Don't limit your contact information to just one page. Instead, put your phone number in a prominent place on every one of your web pages. In other words, making your phone number immediately available to your website's visitors will instill confidence in your brand. Even if your visitors never use your phone number to contact you, the information enhances site credibility.
You can take things one step further and get a vanity phone number. A vanity phone number often consists of words that relay information about your business. While some vanity phone numbers have local area codes, many of them are toll-free. Vanity phone numbers give the impression that your business is well-established and will be around for a long while. They're also easier to remember than all-numeric phone numbers.
Contact Forms
If you want to capture leads, you need to make it easy for people to share their personal information. Having a contact form on each of your website's pages will make it simple for your visitors to contact you. Consider using a form-building tool to create a professional and branded form that instantly inspires trust in your visitors.
The key to using contact forms is to avoid asking for too much information too soon. In general, it's wise to keep your contact forms short to start and ask for just one piece of semi-anonymous information such as a person's city location.
As a visitor continues to interact with your business using your website, you can ask for additional information like the individual's email address, name, and phone number. People filling out subsequent forms will be more likely to share more personal information because they didn't have to share too much when they filled out the first contact form.
Testimonials
It's common knowledge that online reviews can have a big influence on many people's purchasing decisions. You should leverage this knowledge to your advantage by sharing testimonials on your website. While written testimonials are typically powerful marketing tools on their own, you can magnify their power by pairing them with pictures of their authors or sharing video testimonials.
Don't just post testimonials on your website in a vacuum, so to speak. Share links to review websites where your visitors can read more testimonials about your business or your goods and services. Include an invitation for them to write their own review of your business, too.
Calls to Action
People will visit your website for different reasons and it's your website's job to help them achieve whatever purpose they navigated to your site for. To do this, you must include a call to action on every page on your website.
Obviously, people will land on different web pages depending on how they made their way to your website, which should give you a good idea of their intent. Every landing page should have a CTA that moves your visitors to the next natural step in the process that will take them to the desired result.
While you may have an assortment of CTAs throughout your website that are directed toward people at different stages of the sales funnel, your site should have the main call to action that motivates people to take the primary action you want your visitors to take. Review the definition of a lead that you came up with earlier and use that as the basis for your main CTA. Preply, a platform where everyone in the world can take language lessons with an online tutor. They offer one on one or the opportunity for individuals to become a language tutor , with an easy search function as part of their CTA for students and teachers.
Whitespace
You don't want to distract your website's visitors from the actions you want them to take. Avoid putting things on your web pages that aren't necessary and use the resulting white space to your advantage in your web design. If your pages are too crowded with ancillary pictures and content that don't add value or provide relevant information, it may have a negative influence on your conversion rate.
Action Verbs
Using moving action verbs in your content and calls to action is another element you may want to incorporate into your website. Instead of telling people they "should get" a product, tell them they can "feel better" or "enjoy an improved quality of life" with your products so they can envision themselves benefiting from the things you sell. To give you an idea, visit StuDocu, where action verbs call users to do something on the main page while their mission is to capture the visitor and hold them for a long period of time.
Custom Web Design
Don't go with a cookie-cutter template. Invest in a custom web design that will drive leads and conversions. That's what you'll get when you choose Sunlight Media – a custom website that's ideal for generating leads. Contact our website design company to get a quote for a lead-generating website for your business now.
How Do I Bring Leads to My Website?
Attracting more leads to your website may require several tasks. Among these tasks, businesses may apply various marketing, SEO, and optimization strategies to generate more leads. In terms of marketing strategies, companies use various content and influencer marketing to reach target audiences. For example, an enterprise may develop blog posts, contribute guest posts, promote special offers to direct more leads onto websites. To add, a company may promote content through social media and email marketing platforms to attract more leads.
Another strategy is to incorporate influencer marketing into lead generation campaigns. In detail, the influencer will promote brand products and services and direct users to company sites to increase online traffic and lead conversions. Moreover, businesses use effective SEO to bring more leads to websites. In this strategy, companies add competitive keywords to content and headlines and also conduct PPC advertising through services such as Google AdWords. Another effective lead generation tactic is to appear on multiple review platforms such as UpCity, Clutch, Google My Business, and Good Firms. Lastly, mobile responsive optimization is critical in obtaining targeted search traffic and qualified leads.
Lead Generation Best Practices
Regardless of enterprise-scale, it is essential to understand the best practices for lead generation when developing a website with optimal conversions. Reasonably, a business should research, promote, and increase ecommerce conversion rates for products and services.. One practice is for businesses to understand their target audiences and create interactable content that persuades users to move forward in the conversion process. Marketers also target competitive keywords on their site's content, media, and lead-generation forms to appear higher on search engine results.
Website Lead Generation Strategy
Marketers with lead generation websites use various strategies to raise brand awareness and retain more leads. The strategies involve recognizing users' behaviors and interests and then optimizing conversion processes to generate more qualified leads. Lead generation strategies typically include capturing user data, offering incentives, qualifying users, or segmenting target audiences to gain more leads. In combination, these strategies allow marketers to better determine which users have more interest in specific brands' products and services, which offers companies useful data on which features and promotions to optimize.
Lead Generation Website Strategies
Using specific tools to assist with lead generation is vital for generating more qualified leads. For example, a chatbot on the lead-generating website collects user information and assists users with different website inquiries. Marketers may rely on the responses from the chatbot to better understand users' specific interests and optimize the feature to boost more conversions.
Another web strategy is lead magnets. Lead magnets draw traffic to specific sections of a website and then assist potential leads to lead generation forms. For instance, lead magnets may appear as homepage CTA's, links on the blog site, pop-up forms, gated-content pages, or specific lead-generating banners that near website navigation, sidebar, or footer areas. Also, lead magnets are seen on a brand's social media profiles to direct users to specific lead generation forms.
Lead Generation Content Strategies
Commonly, lead-generating websites obtain gated content. To explain, gated content is content on a website that is restricted to users unless they subscribe, pay, or register accounts to access specific information. For instance, users may navigate to a blog post on a website and read a paragraph before being directed to unlock the gated content for unrestricted access. As a result, companies convert online traffic into qualified leads as users provide personal and monetary information on lead forms. Typically, gated content includes e-books, online guides, reports, courses, tools, and datasheets.
As another lead generation content strategy, newsletters offer marketers the opportunity to promote new content and special offers directly to leads. For example, newsletters may consist of updated blogs and articles, new products and services, seasonal events, and brand recommendations. Also, newsletters may increase conversions when including discounts, coupons, and discounts to brand-related products and services.
Lead Generating Promotional Strategies
Marketers may raise brand awareness and build more leads through lead-generating promotions. For example, marketers may host various online and offline events to attract more users to brands. For instance, businesses host events such as webinars, workshops, seminars, conferences, and expos to better engage audiences and understand their interests. Other promotional lead-generating strategies may include offering special offers, freemiums, or developing referral reward systems.
Freemiums offer online users the benefits of paid brand features of products or trials. In this strategy, more users become interested in products or services which drives more conversions. Through freemium promotions, marketers may also integrate email marketing campaigns to remind users of available upgrades. Marketers may also offer referral rewards systems for online users. As a result, businesses obtain more leads by offering different rewards that attract different users to brands' products and services.
Lead Generation SEO Strategies
An important website lead-generating strategy for business is to use effective website SEO. In other words, marketers run paid ads, keyword research, and retargeting campaigns to grow leads. Depending on the advertising platform, companies manage paid ads to target specific audiences with high interest in brands' products and services. In this method, businesses configure advertisements to target users across various social media platforms or appear on relevant search engine results. Here are some informative SEO Statistics you should be aware of in 2021
Next, keyword targeting and retargeting SEO strategies assist businesses with lead generation. First, marketers better attract more leads to lead magnets when researching and using keywords commonly used by their target audience. Secondly, marketers optimize content to include the keywords that rank high on search engines. For example, businesses include the keywords on blogs, PPC ads, guest posts, and on the brand's website.
Lastly, businesses attracting online traffic to lead generation websites but can not convert leads should apply retargeting strategies. Retargeting assists companies with reaching out to users who visit sites or browse website features. For instance, online users who purchase goods on one site may not always repeat transactions with the same brand. As a solution, remarketing allows companies to provide recommendations, offers, and more goods to users to reproduce leads.
Lead Generation Forms and Content Strategy
Optimizing lead generation forms and content is essential for meeting business objectives. While choosing the correct keywords to attract more users to the site is important, developing lead-generating website content helps businesses better achieve objectives. In detail, marketers may better resonate with users by styling content around user preferences and brand attributes. Also, marketers may personalize ads, posts, CTA's, and lead generating forms to better connect with users. Reasonably, being more relevant with user needs and preferences results makes producing more leads easier.
Ideally, marketers strive to have their lead generation forms appear as users search for specific products or services. For this reason, businesses may provide numerous ways for clients to view or receive their information. This includes the option to download forms in various ways or using multi-channel marketing. Another strategy for businesses is to integrate CRM platforms around lead generation forms. The CRM platform records user data from lead forms and then organizes the data for marketers. With the data, marketers better optimize lead forms and content to better connect with different target audiences. Lastly, using analytics to measure specific web page performances offer marketers the ability to optimize content to gain more leads.
Lead Generation Website Examples
As an online business, developing a lead generation website for boosting conversions is essential for meeting business objectives. In these website examples, brands follow fundamental lead generation best practices while designing, developing, and optimizing websites. The outcome is a website capable of maximizing potential leads. Although each enterprise varies in operations, considering the alternative solutions and strategies assist businesses with improving current workflows.
Flywheel
As a WordPress hosting management service, Flywheel is a website example that excels in lead generation. From the homepage alone, users recieve multiple call-to-actions that significantly boost the brand's conversion rates. First, the website link displays as "https://getflywheel.com." This linking structure incorporates the "get" keyword within the URL structure. As a result, users who share the link with others also offer a call to action.  Moreover, the call-to-action buttons are clear and concise, live chat placement is ideal, and CTA designs are intelligent.
In regards to FlyWheel's multiple call-to-actions, the company uses a combination of sticky and dynamic features. In detail, the website consists of CTA's that perform as pop-ups when users interact with specific website elements. Also, each CTA button shows dynamic functions as users mouse-hover over each feature. The CTA's vary throughout the website which better captures more target audiences as users navigate through the site. Lastly, Flywheel's sticky CTA buttons remain on the online user's interface without obstructing other web content or features.
HubSpot
HubSpot is widely recognized as a customer relationship management and analytics platform used by different businesses across various industries. Also a lead generation website, HubSpot achieves high conversions through its use of headlines, call-to-actions, lead form simplicity, and website design. As mentioned, HubSpot developed up-to-date and quality content like "how-to" articles that assist businesses with various organizational tasks. As a result, their content assists the company with being more reputable and attracts more users to their website.
Also, HubSpot's homepage features multiple calls to action with the "free" keyword. To describe, these CTA's better capture audiences' interest in learning more about specific products and services. Also, HubSpot assigns a large chat box to each page of the website. As a result, this feature allows users to interact and search for content easier and more quickly. Finally, the website's design layout makes navigating and learning about the company's products and services more user-friendly. HubSpot web pages do not obstruct users from navigating to lead generation forms.
Patreon
Another website example with efficient use of lead generation is Patreon. To clarify, Patreon is a website for online users to economically support various professionals or businesses. As seen on the Patreon homepage, users immediately recognize calls to action that draw readers' attention. In detail, the platform utilizes great use of the color red when prompting a call to action. This color choice indicates the urgency to fill out the lead forms. With quality images and concise descriptions, websites better appeal to the reader's interests. In essence, Patreon attracts more leads to websites by applying effective website designs.
Conclusion
As an overview, businesses develop lead-generating websites to attract target audiences to web pages and obtain qualified leads. Online companies must consider various design, development, and optimization features to attract more online visitors to lead generation forms.
To generate more leads, online businesses optimize a website's call to action, images, content, lead forms, and advertisements. Also, enterprises use various marketing, search engine optimization, and advertising strategies to assist and earn revenue from leads.
So, no matter the industry online or offline, whether it is hotel leads or websites, lead generation plays an important role in driving business.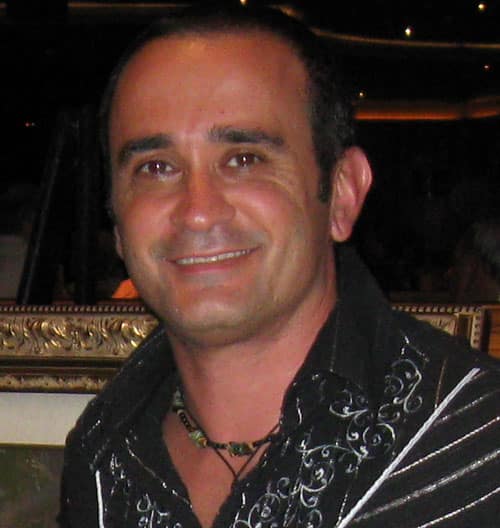 Author Bio
Angelo Frisina is a highly experienced author and digital marketing expert with over two decades of experience in the field. He specializes in web design, app development, SEO, and blockchain technologies.
Angelo's extensive knowledge of these areas has led to the creation of several numerous award winning websites and mobile applications, as well as the implementation of effective digital marketing strategies for a wide range of clients.
Angelo is also a respected consultant, sharing his insights and expertise through various podcasts and online digital marketing resources.
With a passion for staying up-to-date with the latest trends and developments in the digital world, Angelo is a valuable asset to any organization looking to stay ahead in the digital landscape.