If you're like most website owners, you spend a lot of time driving traffic to your page only to see them bounce away in mere seconds. While some of the bounce rate of your site is simply from people landing on your page mistakenly or getting distracted from other things, there are some ways you can improve the stickiness of your site and keep people there once they arrive.
A high bounce rate doesn't necessarily mean visitors aren't reading your content, though. Google defines bounce rate by how many actions the user takes after landing on a page. If someone lands on a page but takes no other action than reading that page, the bounce rate appears high. Your fans may read a full article but not take action. You must also compare your bounce rate to the average number of seconds on your page.
How low should your bounce rate be? It depends on your goals for your landing pages.
If you only want visitors to read your content and not take another action, then a higher bounce rate is acceptable. However, if the goal is converting visitors into customers or subscribers, the bounce rate goalpost is lower.
What Is A Good Bounce Rate For A Landing Page?
According to Quick Sprout, a realistic bounce rate for landing pages ranges between 70% and 90% (still an achievable goal). However, you must understand the difference between a low and high bounce rate so you can improve your landing page and conversion rates.
A high bounce rate means that the visitor's session duration isn't very long, and they leave your site quickly. Focus on finding the time they are spending on your site to determine their bounce rate.
The bounce rate on a landing page between 26% and 40% is excellent. If your landing page's bounce rate ranges between 41% and 55%, your performance is average. Experts suggest that the bounce rate between 55% and 90% is bad. In this case, you need to find ways to minimize the bounce rate on your site.
Does that mean you have to do it on your own? Not necessarily, as several tools can help you keep an eye on your site bounce rates and make necessary changes to your site accordingly.
As a general rule of thumb, remember that bouncing rate:
20% or below is likely a tracking error
30 – 50% is excellent
50 – 70% is average
70 – 80% is poor
80%+ is very bad
How to Find the Bounce Rate of a Website (Google Analytics)
Google Analytics is an effective way to find the bounce rate of your sites. Google uses formulas and algorithms to determine the bounce rate of a web page, which is as follows:
The bounce rate of a page = Total number of single-page sessions / Total number of entries on the page. You can use Google Analytics to view important reports from your bounce rates and understand the trends.
Sign in to your Google Account and choose the website that you wish to view in Google Analytics. Here, you will see an Audience Overview Page with several other metrics and select the whole metric to see bounce rates for the whole site.
If you want to focus on bounce rates of individual pages, move to the Behavior tab and access All Pages in the sections. Here you will see the Bounce Rate section in the column.
Google Analytics also lets users view bounce rates for different periods by selecting the date range with the tab on the top. You will find this on the top right of the Google Analytics screen and view bounce rates of specific dates.
So, using Google Analytics can benefit users to a great extent when it comes to tracking and monitoring their site bounce rates. It is efficient and effective, and people with intermediate technical skills can also use it.
Why Reduce Bounce Rates?
Lowering your site's bounce rates can benefit you in multiple ways. Adopting the right strategies to minimize bounce rates can help you in some of the following ways.
Low Bounce Rates-Better Engagement
Low bounce rates mean that the visitors on your page aren't just leaving immediately. They take the time to visit a few other pages on your site and look for information they need. This also includes clicking on other internal links and visiting multiple pages, which means better site engagement and traffic.
Increased page views, better traffic, and improved conversions are some of the other benefits of low bounce rates and a higher engagement ratio.
Better SEO
A low bounce rate benefits your site SEO to a great extent as search engines focus on user engagement as a metric. Your site will rank higher if the search engine finds your landing page has engaging/useful information.
If your site has a high bounce rate, your ranking will also go down, and your page may not appear on the first page in SERPs.
Now you probably have a good idea how important low bounce rates are. But how does one minimize their landing page's bouncing rates? The best way is to avoid mistakes that lead the visitors to leave your site.
Try To Understand Why Visitors Are Leaving
Understanding why visitors are leaving your site is the first step to lowering bounce rates. Most of the users leave the sites quickly because they do not find the right content or do not have an optimal site experience.
No one wants to spend several minutes waiting for a site to load. You can lower your bounce rates once you understand what is missing or requirements you fail to meet. You can retain your visitors if you make the following 14 changes;
1. Design a better user experience
User experience is the first factor that determines whether a user will stay or leave your site shortly after visiting it. A user won't stay on your site if your site loads slowly or if there are too many pop-ups or content readability issues.
Remember, you have a higher chance of retaining visitors if your site provides a good user experience with smooth navigation and a simple yet attractive layout.
2. Do some A/B testing
A/B testing helps website owners show a specific design and CTA to a particular group A and a different on the other group B. This testing helps understand which page design makes customers stay on your site longer. You can determine which page offers a better experience and easy navigation to the users. Hence, you can make it your primary page design.
3. Focus on the People
Since your bounce rate reflects people's reaction to your page, your first step toward improving bounce rate is knowing your audience. Once you understand what the people who visit your page want, you can revamp your page to meet their expectations.
Create a buyer persona – or several – based on what you know about your current site visitors. Utilize Google Analytics, backend web traffic patterns and polls of your existing customers. Putting a name and a face to a pretend customer allows you to filter everything you do through the lens of how that person might view your website and your brand.
4. Create an Amazing Headline
The headline is the first thing a site visitor sees and either keeps a person on your page or drives them away. The headline should clearly define what the page is about and the information you'll share on that page. At the same time, the headline has to grab the reader and keep them reading.
Your headline needs to be large enough to grab attention and set apart from the rest of the text. You have five words or so to grab the reader's attention and define your page. Even though your goal is to lower bounce rate, you don't want to waste precious resources on people who aren't interested in what you have to offer, so be as descriptive as possible.
Conference Badge has a strong headline that states what they do in simple, straightforward terms. Their caption reads "Name badges. Easy and fast." You don't have to get crazy with your headline. Let users know what your page and/or your business is about. Keep it short and to the point. Note how the text is also larger and bolder than the text surrounding it, so it draws the eye the moment you land on the page.
5. Make a Beautiful Landing Page
The aesthetics of your site matter. You have a few seconds to make an excellent first impression on site visitors. Your site should look professional and uncluttered. Researchers discovered 94 percent of the negative feedback sites received related to the design of the website. Elements such as user-friendliness and the attractiveness of your website all play into the first impression you make.
If you're unsure about the appearance of your landing page, ask for feedback from your regular customers and make changes, conducting A/B split testing as you go until you have an aesthetically pleasing page. You can also hire a designer to tweak the design you already have.
6. Highlight Special Offers
Entice new customers into trying out your e-commerce store by offering special discounts, free shipping and highlighting items on sale. If a site visitor spots something that interests them at a great price, they may be more likely to become first-time customers. Sales are also an excellent way of clearing out inventory on items moving slow.
Consider offering a discount code to new customers if they sign up for your mailing list. Even a small discount gives them a better deal and entices them to take a chance on you, but it also collects their email so you can market to them at a later date. Set up cart abandonment procedures where you email the person and remind them of the item in their cart and offer free shipping or a discount if they complete the order.
Wing Tactical uses a carousel to highlight some of their most exciting products. The carousel rotates through a variety of firearm accessories, hitting on items that interest different buyer personas. On one slide, there is an offer for 20 percent off Aero Precision Mil-Spec AR-15 upper receiver.
A carousel works well because you can easily swap out offers or highlighted products from season to season. Featuring different products keeps your site pertinent to current sales and gives visitors something fresh and interesting each time they visit your site.
7. Use Hangers
You already know you must hook the reader with your headline, but you also have to keep the reader interested throughout all interactions and elements on your website. A hanger keeps the reader hanging on. Use wording such as "find out how to save 20 percent" or "learn more about this service."
Even though your focus is initially on a headline, you also need subheadings throughout your text to both break it up and keep the reader hooked throughout. Every single word on your page matters.
8. Improve Readability

Have you ever visited a website that was one large chunk of body text? A big block of words is hard to read on a PC, but particularly difficult to comprehend on a mobile device, which many people now use for accessing the Internet.
Break up your text with <h1><h2>, and <h3> headers as well as bullet points and shorter paragraphs. We'll talk more about images below, but images also play a role in creating a break from huge chunks of text.
Tech Crunch does a good job of breaking up huge chunks of text and making them readable. Notice in the screenshot of one of their posts how they use subheadings and images to draw the user's attention. Paragraphs are short with plenty of white space around them. Balanced positive and negative space is easy on the reader's eyes and translates well on mobile.
9. Lose Pop-Ups
Pop-Ups annoy site visitors and aren't very effective at converting people into customers. Only 14 percent of site visitors even consider responding to a pop-up ad at all. If you must use a pop-up, make sure it is a fantastic offer and use it to convert visitors into subscribers.
Pop-Ups should be easy to exit out of by clicking a close button, an X or by clicking on the main part of the website page. If visitors can't get the pop-up to go away easily, they very well may bounce away from your site altogether and head to a competitor without annoying pop-ups.
10. Change Your Call to Action (CTA)
Your call to action (CTA) needs to be in a spot that's obvious to users. The goal of a CTA is getting your site visitors to take a specific action. If you can make the button more personalized to a particular buyer persona, it will perform as much as 202 percent better.
The study found that smart CTAs, when targeted to individuals based on elements such as location, language or previous visits performed best. Keep your CTA personal, short and filled with action words.
Your CTA needs to contrast with the rest of the page, so it stands out and draws the visitor's eye. It should also be short and to the point.
Join.me places their CTAs above the fold on their landing page and creates bright buttons that contrast sharply with the background. The wording is simple and guides visitors to the best location for them – either start a meeting or join a meeting already in progress. The text on each CTA button is two words.
If you have more than one buyer persona, either build separate landing pages or create more than one CTA as Join.me did for their landing page.
11. Tell a Story
People are inundated with marketing every day. They hear ads on the radio, see billboard ads, get inboxed with marketing offers and see even more advertising on social media. If you want to grab the average person's attention, you need a way to rise above all the noise from other companies.
Storytelling is one way of grabbing user's attention and keeping it, but how does storytelling work? For example, if you want to explain to your consumers their need for a new filter in their furnace every month, you might start by talking about a customer who forgot to change their filter and the issues they had and then go from there. A story makes your content more relatable.
12. Be Transparent
Today's customers appreciate transparency and authenticity from the brands they do business with. In a recent study, 73 percent of consumers indicated they'd pay more for a product if the company were transparent. People need to know they can trust your brand.
What does transparency look like in practice? First, if you make a mistake, own up to it and figure out how to improve the situation. Notify consumers of any product recalls or issues with a product and already have a solution in mind.
Clearly define all of your policies, including return policies, how long shipping takes and guarantees and how they work. Provide as much information as possible.
13. Update Frequently
One reason for a high bounce rate could be lack of changing content. If a site visitor comes back to your site and sees the same material that was there a month ago, they may bounce away never to return. Update your content frequently and keep your page fresh.
Adding new content, such as through a blog or offering videos and infographics also gives you something to share on social media and shows search engines your site is current and active.
14. Go Mobile First
Internet access via mobile phones is around 63.4 percent currently and rising steadily year after year. People get on their smartphones while at their kids' soccer practice, waiting for a doctor's appointment and during any downtime. If your site isn't ready for mobile visitors, you'll wind up with a higher bounce rate.
Have you ever visited a site via a mobile device that had tiny text or huge text and the layout was crazy? That site wasn't mobile responsive and more than likely you grew frustrated and bounced away.
Create a site with images and a layout that adapts to mobile or preferably considers mobile users first. Making your site mobile-friendly is fairly simple. You must shift the types of images you use and code a bit differently. Keep the layout simple, so there aren't a lot of elements for mobile browsers to contend with and you'll find a winning mobile formula for your site.
Conclusion
Working on your landing page's bounce rates can help you benefit in several ways and maximize conversions and profit. All you need to do is improve the user experience, focus on smooth navigation, add valuable content and add/ remove elements from your site.
It will take some time to experiment and come up with a strategy to minimize your landing page's bounce rate, but it will benefit you in the long run.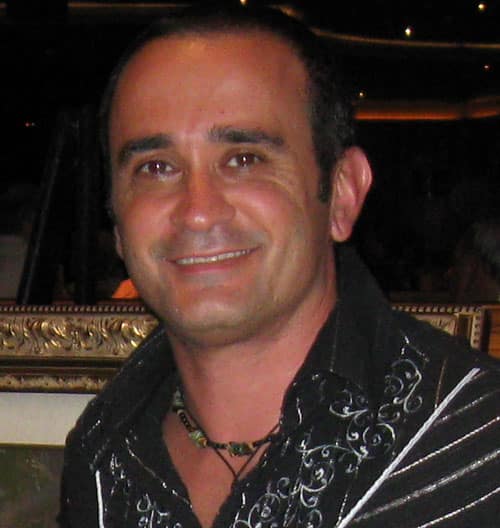 Author Bio
Angelo Frisina is a highly experienced author and digital marketing expert with over two decades of experience in the field. He specializes in web design, app development, SEO, and blockchain technologies.
Angelo's extensive knowledge of these areas has led to the creation of several numerous award winning websites and mobile applications, as well as the implementation of effective digital marketing strategies for a wide range of clients.
Angelo is also a respected consultant, sharing his insights and expertise through various podcasts and online digital marketing resources.
With a passion for staying up-to-date with the latest trends and developments in the digital world, Angelo is a valuable asset to any organization looking to stay ahead in the digital landscape.