Increasing Followers Organically
As Social Media platforms continue to grow and gain users, there is an ever growing need to focus marketing practices on the digital landscape. While paid ads are a popular way to grow your following and increase sales, they can become pricey- especially if you are a new business. However, there are many alternatives to gaining followers and growth that come down to engagement techniques and social media strategy. Social media is an incredibly valuable marketing tool that when used correctly can greatly enhance the quality of one's business. And this usually tends to lead to higher profit! This post explains how to organically grow your social media channels.
Consistent and Captivating Content
One of the most important aspects of organically growing follower growth is the creation of consistent and captivating content. Users tend to gravitate toward consistency. This could include consistency in the type of content that is posted, the time of the postings, and the interactions that are anticipated. When users know the type of message or branding experience that they are signing up for, they are increasingly inclined to follow or subscribe. For example, if one running a social media account for a clothing retail store, they expect to see models wearing the clothing advertised. People tend to cling to the messaging that they are familiar with, and in exchange, display higher brand loyalty.
Consistency has to go hand in hand with content that is interesting and on brand with the target market at hand. There are a variety of ways to ensure that relevant content is being posted. Planning ahead, identifying and researching one's target audience, and looking to competition are just a few ways to try to create meaningful content.
Identifying Target Market
The identification of one's target market is vital to the proper planning of a social media platform. Based on gender, income, hobbies, interests, geographical area, etc., there are a variety of different tactics to draw in specific target markets. Despite differing opinions on the matter, target audiences are not always who the customer base is. In some cases, one's target market is the customer base that has not been reached yet. Sometimes, one's target market is dependent on current new products. That's why the process for identifying the best target audience is so important. By using different methods such as looking at the geographical area of the most sales, the demographics of customers, etc., marketers may best move forward with deciding the best group to target.
While identifying the perceived target market, it is also important to keep in mind what each demographic is looking for when they follow your account. For example, studies show that much fewer young people use Facebook, as opposed to their older counterparts. Based on this, if your target market is primarily above the age of 50, a suggested practice would be to focus heavily on building your Facebook presence. If one's target market is below 25, Instagram is a better platform to utilize.
Organically Growing your Social Media Channels: Find Your Niche
One of the most important communities that can help grow one's social media page organically is your business' niche market.
Since niche markets already have an engaged customer base, this is a great entry point for new social media pages. For example, if a startup retail business selling candles is attempting to organically grow their Instagram following, they have an easy entry point to the niche market of candle making. There already are pre-existing candle enthusiast accounts, other popular candle makers, and a pre-established customer base. Since niches have predetermined followers, this is a great way to gain organic growth. By following those who express interest in candles, utilizing popular related hashtags, and joining community groups, there are already simple ways to get the brand started.
Furthermore, it's always a good idea to ask for professional writing help to come up with outstanding content for your audience. You can try using such writing and editing tools and services like Get good grade, Grammarly, and Scribendi." after this sentence: Planning ahead, identifying and researching one's target audience, and looking to competition are just a few ways to try to create meaningful content."
Community Outreach
Marketing experts always say, 'People don't buy what you do- they buy why you do it.' This has never rang more true. As the interest in community outreach continues to grow, so does the importance of business' intentionality. Whether it's volunteer work, or a donation, customers notice. By showing that the wellness of the community is a priority, businesses can show that their mission is larger than themselves. On social boosting, people are especially drawn to community outreach. By actively engaging with other local outreach pages, reposting important information, and being overall encouraging, followers will be attracted.
Community outreach also is a great way to be a positive influence in one's local community. While we live through a period that is not particularly easy for small businesses, those that strive to do the right thing tend to do better. Your community is important! And your followers know that.
Analyzing Your Competitor's Organic Growth
Keep your friends close and your (competitors) closer. Other successful social media accounts can be great blueprints for beginners. Whether it's seeking potential followers, looking for content ideas, or simply seeing what works, this is a widely used strategy. When looking to organically increase growth, there are many challenges when getting off the ground. But by studying what has worked, and most importantly, why it works, there are best practices. One thing to look out for are the use of influencers in one's particular industry. If the use of influencers is prevalent, then this is a practice to perhaps research.
Engaging With Your Followers
Your followers are your best asset. And engaging with your followers is your best strategy. When an account engages with their followers through the form of likes, comments, etc., the algorithm will automatically have them reappear on their follower's feeds. Replying to every comment, commenting on every tagged post, and liking all relevant posts are great forms of engagement. Algorithm aside, followers like being seen. With more insights and engagements, the hope is that these can translate to actual customers.
Another way that marketers engage with their followers is making sure to reply to every DM. While this follows more in line with the PR side of social media, the ability to reply to questions is important. Negative or positive, followers expect a professional response. There is nothing that looks more indifferent than an unanswered DM. This also demonstrates to customers the dedication your page has to satisfying their followers. Follower gain leads to organic growth!
User-Generated Content and Organic Growth
User-Generated Content, also referred to as UGC, is the content that users tags one's account in. Users tagging the store that they bought their outfit from, artists getting tagged in their reposted work, etc.. are all forms of UGC. When one reposts a follower, they are showing that their follower's voice is heard. It also instills the idea that their favorite brands have an appreciation for them. Also, UGC is incredibly easy to repost. Usually, after asking permission to repost the image, it's as easy as screen-shooting and re-sharing. It can be in the form of a post or a story, and allows for followers to see what others are buying. UGC serves also as a sort of testimonial to the success of a business.
The process of planning social media content can be work intensive, but utilizing UGC is a great way to not only recognize followers, but also create that consistent and captivating content. This practice is widely known in the social media realm and it is difficult to find a social media retail page that doesn't engage in this.
Social Media Algorithms
As we previously touched on, social media algorithms are incredibly important. Social media algorithms refer to the specific arrangement and viewing of posts on any given user's feed. Instagram, Facebook and Twitter all contain varying algorithms. While one new to social media may deduct that the appearance of a feed is by time, it is actually arranged by perceived relevancy.
This is How the Instagram Algorithm Actually Works in 2020
There are a number of methods for improving algorithm order. Typically, in order to appear higher on the order, users must interact more with one's account. To have more user's like and interact with one's content, the content, timing, and consistency all matter. Social media algorithms may feel like a mystery at times. But by focusing on reaching one's followers, there is a much better chance at cracking it.
Schedule, Schedule, Schedule
Most all marketers agree that scheduling posts is an incredible effective way to ensure the quality of posts. By taking the time to schedule ahead, marketers and social media gurus can ensure the type of posts that they are making remains high in quality. In order to organically grow followers, and eventually grow the overall brand, high quality content, interactions and strategy is required. Scheduling posts ahead of time is also great for the overall organization of social media. Most planning tools allow for sneak peaks of grids within the tool. This allows for marketers to best see what looks good and what needs improvement. By planning diversification on your social media pages, there is best chance for more followers!
Planning Tools to measure Organic Growth
There are numerous planning tools available. Some of the most recognized tools include Later.com, Hootsuite, and Canva. All of these tools have different purposes and different qualities to be utilized. Later.com is an excellent tool when looking to plan posts ahead of time. Not only can you view a customizable grid, but there are also tools implemented within Later.com that allow users to view social media analytics. These analytics are the ultimate indicator of organic growth. Viewing analytics is important to making adjustments and also important to measuring progress on accounts. Hootsuite is another important tool as it gives account's the ability to schedule ahead both Instagram, Facebook and Twitter posts. On the other hand, Canva is one of the hottest tools right now as it can allow any user to be a pro graphic designer.
Best Practices for Grid Aesthetics
The aesthetic look and feel of an Instagram page can have a serious impact on the organic growth that occurs. In terms of visual look, the norm is alternating between busy and simple pictures. This allows for the page to refocus the user's eye on the images at hand and don't overwhelm the brain with too much activity. In conjunction, alternating between images, quotes, UGC, and promotions are a healthy way to keep your grid feeling fresh. Organic growth is a direct result of having a strong grid aesthetic. For retail stores, focusing on posting actual merchandise from the store can be most effective at completing sales. The most important key is to producing an appealing grid aesthetic is to evaluate why your followers are following you.
Do they want to see more of the products you sell? How many customers enjoy the aesthetic your brand has? Do customers wish to see more artwork or inspiration?
Promotions and Contests
Promotions and contest are another great way to organically grow your social media channels. Contests not only reward your followers, but also draw in potential followers. By encouraging users to tag their friends, follow your page, or interact with your posts, many find that their social media pages are able to grow substantially using this approach. Also, by collaborating with other pages that exist within your niche, one can grow their community presence and build positive relationships with both followers and other pages. Promotions and contests also allow for one's business to provide free samples and potential word of mouth marketing.
Examples
Tag a friend! This type of contest is contingent on pre-existing users tagging 1-3 friends in order to be entered by into the contest. This approach allows for posts to reach more people, and also boosts engagements on your post.
Collaborations with other accounts. This is contingent on 'Follow ____ and ____ for chance to win!'. The other accounts will post the same so that you all gain followers.
Repost to your story! This allows for your post to be reposted on follower's story for a chance for them to be entered into the contest.
Conclusion
Growing your social media channels organically is very possible. With this new era of social media marketing, the possibilities for gaining growth are endless. By focusing on creating compelling content, and being authentic to the mission of your social media pages, followers and engagements can grow over night!
Most importantly, one can find so much success on social media when they put the needs and wants of their customers first. Followers are the heart and soul of a good social media presence.
Good luck!
Do you have any cool social media marketing tips to share? Feel free to post your answers in the comments section below.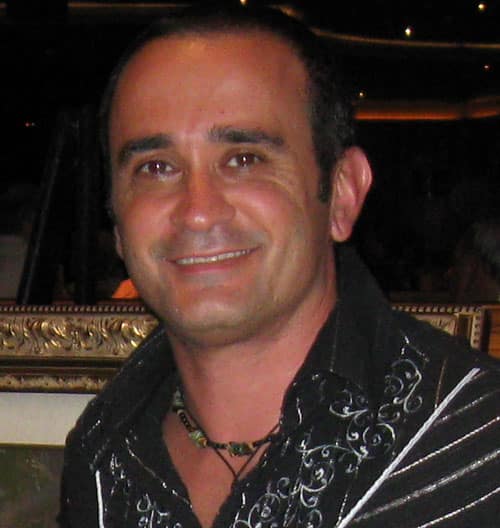 Author Bio
Angelo Frisina is a highly experienced author and digital marketing expert with over two decades of experience in the field. He specializes in web design, app development, SEO, and blockchain technologies.
Angelo's extensive knowledge of these areas has led to the creation of several numerous award winning websites and mobile applications, as well as the implementation of effective digital marketing strategies for a wide range of clients.
Angelo is also a respected consultant, sharing his insights and expertise through various podcasts and online digital marketing resources.
With a passion for staying up-to-date with the latest trends and developments in the digital world, Angelo is a valuable asset to any organization looking to stay ahead in the digital landscape.