What comes to mind when you hear the word "marketplace?" If you're on the younger side, eBay and Amazon may instantly spring to mind, or you can realize that you forgot to place an order on bidforwriting.com to manage your marketing studies. Depending on your age, those websites may have been around your entire life.
Some consumers remember the term "marketplace" as a physical space people visited to buy items they either wanted or needed. For centuries, marketplaces were places where people gathered to buy and sell things face to face.
Currently, a marketplace is commonly known as a website. However, the notion of a marketplace has certainly changed over time. If you run an online marketplace, things will continue to change rapidly. As a result, you'll need to perfect your digital marketplace to stay competitive.
How Do I Start an Online Marketplace?
To start an online marketplace, an admin must design, develop, and enhance their website with the necessary eCommerce features to compete with the more popular online marketplaces. For example, when online visitors interact with an online marketplace such as Amazon, Etsy, or eBay, users interact with multiple website features before making a purchase. To list a few, these features include search tools, categorization filters, shopping carts, and shipping information. Also, the website features include admin dashboards, customer support, and effective payment gateways.
During the development of the website, administrators also build their online marketplace platform to attract and accommodate third-party vendors. In detail, the admin manages their online marketplace by using additional eCommerce features, offer plans, and following specific business models for multi-vendors. Depending on the business model, an admin better optimizes listing processes between admin and vendor and makes for a more satisfying customer experience.
Admin, Seller, and User Account and Registration Features
When setting up an online marketplace that shares the essential features seen on major online marketplace platforms, it is ideal to equip sellers and customers with the necessary account features. From within the marketplace dashboard, an administrator manages business data, product listings, customer inquiries, and online marketplace features. An admin may also develop notifications for both vendors and customers. With a mute option, admins manage and deliver notifications to online marketplace users. Moreover, these notifications keep users up-to-date on product orders, refund orders, eCommerce reports, and industry-related news posts and articles.
In terms of user account features, both buyers and sellers verify accounts with registration forms. To better verify accounts, users fill out information such as their name, email address, delivery and payment information, and passwords. Once registered, these accounts assist both parties with quicker order processes, wish lists, and account configurations. In comparison to an online marketplace like Amazon, administrators benefit greatly from enabling customers to switch profiles to seller accounts without logging out.
Online Marketplace Search and Listing Creation Features
From within the homepage, an online marketplace consists of various features, product listings, recommendation and trending sections, and user account access. For this reason, search and navigation features for an online marketplace are vital for assisting buyers with navigating through abundant product listings. Online Marketplace leaders like Amazon personalize searching algorithms to match buyers to the appropriate vendor. In detail, these search systems monitor user and seller sales history and suggest specific listings promoted on various online marketplaces and websites.
In regards to listings, vendors should be able to manage and list products when using your online marketplace. Businesses with an online marketplace design product pages to include important details and descriptions to better inform customers about specific purchases. From the product pages, users should identify the vendor, product availability, item descriptions, warranty clauses, and product reviews. Also, major online marketplaces like Alibaba, allow vendors to posts related product images and media that support various file formats such as JPEG, PNG, and GIFs. As an administrator, ensuring that image sizes, colors, backgrounds, and file formats meet website quality standards is important for higher conversions.
Online Marketplace Wishlists and Shopping Cart Features
Seen on many well-known marketplaces, wishlists, and shopping carts allow users to better engage with website content. From within these features, users may view vendor products and manage their carts before proceeding to payment options. Also, online users may review shipping and transaction fees, adjust order quantity, or share the listing on various social media platforms. As a benefit for the vendor, most of these systems offer user reports that assist sellers with identifying trending products or consumer behaviors.
Payments, Shipping, and Return Features
Primarily, an online marketplace requires user-friendly checkout features for successful transactions. An online marketplace with clear call-to-actions that direct users to payment screens without any disruptions increases potential online marketplace sales. For instance, Amazon's one-click ordering systems eliminate different steps within the payment process and make user purchases quicker and easier. In other words, Amazon allows users to skip the process of putting products into their shopping carts and offers toggle-like features to confirm payment details. Currently, more established online marketplaces offer customers shipping options to expedite orders.
Online Marketplace Vendor Features
As an administrator for an online marketplace, there are various vendor features like order reports, dashboards, and plans to assist sellers. For instance, an order reports feature from within vendor dashboards offers sellers various reporting tools to better measure marketplace performance. In detail, order reports offer sellers more information about product status, revenue channels, and user feedback.
Other vendor features assist online marketplace sellers with listing edits, payment updates, and customer support. About Amazon, the multi-vendor platform offers vendors information and listing statuses of Fulfillment by Amazon orders or orders completed manually by the seller. While most startups may not scale up as a global online marketplace, the features are available for business owners to administer to vendor accounts and ensures better online transactions with customers.
Mobile-Friendly Functionality and Features
Without a doubt, using mobile-compatible features for an online marketplace ensures that businesses stay relevant with current marketplaces and generate more leads. For instance, an online marketplace accessible on smartphones, tablets, watches, and smart TVs enhances customer experiences and reaches different target audiences. To improve the functionality of an online marketplace, businesses integrate features with more optimal search engines and CDN services. Moreover, these mobile features ensure that quality and performance remain optimal when online users interact with the platform.
Different Types of Online Marketplaces
When developing a multi-vendor website, it is important to consider the different types of online marketplaces. Depending on the business model, a business may replicate an online marketplace like Amazon, eBay, or Etsy but personalize vendor permissions to accommodate business objectives.
Amazon
Amazon is an online marketplace that has its own seller guidelines to ensure that each listing abides by a standard of quality. To ensure quality standards, Amazon verifies each seller promoting listings on the online marketplace. Also, Amazon restricts vendors from selling specific products such as automobiles, used clothes, and products claimed to be unsafe or illegal. Most importantly, vendors selling through Amazon gain access to secure web and mobile features that protect both buyer and seller transaction information.
eBay
Similar to Amazon, eBay is an online marketplace that allows individual sellers to create listings easily and quickly. EBay supports PayPal payment systems and issues a slight sale fee per transaction. Unlike Amazon, the marketplace offers sellers auction-style listings to offer buyers a more affordable way to shop. Other differences with Amazon include eBay's filter features. For instance, eBay showcases a "sold items" category to assist vendors with positioning product prices in a competitive market. Lastly, eBay consists of fewer restrictions than Amazon and offers users the opportunity to sell items defective or used.
How Does an Online Marketplace Work?
An online marketplace prevents users from searching products and services across multiple websites but instead offers a single platform for both vendors and customers to interact. As an administrator of the online marketplace, a business ensures that vendors follow guidelines, abide by the brand's business model, and maintains the site for buyers and sellers. Usually, administrators do share the responsibility with vendors of tracking inventories, shipping, and distribution methods or optimizing product content.
As vendors for a specific marketplace generate more listings for the online marketplace, the platform connects sellers with target audiences. While vendors post more listings, the administrator of the online marketplace offers simple and easy payment and order features to assist buyers and sellers with transactions. From a user perspective, these types of transactions appear safer as one company handles all of the transactions from a single source. In addition to a secured payment process, adding customer support features for handling customer returns makes online marketplaces more ideal.
If you're curious about learning more digital marketing techniques, we suggest looking at this comparison article between Kajabi versus Kartra.
How Do You Attract Vendors To Your Online Marketplace?
Online marketplace administrators best attract vendors onto marketplace platforms when optimizing the site around vendors' needs. To attract more vendors to your online marketplace, it is best to offer a platform with multiple useful add-ons and plugins that vendors need to transact with online customers. For example, an administrator may include inventory management systems, multiple payments systems, and order management technologies to assist vendors with setting up accounts and managing listings. Moreover, an online marketplace may feature sponsorship advertisements that attract more vendors to platforms.
These days, a number of large businesses use vendor managed inventory to reduce costs and to stop storing overstocked items. It's goal is to also create a mutually beneficial partnership between the supplier and the customer.
Sponsorship Advertisements
Through sponsorship ads, vendors develop trust in their partnership with an online marketplace due to the administrator's promotional efforts to improve the platform. To list a few, sponsored ads include sponsored products, brands, displays, and stores. For example, sponsored product ads appear towards the top of search results, relevant searches, and recommendations. When users click on these specific ads, they are redirected to a page on the online marketplace featuring the ad.
To attract customers to a catalog of vendor products, sponsored brands are a great solution. Moreover, sponsored brand ads offer online customers links to the brand's online store to view more of the brand's products. To continue, sponsored displays appear on an online marketplace after online users view products but do not make purchases. Also, sponsored display ads sometimes show on other sites outside of the online marketplace platform to attract more audiences.
How Does an Online Marketplace Make Money?
Depending on the business model, an online marketplace makes profits from different fees and commissions. For example, admins of online marketplaces may charge individual vendors for the impressions, views, or purchases made when customers make a purchase from a vendors store. In commission-based models, admins receive a slight percentage of all transactions on an online marketplace. Other fees, like listing fees, charge vendors for each product or service listed on the online marketplace.
To retain more consistent revenue, an online marketplace may apply membership fees for both vendors and consumers to make transactions. Freemium business models are also popular on online marketplaces. For instance, users and sellers gain access to an online marketplace's basic services but have the option to upgrade the account to unlock additional features & tools. Lastly, an online marketplace that frequently promotes vendors' products and services may accept fees from individual sellers.
Implementing a Platform
While it is possible to build your own platform, it requires some advanced technical skills. If you don't have these skills, you may be better served by using a pre-built platform like eBay.
If you're going to set up your online marketplace on a pre-existing platform, you should make sure the platform you choose has certain characteristics. The platform you select should have enhanced search and filtering capabilities, for instance. It should support customizable branding and user experience as well. Of course, the platform should be mobile-friendly and correctly optimized for all mobile devices.
Marketing Your Online Marketplace
Marketing your online marketplace is very important for targeting online users. Before marketing to specific target audiences, businesses identify, monitor, and analyze consumer behaviors. With careful analysis, marketers determine which users to interact with based on several behaviors. For instance, marketers may reach out to users who show high advertisement interactions, site visits, product purchases, and retention levels.
An online marketplace may better reach larger target audiences and increase user engagement with other strategies too. For example, marketers use email marketing to inform users of products and services related to percent purchases. Email marketing is also useful for communicating promotions and exclusive brands available on an online marketplace. Moreover, an online marketplace may enable reviews and ratings on multiple product pages to build user engagement. Lastly, marketers may enhance the overall search engine optimization of an online marketplace by mentioning different products and services through various blogs, articles, and websites.
Optimizing Your Digital Marketplace
Optimizing your online marketplace to remain competitive may seem like common sense. While that may be true, it's not always an easy thing to pull off. Operating on the correct platform is essential. You must have an effective strategy for growth. You need to be able to analyze your marketplace's performance. And you need one more key thing – patience.
If you want to optimize your marketplace, you should start by answering a few insightful questions. Here are a few of them:
What's the appropriate design for my digital marketplace?
Is there any available technology that can improve the efficiency of my marketplace?
Do I have the resources that are necessary to sustain the optimization of my marketplace?
How can I measure the return on my investment?
Once you've answered the questions just listed, it's time to get started with optimizing your online marketplace. While we can't help you develop patience beyond suggesting that you try some deep breathing techniques, we can offer some advice for developing a strategy for growth, implementing an e-commerce platform, and analyzing your marketplace's performance.
Of course, the content of your marketplace site has to be of the highest quality. If you dont have the time to write it yourself, then consider asking a professional native English speaking content writing service, or read this writing service review to find the best writers for your needs online.
Establishing a Strategy for Growth
According to "The UPS Pulse of the Online Shopper," which was prepared by UPS and ComScore, 97 percent of individuals who shop online, shop at digital marketplaces. The survey further revealed that 38 percent of shoppers begin their Internet searches on a marketplace. Out of all the marketplace shoppers surveyed for the UPS and ComScore study, 90 percent of them said they shop on Amazon.
How did online marketplaces like Amazon evolve into websites that attract such a large percentage of online shoppers? They had a strategy in place to establish themselves and grow, of course.
To create your own strategy for growth, you need to analyze the opportunities that exist in your market and create a vision for your digital marketplace. For example, you may select the business model that's best for your marketplace and determine your strategy for pricing the things you plan to sell.
In the long run, businesses save more money when optimizing checkout processes and user transactions. You should develop a plan to scale your online marketplace so it can keep up with your growth as well. You should identify the key performance indicators you'll use to gauge the success of your marketplace, too.
Analyzing Marketplace Performance
Just as analysis is important in other businesses, it's essential for online marketplaces. As your marketplace grows, it may complete more transactions than you can monitor yourself. This is a great thing, but it requires you to analyze your marketplace's performance closely.
By analyzing your marketplace's performance, you'll be able to recognize what's currently happening and identify possible future trends. As a result, businesses better match the right products with the appropriate buyers, at the right time.
Here are some of the capabilities you'll want your analytics provider to offer:
Easy data integration from both internal and external sources
Predictive analytics can help you identify what might happen in the future
Trend indicators for products and services that signal admins to promote specific listings.
An intuitive user interface that has dashboards that you can customize to your liking
The capability to search, mine, and filter data efficiently
Optimize Everything or Nothing
A general rule for businesses is to optimize everything or nothing.  In today's competitive marketplace environment, you need to optimize everything about your marketplace to even have a chance of succeeding.
Remember – your marketplace is competing against giants like Amazon and eBay. With both of those websites selling just about anything you can think of, your marketplace will still compete with them even if you choose to sell on one of those platforms.
If you understand the value of optimizing your online marketplace but simply aren't up to the task of making the necessary changes, Sunlight Media can help. We offer a full suite of digital marketing services that can help your online marketplace thrive the way you always dreamed it would.
We can optimize your marketplace to ensure it performs as well as possible and provides the greatest return on your investment not just today, but tomorrow and every day thereafter. To learn more about what we can do for your online marketplace, contact Sunlight Media.
Summary
To conclude, an online marketplace consists of administrators, vendors, and online customers interacting and transacting from within a single platform. Administrators ensure that their sites compete with leading online marketplaces through integrating the necessary marketplace features and marketing strategies. Depending on the business model, an online marketplace may grow vendors and listings while boosting revenue.
Lastly, businesses may better market their online marketplaces by promoting listings across online and personalizing ads to reach specific target audiences.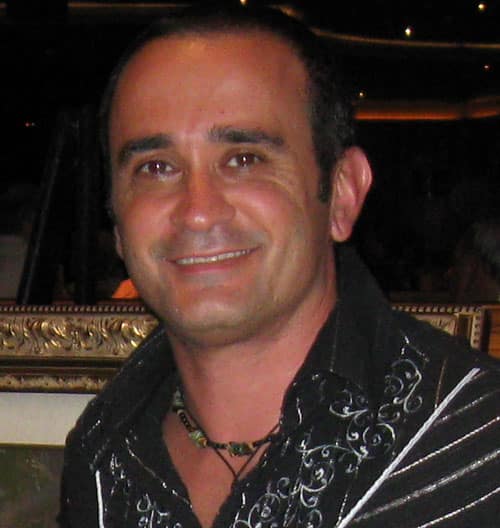 Author Bio
Angelo Frisina is a highly experienced author and digital marketing expert with over two decades of experience in the field. He specializes in web design, app development, SEO, and blockchain technologies.
Angelo's extensive knowledge of these areas has led to the creation of several numerous award winning websites and mobile applications, as well as the implementation of effective digital marketing strategies for a wide range of clients.
Angelo is also a respected consultant, sharing his insights and expertise through various podcasts and online digital marketing resources.
With a passion for staying up-to-date with the latest trends and developments in the digital world, Angelo is a valuable asset to any organization looking to stay ahead in the digital landscape.