Your contact form is arguably one of the most important elements of your website. First-time visitors have no idea if they can trust you and your product or not. They may have questions about how your product works or want to test your customer service and see what the response to a question is. Before placing that final order, most people check for contact information.
Imagine you're a first-time visitor to your own website. You consider ordering a product. First, you want to make sure you know how to return the item if there is a problem with it. There is no contact information listed anywhere. There's no toll-free number to call and no live chat. You can't even find a contact form. What do you do? More than likely, you abandon the shopping cart and move on to a competitor who does have their contact information listed.
Once you place it on your home page, you'll also want to focus on the way you present your contact information. Here are 16 ways to improve your contact form:
1. Use Fewer Fields
There are many studies that show the fewer fields you place on your form, the better it converts. As the number of form fields increases, the number of conversions decreases.
Take a close look at your contact form and figure out what information you must have to complete the conversion. If you're signing people up for a newsletter, you only need an email and possibly a first name, so you can personalize your messages.
On the other hand, if you need to call the person back because they are a new lead, you'll need their telephone number. Just be aware that the more information you ask for, the more the consumer may balk. After all, you might share that information. Getting too in-depth may cause some people to bounce away from your site rather than submitting the form.
Best Products is a shopping site. One way it converts browsers into customers is by getting consumers to sign up for its email list. It keeps the form for this super simple. It just wants your email and that's it. One field and one click and it's done.
2. Make the Form Easy to Find
While there is no solid rule about where you should locate your contact form, it needs to make sense for your site. At what point do you need the information from your site visitors? In the case of a form that only asks for an email so you can contact the customer via your mailing list, you may put it in a popup the minute the user lands on your page.
On the other hand, if you need to collect information to better understand the needs of a lead, then you'll want to place it after the consumer's had a chance to figure out what you offer and why they're interested in it.
Figuring out the best placement isn't easy. Try different positions and do some A/B testing to see which one converts best.
3. Let the Customer Call the Shots
If you don't yet have the resources to staff a live chat but you still want to collect leads, make the process as simple as possible for your users. For example, you might list some options of how you can get in touch with them, such as through email, phone or snail mail. Also, ask how to reach them and the best times to do so. This shows the customer that you care about whether or not a phone call is convenient for them. They'll be more likely to share their telephone number if they know you won't abuse the privilege.
Sitech West does a good job of letting the customer call the shots on its contact page. Note how it asks for some simple information, such as name, email address and phone number. Then, it adds an option about the best times to contact the lead — morning, afternoon, or evening. It also adds a box for additional information. This shows the potential customer that they care about whether they're calling at a convenient time.
4. Improve Your Layout
Something you might not have thought about is the length of your form fields. Researchers tracked eye movements and found that the size of input fields should be about the same length as what you expect answers to be. For a first name, this would be eight characters or less — not 20. There should be one question per row, and labels should be above the input field.
There is also a certain aesthetic to the way form fields stack on top of each other. Is everything aligned so it is easy to read and pleasing to the eye? If not, make adjustments as needed. One of the best ways to learn layout is to study what other successful sites do with their contact forms, which is why a few case studies are scattered throughout this article.
5. Make Your CTA Button Stand Out
Your call to action (CTA) has a big impact on how well your form converts. First, your button needs to contrast with the rest of the page. This makes it pop. While you don't want the button to clash with the rest of your color palette, you also don't want it to blend in.
The color you choose makes a difference in how often people click on your CTA button. The color red often has the best response rate from users, but this varies depending on your site and your target audience. One idea is to start with a red CTA button and then try out other colors and split test to see which one users respond to best.
Discovery Clothing Co. uses a red CTA button on its contact form. The button contrasts sharply against the white background, drawing the user's eye and inviting them to click on the button and complete the form. A color that pops leads to more conversions than a color that blends in.
6. Delete Captcha
Captcha is great for getting rid of bot entries, but it annoys users to no end. Have you been on a site where you had to nonstop click the boxes with the cars in them, but the images aren't really clear and you click the wrong ones? It takes several attempts sometimes to get the "click the image" style Captcha correct. Many users won't bother with it. They'll just leave and forget about contacting you altogether.
In one study, about 3 percent of users simply bounced away when faced with Captcha. In a world where not everyone who lands on your page converts, that adds up. Lose the Captcha, find other ways to deal with spam and keep the leads.
7. Offer Choices
Do you serve more than one type of customer persona? If so, you may need to separate your contact forms into several different versions. This allows you to present a contact form best suited for the needs of the individual customer. You present a number of options that take the consumer to the correct form for their needs. You may also want to offer a more general contact form for questions that fall outside the main areas.
Yummy Gum does a good job of offering several options to site visitors. Visitors choose from projects, meeting for coffee, or birds and bees. It presents the choices in a humorous and conversational way. When you make a choice, you're offered additional details from which to choose, such as timeframe and project type.
8. Add Mobile Responsiveness
Is your form responsive to mobile users? More and more people are accessing the internet via their mobile devices. Mobile internet browsing makes up over 50 percent of the total online traffic around the world. As smartphones become more popular and internet service faster and more reliable, expect these stats to increase. If your form isn't responsive to a smaller screen, you risk losing at least half of your site visitors.
You should test your contact form on various size screens. Take the time to scroll through and fill out the form on a smaller screen. Do you have to enlarge the screen to see the forms? Make the process as easy as possible to improve the user experience (UX).
9. Make the Phone Number Field Optional
Don't make it mandatory for users to share their phone number. One study showed that people hate sharing their phone numbers online. In one study, making the phone number form field optional doubled conversion rates from 43 percent to 80 percent. If you don't have to ask for the phone number, you may just want to remove the field completely.
Think about the times you've shared your personal phone number with a company and then been inundated with calls from telemarketers. It is frustrating. Today, we have our phones on us everywhere we go. Getting nonstop telemarketing calls is distracting. This is one of the reasons people are so reluctant to share their personal phone numbers with companies. You're probably better off not asking for the number until you've established some other form of contact and a relationship with the client.
10. Use Descriptive Words
The words you use on your CTA button have an impact on conversions as well. Play around with different phrasing and see what converts well for your site visitors. Studies show that switching from the word "submit" to a word such as "go" or "click here" increases conversions by as much as 30 percent. Other studies show that using first-person CTAs has an impact, so if you work appropriate phrasing into your CTA, you may see even higher conversions.
For example, if your current CTA says, "Submit Form," change it to "Get My Free Estimate." Do a split test and see which version gets more conversions. First person is more effective and the descriptive words explain exactly what happens after the user submits the form. The two work together to increase conversions on your site.
11. Include a Privacy Policy
It's a smart idea to add a link to your privacy policy and a short description. You may be subject to the new GDPR compliance rules and be required to share your privacy policy. A simple line, such as "We keep your information 100 percent private" or "We don't share information with third parties," is enough to reassure your site visitors. You can then link the word privacy to your policy in case site visitors have more questions.
Think through your privacy policy. If you run a service where you match up potential clients with other companies, you'll have to share information. Make it clear what information you share and how those companies use that information. However, if you run a small e-commerce store, there is no reason for you to share the emails of those who signed up for your mailing list or their contact information with third parties. Explain what you use the information for and how you store it and protect it.
There are samples online of appropriate privacy policies that are GDPR compliant.
12. Increase Form Conversion Rates
There is no doubt that contact forms are an important component in expanding your database and gathering crucial information from potential visitors. Did you know that there are a large number of factors that can affect whether or not somebody successfully completes your online form? This is why before you start to make changes to your web form in order to improve conversion rates, you should establish a baseline.
For instance, what percentage of visitors is currently filling out or completing the form? Keep in mind that opt-in forms can be negatively affected by things, such as form placement on a landing page or even a poorly-written headline. Also, keep in mind that the median conversion rate is about 3% to 5% for most industries.
One of the best ways to get your website form to stand out from many other similar ones is creating a unique and engaging user experience that leads to higher online form conversion.
You may have various questions when it comes to improving form conversion rates. Is it the form length? Is your online form asking all the right questions? The good news is that improving your form conversion rate does not need to be a daunting and overwhelming task.
For example, if a new form-building platform or a page-testing tool costs considerably less than the number of valuable leads it generates, you can confidently take the plunge. Another technique is to A/B test your forms.
13. Determine the Best Form Placement
Depending on the main purpose of your page, the placement of your website form plays a vital role in improving conversion rates. For example, a landing page with the primary goal of form submission should ideally have the contact form clearly visible above the fold. It should have clear written instructions of what users will receive on submission.
Sometimes, you would like your users or visitors to use the online contact form right away. Note that this is ideal for niche websites that receive highly targeted traffic or businesses and organizations that require a salesperson or sales representative in order to chat with prospective customers.
On the other hand, CTAs for bottom of funnel offers, such as "Schedule a Free Consultation," must be sprinkled throughout the website leading to a landing page that contains only an online form for this conversion.
You have to make sure the contact form is located in a prominent place. And forms should also always be above the fold, clearly standing out from various other on-page elements on your site. It is best to place your contact forms on multiple pages in multiple locations to get the best results.
According to studies, your main call to action should be above the fold. Also, this area must be clean and simple. Note that if it is cluttered, the contact form will go unnoticed.
14. Use a Good Font, Color, and Label for the Button
If you would like to make your website look more on brand and unique, you will have to customize your contact form using the right font style, color, and label. The color of the CTA button matters a lot, particularly when it comes to online form conversion best practices.
The main thing is to choose a color that best fits your current layout and design but also pops out and yells, "click me." Note that a number of case studies reveal that red is the best and highest performing color.
However, do not make the mistake of underestimating green and orange. In specific situations, these colors may perform even better. Make sure that you track CTA buttons as custom events on platforms like WordPress so that you can see which colors, such as red, work well for your campaigns.
Did you know that some fonts do not render properly? On the other hand, some don't display across different kinds of operating systems very well. For example, sans-serif fonts are usually easier to read on mobile devices, such as tablets.
When it comes to labels, you should optimize your submit button by selecting the best words. QuickSprout indicates that specific phrases and words get more clicks than others. For example, the word 'Submit' witnessed a 3% decline in clicks.
It is best to use action words that inform the user of what's happening, such as 'Request Information', or 'Request Price.'
15. Make the Errors Clear
You may know that filling out online forms isn't always a simple task for most people. No matter how easy you make it, some users will make mistakes. Do your contact form error messages give visitors a feeling of worry and anxiety or comfort?
Keep in mind that error messages that are way too alarming can make your users abandon the contact form.
So, if your user encounters an error, you should make sure it is easy for them to quickly identify what the error was. Did you know that errors can cause stress? And if it is too difficult to figure out what's wrong, they may move on. This is why make sure you highlight the problem and the message is near the field.
Keep in mind that words with a condescending or negative tone have no place in contact form error messages. This is because negative words may make users feel like they have made a huge mistake. Also, ensure that the color, such as red, of your validation text, clearly stands out from the rest of your form so that users will notice it quickly.
16. Explain What Happens Next
Another great way to optimize your contact form is to make it clear and simple to users what will happen next.
While they may already have some idea based on your CTA, you should follow up the contact form by explaining precisely what your users can expect the next steps in the process to look like.
Keep in mind that people do not want to be left in the dark. Rather, they would like to know exactly what will happen after clicking the submit button. And by improving the copy of the call-to-action button or adding one more field that tells them what they can expect, you can significantly improve your conversion rates.
Conclusion
Creating a contact form that draws visitors in and converts them into leads is a matter of trying new techniques and testing them thoroughly. The concept that works for one site might not work for another. You're busy growing your business.
You don't have time to worry about whether your forms convert well, but implementing these quick changes can make a huge difference in your bottom line.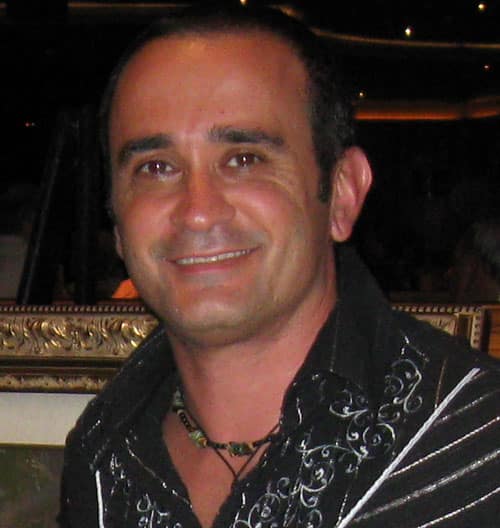 Author Bio
Angelo Frisina is a highly experienced author and digital marketing expert with over two decades of experience in the field. He specializes in web design, app development, SEO, and blockchain technologies.
Angelo's extensive knowledge of these areas has led to the creation of several numerous award winning websites and mobile applications, as well as the implementation of effective digital marketing strategies for a wide range of clients.
Angelo is also a respected consultant, sharing his insights and expertise through various podcasts and online digital marketing resources.
With a passion for staying up-to-date with the latest trends and developments in the digital world, Angelo is a valuable asset to any organization looking to stay ahead in the digital landscape.