Increasing brand name recognition is one of the biggest hurdles small businesses face. Before COVID-19, companies tried a number of tactics to increase exposure. Not every method had the consumer in mind. Many promotional efforts were completely self-serving and perhaps a bit dishonest. While there will always be unscrupulous sharks willing to do anything to make a buck, the pandemic forced companies to zero in on what's really important to their target audiences.
The National Bureau of Economic Research surveyed over 66,000 small business owners and employees in the U.S. to see what impact the pandemic had on them. Researchers found that 61% of businesses had a lower workload and lost around half their revenue. Some of the drops in sales were due to forced shutdowns and regular customers staying home instead of going out shopping. Companies scrambled to find methods that worked when the old model they operated under no longer did.
COVID-19's impact on the marketing industry is probably the most noticeable of all. Big events everywhere were cancelled. No trade show exposure, no conferences to increase name recognition, no hosted events. On top of gatherings ending for an indeterminate amount of time, the public's priorities shifted noticeably in Q2. If your business isn't an essential one, such as a grocery store, you likely saw a drop in income.
Navigating the changes isn't easy for consumers or business owners. Fortunately, some brands found the perfect marketing mix. Emulate what they do and you're likely to find success moving forward in a post-pandemic world.
1. Consider Regulations
Businesses scrambled to adapt to the pandemic. Many focused on marketing the products and services people were most likely to need during a difficult time. However, a few unscrupulous players used the crisis to try to sell more items. Even if you didn't mean to take advantage, you might have believed your product would build immunity and said so. However, if those claims are unproven, you can get into trouble with regulating agencies.
Claims about unproven cures for COVID-19 and the push to use people's fears to make a profit caught the attention of regulators. The Federal Trade Commission (FTC) and the Food and Drug Administration (FDA) have already sent warnings to businesses in multiple states that tried to trick vulnerable customers or price gouge on things such as toilet paper.
Amazon became a hotbed of people looking to profit from other people's misery. The New York Times reported one seller listed N95 face masks for nearly $4,000, while a small store in Massachusetts sold milk for $10 per gallon. Don't fall into the trap of greed. Instead, be fair with your community and your customers. They'll remember who gouged them. You'll also be able to point out later how you've always been there for your customers, bringing them what they need at a fair price.
Plus, when times are hard, do you really want to profit unfairly off the disadvantages others face? Think through the impact such actions have on your brand image for the long-term.
2. Upgrade Your E-Commerce Store
One thing most marketers have pushed during the pandemic is no-contact shopping. You've likely increased your promotional efforts and driven customers to your online shop rather than encouraging as many in-person transactions. Some locations have seen massive drops in foot traffic. To make up for a lack of shoppers in stores, many smaller brands ramped up their online offers.
Some businesses weren't yet online when the pandemic struck. Others had an internet presence but weren't ready to scale up operations or handle the resulting traffic. One way to handle the additional traffic is seeking an integrated solution combining systems you already have with your online shopping platform. Inventory control is one of the biggest advantages of a more streamlined process.
Also, think of ways you can improve the customer experience online. Add 360-degree videos so consumers can see the item just as they would in a store. Expand your product descriptions. Add reviews to your site and encourage those who've purchased from you to share their thoughts. Anything you can do to enhance the UX of your e-commerce site benefits shoppers who don't want to get out in-person.
Aldi is a grocery store chain known for their self-service models. You pay a quarter for your shopping cart and get your money back when you return it to the corral. You bag your own groceries and even bring or buy your own bags. However, the pandemic forced them to rethink their business model. They are now offering curbside pickup.
The change forced them to upgrade their website to allow for online shopping. They had to integrate their inventory, employee efforts and the online system for a seamless experience. They also needed the ability to scale up as the demand for curbside pickup grows.
An integrated solution works well for retailers who didn't utilize the advantages of apps and curbside pickup before the pandemic. The world has changed. Even when the threat of COVID disappears, shoppers now understand how convenient shopping online and picking up curbside is. They will likely want more omnichannel solutions in the future.
3. Embrace Creative Solutions
You may have had some marketing campaigns already in the works when COVID hit. Unfortunately, companies running ads with large crowds or family gatherings were seen as insensitive. It's best to pull any planned ads and find creative ways to market your brand. Think about the emotions people might feel in the coming months as typical family get-togethers are canceled or reduced in number.
Seek out inexpensive marketing solutions, such as referral programs and team sponsorships. If your business's revenue is reduced. you'll need to find cheaper alternatives to expensive glossy ads.
Review any pre-planned marketing and decide if it is still appropriate. You might have an ad showing a large gathering at a wedding, which seems a bit uncaring right now. If anything is questionable, nix it and replace it with something more sensitive to what citizens deal with daily.
How are some of the world's most recognizable companies re-envisioning their advertising?
Check out this YouTube video.
4. Informing Customers of Process Changes
The world is so different than it was even a year ago. When you go to a brick-and-mortar store, you usually wear a mask. Tables in eateries are spread out farther. Store hours might be reduced. Even the way employees do their jobs is different.
Other stores offer pickup and delivery options they didn't have before. Customers might feel unsure about where to go and what the new process is. You want to utilize things such as signage to show where clients should go and what you're doing to keep them safe. Add notes to your website informing customers of procedure changes, hours you're open and how to behave while in the store to keep them and workers virus-free.
A banner is best in front of your store showing where to park for pickup orders and outlining the process, such as calling and telling what numbered slot you're in. Add floor decals to show where to stand in line for appropriate spacing. Signs on the front windows inform users what steps you're taking to keep them safe.
The Home Depot offers curbside pickup. When you arrive at their stores, everything is clearly labeled, so you can find where to go and pick up your order. Their website also clearly shows the process to download the app, shop and pick up your purchase.
Think through the information your clients need to process the changes you've implemented. The more intuitive the process, the better their overall experience. People are having enough stress with all the changes in the world, so look for ways to make life easier on them, no matter how small the effort.
5. Become Essential to Your Customers
Consumer spending habits have changed. Some people are laid off from work, while others worry they might be soon. The panicked buying in the second quarter of 2020 led to shortages of toilet paper, sanitizer spray and a few food items. The psychological impact of people going through stores and seeing empty shelves was powerful.
People shifted the way they spend their money, turning to stockpiling essentials and preparing for a potential second wave of coronavirus or another pandemic. They focused on home improvement projects and paying down debt. The way people spend their money has fundamentally changed for a big segment of the population as they prepare for a different future than the one they expected.
If you don't sell an essential product or service, you have to figure out how you fit into your customers' new budgets. How can you make yourself more essential? Why would they spend hard-earned money with you when they could throw it toward paying off a car or their home? Your marketing strategies must show you understand their desire to be more frugal while still laying out why you are an important part of their well-being.
6. Develop New Products
Should you create new products to meet the new reality of life in 2020? Think about some of the brands you know of that shifted their production to meet needs. One example is My Pillow, which shifted to making some masks when there was a shortage. They still sell the masks and make a profit on them, but they didn't make this product before. The addition was a direct response to the need.
Other companies, such as General Motors, made respirators or other personal protective equipment (PPE) for first responders. Although it may not have been their first choice to shift their production to this method, doing so bought them goodwill from the people. Similar to the changes during World War I and II, companies all over the country shifted their manufacturing to meet new needs.
Even though the country is opening back up in places, the need for PPE and items that weren't as popular before continues. Look at what you offer and whether you can add anything different to match the new attitudes of your core audience. Remember that people are more focused on family, home and finances.
Hotel Tango normally bottles vodka, but as they saw the need for hand sanitizer rise and people battling to find even a small bottle, they quickly shifted their small distillery into a hand sanitizing production operation. Small distilleries all across the country stepped up and met the demand, even giving out free bottles to first responders in their areas.
What need does the country have that isn't being met because of the pandemic? It can really be anything you have the ability to help with, whether you sew face masks or offer free meals to local children whose parents are out of work. Think about how you can make a difference.
While your goal shouldn't be for the publicity, don't be afraid to share with the world what you're doing to help others. A little bit of word-of-mouth marketing goes a long way. Your local customers will see how you've stepped up to meet the needs of those around you and will be more likely to buy from you rather than your competitors in the future.
7. Expand Your Marketing Department
In a recent Forbes article, writer John Hall pointed out that during most crises, the marketing department is the first to get cut. However, the pandemic forced people indoors. As they work and play at home, internet usage is up as much as 70%. The need for a marketing team with an understanding of online promotions is a vital part of surviving the pandemic.
Instead of cutting your marketing staff, shift their focus to online promotions. Look for ways to reach your customer base without hosting in-person events. Have your marketing and sales departments team up. Pay attention to the ways customers spend money now and predict how it might change in the future.
Look for unique ways to team up with influencers and others in the community in a limited capacity. Since you can't host big gatherings, hold an online conference. Invite a local celebrity to give a talk and upload it to your YouTube channel. Build your audience digitally, so you can continue reaching out via email and direct messaging even when customers don't come into your store physically.
Better Focus
One thing about the pandemic is that marketing departments everywhere must focus more on what really matters to people. Authenticity and genuine caring make a huge difference. Pay attention to what customers want and need and you'll come out ahead of your competition and better positioned for the future.
What marketing strategies did you deploy during the pandemic? Post a comment below and let us know.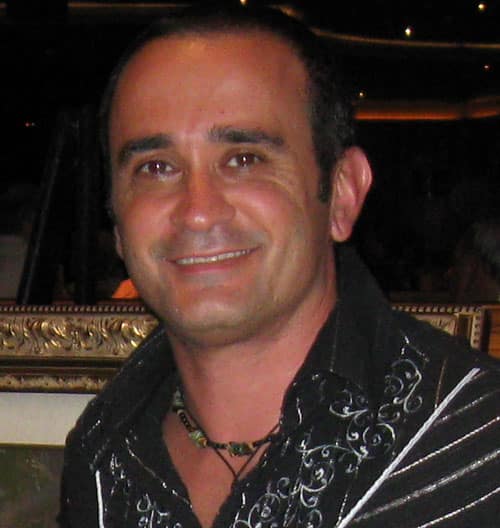 Author Bio
Angelo Frisina is a highly experienced author and digital marketing expert with over two decades of experience in the field. He specializes in web design, app development, SEO, and blockchain technologies.
Angelo's extensive knowledge of these areas has led to the creation of several numerous award winning websites and mobile applications, as well as the implementation of effective digital marketing strategies for a wide range of clients.
Angelo is also a respected consultant, sharing his insights and expertise through various podcasts and online digital marketing resources.
With a passion for staying up-to-date with the latest trends and developments in the digital world, Angelo is a valuable asset to any organization looking to stay ahead in the digital landscape.