Why Google Classroom?
As people of all professions continue to adjust to the new post-Covid-19 reality, there is one group of people that have had to make exceptional changes to their work and professional methodologies: teachers. Adjusting to the online model of teaching has proven to be difficult. Luckily, there are a number of great resources at the disposals for teachers, including Google Classroom. This virtual teaching tool gives teachers the ability to integrate Google Docs, Google Mail and Google Calendar all into one universal platform.
How to Manage your Classroom
Managing a classroom is hard enough in person, but there is a unique set of challenges when managing one online. Through the utilization of Google Meet, an application within the virtual classroom that allows teachers to hold live lessons, students are able to experience a mock-up experience of being in class.
 Setting up a Google Meet 
Setting up a Google Classroom meeting is one of the most important features to master. Getting started with a Google Meet is quite easy. You can set-up a meeting by going to:
class> Settings>General>Generate link
Your meeting will automatically generate. You should be able to assign a specific time, meeting code and other features when creating a meeting. Also, a copyable link will be given to you that is easy integrated into your classroom for easy access for students.
 Managing Students on Google Classroom 
Just like in a traditional classroom, online classrooms require a great deal of managing and organization. Luckily, you can assign individual actions to each student, or to your entire class, through utilizing the features of Google Meet. Teachers have the option to mute, remove or email students. This feature is especially helpful while trying to manage students that are unfamiliar with the online learning landscape. Students may struggle with forgetting to turn their microphone off, leaving their camera on, or needed extra assistance to manage the technology. Teachers also have the option to allow or disable posts and comments on assignments or videos. This is an easy way to filter student voice, yet allow discussion when appropriate. These features can be found under settings in your Google Classroom.
Ways to Help Students Navigate Virtual Classrooms
A primary function of any classroom is the ability to assist students who are struggling to adapt. Luckily, many of the problems that students face can be easily solved. By predicting ahead of times possible problems spots for pupils allows educators to run a more efficient learning environment.
FAQ From Students 
Frequently asked questions from students include:
Is there a Classroom app for my phone or tablet?

Yes. This app can be found within the App Store and operates in conjunction with the Google Suites app.

How do I access the classroom?

Teachers will either send you a link, a classroom code, or an invite via email. Students are expected to use a gmail account to access most G-suite applications. This account will be set-up under the school's domain and given to the student. These accounts are free to make and involve many helpful classroom tools.

How do I view assignments as a student?

When you sign into your Google Classroom, click on the class you are searching for. By selecting the tab labeled, 'assignments'. This tab will have your assignment details, upload specifications, and other instructions that are necessary.
 Easiest Uploads for Students 
When choosing the best format to have students upload assignments in, there are a few factors to take into account. Typically, the G-suite application, Google Docs, is the best and easiest way to have students upload written assignments. Google Docs also allows for students to collaborate on documents together, and upload one document for group work. Not only that, but students can also upload assignments in the form of videos, discussion posts, and photos. This allows for a multitude of assignments to be managed and easily navigated.
 Can Parents See the Virtual Classroom?
In the world of confusing technology, teachers, and in particular primary educators, are finding that parent involvement is necessary for a functional classroom. But for many parents, virtual classrooms are also a daunting and difficult skill to learn. Fortunately for all, Google Classroom was designed with this in mind. Teachers are given a range of freedom in deciding how much to include their students' parents. In addition, parents have many resources available to them to learn how to use Google Classroom and check in on their child's progress.
Here is a great Parents Guide to Google Classroom in 2020


Should Parents Have Access? 
Within the Google Classroom set-up, teachers can send out daily or weekly reports with a summary of the student's work. Since parents and guardians are legally in charge, Google gives them what they call 'Guardian Access'. This feature allows parents to view and see grades, and receive notifications regarding missing and upcoming work. Many parents find this to be satisfying for them. Teachers are also given peace of mind that their parents are in the know and understand the classroom function, without having the ability to complete their child's work for them.
How to Involve Parents 
By granting guardian access to the parents, teachers can rest assured that the parents in their classroom are involved. Additionally, parents can be involved more in online learning through open communication and clear expectations. Setting up a meeting with each parent and going over classroom etiquette and how to manage their child's time in regards to education, is particularly helpful. Parents can be a helpful resource in managing students and helping them receive a quality education. After all, we are all in this together!
Helpful Features of Google Classroom 
There are many features that are very helpful within Google Classroom. In particular, Google Calendar is a great way to help your students manage their meetings, while also staying organized. As previously mentioned, Google Docs is another helpful tool that educators find to be important. Also, Google allows for countless third-party apps to aid in the teaching process. This include Quizlet and even KhanAcademy. Struggling students have an abundant of resources to work with if they are properly given the tools.
Pros of Google Calendar 
Google Calendar is one of the most valued additions to any Google Classroom. Teachers can link Google Meets, and other assignments deadlines to the calendars of students and parents alike. If teachers are attempting to schedule a one-on-one meeting, students can synch up to their educator's calendar and see where there is availability in their schedules. Organization is key! A classroom that is on schedule and easy to navigate is helpful for everyone.
Setting up Google Classroom on Your Phone 
Best of all, Google Classroom can is accessible through phone apps. This way, assignments, grading and other key features can all be available on the go.
Teachers can set up their Google Classroom through the mobile App Store. After downloading the Google Classroom App, accessing a classroom is as easy as signing in and selecting the class at hand. This way, teachers can best utilize their time and can work on assignments and manage students from any location.
Making Google Classroom more Fun!
Just because school is online, does not mean that learning has to be boring. With the use of apps, good practices, and planning ahead, teachers and students alike can find enjoyment through online learning. Whether it's a dance break over Google Meet, allowing students to go into breakout rooms to socialize and share ideas, or incorporating fun games into the classroom, there is nothing better than a little breather. Some teachers even find that adding extra breaks and showing videos can improve attention spans.
Breakout Rooms, Backgrounds and Being Patient
Breakout rooms are a great way involve student socialization, and also given teachers a chance to catch a breath. Teachers have the ability to pose questions, and then to put students in various 'rooms' where they can chat and discuss. Then, educators can either view all breakout rooms through a tile format, or view individual rooms though a tab format. There is no limit of threads, students can discuss ideas, brainstorm topics for research, grow their pool of ideas, and share writing tips.
These rooms can even have customizable backgrounds and nicknames. There is even the ability to play videos throughout each room, and simulate a real classroom experience. For example, if a teacher assigns a group project, they can ensure that their students are on-task by stopping by each room and answering any questions. While students adjust to the online landscape, patience can play a huge role in having a positive relationship with students.
How to Problem Solve Google Classroom
A key component to running a successful and efficient online classroom is the ability to quickly problem solve. Through educating oneself on the specifics of each lesson beforehand, assigning breakout rooms prior to the start of the lesson, and creating calendars in advance, there is more time to actually teach the material. Additionally, there are many helpful guides, YouTube videos, and experts who are at the disposal of the hardworking teachers who are making this change. Parents, students, and teachers are all in the same boat.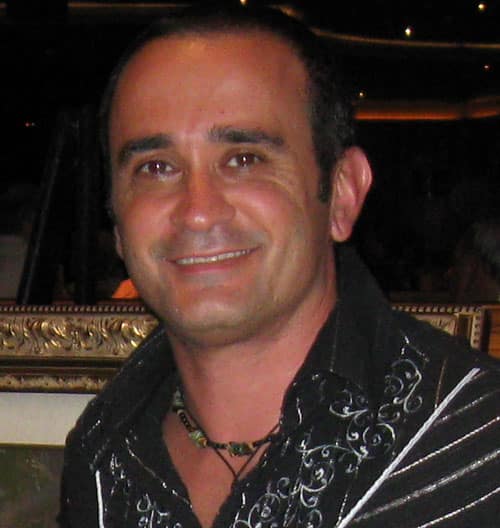 Author Bio
Angelo Frisina is a highly experienced author and digital marketing expert with over two decades of experience in the field. He specializes in web design, app development, SEO, and blockchain technologies.
Angelo's extensive knowledge of these areas has led to the creation of several numerous award winning websites and mobile applications, as well as the implementation of effective digital marketing strategies for a wide range of clients.
Angelo is also a respected consultant, sharing his insights and expertise through various podcasts and online digital marketing resources.
With a passion for staying up-to-date with the latest trends and developments in the digital world, Angelo is a valuable asset to any organization looking to stay ahead in the digital landscape.