The simplicity and responsiveness of using Bootstrap 4 are useful for mobile and web developers to create better designs and layouts. This article will go into depth on designing a simple navigation bar with Bootstrap 4. Along with navigation, design templates offer vast customization options for developers for features like typography, navigation, tables, and forms. It also enables users with adjustments in buttons, modals, and media slideshows. Designers using Bootstrap will improve the functionality of their mobile and web applications through enhanced design and Bootstrap compatibility.
Bootstrap 4 Defined
The Bootstrap tool is a design for web application development. The technological device refers to a "front-end framework," but it also refers to as a "CSS Framework." Comprised of pre-written codes, the tool assists in the development of standard files and folders. It is essential for programmers and developers as a foundation for UI and HTML designs and layouts.
Bootstrap simplifies the design process by organizing website elements. Also, framework designs are compatible with JS, CSS, and HTML digital applications. These mobile applications are easier to access due to the availability of design templates. The templates are useful because they include UI features and allow additional mobile features like dropdown menus, style forms, and alerts to web applications. Additionally, Bootstrap models are user friendly to operate and are easy maintenance.
Bootstrap Designing Features
To elaborate, Bootstrap is a powerful tool for mobile web development because of its various features. First off, the application features an open-source program. The availability of Bootstrap and its free versions differentiates the program for alternative web application development tools. Second, the bootstrap module is friendly to most web browsers. This flexibility equates to developers having more control over the web development projects through various online platforms. Thirdly, the compatible and straightforward interface results in more responsive and creative designs. In combination, Bootstrap enables developers with a convenient program for layout styles without the stress of laggy and error-filled programming.
Simple Bootstrap  Components
To better define Bootstrap, it is essential to overview its key features. Components include a "scaffolding" feature vital for programmers. The application enables users to snap objects to grids on template layouts. When designing a simple navigation bar with Bootstrap 4, the navigation bar would be an object programmed or grid adjustable.   In regards to better designs, this grid system works well for background and style creations. It allows a better fit for multiple browsers and allows more creativity from developers when adjusting layouts. Another component, "JS Plugins," is also vital for the development of mobile web development.
Through JS and jQuery extensions, more design additions are available for developers. Just as a note, "jQuery" cooperates with multiple Javascript functions for mobile web development. Additionally, The plugin uses "prototype objects" for advanced design abilities. To explain, the "prototype object" enables users to attach additional functions or design properties for better web site design. As another essential component, users may express high-levels of creativity to frameworks with advanced customization options. Moreover, the frameworks and style templates contain CSS files that work well with the Bootstrap program.
Styles and Layouts with Bootstrap 4
Layouts included within Bootstrap are "fluid" and "fixed" designs. The format styles are different from one another for various mobile and web developing needs. For example, the Fluid format is associated with improving the app development process. The interface with Fluid layouts utilizes the full screen of an application. Depending on browser dimensions, the Fluid composition should be adjusted to multiple browsers. In contrast, the Fixed design requires deployment on the recommended default dimensions.
The differences between the two are a faster and easier setup for fixed layouts. In comparison, this style needs user attention when adjusting to multiple online browsers. Both choices use the grid system in Bootstrap with page columns and UI class organization. The grid classes breakdown into four different classes. In Bootstrap, grid classes include LG, MD, SM, and XS. In terms of pixels wide, most grid layouts form from device screen size. For instance, the "xs" grid class would best be implemented for a  phone interface. To continue, an "sm" grid class may best fit a tablet device. Furthermore, "md" and "lg" may best suit laptops and desktop interfaces.
Updates for Bootstrap 4
Originally, Bootstrap was produced in 2010 as a "Twitter Blueprint." The Bootstrap services remain to assist developers with style guides. Optional stylesheets, as well as faster web development features, appear on the prior Bootstrap 3 update. Presently, Bootstrap 4 is the current version of Bootstrap 3 that is now available for mobile app designers and web developers. The updated changes include improvements in font styles, grid systems, navigation systems, media objects, tables, buttons, and button groups. Other updated features are forms, input groups, list groups, drop-downs, typography, panels, thumbnails,  wells, and pagination.
SASS
More specifically, significant update changes include CSS files consistent with SASS.  The extension refers to "Syntactically Awesome Style Sheets" and enables more organization for the developers. Unlike Bootstrap's "LESS" process, the SASS format offers users additional control over inline imports, nested rules, and variables for designing mobile and web applications. Moreover, SASS extensions expand tools such as class extensions, mix-in's, queries, loops, and logical command keys to better support organization and design sharing for user projects.
Flexbot
Different from Bootstrap 3, Bootstrap 4 includes a better layout mode. The layout mode is called "Flexbot," which is CSS compatible. For user convenience, the update ensures smoother processes of style tasks. Mobile and web developers will make a better transition from item alignment, advanced layout settings, and detail item organization than from previous Bootstrap updates. The module works within a layout container for better content formatting. Within the extension, users apply the configurations within the container to provide guidelines for margins that adapt to different screen displays. This feature correlates with responsiveness and determines how the Bootstrap grid system behaves.
Navigation Bar Defined
From Bootstrap, various customizable options are accessible for developers. When designing a simple navigation bar with Bootstrap 4, it is essential to understand the functions of the "NavBar" and its importance for application development. Along with other site styles and layouts, a navigation bar undergoes various forms too. For the most part, a navigation bar provides links on the web or mobile pages to better direct mobile users. Included within a navigation bar may consist of header tags, brand logos, and informational texts and are usually positioned before the primary landing site.
Basics of Navigation Bars on Bootstrap 4
Depending on interface width, the Bootstrap navigation bar expands and collapses on user screens. Standard NavBar's are easy to program and are responsible for the intended user. Initially, developers may use the ".navbar" sequence to create the navigation bar. Then, a ".navbar-expand" code may enable a quick collapse of the crated "Navbar" class. Next, the expand tool offer options, such as extra-large, large medium, and small when using the collapse sequence.  Also, the navigation bar may change branding, labeling, toggling, and transparency options for better user experience. Additionally, developers may configure a variety of toggle buttons for mobile devices to raise functionality for users.
For demonstration, a ".navbar-toggle" code would prepare the feature on Bootstrap. An essential modifier is also provided for developers for navigation bar transparency options. In more detail, developers may scroll through customization options and then navigate over to a colors tab. Next, open another tab with the label "Navigation" and adjust the background settings.
Common NavBar Errors
As a precaution, Navigation bar development on Bootstrap 4 requires careful examination when handling. Most text and tag removal is permanent and will require another Bootstrap installation to restore default settings. Additionally, the placement of tags is essential for accurate programming and prevents unwanted errors. The HTML is sensitive and is built to support "normalize functions" that create compatibility for cross web and mobile browser styles. As a reminder, default style sheets consist of various CSS, JavaScript, and HTML bundles that provide the framework for the Bootstrap extension.
Bootstrap Navigation Bar Setup
Primarily, the bootstrap must be downloaded and installed onto the developer computer.
Setting up Bootstrap
The free version, BootstrapCDN, is available for quick starting Bootstrap. Then, administrators require a direct duplicate copy of the stylesheet link. The clone inserts inside the initial "head" tag.
The second phase addresses users to insert a script. The order follows as Popper.js, jQuery, and Javascript plugins from the Bootstrap given list. Importantly, the new text should be added before the "body" tag for the component to function appropriately.
With the open-source link and correct script sequence attached an HTML5 updated document type, the text should appear as follow.
Creating a NavBar in Bootstrap
Then, run the website with the Bootstrap extension. Head over to Bootstrap's component elements within the website templates list. From the components section, a tab called "NavsBar" should appear. As a side note, a "Navs" bar differs from a NavsBar" because it refers to elements within the navigation bar. The information and procedures should be listed on the Bootstrap web page along with a "copy" link for the Navigation Bar template. Copy the Bootstrap Navigation Bar sequence and paste it into website HTML text.
Understanding NavBar Text in Bootstrap
As a security measure, the posted "NavBar" link should start with a "Nav" selector indication and end with a "Nav" indicator. This ensures that the copy contains the correct values needed for designing a simple navigation bar with bootstrap 4. Similarly, other "a," "button," and "div" tags consist of a beginning and ending tags for easier identification and accurate programming.
Within the NavBar text wrap, developers may begin to customize the style of their Navigation bar. Users must first identify the "a" tag. This particular tag is a link with a  removable "NavBar" text. This particular text encodes inside the tag. Once the text removes from the tag, replace the text with the name of the developer web or mobile site. Next, users may identify the "type: button" text directly within the "button" tag. Usually, this text refers to an icon that offers users to examine their navigation bar once the screen reaches a specific minimized width.
Immediately after, developers may scroll to the "div" tags. These tags are modifiers for the Navigation Bar that enables users to navigate through different web pages. Within the "Div" tag is a set of "form" tags. More specifically, a "form" tag embeds with a search bar on a website to offer users better accessibility to another webpage on a mobile or web application.
Designing the Navigation Bar in Bootstrap 4
To continue, the "div" tags from Bootstrap's navigation bar template link divides navigation tabs with a "li" tag. To design additional navigational tabs, developers may copy the first set of "li's" within the "divs" tags and paste it directly under each other. Within the same "li" set, web developers can identify and remove labels with "Span," along with "active" indicators above the given sequence, to create consistent font formatting between all navigational tabs. Also, similar applicable functions for the "dropdown" menu assist users with customization on tabs provided within the Bootstrap navigation bar template. Finally, color options are easily interchangeable with adjustments to the "divs" tags "Navbar" and "bg" tags.
Additional Navbar Design Features
The variety of navigational bar customizations depends on mobile and web developers' creativity. Adding and editing texts within Bootstrap is simple and requires general code pre-sequence text and correct placement for proper implementation. For instance, add extra classes by inserting functions such as ".Nav-header," ".nav-pills," or ".nav-tabs" to the correct regions of the "div" tag.
Summary
In summary, designing a simple Navigation Bar in Bootstrap 4 will allow developers better access to application sites. For the purpose of higher responsiveness, developers should configure the navigational bars with headers, dropdown menus, and creative styles to engage more site visitors to their content. Especially for mobile users, the navigational bar view requires additional attention to detail when adjusting collapse and expand features to work correctly on different user interfaces.
With Bootstrap, developers may configure websites with simplicity and creativity when designing applications while elevating user experience on the websites.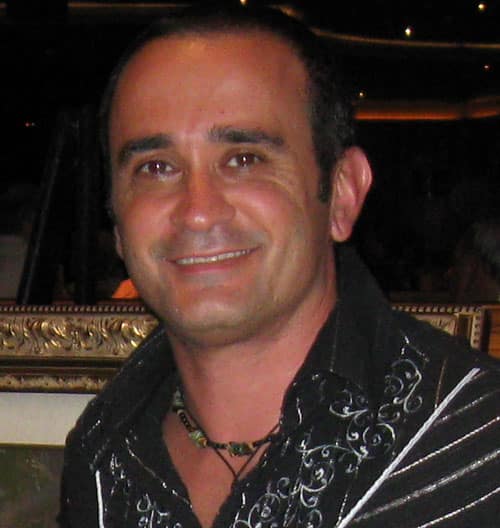 Author Bio
Angelo Frisina is a highly experienced author and digital marketing expert with over two decades of experience in the field. He specializes in web design, app development, SEO, and blockchain technologies.
Angelo's extensive knowledge of these areas has led to the creation of several numerous award winning websites and mobile applications, as well as the implementation of effective digital marketing strategies for a wide range of clients.
Angelo is also a respected consultant, sharing his insights and expertise through various podcasts and online digital marketing resources.
With a passion for staying up-to-date with the latest trends and developments in the digital world, Angelo is a valuable asset to any organization looking to stay ahead in the digital landscape.