It's common for women of all ages to carry pepper spray or even learn martial arts for self-defense purposes. But even then, we are always on edge while walking down a dark, secluded ally at night. It explains why most people prefer to go with a friend who can accompany them on their trip back home.
Then again, having someone to go with isn't a practical way to go about things. When friends are unavailable, you have to cross the road or ride the subway alone. It alarms our instinct, and we are unable to brush off that tingling sensation in the gut.
What if I told you that your daily commute can be just as safe as when you're with someone? It sounds pretty unbelievable, but with the Noonlight app, you can feel safe whether you're going to work, taking a walk back home, in the park, or a dinky, close neighborhood. The app tracks your movements and alerts the authorities if you're in danger.
The Noonlight app was released in 2013 by the Noonlight Company. Its primary target audience is college students who face safety issues on their commute.
After noticing how most women on the St. Louis campus felt unsafe and scared walking around at night, engineer Zach Winkler and his team decided the world needed an efficient and easier way to ask for help. It resulted in the birth of SafeTrek.
However, in 2019, SafeTrek underwent changes to meet the world's current digital needs. Alongside changes in its interface, the brand decided to change its name to 'Noonlight,' which better reflects their offered services. Here, I've added my review of the Noonlight alongside its pros, cons, and key features:
SafeTrek Revamped
In the summer of 2018, the developers of SafeTrek revamped their popular app and renamed it "Noonlight," transformed with a sleeker user interface.
Noonlight is an emergency mobile platform equipped to handle all types of emergency situations. From satisfying the security  needs of individuals to even their houses, Noonlight has progressed a long way from its 2013 release.
The app instantly connects the user to a non automated dispatcher, who relays the user's location to the police.
This practical app has answered over 50,000 emergencies across the country and has protected over 1 million mobile users since its establishment in 2013.
To continue using Noonlight's valuable services after the one-month trial period, users must pay a small subscription fee of $2.99 per month. Noonlight's services are available for download on both the App Store and Google Play.
You may have seen the mobile app's popular YouTube advertisement, which perfectly illustrates how the app functions in a real-life scenario.
The video accurately captures the reality of many of Noonlight's users, who are primarily a female audience who are in uncomfortable situations with a suspicious individual.
The most common instances of using Noonlight is when users are paying for popular transportation services such as Uber and Lyft. In addition, many of these transactions are made late at night, which can create alarming safety issues for typically female customers.
Therefore, Noonlight is a relevant tool that responds to the needs of today's generation.
Using Noonlight
Here's an overview of how Noonlight works:
If you believe you're in danger, you can manually trigger the alarm using the Noonlight button. This way, Noonlight instantly receives your call for help. Along with valuable information about your surroundings, the user's location is collated and shared with local authorities so that they can send forces someone to help immediately.
Once you're out of the threatened zone and feel safe, you may release the Noonlight Button and enter your four-digit PIN to cancel the alarm. This notification is then sent to authorities. If you don't enter the PIN, Noonlight officials consider it an SOS signal and start monitoring your location.
Noonlight also allows you to connect the app with smart devices. These devices help trigger an alarm if you're unable to. For instance, you can connect Noonlight with your smart home cameras, wearable devices, and smoke detectors. This way, Noonlight uses the connected devices to determine whether you're in danger and automatically sends help.
Whether you decide to trigger Noonlight's manual alarm or connect smart devices to ensure safety 24/7, the app claims to collect highly accurate location data from your devices. The app shares this information alongside your profile information with emergency responders.
Compatibility
The Noonlight app is compatible with Android, as well as iPhone. You can check the compatibility of Noonlight's app by visiting the Google Play store.
You can download and install Noonlight's app by visiting Google Play Store or Apple's App Store.
Customization
Although you can't customize Noonlight's alarms, you can select personal contacts you want to notify.
Noonlight notifications are received via the first responders. Keep in mind that Noonlight will not contact your emergency contacts when you trigger the alarm.
Security
Noonlight boasts a high-quality and effective web and mobile interface to offer immediate aid in case of any emergency. Noonlight's app is dedicated to ensuring you receive instant help when any connected device senses danger or the user clicks on the manual alarm.
The best part? The Noonlight network includes real humans instead of robots. The mobile app employs certified and professional dispatchers who quickly notify officials of your exact location when you raise the alarm. This dispatcher also sends out a text to check in on you.
Advanced Profile
In case of any emergency, Noonlight shares vital information about the user with first responders.
It includes your photo, age, contact information, location, and existing medical conditions to ensure you get the right help right away.
Safety Network
Noonlight understands that you'll want your close family members and friends to know about any existing emergency situation. With the Safety Network, you can integrate all your key contacts into the app. It allows your friends and family to check in on you if you're later, aren't responding to check-ins, and other concerning behaviors. The app, in turn, helps them pinpoint your exact location and send aid if necessary.
In addition to this, the Noonlight app allows you to add medical details. This data can be vital in specific emergencies.  A plus is that you can even connect the app with your Apple Health app to simplify the process.
In addition to this, the Noonlight app allows you to connect with the following apps:
Apple Watch
Google Home
Lyft
Taser Pulse+
Uber
Why Not Just Dial 911?
Many users wonder draw a comparison between this mobile emergency platform and simply dialing 911.
However, the company emphasizes that its services simply enhances the outdated technology of traditional public safety dispatchers. When calling 911, dispatchers have essentially no information regarding the user or their whereabouts other than a phone number.
While the increasing number of safety centers attempts to bridge this gap in communication, Noonlight offers a more dynamic alternative. Installing the tool as an application onto your smartphone is reassuring because the tool is easily accessible.
Personally, I feel more reassured knowing that a simple tap of the button will instantly send information regarding my location. In a situation of being trapped by an assailant, I could easily communicate for help without picking up the phone.
Arguably, many opponents of the app detract from its quality services, claiming that it is simpler to dial 911.
While this is certainly still an option, the Noonlight company defended the high relevance of their top-rating safety app. In response to an angry review regarding the subscription component of the app, the developers revealed the value of safety outside the app.
"The reality is that safety is not free. Everyone pays for 911's infrastructure each month when they pay their phone bill," the company replied curtly in response to criticism.
In my opinion, using an app to call for help is much more efficient. It saves users from the painful exchange of ambiguous addresses and cutoffs in communication in urgent times of need.
Knowing that the app's services is always available and can be accessed with a single swipe is much more convenient.
What Users are Saying about Noonlight
Since its latest release, the app has received over 5,000 App Store ratings with an impressive 4.6 rating. The majority of the app reviews are overwhelming positive.
According to the App Store, Noonlight is by far the most popular app for ensuring protection in unsafe circumstances. The app has gained traction among the female teenage and adult population who often feel vulnerable when they are alone.
Many users agreed with the app's usefulness especially when they are in the city at night or even home alone.  One commented, "I've been alone at night or even during the day and had cars full of guys stop and try talking to me, the list of uncomfortable interactions goes on and on. I feel like I will be using this app very shortly."
In fact, many claim that the app is a lifesaver and a "necessity."
Another interesting point that Noonlight users made is the app's reliability with the company's dispatch team. They were often pleasantly surprised that the dispatchers were a real team of caring humans.
One user highlighted that "after texting back I found out they have caring individuals working around the clock to make sure we are safe!" In my opinion, the fact that the SafeTrek company emphasizes their highly responsive team of humans is an attractive factor.
In times of emergency, I would feel assured if the receiver is a human and not an automated messaging system.
The Cost of Using Noonlight
Now, you can use Noonlight for free. In fact, the mobile app lets you choose between three pricing plans: primary, instant access, and total protection.
Basic
The basic plan allows you to use Noonlight without paying a single penny. With this plan, you can access several impressive features, including the Noonlight button, the Timeline feature, Advance Profile, and Safety Network.
The downside? Android users can only use the Noonlight button.
Instant Access
For an affordable price of $5, the Noonlight app allows you to enjoy syncing abilities with your Uber account, as well as your Lyft account. In addition, it also includes an iOS widget and an apple watch app.
Plus, you can use the 30-day free trial to explore its features and decide whether it matches your needs.
Total Protection
Last but not the least, Noonlight allows you to use the complete protection plan for $10 per month. With this plan, you can unlock both free perks, as well as Instant Access perks.
In addition to that, the app introduces Alexa skills, Google Home Services, and Noonlight's Crash Response. Here too, you can access a 30-days free trial to try out all its features.
What's disappointing is that the Instant Access and Total Protection plans are available only to iPhone users. So, if you're an Android user, you get nothing more than the Noonlight button.
Noonlight App Review
While Noonlight has undergone massive improvements over the years, the mobile platform still receives its share of criticism.
People still continue to question if Noonlight is enough to protect its user. I myself have used it and wish it had a video recording component that activates when you press the button.
This would create concrete documentation of your emergency. The app also should have a panic code, as most alarm systems do, in case you're being held under duress.
If the user was being forced to enter their safe pin in a dangerous situation, they could simply enter their duress code and the app would continue to silently record and track their movements as it contacted police.
A popular safety option on college campuses is the "blue light" security systems. This system consists of strategically placed towers across a college campus with blue lights that signal a help button.
Although 92% of college campuses have installed these systems, approximately 90% of the uses are prank or hang up calls. In theory, students can click the light at each tower as you travel across campus to track your location.
Since Noonlight is more comprehensive and accessible to students, college institutions could partner with Noonlight to respond effectively to emergencies.
Furthermore, a partnership could enable dispatchers to instantly notify the nearest campus police.
Students and faculty would have an on-hand emergency button at all times. This would decrease prank calls since each app is connected to a profile, allowing security to identify genuine criminal activity.
Conclusion
We can agree that the popular opinion that Noonlight should be a necessity for smartphone users. In many cases, having direct access to police and emergency services is quicker than contacting a friend.
Noonlight's quick and reliable response team is undeniably a game changer. The follow-up texts that users receive from dispatchers would also be comforting in times of distress.
While Noonlight admittedly has its privacy concerns and monetary fees, it is nevertheless an essential that comes highly recommended.
Although the app needs more room to improve and expand in order to maintain its huge following, Noonlight undeniably creates a smarter and more efficient way for Millennials to get access to emergency services in critical times of need.
Similar Apps to Noonlight
Life360: Unlike Noonlight, families and friends can use this mobile app to create a shared tracking system. Similar to Noonlight's blue trigger button, this app features an alert button that signals an emergency to the connected users. (Available on the App Store and Google Play)
React Mobile: Using this app, users can allow a selected list of contacts to track their GPS location at the press of a "Follow Me" button. To indicate imminent danger, the user can hit the "Help Me" button to alert contacts and notify emergency services. (Available on the App Store)
LifeLine: The app offers a very similar trigger button feature to Noonlight. LifeLine allows users to set a timer that will guard them for a preset time before notifying emergency services. The app also creates an emergency contact list of "LifeLines" to notify in the case of emergency. (Available on the App Store and Google Play)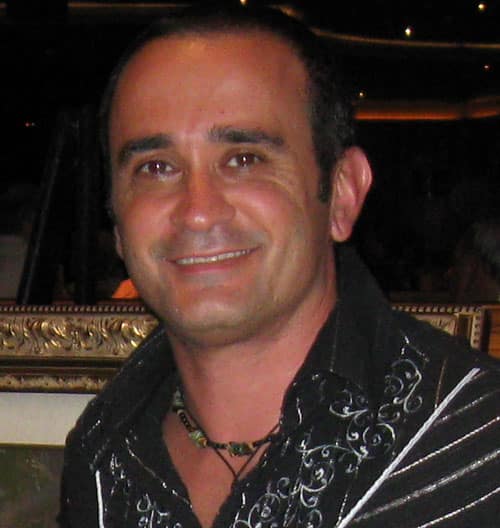 Author Bio
Angelo Frisina is a highly experienced author and digital marketing expert with over two decades of experience in the field. He specializes in web design, app development, SEO, and blockchain technologies.
Angelo's extensive knowledge of these areas has led to the creation of several numerous award winning websites and mobile applications, as well as the implementation of effective digital marketing strategies for a wide range of clients.
Angelo is also a respected consultant, sharing his insights and expertise through various podcasts and online digital marketing resources.
With a passion for staying up-to-date with the latest trends and developments in the digital world, Angelo is a valuable asset to any organization looking to stay ahead in the digital landscape.