My Noonlight Review
I dreamed of becoming a USC Trojan since I was fourteen years old.
I wanted to escape the frozen over rivers of Pittsburgh and migrate to the ocean piers of Los Angeles. After being accepted to USC, I received pepper spray from multiple friends and family members as a going away present.
This made me aware of the cautions that I would have to take to ensure my safety in south central Los Angeles.
As a 5'4" college woman, I often feel on edge walking alone. I am forced weekly to walk down Figueroa Street in the heart of Los Angeles from the USC campus to my apartment.
Although my instincts are often unsubstantiated, I cannot erase the tingling in my gut as I rush home each night. I recently discovered a mobile app, Noonlight, which helps me feel secure while making my daily commute.
The Noonlight company released the Noonlight app in 2013.
It was originally built with their target audience being college students to help them walk across campus without fear.
SafeTrek Revamped
In the summer of 2018, the developers of SafeTrek revamped their popular app and renamed it "Noonlight," transformed with a sleeker user interface.
Noonlight is an emergency mobile platform equipped to handle all types of emergency situations. From satisfying the security  needs of individuals to even their houses, Noonlight has progressed a long way from its 2013 release.
The app instantly connects the user to a non automated dispatcher, who relays the user's location to the police.
This practical app has answered over 50,000 emergencies across the country and has protected over 1 million mobile users since its establishment in 2013.
To continue using Noonlight's valuable services after the one-month trial period, users must pay a small subscription fee of $2.99 per month. Noonlight's services are available for download on both the App Store and Google Play.
You may have seen the mobile app's popular YouTube advertisement, which perfectly illustrates how the app functions in a real-life scenario.
The video accurately captures the reality of many of Noonlight's users, who are primarily a female audience who are in uncomfortable situations with a suspicious individual.
The most common instances of using Noonlight is when users are paying for popular transportation services such as Uber and Lyft. In addition, many of these transactions are made late at night, which can create alarming safety issues for typically female customers.
Therefore, Noonlight is a relevant tool that responds to the needs of today's generation.
App Development is great for marketing your brand. Searching for app development near me is  great way to find someone close by.
Contact us to learn more.
Using Noonlight
To operate, the app only requires your name and your phone number. The app prompts you to enter a four-digit pin number in case you decide to cancel an alarm.
Noonlight accesses Location Services in order to send your immediate location. For those with privacy concerns, users can opt to release their location only when the app is open.
Although its name may have changed, the app's functionality is the same: users signal an emergency using a blue trigger button. The user can hold the button as long as they feel unsafe or can tap it quickly, like a panic button, for instant help.
Noonlight's certified dispatchers notify police of your exact location when users release the trigger button. Within ten seconds, users can enter their 4-digit pin if they feel safe. Additionally, a dispatcher will contact you via text to check for your safety.
While Noonlight still serves its original purpose to protect its users in the face of emergency, the refurbished app also includes many other promising features.
For more immediate access, users can set the trigger button as an iPhone widget to save them from the hassle of unlocking their phone. Beyond the app's environment, Noonlight now offers simple integration with your other core home, health, or transportation-related apps and systems.
Automated home systems such as Alexa, Google Home, and Nest Protect can access Noonlight if your phone is out of reach. Your iPhone's Health app can immediately send your health profile to dispatchers.
When syncing Noonlight with Lyft, police will receive your driver's information when you release the trigger button en route.
The company is currently on track for releasing Noonlight integration for popular wearable devices such as Apple Watch.
Why Not Just Dial 911?
Many users wonder draw a comparison between this mobile emergency platform and simply dialing 911.
However, the company emphasizes that its services simply enhances the outdated technology of traditional public safety dispatchers. When calling 911, dispatchers have essentially no information regarding the user or their whereabouts other than a phone number.
While the increasing number of safety centers attempts to bridge this gap in communication, Noonlight offers a more dynamic alternative. Installing the tool as an application onto your smartphone is reassuring because the tool is easily accessible.
Personally, I feel more reassured knowing that a simple tap of the button will instantly send information regarding my location. In a situation of being trapped by an assailant, I could easily communicate for help without picking up the phone.
Arguably, many opponents of the app detract from its quality services, claiming that it is simpler to dial 911.
While this is certainly still an option, the Noonlight company defended the high relevance of their top-rating safety app. In response to an angry review regarding the subscription component of the app, the developers revealed the value of safety outside the app.
"The reality is that safety is not free. Everyone pays for 911's infrastructure each month when they pay their phone bill," the company replied curtly in response to criticism.
In my opinion, using an app to call for help is much more efficient. It saves users from the painful exchange of ambiguous addresses and cutoffs in communication in urgent times of need.
Knowing that the app's services is always available and can be accessed with a single swipe is much more convenient.
Reviews: What Users are Saying about Noonlight
Since its latest release, the app has received over 5,000 App Store ratings with an impressive 4.6 rating. The majority of the app reviews are overwhelming positive.
According to the App Store, Noonlight is by far the most popular app for ensuring protection in unsafe circumstances. The app has gained traction among the female teenage and adult population who often feel vulnerable when they are alone.
Many users agreed with the app's usefulness especially when they are in the city at night or even home alone.  One commented, "I've been alone at night or even during the day and had cars full of guys stop and try talking to me, the list of uncomfortable interactions goes on and on. I feel like I will be using this app very shortly."
In fact, many claim that the app is a lifesaver and a "necessity."
Another interesting point that Noonlight users made is the app's reliability with the company's dispatch team.
They were often pleasantly surprised that the dispatchers were a real team of caring humans.
One user highlighted that "after texting back I found out they have caring individuals working around the clock to make sure we are safe!" In my opinion, the fact that the SafeTrek company emphasizes their highly responsive team of humans is an attractive factor.
In times of emergency, I would feel assured if the receiver is a human and not an automated messaging system.
The Cost of Using Noonlight
The greatest criticism against Noonlight is that unlike most safety apps, Noonlight charges a monthly $2.99 fee to continue using their services.
Many critics argue that safety should be guaranteed and not have a price tag attached. Meanwhile, Noonlight's loyal users object that a small price of $3 is definitely worth it in the long run. One advocate for the app claims, "I have sent the link to this app to every female I know.
$3/month is worth that extra step to ensure safety." Seeing as Noonlight has received almost a perfect rating, it is safe to say that the majority do not mind the cost.
An additional issue surrounding Noonlight is the privacy concerns that the app raises.
Since the company receives private information like location or health, many critics express their doubt that all information is kept safe.
My Review of Noonlight
While Noonlight has undergone massive improvements over the years, the mobile platform still receives its share of criticism.
People still continue to question if Noonlight is enough to protect its user. I myself have used it and wish it had a video recording component that activates when you press the button.
This would create concrete documentation of your emergency. The app also should have a panic code, as most alarm systems do, in case you're being held under duress.
If the user was being forced to enter their safe pin in a dangerous situation, they could simply enter their duress code and the app would continue to silently record and track their movements as it contacted police.
A popular safety option on college campuses is the "blue light" security systems. This system consists of strategically placed towers across a college campus with blue lights that signal a help button.
Although 92% of college campuses have installed these systems, approximately 90% of the uses are prank or hang up calls. In theory, students can click the light at each tower as you travel across campus to track your location.
Since Noonlight is more comprehensive and accessible to students, college institutions could partner with Noonlight to respond effectively to emergencies.
Furthermore, a partnership could enable dispatchers to instantly notify the nearest campus police.
Students and faculty would have an on-hand emergency button at all times. This would decrease prank calls since each app is connected to a profile, allowing security to identify genuine criminal activity.
My Final Say on the App
Overall, I agree with the popular opinion that Noonlight should be a necessity for smartphone users. In many cases, having direct access to police and emergency services is quicker than contacting a friend.
Noonlight's quick and reliable response team is undeniably a game changer. The follow-up texts that users receive from dispatchers would also be comforting in times of distress.
As a female in Los Angeles, I constantly find myself relying on transport services like Uber. Often times, my Uber drivers are male. As it approaches the evening, I become more cautious about entering a stranger's vehicle and trusting them to take me safely to my destination.
Now that I have Noonlight installed, it brings me a greater peace of mind. Knowing that someone is instantly "by my side" at the tap of a blue button is a level of safety that any individual should have.
While Noonlight admittedly has its privacy concerns and monetary fees, it is nevertheless an essential that I would recommend to anyone.
Although the app displays more room to improve and expand in order to maintain its huge following, Noonlight undeniably creates a smarter and more efficient way for Millennials to get access to emergency services in critical times of need.
Similar Apps to Noonlight
Life360: Unlike Noonlight, families and friends can use this mobile app to create a shared tracking system. Similar to Noonlight's blue trigger button, this app features an alert button that signals an emergency to the connected users. (Available on the App Store and Google Play)
React Mobile: Using this app, users can allow a selected list of contacts to track their GPS location at the press of a "Follow Me" button. To indicate imminent danger, the user can hit the "Help Me" button to alert contacts and notify emergency services. (Available on the App Store)
LifeLine: The app offers a very similar trigger button feature to Noonlight. LifeLine allows users to set a timer that will guard them for a preset time before notifying emergency services. The app also creates an emergency contact list of "LifeLines" to notify in the case of emergency. (Available on the App Store and Google Play)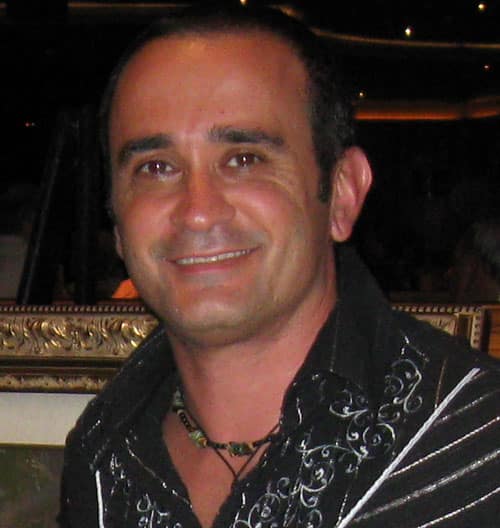 Author Bio
Angelo has been involved in the creative IT world for over 20 years. He built his first website back in 1998 using Dreamweaver, Flash and Photoshop. He expanded his knowledge and expertise by learning a wider range of programming skills, such as HTML/CSS, Flash ActionScript and XML.
Angelo completed formal training with the CIW (Certified Internet Webmasters) program in Sydney Australia, learning the core fundamentals of computer networking and how it relates to the infrastructure of the world wide web.
Apart from running Sunlight Media, Angelo enjoys writing informative content related to web & app development, digital marketing and other tech related topics.