There are thousands of web hosting services around the world. Squarespace and WordPress help you build your site. Cheaper alternatives like HostGator and iPage offer plans for less than a dollar per month. With so many different options, it can be confusing to know which one to choose. One thing you cannot take for granted is security. Whether you are just hosting a simple blog or running an e-commerce business, digital safety is key. Here's everything you need to know about choosing a secure platform.
1) No Service is Security Free
Even large tech companies like Facebook, Google, and Microsoft get routinely hacked. Although these stories make the headlines, the vast majority of data breaches occur on small to mid-sized businesses.
Hackers target these companies because they have lax security policies. They may also penetrate the network by directly hacking the web-hosting platform. Therefore, you need to take every security measure possible to cut both downtime and data loss.
Setting up a business can be a daunting task. MoneyBrighter provides excellent resources and information on setting up various business entities and tips on managing finances.
2) Reputation is Everything
All businesses try to minimize their overhead costs, and this makes cheaper services sound appealing. This is especially true for companies that don't need website building tools and have their own programmers.
However, many of these cheaper websites do not offer quality backend protection. They may not encrypt the information, or they may have vulnerable servers. Whatever the reason, it's essential that you do a little homework and check out a company's reputation. Beyond Google Reviews, there is a wide range of third-party sites that rank hosting services on everything from security to ease of use.
3) Secure Your Connection
In many cases, hacks occur not because the website had a security fault, but because users themselves lead hackers directly into the networks. Cybercriminals prey on unsecured internet connections. This allows them to see everything you do on the internet and even steal your login credentials.
For this reason, you need to protect yourself online by using a virtual private network. VPN encrypts and anonymizes your connections making them much safer against any digital threats. Be sure to use a VPN that focuses on security and not only uses AES-256 encryption technology, but also has other essential features like kill switches and a "no logs" policy.
4) Data Center Protection
Even if you do everything right, problems can happen at the data center where your website is stored. This can be anything from hurricanes and fires to power outages and more. You need to make certain that your data center of choice is safe from both digital and environmental threats.
Choose data centers located in areas not prone to natural disasters. Likewise, make sure the company follows a rigorous fail-safe protocol such as having power generators, surge protectors, and redundancy systems.
5) SSL Certificate
These days SSL certificates are a standard across the majority of popular websites. They are packets of information that facilitate a safe connection between web browsers and servers. When you see "HTTPS" next to the URL, it means a site has an SSL certificate. If you plan to collect credit card information and other personal details, they are essential. Without it, Google will make it very difficult and sometimes even impossible for users to visit your site.
Functionality is also key when it comes to SSL certificates. When choosing a web hosting service, check and see how easy it will be for your site to deploy a certificate. Your goal needs to be ensuring a painless end-to-end experience from your website to your users. Platforms that use tools like AutoInstall SSL create seamless experiences for everyone so you can have both security and convenience.
6) Secure Software
There is a reason why IT experts geek out over different operating systems because certain ones are more secure than others. All web hosting software rely on physical servers and operating systems that need to be properly maintained and updated. The choice of OS will significantly affect the type of security measures you can take as well as risks you may face. For the most part, web hosting services utilize Windows and Linux-based servers. There are many additional factors to consider, but this is an essential starting place. From here, some key questions to ask a web hosting service include:
How are software updates handled?
Does the company use auto or manual updates?
What experience do senior admins have?
What certifications do IT personnel have?
How often do you perform core updates?
Remember your number one priority is security. Be sure to also ask questions if you are unfamiliar with any terms. In general, Windows tends to be more vulnerable because it is much more broadly used than Linux. Also, remember that beyond the type of operating system a company uses, all software has potential security flaws. For example, WordPress has many great plugins used to increase your site's functionality. Plugins directly from WordPress are very secure, but do your research on third-party software. Each one you install will alter your security profile. Furthermore, make sure all apps and plug-ins are regularly updated with the latest script versions. You may also want to periodically check with your hosting service to see whether your site is safe from their end.
7) Backups
Backups are an essential component of web hosting security. So many potential scenarios may require you to have a solid backup to restore the system. This is worth doing not only in case your website gets hacked. There might be other types of unexpected events. For example, accidents do happen from time to time at data centers. Yahoo's Santa Clara Center lost nearly half its data in 2012 due to a squirrel munching on the power lines. That's not all; in 2014 an admin at Joyent accidentally wiped all the data from every single virtual server at their data center.
Hacks, accidents, and other unfortunate events can happen. So make sure to find a host with comprehensive disaster mitigation and restore policies. These should occur at the server level so you can get a complete restoration of your data. Check the service agreement and make sure backups are performed frequently. In addition, look into how they perform website restores to ensure it minimizes inconvenience to you.
8) Malware Scanning
Every web user needs to be on the lookout for malware. You likely use a scanner for your personal computer along with pop-up blockers and other tools to prevent malware from infecting your device. On a personal computer, these attacks can lead to issues like data theft or complete data erasure.
Malware can also damage servers. For this reason, your hosting company needs to run malware scans daily to prevent random crashes downing your site. Some better providers even offer account insolation to prevent malware from spreading from contaminated users. Check and see how often the platforms run malware scans and what they do to prevent data breaches.
9) DDoS Attack Prevention
DDoS attacks are something you hear about all the time. But what exactly are they? Distributed denial of service (DDoS) attacks occur when multiple systems overwhelm the resources or bandwidth of a targeted server. Generally, hackers use a collection of infected computers to flood a specific target. Think of like thousands of people all trying to rush and get service at a fast food counter all at the same time – except instead of real customers, it's bots trying to disrupt the system.
DDoS attacks affect even the largest servers, so it's essential for web hosting service providers to utilize a Content Delivery Network. Cloudflare is one of the most popular examples. These services allow sites to absorb attacks and transfer data faster, preventing them from getting knocked down. This is extremely important at the web hosting service level. It effectively allows for even smaller hosting companies to punch above their weight and have the resources they need to block these types of attacks.
10) Firewalls
Firewalls are another essential tool to boost security. By now, you might have noticed a general trend that the same tools you use to increase the security of your personal computer are even more important at the server level. At the data centers, firewalls are more than just software. They can even include physical devices solely dedicated to protecting networks from hostile traffic. Firewalls are essential in monitoring, controlling, and protecting data. They further include web application firewalls that focus on specific online uses directly. For example, the service may have a firewall focused solely on e-commerce transactions.
More often than not, firewall breaches occur because of configuration problems. Without proper configuration, malware can slip in and represent a threat to the entire system. It's helpful to ask about the company's rules. However, this may sound like a lot of technical jargon to you. Instead, focus on how often settings are reviewed and updated. Hackers have many tricks up their sleeves and constantly create new types of attacks. So system admins likewise need to be flexible and always ready to address whatever comes their way.
Bonus: Types of Hosting
There are three main types of hosting: dedicated, shared, and virtual private server. Dedicated servers are expensive, so if you're an SME, this is likely not an option. Most commonly, web service platforms offer shared services. These are the cheapest; however, they do have numerous security threats. For example, if somebody else's site is hacked, your information may become vulnerable as well. Alternatively, the platform could shut down the entire service until the problem has been fixed, which may result in a significant amount of downtime.
A solid middle ground between the security of dedicated hosting and the affordability of shared hosting is virtual private servers (VPS). This creates your own "mini server," which will insulate you against most cybersecurity threats. Best of all, it costs about the same as the shared hosting. You can find VPS for as little as $250 per year.
Larger businesses or those in which digital safety is the highest priority, like e-commerce platforms, should consider dedicated IP addresses. Dedicated servers give your business its own private server, which means there's no threat from another site contaminating yours. Likewise, should something happen to your site, the web hosting provider can respond to the problem extremely quickly, thus pushing downtime to an absolute minimum.
Finding the Best Web Hosting Service
Websites add so much value to a business. With them, you can reach massive audiences, sell your products or services, and create an authentic brand image for your company. Nonetheless, digital security is essential to all businesses. So take the time to choose a secure web hosting platform that offers a variety of safety measures. Finding the perfect web host takes time, but it's well worth the effort. Don't fall for promotions or gimmicks, but look at what services a company provides and examine their track record. Remember, even tech giants like Google and Facebook get hacked from time to time.
What's more important is the web host's response. Did they mitigate data loss? What about downtime? What new security measures did they put in place? Look for responsive companies that effectively and quickly handled threats.
Ultimately, digital safety is a two-way street. It doesn't matter if you use the most secure web hosting platform in the world if somebody breaks into the network connection from your end. For that reason, make sure to utilize a VPN – nordvpn.com. VPNs or virtual private networks encrypt network connections with the latest security technology. Not only this, they use additional tools from anonymizing your IP address to utilizing secure third-party servers that prevent hackers and other prying eyes from snooping on you. Here's a detailed review of NordVPN, based on real test results and findings.
Finally, if you're a small business move away from vulnerable shared connections and over to a virtual private server which significantly increases the safety and performance of your site. Larger businesses should even consider the benefits of their own dedicated servers, which offer the highest levels of security. Ultimately, through choosing the right web hosting service, protecting your connection with a VPN, and moving away from shared connections, you'll be able to create a secure website ensuring your business will thrive in the digital era.
Best Web Hosting Tools to Choose
You already understand why considering security plays an essential role. However, what kind of security should you use? There are a wide range of security and web hosting tools that you can choose from. We are going to help you come up with a decision, as we will mention the top web hosting tools to choose, from and their pros and cons.
Know that we have lined up these tools after careful research to ensure you can make a well informed decision. These tools will help you keep your sites safe and reap better digital benefits, better performance, and overall profits. Let us begin.
Following are the best web hosting tools you should choose from for your next web hosting needs.
Bluehost
Bluehost is one of the leading options for companies looking for web hosting options. It is best known for its professional services, affordable packages, and easy-to-use model. The tool comes with dedicated hosting and server and a VPN extension, providing maximum versatility.
The most prominent feature is that customers can stay with their current company and get all the hosting benefits from Bluehost.
The easy pricing structure and versatile functionality options are the leading reasons why these web hosting tools are essential. These two features make the tool an attractive option for those who wish to keep their services streamlined.
The best part is that Bluehost offers multiple packages with various service extensions. Users can switch to more advanced packages for a comparatively lower price on average. In addition, the renewal price is slightly higher than others.
Nonetheless, Bluehost is a great option for users new and old. They have options for everyone and you should check out Bluehost's site here for more information.
Pros
Affordable prices for everyone
WordPress recommendations
CDN-preintegrated
Cons
No free migrations
Different customer support as per package
Lower-level plans don't provide backup options.
The additional features on Bluehost provide a plethora of additional features to users. For example, it can help with PPC campaigns and SEO optimization. Migrating from the service costs $150 at least. In addition, users may need to deal with some up sales that annoy some owners. Their prices start from as low as $2.85 per month, depending on your chosen package.
A2 Hosting
A2 Hosting is a phenomenal choice for users that want server speed and wish to boost their operational efficiency. A2 Hosting has a changing price margin depending on how long you have been using the service. For instance, it can cost a bit more after the promotional period.
However, their services and solutions are still at a great price compared to other options. There are several reasons for this. For example, these plans come with unlimited email options. Users can send targeted or non-targeted emails using this feature without worrying about additional costs. Similarly, it also comes with additional WordPress hosting options for users.
The tool is also known for its clean User Interface, with easy-to-use options. It allows users with minimal to no experience to use A2 Hosting for their web hosting purposes. In addition, they have a powerful customer support team with tons of positive reviews.
However, the tool also has a few drawbacks that you should keep in mind. For example, the lowest package option does not include automatic backups. In addition, these package subscribers also do not get an unlimited storage feature (i.e. 100 GB).
Moreover, customers also need to invest in the Turbo Servers that deliver nearly 20x the speed of traditional, lower packages. Following are the pros and cons of A2 hosting:
Pros
Additional plug-ins for sites like WordPress
Customizable security options with all the features
Fast page load options
Cons
The uptime may not be as good as other hosting providers in the market.
Initial setup may be a challenge for newer users because of versatile options
There is a limit of 35 HTTP connections to the server
Thus, A2 hosting is more of a mid-range hosting option but has all the tools that you could need for your web hosting needs. In addition, the tool also has several free features that you would pay for otherwise. For example, you can choose server-side caching options and Turbo Page options that increase page loading speeds tremendously.
Site Ground
Site Ground is a web hosting service with over 20,000 different domains on it. It is because Site Ground is a highly dependable tool, which helps businesses grow in the best way possible. Site Ground offers versatile web hosting options for its users. For example, its enterprise and cloud hosting is the most popular among customers. They have scalable services, making them perfect for all sorts of companies.
Some users may find Site Ground a bit more expensive compared to other options in the industry. However, these higher prices are worth the investment. For example, additional features like industry-leading security, fast speeds, excellent customer support, and reliable uptime all make it special for customers.
Site Ground also provides several complementary features that users may have to pay for otherwise. For example, WordPress staging, unlimited email options, automated migration, and several others. The main highlight is the customizability of these plans. Site ground allows users to fine-tune their packages as per their wishes and make the most out of them.
Customers can also request them suitable features, infrastructure, and tailored changes. Interestingly, Site Ground also provides for Linux users. You can read all about their Linux Hosting and find more details.
Pros
Highly secure
Speedy and efficient system
Versatile features and options
Cons
A bit expensive for some users
No free domain options
Limited emails and sending timings.
Site Ground is still an optimal option for users who are okay with paying a bit higher for better quality services. They also have an efficient customer support service option that caters to all user needs efficiently. They can help you build a unique website, as per your requirements.
We interviewed a hosting expert on this topic.
Mihai Corbuleac, Senior IT Consultant at StratusPointIT
writes;
My favorite web hosting service is SiteGround because for about $20/month which is the regular price of the recommended hosting plan you will get the initial site transfer done for free, which is convenient especially for inexperienced webmasters, CDN, SSL encryption, daily backups, SSD storage, server monitoring, staging (for WordPress websites) etc. Also you can always use SiteGround coupon, and strike an even better deal on your subscription.

Bluehost is my least favorite hosting provider mainly because customers need to use a paid add-on to backup and restore. Also, novice webmasters have to pay more than $140 to get help migrating the website from the former web hosting company.

What I like the most about SiteGround is that it includes several DDoS solutions such as software and hardware firewalls and also checks for failed logins besides malware detection, which is standard web security today.

SiteGround provides a genuine backup service which includes free daily backups and also malware detection developed by GlobalSign.
Conclusion
The kind of web hosting service you choose has a huge impact on your business actions and development.
Ensure considering all the tips, and suggestions we have mentioned in this article to reap maximum benefits.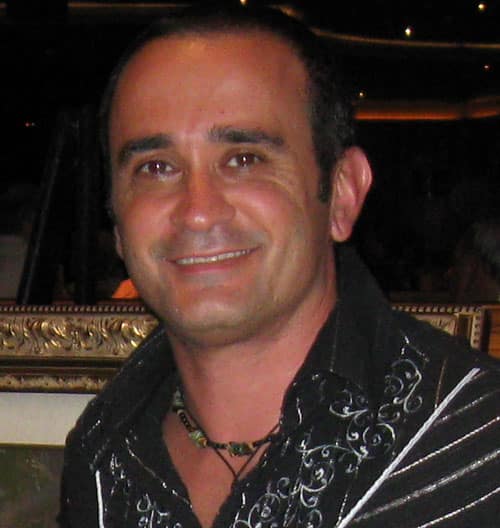 Author Bio
Angelo Frisina is a highly experienced author and digital marketing expert with over two decades of experience in the field. He specializes in web design, app development, SEO, and blockchain technologies.
Angelo's extensive knowledge of these areas has led to the creation of several numerous award winning websites and mobile applications, as well as the implementation of effective digital marketing strategies for a wide range of clients.
Angelo is also a respected consultant, sharing his insights and expertise through various podcasts and online digital marketing resources.
With a passion for staying up-to-date with the latest trends and developments in the digital world, Angelo is a valuable asset to any organization looking to stay ahead in the digital landscape.