As users, we have all come across this scenario at one point or the other- a website or a page that takes a long time to open. It is a typical situation that will frustrate all of us and makes us skip the site and search for an alternative. We expect website and web pages to respond in milliseconds, making website speed very important.
Now, this scenario can be catastrophic in terms of user experience and branding of your organization. Imagine visiting a store where the entrance door takes an eternity to open. That is precisely the gravity of the situation. 
So logic follows – speeding up a website can do wonders for your business! Increasing the load speed of your web pages is vital for your presence on the web. There are numerous surveys and statistics that can convince you further on this. 
Website speed is essential even when the website is down, or there are some issues with the hosting server. Your solution to this can make or break the course of user experience. Of course, you cannot go faster than the speed of your server or the internet speed of the user, but giving your customer the right first impression is primary, and your website speed does just that for you.
How Does Your Website Speed Impact Your Business?
Did you know that even a single second delay can harm your business in a significant way? A delay in the page loading can cause a significant decrease in customer satisfaction and furthermore can have a severe effect on your conversion rate. A customer once disappointed with his experience on your website is unlikely to come back again. 
Google Penalizes You, and It Affects Your SEO
Google and other search engines punish your website when the loading is slow; and more importantly, users decide to maintain a distance from your website. Users will avoid your site, others who do visit will bounce within a few seconds and in the worst case scenario will decide never to buy from your website. Would you ever like your web presence to create such an impression? No one will. 
Ensuring you don't lose out on traffic and business should be your top priority. Until 2017, your ranking on the Search Engine Result Page (SERP) had little to do with the website loading speed. It only mattered when your website was opened on the desktop. However, since August 2018, Google's algorithm has included website speed as one of the prominent factors of ranking. 
 Today we have more and more people who prefer to browse the internet through their mobile phones and tablets. With this migration to mobile phones for internet usage, it's no surprise that loading speed became a vital parameter under SERP. As it follows, Google's Mobile First Index makes it fundamental for you to optimize your site for handheld devices. 
Why has Google chosen the Mobile First Index? First and foremost, the search engine's priority is to increase the quality of user experience. A website that loads faster directly augments user experience. Analytics shows that users stay longer on a page if it loads faster. These reasons have prompted Google to include Mobile First in its ranking factors.
Once penalized by Google, you'll experience a sharp fall in traffic. Google is essentially blocking visitors from entering your site. Not just that, it's also warning them to stay away. A situation like this does not inspire trust nor does it inspire loyalty. 
Slow E-Commerce Sites Mean Less Revenue
Speed is of the essence when it comes to e-commerce sites on the internet. If the product display page or the payment page takes longer than usual to load, it's likely that the customer would bounce to a faster site. 
Your business is in real danger if speed is an issue. Slow loading speed means that customers won't just go to a competitor for better service, but would exit your site annoyed or even enraged. In this era of fierce global competition, would your business survive this? 
A recent survey suggested that almost 50% of the customers doubt the security aspect of the website when the speed is slow during the transaction. They are wary of the safety of their personal information related to credit cards and bank accounts — also, nearly 20% of users will abandon the transaction due to speed issues. 
Customers are then likely to not recommend your website within their social circle citing speed and performance issues. Word of mouth publicity can play a great role in furthering this negative brand image and the ripple effect it causes can significantly affect your business.
An e-commerce giant like Amazon can also be affected by below-par website speed. Experts estimate that if Amazon's load time goes down by even a single second, the company may go on to suffer a loss of nearly $1.8 billion per year in terms of profits. In the view of the experts, if it takes three to four seconds to load a page, it can be considered as a good page load speed. Now, it may vary slightly, and in e-com, faster is considered better. 
It Will Adversely Affect Your PPC Budget
Another area that can get affected due to website speed is paid search. Google considers slow speed as a sign of bad user experience, and hence your quality score in Google's algorithm comes down considerably. How does this concept of 'quality score' get so much relevance? 
The reason is that it regulates your cost per click (CPC) as well as your positioning on SERP (Search Engine Result Page). A site with a low-quality score and slow speed will never rank in the top positions, no matter how competitive your keywords are. Moreover, with a low-quality score, your paid ads might not even show up at all. Your site speed can nullify your budget spend. 
Quality score can be considered the topmost metric while planning for PPC. Only then can you be assured that your ads perform and meet the desired objectives. A good quality score will provide you with a higher ad position and will also bring down your cost per click.
In a nutshell, the faster the speed, the higher the quality score, the higher the ranking and lower the cost!
Other Adverse Impacts of Slow Site Speed
Paid ads
All the social media platforms like Facebook, Instagram, Twitter or others consider site speed as an essential criterion when it comes to paid ads. Very much like Google, you will get better results with the same amount of ad spend if the site speed is good. These social media platforms have also started recognizing the importance of user experience. Your ads are prioritized based on the loading speed of your website. 
User experience & conversion
You would always want to attract more visitors to your website and attempt to convert those visitors into valued customers. The user experience is an important criterion here as well.  A good site speed decreases the bounce rate of your website. Studies show that our attention span has shrunk from 12 to 8 seconds which means if your website isn't loading, visitors are not going to be around waiting. They'll leave and most likely never return. Search engines will pick up on the increased bounce rate and deem your website not good enough. You'll experience a sharp fall in search engine ranking too. Like we mentioned earlier, ideally, it shouldn't take more than 3 to 4 seconds to load a page. Here's a guide on reducing bounce rates that you can look into. 
How to Assess Speed of Your Website
Are you wondering if there is a way to calculate your website's actual loading speed? The answer is "Yes." Before you start working on optimizing your website's speed, it is best for you to determine what its current load time is.  While doing that, you can also identify the elements that slowing down your website.
The next step for you would be to set performance goals you wish your website to achieve. For example, our website takes seven seconds to load. This may be causing your business a huge loss because statistics show that one-third of the visitors abandon a website if it does not load within two seconds.
This will help you understand that you have to improve your website's speed by 5 seconds. Plus, you will have to ensure that you get rid of the heavy elements that take too long to load. Remember, minimalistic web design is the new trend. Less is more in the world we live in and is one of the best practices for speeding up your website.
If your goal is to optimize your website's speed to a decent level, you will have to make some changes in its layout, font, typography, content, add-ons, and script. Once done, this will give you a significant ranking advantage against other players in the market.
So, how do you assess your website speed? You can use the following performance evaluation for this purpose.
Google Pagespeed Insights
If you are looking for one of the most authentic website speed assessment tools, then Google Pagespeed Insights by Google is the best answer. This tool will run a performance evaluation on your website and offer you insight into what is slowing down your website.
You can use the recommendations made by Google Pagespeed Insights to increase your website speed. You can access and use this tool from your desktop computer as well as your smartphone.
Pingdom
This one is probably one of the best tools to speed test your website. Pingdom offers a variety of useful features and even tracks the performance history of your website. It will offer your recommendation on how to improve the website's load time.
Pingdom apps allow you to assess your website speed for Android and iOS-based devices. You can buy both free and paid versions of this service.
YSlow
This particular can help draw statistics, summarize your components, and identify improvement areas to increase your website's speed.
Performance Budget Calculator
If you want another free tool to help assess your website's speed, a performance budget calculator is an option. This tool helps identify the type of content to use on your site to run at optimal speed.
How Can You Increase Your Website Speed?
You don't need a professional do speed up your website. There are certain measures that you can implement yourself. 
Keep Your Websites Updated
If you're using the WordPress platform, then you'd have much more to take care of in terms of themes and plugins, ensuring everything is updated. The plugins and themes installed on your website impact your site speed. Developers often release updates that help reduce the load of a plugin or theme installed on your website. When you skip updates, you are essentially preventing your site from becoming faster. The only issue with updates is that updates often tends to break your site. To prevent this from happening we suggest using a WordPress staging environment to test the updates before making them on a live site. 
Move to Better Hosting 
Perhaps you already know, there are more than one hosting services that you can opt for. Shared, managed and VPS hosting are the most popular type of hosting services and each one impacts your website differently. In shared hosting, you are sharing your hosting server with other websites. Each site is allotted a share of space and bandwidth. When one website takes up more than it should, the other websites suffer. Sites becoming slow could be a signal that someone else is eating up your bandwidth. Time to choose a better hosting provider like managed and VPS hosting. Popular managed hosting providers include Kinsta, Pagely, WP Engine, FlyWheel, etc. Hosting plans differ based on your need and the size of your website.
Clean Your Site (If Hacked)
Many times, websites become slow because it's infected with malware. Hacks take a toll on your website because unknown to you, your site is performing malicious processes (like sending spam mails) while also running regular processes. To find out whether your site is hacked, you first need to scan your website for malware. There are plenty of security plugins to choose from but be sure to use one that runs its processes on its own server. That way, the security plugin won't overload your site. Once, scanned and malware is detected, time to clean the site. Generally, security plugins have a turnaround time ranging between a few hours to a few days. This can prove to be dangerous more you delay, the more chances of Google finding out and penalizing your hacked site. When you are pressed for time, better to use an automated malware removal that cleans your site with the click of a button. Give MalCare's Automated Malware Removal a try. 
Optimize Images 
Images are one of the primary reasons why websites become slow. Generally speaking, 20% of the total weight of a web page is due to images. Overall they have a massive impact on the site speed. Doesn't mean you should stop using images. Instead, you need to take certain measures like reducing the size of the images. Use JPEG and JPG format only as they tend to be lighter weight compared to PNG. There are plenty of free websites that help reduce the size of the images like Tiny PNG, Compress JPEG, etc. You can bulk reduce images already uploaded on the websites by using ShortPixel, WP Semrush, etc. 
Content Delivery Network
Content Delivery Network (CDN) represents a set of distributed servers across various locations around the country or world. The job of the content delivery network is to provide content to its local end-users.
When you host a website on a server, all users' requests come to the same hardware. This is why the time to respond to each user's request increases. Think of it like customers lined up in a queue to be served, and you only have a single server at the counter.
CDN servers ensure to serve their local end-users, and hence you can avoid downgrading your speed due to increased traffic for any reason.
Use Fewer Plugins
While plugins are a common website component, each of these third-party components makes your website heavier. The more plugins you have, the longer it will take for your website to load. Therefore, using fewer plugins or at least reducing the number on your existing website can certainly be one of the best practices for speeding up your website.
First, you must run a performance evaluation and determine which plugins are responsible for your website's slow upload time. Once you know the answer, get rid of the plugins and see a visible difference in your website's speed.
Reduce your CSS and JavaScript Files
Too many CSS and JavaScript files on your website can also slow down its performance. Too many of these files can lead to a higher increase number of HTTP requests whenever the visitors want to access any particular files.
Reducing the number of CSS and JavaScript files will drastically improve your website's speed. A wide range of tools can help you identify and minimize your CSS, JavaScript, and HTML files quickly. For example, you can use tools such as Script Minifier, WillPeavy, and Grunt.
Leverage Website Caching
If you are experiencing a high volume of traffic to your website all the time, this will definitely slow down your server's speed due to request overload. You can use website caching, a process that stores the most recent version of your website on your hosting server until you update your website.
This way, your website does not need to render over and over, and the server can capture the image of your website in the cache and send it to the requesting users. However, you must remember that the approach to using website caching will depend on the type of platform your website is built on.
For example, your website was built on WordPress. In this case, you can use the W3 Super Cache or W3 Total Cache plugins to enable website caching.
In case you are using a dedicated server or a VPS, you can even set up caching under the general settings there. On the other hand, if you use a shared server, no website caching service is available.
Database Optimization
You can optimize your database to effectively increase your website's speed. Using CMS with complex plugins and increase in database will eventually slow down your website's performance. Therefore, you must optimize your CMS and only use minimal plugins as per your needs.
We interviewed several web development and digital marketing experts on the topic of website speed. Here are their responses;
Mike Shaw, Internet Marketing Team Lead at Tower Marketing, mentions;
Why do you feel website speed is important?

Website speed is a known Google factor for helping websites to rank better. Google wants websites to load quickly to ensure users have a great user experience. Slower websites are more likely to have users bounce which defeats the whole purpose of acquiring that traffic in the first place.

What coding techniques, tools or plugins do you use to improve website speed?

To help improve site speed I ensure to always compress website files. This allows your server to offer smaller sized files that can load and transfer faster. The method I use for compressing files is called Gzip which is usually configured on your webserver.

Which speed test tools do you prefer to use and why?

Varvy.com.pagespeed is my favorite tool because it identifies which files are slowing down your website while offering suggestions on best practices to rectify these issues.
Bob Buffone, CTO at YOTTAA, writes;
Why do you feel website speed is important?

In today's world of hyperconnectivity, thousands of companies are constantly vying for your customers' attention online. But you better catch their attention quickly. Studies have shown that if a page doesn't load in 3 seconds, 57% of shoppers will move on to another site. After eight seconds, forty seven percent will not only leave, they will never return to your brand. An eCommerce site is often the first impression a customer has of your brand. Poor site performance results in higher bounce rates and leaves negative consumer impressions of a brand, who often feel slow loading sites are wasting their time. As a result, brands with slow loading web pages experience lower conversions and less ROI on their marketing spend to drive traffic to the site.

What coding techniques, tools or plugins do you use to improve website speed?

There are plenty of ways that web developers can improve website speed themselves by optimizing Javascript, custom code, HTML, and images manually. However, after optimizing some of the biggest brands in retail for the past ten years, we have found that having an automation platform is more effective at improving website speed. These platforms are solving problems for thousands of eCommerce sites daily, monitoring 3rd party technologies and creating optimizations for countless use cases. Rather than scrambling to locate the source of a problem their website is facing, an automated approach to site performance enables web developers the freedom to focus on other strategic initiatives.

Which speed test tools do you prefer to use and why?

We often use WebPageTest and Ghostery to assess the speed and infrastructure of eCommerce websites. These are independent 3rd party tools that are widely accepted throughout the industry. Ghostery provides sites with insight into the number of 3rd party technologies, such as live chat, personalization, and shopper reviews, on their website, which can significantly delay page load times.. WebPageTest helps websites evaluate their site speed through information such as time to first byte and time to document complete, and even gives them grades on their site performance.
Jackie Tihanyi, Digital Marketing Specialist at Fisher Unitech writes;
Website speed is important to the overall user experience. If a webpage has a long load time, those pages will have higher bounce and exit rates as well as lower average time on page.

To help optimize website speed, I recommend using tools such as Imagify to help with image optimization, WP Fastest Cache for rendering, and WP Youtube Lyte for video loading.

One of my favorite page speed tools is Googles PageSpeed Insights. This tool analyzes the content of your web page and then generates suggestions to make the page faster. Another tool I like to use is GTmetrix. This free tool analyzes your webpage, provides an overall score, and optimizations to help make the page load faster.
Conclusion
We all develop websites with marketing in mind. Even if you are not in the e-commerce business, there is still an expectation of some significant revenue from your website. Optimum site loading speed ultimately leads to a good revenue stream. Furthermore, all efforts put into providing relevant information and quality content to users would go in vain as visitors don't want to wait. Any delay can result in them never seeing your page. Slow speed can hinder your conversions and online presence significantly. 
As business owners, we are internet users too.  We all appreciate a fast and efficient website. The same goes for your users too. They demand instant and relevant responses, so for the health of your business, speed is a criterion that must be met. It is pertinent here to mention the classic world marketing theory – the presence of business has the sole purpose of satisfying the customer. In the online world, providing a good user experience is vital and can effectively drive your business success.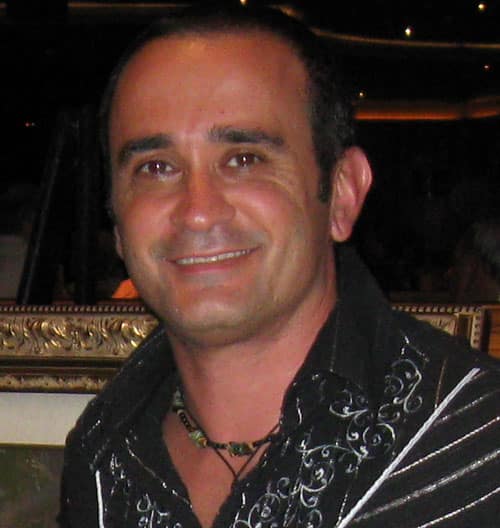 Author Bio
Angelo Frisina is a highly experienced author and digital marketing expert with over two decades of experience in the field. He specializes in web design, app development, SEO, and blockchain technologies.
Angelo's extensive knowledge of these areas has led to the creation of several numerous award winning websites and mobile applications, as well as the implementation of effective digital marketing strategies for a wide range of clients.
Angelo is also a respected consultant, sharing his insights and expertise through various podcasts and online digital marketing resources.
With a passion for staying up-to-date with the latest trends and developments in the digital world, Angelo is a valuable asset to any organization looking to stay ahead in the digital landscape.