Bitcoin's launch back in 2009 made blockchain a reality. The technology is revolutionizing business operations, and various organizations have tested blockchain technology. Government agencies, private businesses, and firms are all trying to use blockchain technology to streamline their processes and introduce new blockchain business ideas efficiently.
Statistics reveal that the global blockchain industry will accumulate $20 billion in revenue by 2024. However, many people do not know what blockchain is or how it can help their businesses. Some even have concerns about the realistic implementations for blockchain development and want to know which blockchain business ideas are practical.
Do not worry if you are one of these people too, because we are going to explain all there is to know about this technology in this article. We will discuss its benefits, drawbacks, business ideas, and uses in various fields.
Let us begin with understanding the basics of blockchain technology.
What Is Blockchain?
Blockchain is essentially a decentralized network of nodes connecting transactions linked in a ledger or chain. It's a tamper-proof method that it is nearly impossible to cheat, hack or change the information stored in the blockchain. It is a digital ledger of transactions copied across a network of computers connected.
Each of the blocks in the chain has a specific number of transactions that log into the participant's ledger each time someone makes a transaction. This is called the Distributed Ledger Technology, which is a decentralized database managed by multiple participants.
This technology makes it easier for individuals to track any changes made to any of the transactions in case cybercriminals try to hack a blockchain system. They would need to change each of the blocks in the chain, which contributes to the security of the ledger. Thus, blockchain technology is secure to use for your business.
Types of Blockchain
There are primarily three kinds of blockchain that do not include a traditional database or the DLT (Distributed Ledger Technology); these blockchains are as follows:
Public Blockchain
Private Blockchain
Hybrid Blockchain
Public Blockchains
Public or open-source blockchains are the most popular technology. These blockchains allow anyone to store information. This can include users, developers, miners, or community members from a specific group. These chains are fully public, and so are their transactions, meaning that anyone can view them when they want. Following are some of the prime features that make public blockchains different from the other options.
Public Blockchain is decentralized, meaning that no single entity controls this kind of blockchain. This means no one has control over the recording or transactional processes in these kinds of blockchains.
Authorities cannot shut down these public blockchains because anyone from any location around the globe can access and use them, making them highly censorship-resistant.
Participants in these kinds of blockchains can enjoy rewards and incentives that motivate them to invest more.
Private Blockchain
These blockchains are ideal for enterprises that want to collaborate and share data but with restricted access to sensitive information to other members of the group. The private or permission blockchain technology has several differences as compared to the public blockchain, which is as follows:
Participants require permission to become a part of these networks
These blockchains are more centralized as compared to the public blockchain.
Only ecosystem participants can view the transactions.
Consortium Blockchain
Usually, groups control the Consortium blockchains instead of a single owner/entity while providing all the benefits of a private blockchain. Some people even consider it as a subcategory of private blockchain. Following are its key features:
Best for individual users and groups alike.
Ideal for businesses that work together but also compete with others, i.e., different companies from the same industry.
Governments, supply chains, and central banks are all common examples of this kind of blockchain.
How Can I Use Blockchain?
Now that we have discussed what blockchain is and its different types, let us move on to the different ways that you can use this blockchain technology, depending on the nature of your business.
Secure Medical Data
Securing sensitive data is a serious concern for most medical, healthcare, and research facilities worldwide. Patient information breaches lead to several problems, but blockchain technology puts an end to this risk by providing secure medical data storage methods. So if you belong to the health sector, you can use blockchain technology to ensure the protection of important records.
Music Royalties Tracking
Music royalties and lawsuits amount to thousands of dollars every year. It is nearly impossible to track the music royalties considering how fast music videos, songs get shared across various platforms. Fortunately, blockchain technology allows individuals to keep track and take action in case of any violations. Blockchain also provides the ability for artists to sell NFT's.
Cross Border Payments
Making transactions and payments internationally can be difficult as the chances of encountering a cyber attack go up drastically. However, integrating a blockchain system into the network helps keep checks on all transactions more efficiently and avoid potential threats.
Personal Identity Security
Personal security is a serious concern as hackers can compromise personal information and misuse it. Blockchain tech provides an extra layer of protection against personal identity security threats, making it impossible for cyberattacks to alter or access the info in any way whatsoever.
Although we have mentioned the most popular uses of blockchain, these aren't the only benefits you can enjoy. It is difficult to list all the domains it covers, but let us discuss if blockchain provides services to a business network.
What Qualities Of Service Does Blockchain Give To A Business Network?
Blockchain provides different qualities of services to a business network depending on their needs and requirement. A business can use a public blockchain network like Bitcoin, Ethereum, etc., or stick to a private or hybrid blockchain system.
The blockchain system is highly in demand by businesses that need to complete transactions while maintaining transparency. Moreover, members who have access to the blockchain network can access the same information in real time. It is ideal for businesses like dropshipping, where business owners need to track the delivery updates constantly.
It removes friction, helps build trust, and boosts the overall efficiency of a network. In addition to this, blockchain technology offers other benefits like Consensus (a fault-tolerant mechanism used in blockchain systems that allows all the nodes to verify transactions), replication, and security to business owners, thereby streamlining business processes.
How Can Blockchain Be Used To Support Sustainable Business Practices?
Blockchain technology is a modern approach towards business structures, and many consider it a threat to the current legacy of enterprises and companies that need centralization. Blockchain technology is free from centralized control, making it available either for everyone or permitted members of a blockchain network.
The blockchain system helps improve trust in a specific system by eradicating the need for third-party platforms to complete business processes. This helps strengthen the business structure and increase its sustainability. It also helps track the shipments (both sent and received), which eventually helps in making things transparent and clear for a joint venture among different companies from the same industry.
It also allows business owners to cut down on energy costs by hosting large-scale data mining centers. It may also include trading cryptocurrencies in countries that have a good record. What's more, it can also share the data with law enforcement agencies if needed to boost its sustainability.
Advantages of Blockchain
We have already discussed the various applications and ways that blockchain can help to support your business practices. Let us take a look at the top advantages of using this decentralized technology for businesses.
You get additional security and protection for your business as compared to other storage options you can choose from.
It helps reduce potential hacking threats against most kinds of malware and cyberattacks.
Blockchain technologies are decentralized; therefore, members in a network do not need to pay anything to any centralized entity or organization.
Blockchain helps improve the efficiency of transactions that occur for a business/industry.
All transactions are transparent and easy to track.
You can automate your account reconciliation, making things easier for you as a business owner.
Members in a blockchain network can distribute access to information into different levels, which helps build a better hierarchy.
Thus, incorporating blockchain technology into your business can make your operations faster, effective, and professional.
Disadvantages of Blockchain
Blockchain, like several other technologies, has a few drawbacks. Identifying these shortcomings can help you avoid these issues before they occur in your business.
The blockchain system relies on special nodes instead of a centralized computing system. Hence, there is little to no synergy and mutual assistance.
The transactions made in blockchain technology aren't scalable, meaning the system can slow down if more people join the nodes.
The ledgers need to spend more energy each time there is a transaction that becomes quite expensive.
You cannot remove data that reaches the system once. While this helps in retaining data in some cases, it also becomes a problem in other scenarios.
Users leave their data and information at risk if they forget/compromise their account key in any way.
There are several maintenance and usage costs that most blockchain users overlook when they start using blockchain technology.
Blockchain technology is relatively new and still requires time to become a mainstream method. According to statistics, only 5% of the world population uses blockchain technology as of now.
That said, blockchain technology is still a great option for securely storing information and avoiding unauthorized access or breaches from people worldwide. It may take some time for the technology to become a common choice for business owners, but it is undoubtedly promising and offers tons of benefits.
Blockchain Business Ideas
You probably have a good idea of how blockchain can help you run a business and improve the efficiency of business processes. In addition to this, a few blockchain business ideas incorporating blockchain technology can help you grow your ecommerce or advertising-related business.
Track Shipments in Real-Time
Tracking shipment and updating the customer is essential, especially if you are running a dropshipping business or some business that involves shipping.
Blockchain networks use nodes to share real-time updates, and businesses monitor this information and let customers track their shipments.
Exchange Loyalty Rewards
Customers who sign up on a site for a reward or a bonus usually delete their accounts once they get the reward. Thus, companies often fail to target loyal customers through reward programs. However, using blockchain technology can help identify these members.
These reward programs have buy-in from brands so that customers can trade their rewards. This lets users trade rewards from different companies and industries as long as their source is authentic.
Monitor Customer Loyalty
Maintaining customer loyalty is a serious concern as the options that customers have are endless. Blockchain-based companies can use artificial intelligence (AI) to track spending patterns, target high-value customers, and make them part of the loyal customer base. Brands can use customers spending data to their advantage to gain a competitive edge.
Trading Advertising Spaces
A company can use AI to determine the best advertising spaces. It can help trade the advertising space between clients in the network for a new product launch or unforeseen need.
How Is Blockchain Used In Marketing?
Data is the prime factor when it comes to developing marketing tactics and strategies. The marketing of a company is only as effective as the accuracy of the data it deals with. Similarly, transparency and accountability are two important factors of marketing globally.
Blockchain technology allows vendors to provide an overview of the marketing process and keep things crystal clear in terms of transactions and ad distribution. Moreover, blockchain technology rules out the need for third-party platforms to make payments, which drops the average market cost as well.
Conclusion
Blockchain technology can help any business unleash its true potential and makes its processes more efficient and effective. It allows users to assess, store, analyze and use the information for business in a better way to reap better results in the long run. It also offers different blockchain options for public and private users alike and can help reduce the costs, errors, and risks.
We believe that blockchain will revolutionize businesses, and all major companies and small businesses need to identify and adopt blockchain technology to streamline their operations, improve security, and boost productivity.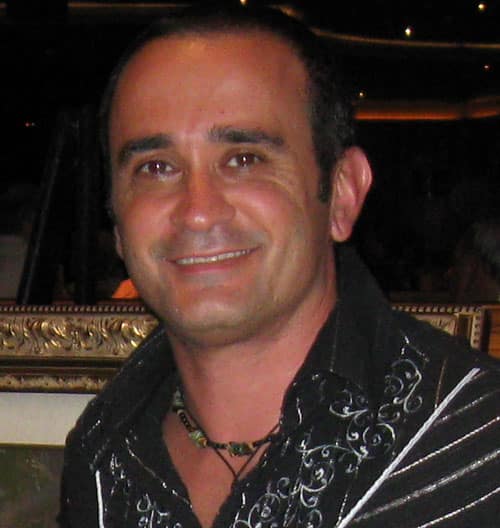 Author Bio
Angelo Frisina is a highly experienced author and digital marketing expert with over two decades of experience in the field. He specializes in web design, app development, SEO, and blockchain technologies.
Angelo's extensive knowledge of these areas has led to the creation of several numerous award winning websites and mobile applications, as well as the implementation of effective digital marketing strategies for a wide range of clients.
Angelo is also a respected consultant, sharing his insights and expertise through various podcasts and online digital marketing resources.
With a passion for staying up-to-date with the latest trends and developments in the digital world, Angelo is a valuable asset to any organization looking to stay ahead in the digital landscape.