In a song that was popular decades ago, The Clash sang the following lyrics:
"Darling you got to let me know
Should I stay or should I go?
If you're familiar with that song and you're trying to decide whether you should build or buy software for your company, you may want to replace the word "stay" with "build" and "go" with "buy." Then, sing your revised lyrics to The Clash's enduring tune. Similar to this musical group struggling to decide if they should stay or leave, you may also have difficulty determining which software solution works best for your business. Your option is to buy off-the-shelf software or create custom, propriety software that makes the most sense for your business. 
If you are trying to choose between pre-existing and custom software, you can take comfort in knowing you're not alone. Many business owners and managers wrestle with the same choice every day. The first step is to consider the benefits and drawbacks of each of your options. Then, you may be able to make a more educated decision. 
A Look at Canned Software Solutions
Most of the time, business leaders insist on using a custom software development company. In return, this software development company will create propriety software specifically for your business. However, there are some instances where it makes more sense to go with a canned software solution. This is particularly true when it comes to small businesses and non-tech-oriented startups.
What is a Canned Software Solution?
Basically, a canned software solution is a program or system that businesses may purchase to assist with operations. For example, you can use leave tracking software to streamline time off requests. Depending on the business models, organizations may incorporate multiple canned software solutions to better achieve business goals & objectives. Although these solutions may be quick to deploy and easy to manage, canned software solutions may also limit businesses in terms of functionality and scalability. For the most part, this solution addresses most businesses' needs but may limit their potential for growth in the long run.
In terms of purchase, companies may integrate canned software solutions in various ways. In some instances, the programs or systems are available for use through subscription-based payments. Typically, these subscriptions vary in terms of functionality and price. In other words, larger enterprises may opt into more expensive subscriptions to accommodate workflows when purchasing canned software solutions. Alternatively, canned software solutions may be available for purchase, include open-source features, or include trials.
Here are several reasons why bypassing custom software development services and purchasing pre-made software is better:
You Have a Limited Budget
Custom software will most likely more expensive than off-the-shelf alternatives. Even if you find a company that offers software development services at a reasonable price, it may still be expensive. If you have a limited budget, you may want to choose a canned software solution at least for now.
You Don't Have Technical Expertise In-House
Canned options are a better alternative if the current IT team lacks expertise in building custom software. When switching software solutions, businesses rely on a custom software development company to maintain current systems.
Your Timeline Is Condensed
If you have a condensed timeline and need completed software yesterday, you'll want to look into canned solutions. Building your own software is not a viable option when need to run operations immediately. Effective proprietary software takes time to design, develop, and configure.
Proven Solutions Are Already Available
If your business isn't highly specialized, time-tested software solutions may already exist for businesses like yours. For instance, businesses operating a restaurant benefit from already available software in the marketplace. It does not make sense for restaurants to build their own software since others are using the same software. Or, for instance, many businesses have used VR and AR technologies in video games, interior design, retail, and health.
You Wouldn't Gain an Advantage
Many companies turn to custom software solutions to give them a competitive advantage. If proprietary software won't distinguish your business from its competitors, a canned solution may be more appropriate.
Advantages and Disadvantages of Canned Software Solutions
For some organizations, investing in a canned software solution is the most logical decision. For example, a startup company that uses similar software that competitors also use may not be a significant reason to upgrade to a custom software solution. In regards to advantages, a canned software solution may deploy more quickly and offer the essential functions and security systems needed for running an operation. Systems like these work for various industries, require a small team to manage and assist businesses with basic workflows. Also, companies may benefit from the low-cost, subscription-based programs that may include demos and trials.
However, businesses with canned software solutions may also encounter several limitations. Some disadvantages may include the expenses for registering more licensed users to the software, limited software functionality, and lack of compatibility or modifications to support other business processes. Additionally, some canned software solutions require a learning curve to successfully operate. Moreover, these systems may not always include assistance with implementation and may update less often than alternative solutions. For this reason, canned software solutions security is another concern for some businesses.
A Look at Custom Software Solutions
What is a Custom Software Solution?
A custom software solution is an alternative to canned software solutions. Businesses may invest in this alternative to obtain an application or system that outperforms software available within the current market. In other words, a custom software solution optimizes operational workflows. For instance, configurations in custom software may assist businesses with achieving a higher return on investment, outperforming competitors, or streamlining organizational workflows.
Typically, a custom software solution is developed from an in-house or third-party software company that designs, creates, deploys, and maintains the software to perform specific functions for an enterprise. Additionally, these teams work with an organization when developing a custom software solution to address different customizations, maintenance, and management protocols that the system must follow. In detail, the software engineers develop a system that meets user-specific needs, updates frequently, and supports business workflows.
Advantages and Disadvantages of Custom Software Solutions
Businesses may decide to choose custom software solutions for numerous reasons. With custom software, companies may cooperate with software engineers and developers to configure the software to better achieve business objectives. In a constantly changing market environment, this cooperation with developers saves companies more time and resources when compared to searching for other canned software solutions to resolve problems. Moreover, custom software solutions offer companies systems that accommodate scalability, compatibility, and user-friendliness. Also, since businesses own the custom software code, this ensures more security of software data.
Unlike canned software solutions, custom software solutions may require more investment and time to successfully integrate. Reasonably, a company works with software developers to build systems that include all of the features needed and remain functional in the long run. Associated with these high costs, businesses may invest in automation programs that simplify the current work process. Additionally, businesses with custom software solutions hire development teams to run quality tests and make improvements in software code when needed. For this reason, startups and smaller enterprises may not have the capital or return on investment to move forward with custom software solutions.
For some businesses, hiring a custom software development company to create proprietary software is the smartest move you can make. Here are some of the reasons why building software is a good idea.
Off-the-Shelf Software Can't Meet Your Needs
The problem with many canned software options is that they only address some of your needs instead of satisfying all of them. If you have specialized or industry-specific needs, you may not be able to find existing software that can address every one of your needs in the present or the future. When you build your software, you can ensure it meets all your current needs as well as those that will arise in the future.
Lack of Customization
While some pre-made software solutions may allow you to add or delete certain functions once they're installed, too few allow you to make meaningful changes to tailor the software to suit your purposes. This lack of customization can make canned software frustrating at its best and counter-productive at its worst. When you build proprietary software, it will be custom-made for you.
Lack of Compatibility
As was mentioned earlier, it's unlikely canned software will address all your needs. This may make it necessary for you to purchase several kinds of software for your business. What's the problem with doing that? The different kinds of software you buy may not be compatible with one another. By building software, you can integrate a pool of different software and data partners that's as deep as you want it to be.
There's another reason you may want to invest in custom software and its scalability. Canned software has built-in limitations which may make it impossible for the software to meet your needs. If you expect your business to grow quickly and you need your software to adapt accordingly, building software will be a must in most cases.
Here are just a few of the ways that custom software can support your business as it grows in the context of volume and/or the number of your locations:
Increased Productivity and Efficiency
Software that's designed with your company's needs in mind can increase your team's productivity. Adding increased efficiency no matter how big your organization gets. Instead of using multiple programs to process and fulfill orders, you can have one integrated platform. This will prevent your employees from having to go from one program to another to complete a single task or several related tasks.
Competitive Edge
If you're using the same canned software that your competitors are using,  then you can't use your software to distinguish your business. When you have your own proprietary software, you can use it to give your business a competitive edge. As you expand your system with additional custom programs, you can increase the edge you have over your rivals even more.
When you hire an app development company, like Sunlight Media, to create custom software for your business, you're gaining a trusted partner.  Your Partner has the ability to react quickly to your company's changing needs as well as trends in your industry. This quick reaction time can be the difference between your company merely surviving and it being a market leader.
Trending Custom Software Solutions
For businesses running operations through custom software solutions, it is important to optimize processes to better achieve business objectives. One method is to identify custom software trends and integrate those features within the business software. Unfortunately, users with canned software solutions may not always have the programs or systems needed to remain relevant with emerging markets. For this reason, custom software solutions assist businesses with staying productive and increasing revenue.
Blockchain
With blockchain technology, businesses may improve security, transactions, and business workflows. More specifically, blockchain has potential benefits for businesses seeking to pursue global transactions while keeping data secure. In general, blockchain encrypts data by managing recorded data from multiple computers. Known as decentralization, this process makes modifying, deleting, and manipulating these records more difficult. Also, blockchain consists of timestamps with recorded data that is easily transferrable and verifiable.
One blockchain feature useful for businesses is smart contracts. Companies may incorporate smart contracts into their custom software solutions to run self-automated programs. In detail, smart contracts are designed with specific codes and terms that ensure monetization once agreements have been executed. Additionally, these blockchain transactions do not require middlemen to process fees and cancel when terms are not met. In other words, businesses save more time processing transactions and ensuring data security.
5G
Another emerging trend in the market is 5G. Custom software solutions with 5G compatibility are expected to offer more security and be more responsive than their counterparts. In contrast to other broadband networks, business products and services running on 5G compatible technologies may better serve various target audiences from different geographical regions. Also, companies supporting 5G within their custom software solutions may be more compatible with various user devices. Moreover, customer software solutions that support 5G offer users the ability to download content, engage with media and interact with business products and services more quickly.
Artificial Intelligence
Artificial Intelligence (AI) continues to remain relevant in the market. Currently, companies integrate Artificial Intelligent technologies to identify and record online data. With the data, AI technologies may offer solutions for companies to improve business workflows. In other instances, Artificial Intelligent programs monitor user behaviors and interactions with business products and services and then personalizes ads, recommendations, and offer promotional deals based on user inputs. As artificial intelligence continues to evolve, businesses with AI technologies within their current custom software solutions may better attract and retain more clients.
Progressive Web Apps
Organizations with custom software solutions optimize systems to be more compatible with end-users needs. As a solution, companies may develop software that features progressive web apps. To explain, progressive web apps share the simplicity and user-friendly features of a mobile app while offering the immersive experience seen on full-screened desktops. As a benefit for businesses, progressive web apps typically use fewer data and include faster loading times. Also, developers may build these systems quicker with less expense when compared to developing native apps. Currently, this trending custom software solution assists businesses with engaging more users while maintaining user attention.
A great example of a web app is the pay stub creator
Virtual Reality and Augmented Reality
Virtual and augmented reality technologies have shown success for many businesses. As a trending custom software solution, businesses may integrate these technologies onto their current platforms to better attract, engage, and retain users. For instance, businesses have used VR and AR technologies in video games, building 3d tours, fashion, and health. Businesses with custom software solutions may incorporate VR and AR technologies to better connect with clients and reach various target audiences in effective and unique ways.
An interesting perspective on the future of software development
Conclusion
Before deciding to optimize current software, it is best to understand how each software solution may benefit your business. Without a doubt, there are many perks when hiring a software development team to design, develop, and configure business software. However, businesses benefit significantly when considering how their budget and business models align with different canned or custom software solutions.
Ideally, the canned or custom software solution should be able to accommodate businesses' workflows to raise productivity, increase revenue, and enhance overall customer satisfaction.
In conclusion, the decision to optimize software should be based upon the needs of business workflows and the objectives to stay relevant within a constantly evolving and technological market.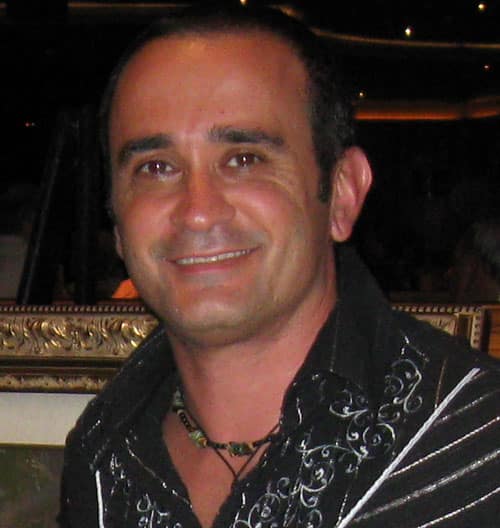 Author Bio
Angelo Frisina is a highly experienced author and digital marketing expert with over two decades of experience in the field. He specializes in web design, app development, SEO, and blockchain technologies.
Angelo's extensive knowledge of these areas has led to the creation of several numerous award winning websites and mobile applications, as well as the implementation of effective digital marketing strategies for a wide range of clients.
Angelo is also a respected consultant, sharing his insights and expertise through various podcasts and online digital marketing resources.
With a passion for staying up-to-date with the latest trends and developments in the digital world, Angelo is a valuable asset to any organization looking to stay ahead in the digital landscape.