Presently, different online eCommerce platforms support businesses with various web and mobile app development services. This article, Magento Vs. Shopify Vs. WooCommerce lists well-known eCommerce apps and the digital services that promote digital business operations. As a sole business or in combination with other services, an online store expands organizational operations and offers more value towards existing and potential clients. Importantly, entrepreneurs and companies are careful to choose an online eCommerce platform that accommodates organizational needs and saves more time, money, and resources when implementing.
Which Platform to Choose?
Commonly, an online store uses a variety of professional services to assist businesses with selling products online. However, choosing an online platform for online business requires additional attention to detail to decide how the services best promote company goals. A successful online store requires representatives that value research, planning, customer service, and patience.  Primarily, the first initial step is choosing a platform that meets the company and client expectations. Platforms such as Magento, Shopify, and WooCommerce are all examples. In most cases, the correct platform allows user-friendly transitions to the online store, which assists users with further strategy and product marketing after the initial account setup. With an operational online store and proper account setup, it is essential to consider which platform services support business needs most.
In addition, several ideal practices should remain relevant when selecting the appropriate platform for your business. These things are:
Does the platform fulfill all your needs?
Is the platform cost-effective?
What is easy to use and maintain?
Why is it better to go with your growth plan?
In this article, Magento Vs. Shopify Vs. WordPress / WooCommerce, the three primary platforms for setting up your online store clearly explains how each eCommerce platform accommodates different organizational digital needs. Furthermore, the report provides insights into each platform and names important strengths and weaknesses.
Platforms To Choose
Research shows that these platforms, Magento, Shopify, and WooCommerce, are the most used platforms on which most of the online stores around the world are made. Among them, the highest number of stores have been built on Shopify that has around 800,000 stores, and the number is still increasing. On the other hand, WooCommerce and Magento respectively have 3 million and 500,000 participating stores so far.
Shopify
Shopify has a big name among the e-commerce platforms. This platform was launched in the year 2009, and it has gained immense popularity all over the world. The platform is famous because of its easy-to-use structure. Even newbies can work on this platform quickly. Shopify is a fully hosted solution, and starting your work on it is simple. Several small businesses use Shopify web designers for their online store. However, the growing success stories are calling even the big-scale companies towards this platform.
Pricing
In regards to pricing, users may select various pricing options when working with different versions of Shopify. Since the premium versions of Shopify consists of more professional services available to the user, it is essential to choose a package that best suits business functionality. In this case, subscriptions have variations in application features and other services for shipping, payments, and point of sale (POS).
Basic Shopify Pricing
Shopify consists of three pricing options for users. The first pricing option refers to as "Basic Shopify." The first payment option is the most inexpensive from the group and records as a monthly subscription. In this instance, users access the online store through websites and blogs, promote products freely, and allows up to two administrators for the Shopify account. Along with online staff support, online sales channel distribution, and manual order setups, the initial Shopify offer handles primary business needs. Also, with this setup, users may associate discount codes, SSL certificates, gift cards, and online cart data storing towards their Shopify accounts.
Premium Shopify Pricing
To continue, the Shopify app enables users more advanced features with higher monthly upgrades. The premium service is referred to as "Advanced Shopify" and provides users with additional services. As a benefit, all of the services from "Basic Shopify" remain on the user account, however other services add more value to premium Shopify users. In contrast, the premium Shopify app increases user account, equips professional reporting and cost tracking tools, offers higher discounts for products, allows priority mail delivery, and a higher number of store channels. Reasonably, the rate increase for the monthly subscription supports large businesses with scaling up product distribution and management.
Brands which are using Shopify
Shopify is well-known throughout the online store community. Moreover, the Shopify platform is an effective tool for even the largest brands when assisting companies with eCommerce services. To list a few, brands like Penguin, Tesla, and Red Bull use Shopify for daily eCommerce operations and product marketing. In addition, Gym Shark, KKW Beauty, and Kylie Cosmetics also value the Shopify platform for eCommerce services. The diversity of companies that use Shopify illustrates the application's ability to promote most businesses regardless of type or scale.
Positive features of Shopify
Extensive app store
As a strong candidate for most companies' eCommerce needs, Shopify is popular for platform functionality and feature availability. Distinctively, Shopify features an online store to extend promotional needs for companies. This store offers various additional services, plugins, and store designs to support users with creating unique and upscale online eCommerce platforms.
Multiple store-front themes
Additionally,  Shopify's various standard mobile themes are ready to use and modify for administrators. The platform can be easily optimized for any device with its already developed ideas. This was done due to an increasing trend of using mobile phones for shopping. Even if the customer makes their final purchase from the personal computer, they do their research from the mobile. So, it is essential to keep the themes mobile-friendly for better user experience.
Customer Support
For new users or general queries, Shopify consists of support channels within this platform. Users navigate to the support channel to resolve concerns or issues that occur on Shopify. As a plus, there is 24/7 support via email for Shopify users. Additional support features include live support and chat support facilities that integrate into the platform too.
Negative features of Shopify
Cost of transaction fee on every sale
As a caution, Shopify equips users with easier online transactions with minor fees. The "transaction fee" applies to sales that occur on the Shopify app and charges users according to the transaction type. Users that set up Shopify payment methods may receive variations in charging fees deepening on transaction types.
Theme Fees
Although default themes are present on Shopify, additional themes cost extra. Users may select up to ten themes, however more advanced and user-friendly themes require a premium charge. As a side note, mobile app users are subject to additional fees towards Shopify subscriptions when upgrading themes across numerous digital platforms.
WooCommerce
Another famous eCommerce service is WooCommerce. Launched in 2011, the eCommerce platform supports users with product distribution needs and offers useful features when starting an online store. As a plugin to WordPress sites, the WooCommerce platform carries multiple user-friendly themes and features an open-source download version for entrepreneurs and companies.
Brands which are using WooCommerce
WooCommerce's user-friendly design and eCommerce functionality make the platform useful for entrepreneurs and companies. Notably, brands such as Singer, All Blacks, Airstream, and Webber rely on the WooCommerce application to expand product distribution and marketing needs.
Positive features of WooCommerce
Free to download
As mentioned, the WooCommerce plugin is an open-source platform. In contrast to alternative online eCommerce platforms, the download integrates with WordPress web and mobile sites for user convenience and compatibility.
Multiple themes and Add-ons
As a plus, WooCommerce features public features and applications for company eCommerce. With multiple themes and an abundance of available add-ons, the WooCommerce platform presents higher business modifications with the online store to better suit organizational needs. To note, the 29,000+ add-ons available within the WooCommerce plugin provides businesses with the necessary additions to adopt different business strategies. Although most online stores provide users with add-ons, WooCommerce comprises of the most available options to administrators from the alternatives.
User-friendly Interface
As a benefit, adapting WooCommerce into business operations is simple for new users. The interface is compatible with WordPress interfaces and requires minimal experience to operate.  The plugin requires quick navigation towards the add-ons page on WordPress channels and downloads to multiple web browsers and mobile application sites.
Negative features of WooCommerce
Hosting fee
WooCommerce features as an open-source program on WordPress for online store administrators. The platform source is free however, the software requires a hosting fee if users wish to proceed with online product transactions and distributions.
Payment of extensions
WooCommerce also features premium additions for entrepreneurs and companies at an additional rate. Advanced Extensions support users with better business tools and online store applications. Premium features include inventory management, utility, payment gateway, and analytical tools for eCommerce needs.
Magento
As a leader in eCommerce, Magento provides online store functionality with large scale digital distribution capabilities. Launched in 2008, Magento development services equip applications for online store users and provides unique features for medium to large scale corporations. Due to the functionality, high reliability, and scalability of Magento, the eCommerce platform works well as a standalone or combined business. Moreover, Magento provides users with three different options. These options include a Magento Community Edition, which has no charges with free download. The other version is Magento Commerce, which is the cloud offering. Lastly, the  Magento Enterprise comes with a bundle of advanced features and add-ons for more upscale businesses.
Brands that use Magento
As a popular online store platform, the Magento application for web and mobile eCommerce is an effective resource for any size business. For example, brands like  Coca-Cola, Budweiser, Olympus, Ford, and Christian Louboutin use the Magento platform for various eCommerce needs.
Positive features of Magento
Magento Features
Through simple and compatible design, Magento supports large business eCommerce with large product inventory. Specifically, the program equips users with features that cater to large-scale enterprises. It provides features like inventory management, order management, catalog management, and product tracking tools to better manage online stores.
Magento User tools
Equally important, Magneto offers users unique designs and styles for web and mobile online store applications. Through setting modifications, there are many different layouts to attract more customers to sites and additional features to make products appear more presentable. Through the website document, customization configurations require standard codes available through community forums and websites. However, android app development services bring more technical experience towards online store sites to develop better dsigns and user experiences.
Negative features of Magento
Time consuming and technical
In contrast, Magento is a platform that provides more potential in developing unique and better online store platforms, however, newer users or smaller companies may lack the time to configure the site to meet eCommerce needs. The technical requirements for using Magento allow better optimization of site performance and larger product distribution, but may not suit the needs of all businesses. In this scenario, entrepreneurs and companies require further evaluation of the company capability and needs before investing time and expenses towards more complex software.
High cost
Standard versions of Magento are open-source and apply eCommerce services for most businesses. However, users require hosting fees when operating Magento to begin distributing products through online stores. Also, the program consists of applications that are both free and at premium rates, which implies that users should allocate a healthy budget aside to continue eCommerce operations. For better integration, Magento is an alternative for organizations with developer interaction, high product volumes, and up-scale online and mobile eCommerce presence. Magento also has a large selection of templates available online making it more affordable to integrate an already existing design into your site.
The Shopify User
Depending on the user preference, Shopify is a simple online to manage eCommerce services. Since Shopify carries charge fees, along with its competitors, the selection of a platform mainly depends on the budget of the business. If budgets are set aside for subscription online platforms with different applications, Shopify outcompetes a program like Magento. In this case, Shopify is a great choice for businesses without developer experience, average product distributive needs, and affordable apps and features to promote product marketing. With less time and money spent on improving website design and bringing new products to the market, Shopify allows users to focus on core objective needs rather than specializing in the online eCommerce business.
The Magneto User
As an alternative, Magento encourages users to work with premium features and applications to create unique and effective online stores. Commonly for large enterprises, the Magento software enables straightforward configurations from the website documents and manages larger product distributive needs. In essence, a more versatile eCommerce app contributes towards better web site design to better attract target markets. With more time, money, and developer interaction, the Magento platform creates unique online platforms for high-end corporations.
The WooCommerce User
By comparison, WooCommerce shares similar functionality and simple design as Shopify. WooCommerce directly interacts with WordPress via a plugin to offer eCommerce services to users. Companies with fewer budget constraints find better eCommerce tools to promote product marketing in online stores. With a support channel, multiple themes, and eCommerce tools, a user configures the WooCommerce application to better suit business needs while adding various add-ons to better optimize product distribution.
Conclusion
When managing an online store, it is essential to review the services associated with each online platform. Users review factors like cost, efficiency, add-ons, customization, user interface, and maintenance before applying for new eCommerce programs. An appropriate platform for your online store relies on a variety of features and applications to ensure a smooth workflow. Usually, start-up companies discover that Shopify's user-friendly online store is most beneficial for quick online eCommerce while larger enterprises seek WooCommerce and Magento for better web and mobile eCommerce site optimization.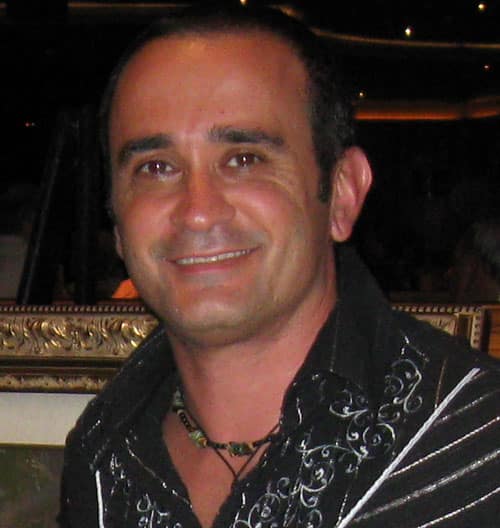 Author Bio
Angelo Frisina is a highly experienced author and digital marketing expert with over two decades of experience in the field. He specializes in web design, app development, SEO, and blockchain technologies.
Angelo's extensive knowledge of these areas has led to the creation of several numerous award winning websites and mobile applications, as well as the implementation of effective digital marketing strategies for a wide range of clients.
Angelo is also a respected consultant, sharing his insights and expertise through various podcasts and online digital marketing resources.
With a passion for staying up-to-date with the latest trends and developments in the digital world, Angelo is a valuable asset to any organization looking to stay ahead in the digital landscape.